We often tend to think that observing wildlife would require an expedition to far off and isolated places filled with natural vegetation. Perhaps because the word 'wildlife' is actually a combination of the words 'wild' and 'life'. The tag of labelling a life form as wild is fundamentally a human concept. Interestingly, in most indigenous and tribal languages, there is no word for 'wildlife' because the people do not see other living organisms such as plants or animals as different from humans or view them as 'wild'.
The word wildlife in the Hindi language, for instance, is translated as vanyajeev – vanya stands for 'forest' or 'forest-related' and jeev denotes 'life form'. It is no different in Bengali, where the word for wildlife is bonyojeeb or bonyopraan. Here, too, bonyo and jeeb/praan mean the same in English as their Hindi counterparts.
Due to its one-dimensional meaning in English, most of us remain under the impression that wildlife can only be viewed or observed in jungles or forests. But one can observe animals right in their backyard.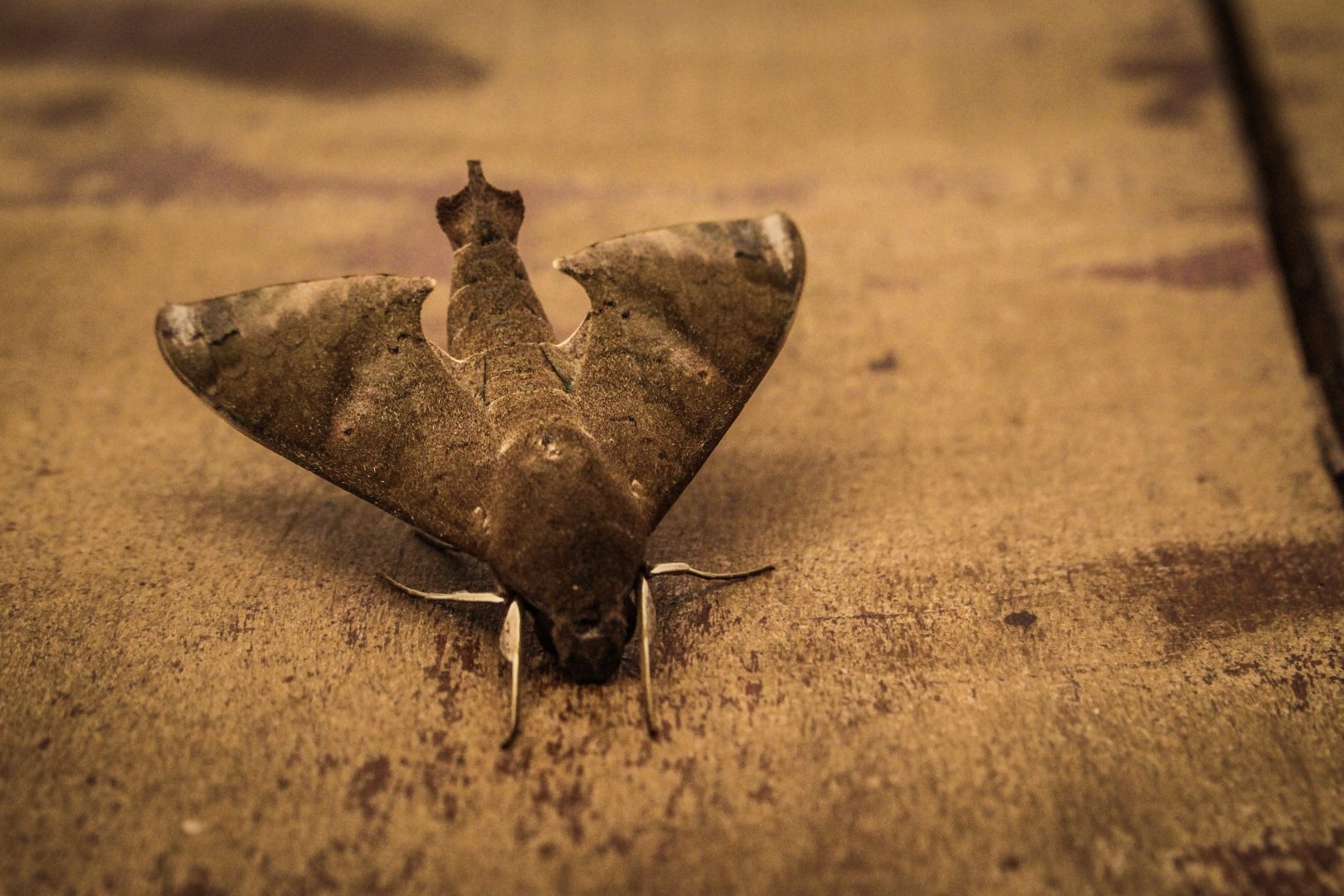 If you ask a naturalist where you can best observe wildlife, they may say it's everywhere! They're hopping, hiding, flying or crawling all around us! If you want to start right at home, you could first look out for the smaller inhabitants like ants, honey bees and flies. Gradually, move on to the slightly bigger ones like the arachnids (spiders) and reptiles (lizards or geckos). In India, some of the most common insects, arachnids and lizards spotted right around us are the Common house gecko or House lizard, Black carpenter ant, Fire ant, House spider, Garden spider, Cellar spider and the Indian Honey bee, to name a few.
As you move from your magnifying glasses to a pair of binoculars, you can turn your focus to spotting birds. Start your journey into ornithology (the study of birds, of course!) with one of the most commonly found birds in India – the House sparrow. In addition to the House sparrow, there are five more species of sparrows found in India, namely the Russet sparrow, Sind sparrow, Eurasian Tree sparrow, Spanish sparrow and Yellow-throated sparrow.
The ubiquitous nature of sparrows has eased their process of adapting to various ecosystems. Thus, they have not only established themselves amongst forests but also in rural as well as urban regions. House sparrows, however, have learnt to rely upon human-built structures. The scientific name of the species, Passer domesticus, denotes the domestic nature of the bird. Sparrows use novel materials such as threads, strings, paper and wool besides feathers, grass, roots and stalks to build nests. Moreover, they generally occupy buildings and residential spaces for nesting.
In addition to sparrows, there are other birds around us too, ranging from fierce predators to nature's clean up crew and a symbol of peace. That would be kites, crows and pigeons respectively!
If you choose to step out of your house to continue this venture, and find yourself in good luck, you may spot some average-sized mammals too. Indian Grey mongoose, Asian Palm civets and bats are some of the common ones which can be seen in cities. Although it is not a plausible option to carry a handbook to help us identify a species everytime we spot one, it can bring us to acknowledge them as wildlife. The awareness of wildlife around us is likely to trigger a realisation that there once stood natural forests these animals used to call home, which now have been replaced by concrete jungles.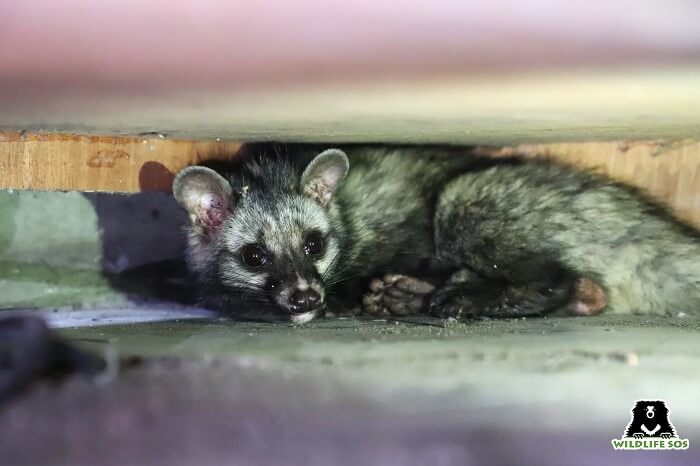 This is evident in the national capital of our country itself, where the presence of other animals in and around Delhi has been visually recorded. Forested areas such as Sanjay Van, Asola Bhatti Wildlife Sanctuary and Yamuna Biodiversity Park are prime places to spot natural vegetation, along with wild animals. According to media reports, camera trap images and footage obtained from Yamuna Biodiversity Park have led to the knowledge of animals like wild pigs, jungle cats, civets, Indian hare, Golden jackal and even Striped hyena and large bovids such as the Nilgai being present.
As we head out to the wildlife sanctuaries to explore even more, let's keep our eyes open to what may be present around us too. When it comes to reptiles, Delhi NCR alone is home to as many as 23 species of snakes and the sole large lizard, the Bengal Monitor. Some of the snakes commonly found include the Spectacled cobra (also known as Indian cobra), Indian Rat snake, Black-headed royal snake, Indian wolf snake, Indian rock python, Common krait, Common Sand Boa and Checkered keelback, among others.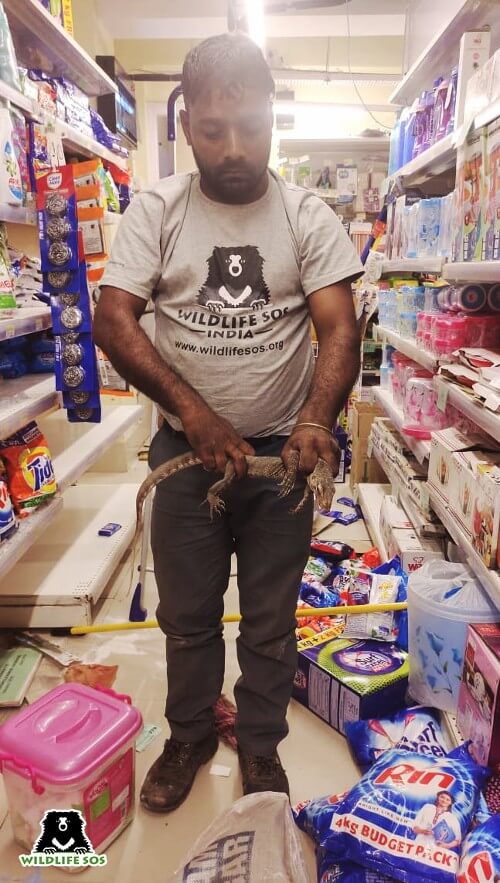 The case is similar in other cities where Wildlife SOS operates its Rapid Response Unit. In Vadodara, the prominently found animals are mostly crocodiles and snakes, in Agra snakes and Monitor lizards, and in Jammu & Kashmir these are snakes, Himalayan brown bears and Asiatic black bears.
Wildlife SOS frequently carries out rescues of snakes, monitor lizards, jackals and even Nilgais. In cases where an animal is injured, we also provide the best possible treatment to the individuals before releasing them back into a natural environment. Next time you want to observe wildlife, just open your window or go for a walk, and you may just be able to spot one. In case you come across any animal in distress, you can then alert our 24×7 emergency rescue helplines in the following cities:
Delhi NCR – +91 9871963535
Agra & Mathura in Uttar Pradesh – +91 9917109666
Vadodara, Gujarat – +91 9825011117
Jammu & Kashmir – +91 7006692300, +91 9419778280
If you ever come across any wild animal in distress, do alert our team on these numbers at the earliest!