A pocket sized ray of sunshine – that is how Odum's keeper describes the 20 year old male sloth bear taking an afternoon nap in his cosy hammock. Odum is a rescued dancing bear who is currently residing at the Bannerghatta Bear Rescue Center in the southern state of Karnataka.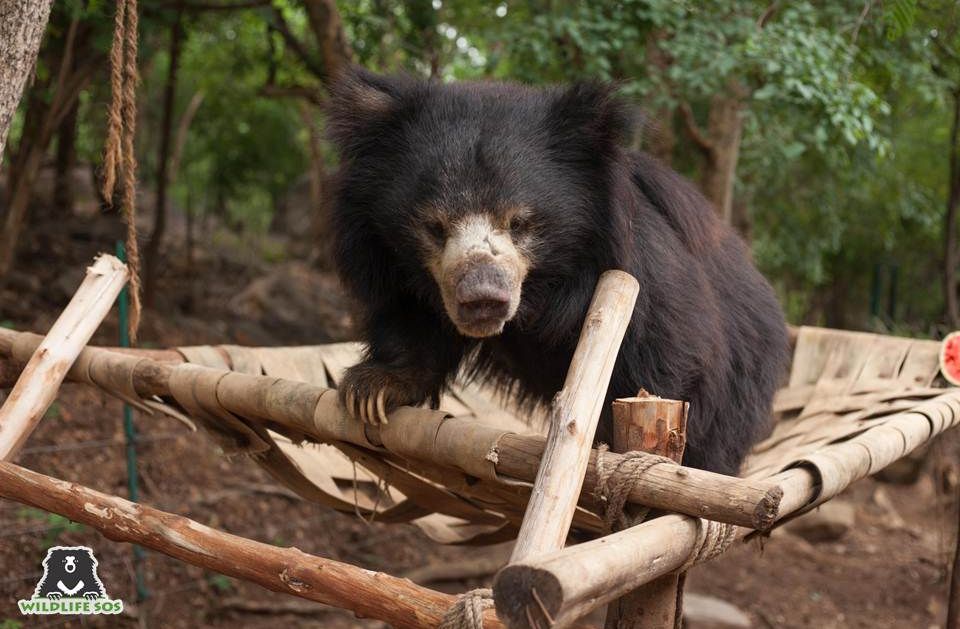 Odum's story begins at the start of the new millennium. He would spend his days trudging along the dusty by-lanes of Bellari, Karnataka with his Kalandar master. Having had a hot iron poker punctured through his nose when he was only a cub was only the beginning of the trauma he endured. A coarse rope was yanked through the still raw wound and for the entirety of his life in captivity, this short rope caused him agonising pain, forcing Odum to rear to his feet in distress every time his master pulled at it. This reaction to the pain was interpreted as 'dancing' and these painful performances were once a solitary source of income for the Kalandar community in India. For the longest time, Odum knew of no other life and no other companions but those that surrounded his chaotic life.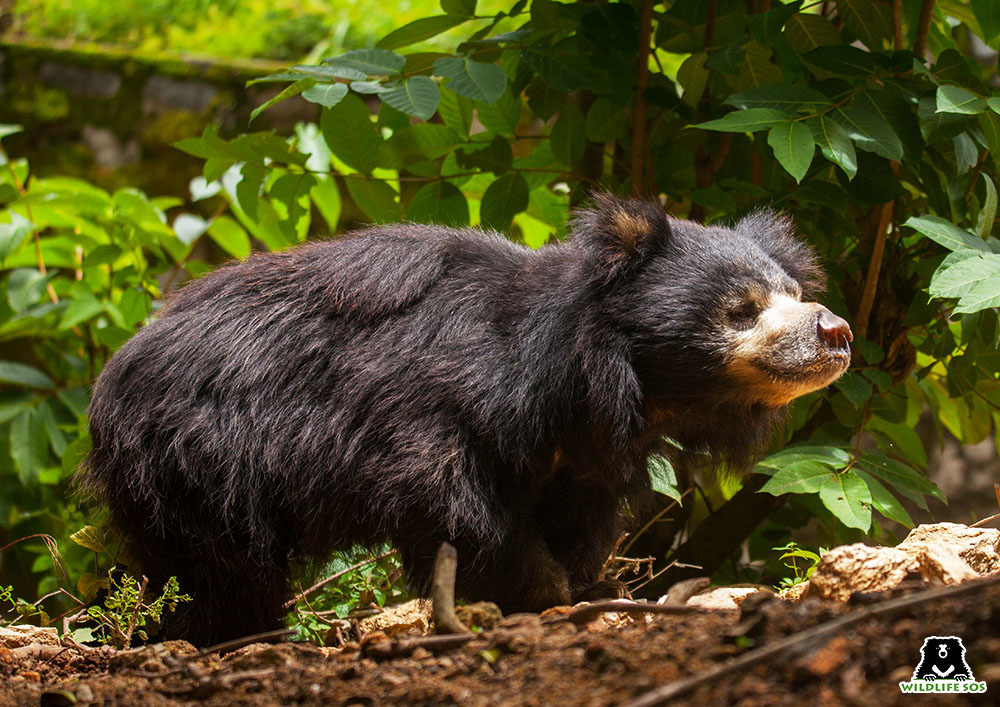 Wildlife SOS first got wind of his plight in 2009 and was able to convince his owners to surrender their dancing bear to the care of the organization and in turn, an alternative means of livelihood was arranged for the family so they could sustain themselves through rightful means. When the Wildlife SOS team first laid eyes on Odum, they thought he was sub-adult because of his diminutive stature, but in reality he was around 9 years old. Having been malnourished and poorly cared for as a cub; Odum was suffering from stunted growth and he walked with an abnormal gait.
His arrival at the Bannerghatta Bear Rescue Center in Bangalore coincided with a visit from Hollywood superstar Julia Roberts and her family. The actress was shooting the film Eat, Pray Love in India at the time. Kartick Satyanarayan, co-founder & CEO,Wildlife SOS invited her to name the rescued bear, and Julia settled on 'Odum'—an old family name.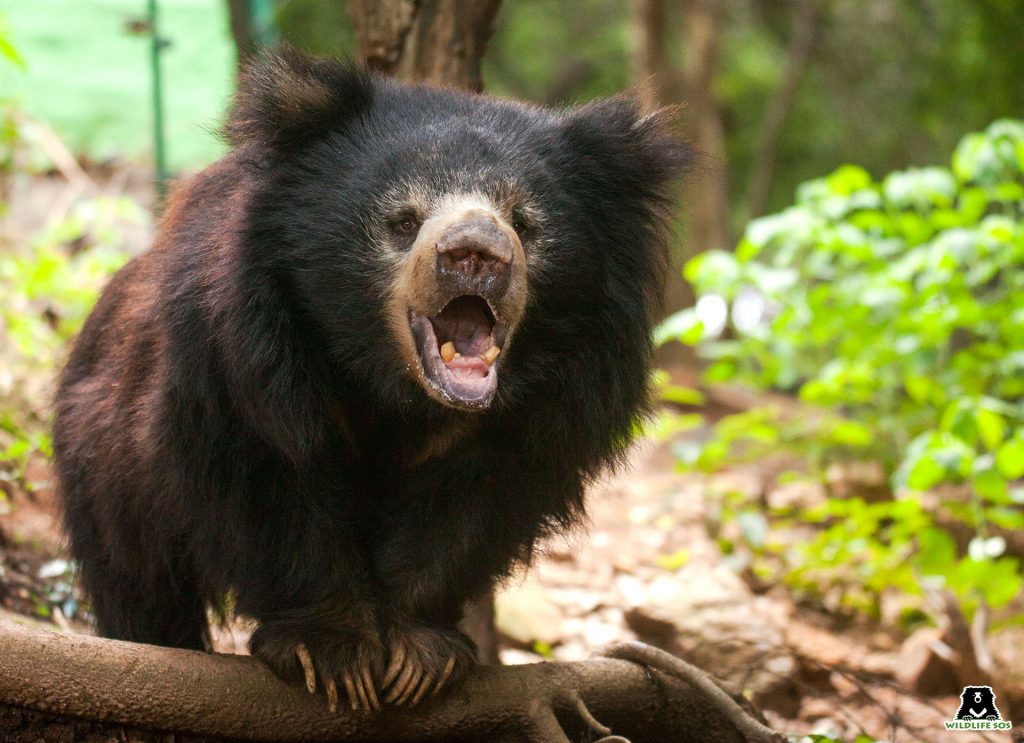 The trauma that each of the dancing bears go through is extreme. Not being able to break free from their captors and reliving being mistreated everyday, takes a heavy toll on their physical and psychological well-being. Odum would initially sit quietly in the corner of his quarantine enclosure presumably waiting for someone to strike him or drag him through the streets to perform, unaware of the fact that his days of being a dancing bear had finally come to an end.
With time and dedicated care, the Wildlife SOS team was able to help Odum recover from his brutal past and watched him grow healthier with each day. Soon after, Odum was introduced to other bears as forming social bonds played a vital role in the rehabilitation process. It was heartening to see Odum having positive interactions with the other bears as it enabled him to pick up on his innate skills such as foraging, digging and climbing.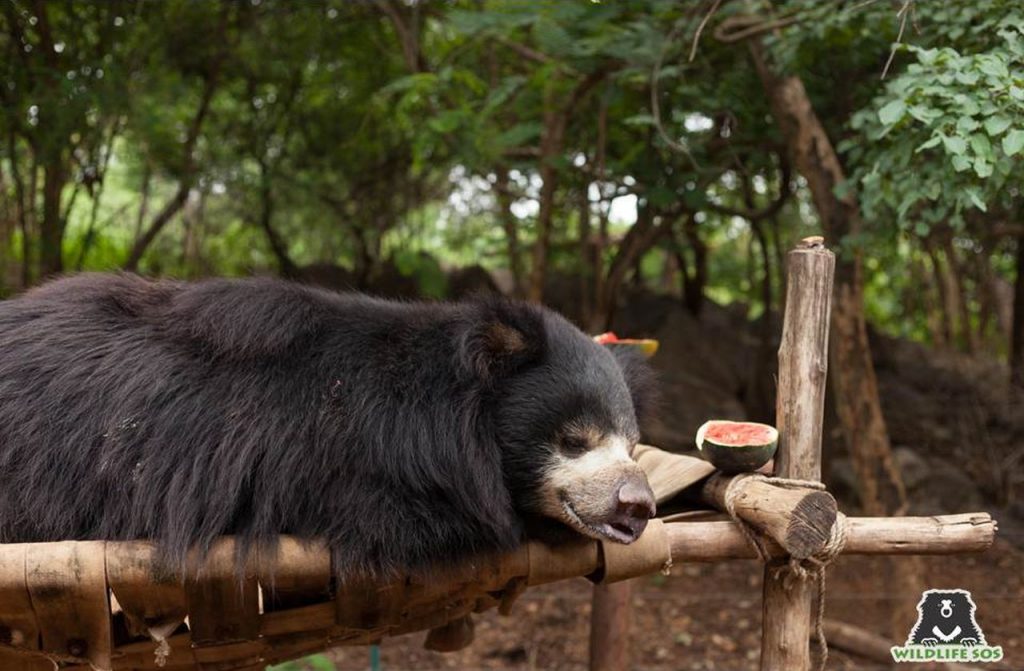 He is particularly close with Dhruv and Devi, and the three get up to all forms of mischief in their enclosure. While he still remains slightly wary of visitors, Odum shares a comfortable bond with his keeper who goes the extra mile to ensure that he has enough enrichment to play with. As the smaller bear cannot scale trees with the same dexterity of his counterparts, Odum's keeper builds interesting platform structures that are somewhat inspired from the jungle gym, and enable him to remain physically active. According to his keeper, Odum enjoys playing with tyres, enrichment balls filled with peanuts treats and honey laced logs. He has quite a sweet tooth and is fond of treats like honey and dates!
Odum's treatment and general care have played a vital role in keeping him safe and healthy, and providing him the free, happy life he deserves. This has been made possible by your unwavering love and support for our beautiful sloth bears.