Caged parakeets or turtles are a very common sight in Indian households. What most people are not aware of is that the possession and trade of native wildlife species is illegal under the Wildlife Protection Act, 1972. Under the garb of the pet trade, rare and endangered species are smuggled in and out of the country, due to their ever increasing demand in the international black market.
Each year, millions of wild animals fall victim to illegal pet trade. Many are kept in exponentially small spaces and deprived of basic nutrition and care. According to experts, at least 75% of these animals die within the first year of becoming a pet, with a vast majority succumbing to suffocation, disease, starvation and dehydration during transit. Despite having a strong legal framework that regulates and restricts the flow of wildlife trade, protected animal and bird species continue to be sold as exotic pets across India.
Recently, The Wildlife SOS-GSPCA (Gujarat Society for Prevention of Cruelty to Animals) team assisted the Vadodara Wildlife Division in conducting a series of raids across the city. In a successful rescue operation, the Wildlife SOS-GSPCA team & the Vadodara Wildlife Division seized a number of illegal 'house pets' including Indian Star Tortoises, Rose-Ringed Parakeets & Alexandrine Parakeets in Vadodara, Gujarat.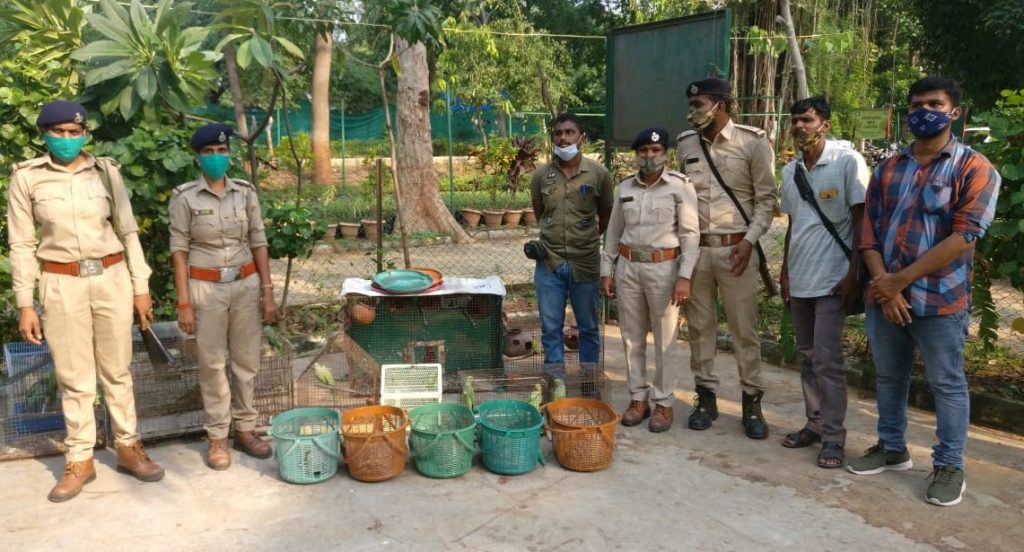 Based on intelligence gathered by our informants after weeks of surveillance, the authorities successfully recovered 5 Rose-ringed parakeets, 5 Alexandrine parakeets and 5 Indian star tortoises that were being kept as illegal house pets in the areas of Ajwa, Gorwa & Chhani in Vadodara, Gujarat. The animals were cooped up in small, cramped cages and the wings of some of the birds had been trimmed to prevent any possibility of escape.
Following this successful operation, authorities seized 35 more parakeets and tortoises from illegal custody over the course of 15 days!
Of the 12 native species of parakeets, the Rose-ringed and Alexandrine parakeets are two of the most traded birds in the country. These birds are captured from the wild at a very young age and forced to live in horrific conditions, which clearly violate the guidelines stated in The Prevention of Cruelty to Animals Act, 1960.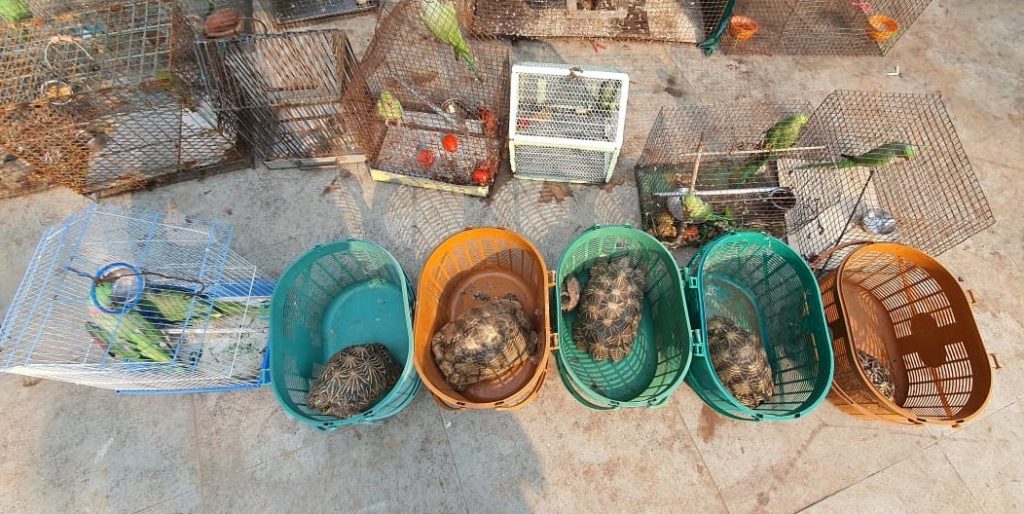 On the other hand, the Indian star tortoise is listed as 'vulnerable' by the International Union for Conservation of Nature (IUCN). There is a high demand for protected species like the Indian Star tortoise in the exotic pet trade as they have a unique star-like radiating pattern on their carapace (shell). At the 2019 CITES summit, they were moved from Appendix II to Appendix I status after a vote by a majority by nations participating in CITES. While hopes soar that these measures can provide more protection to the tortoise both in India, where it's illegal to own or trade them commercially, and internationally, worries persist due to the recent spike in the trade surrounding the species.
Unfortunately, most people do not know it is illegal to keep these animals as pets. This is the face of the covert pet trade that flourishes in urban settings, dooming many such animals to a lifetime of misery behind cages. It is important for the public to be aware of the illegality of such offences.
Since 2010, Wildlife SOS has been working in collaboration with the Gujarat Society for Prevention of Cruelty to Animals (GSPCA) to rescue wildlife trapped in urban localities and regularly assisting the Forest Department in conducting raids to rescue illegally trafficked animals. .