A couple of days ago we wrote to you about Pari the elephant who desperately needs our help.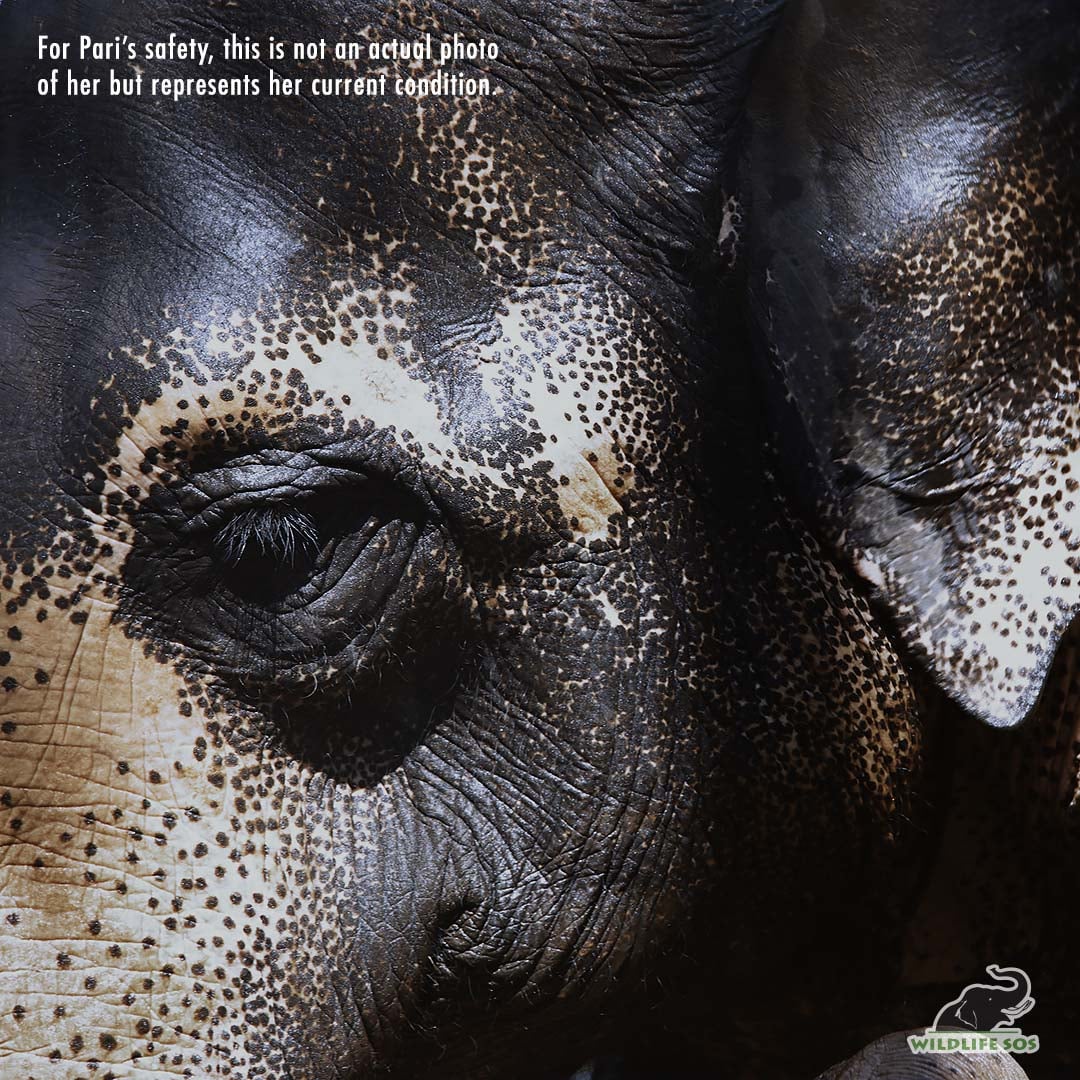 November 29, 2021 – After extensive planning, the Wildlife SOS team is preparing to bring Pari to safety. The first and foremost step in any rescue operation is preparing the Elephant Ambulance to ensure a safe and trouble-free journey.
Our team meticulously sanitised the ambulance and loaded it with all the essential things that Pari could possibly need during her long journey. From covering the ambulance floor with soft hay to keep Pari's injured feet comfortable and blankets that will keep her warm and cozy, our team has ensured that Pari is showered with love from the minute she meets our team!
The Wildlife SOS team has departed on their long voyage to rescue Pari. The elephant ambulance is santized and stocked with everything we anticipate Pari will need and will be accompanied by multiple support vehicles.
We hope you'll join us in wishing our team safe travels on the road ahead and keep them in your thoughts.
Here is a short video giving you a little perspective of what the driving is like at night during these rescues.
November 30, 2021 – 1:00 pm (IST)
After an arduous journey, the Wildlife SOS Team has finally arrived at the safe location. A mix of emotions flooded the entire rescue team as they first laid eyes on Pari. There was excitement to see Pari safe but also worry about her frail health, aching feet, and wounded body.
As a first step Pari was given some green fodder and fresh fruits to energise her and she will soon be examined by our veterinarians on site. Pari's journey of healing has already begun with the comforting touch and care of our rescue team.
November 30, 2021 – 3:30 pm (IST)
After travelling overnight, the Wildlife SOS team finally met Pari, only to find her shackled in chains with a heavy saddle tied to her back with coarse ropes that dug into her skin. In this video, you can see Dr. Tenzing carefully removing the chains that had bound her for decades.
The team also took off the heavy saddle that she was burdened with along with the other paraphernalia like spears and bull hooks (Ankush). Pari, now free from these reminiscents of her past has stepped into a new phase of life where she will have abundant freedom and happiness. We will keep you posted.
November 30, 2021 – 5:15 pm (IST)
BREAKING NEWS !
We are happy to inform you that Pari is finally free from her past life of abuse and pain. She has stepped into the Wildlife SOS Elephant Ambulance and is on her way to the Elephant Hospital where she will be provided with the best and expert medical care for her wounds and pain. We are taking all precautions to ensure that Pari makes this journey with ease and is comfortable throughout.
As Pari embarks on this new journey, we thank you for your continued support and love for her. The road to recovery is a long one but we will do everything in our power to make sure that Pari leads a life full of good health, freedom and companionship. We will keep you posted throughout the journey.
P.S. She loves bananas and we used many many bunches to lure her into the ambulance.
November 30, 2021 – 8:15 pm (IST)
In all our rescue efforts, we come across animals that are severely battered – mentally, physically and emotionally and Pari is no different. The scars on her body speak volumes of the tortures that she has lived through for years, silently bearing everything that humans have done to her. One expects the rescued animals to be wary of humans and be unsure of the future that awaits them. How can she be expected to trust and love the ones who have treated her so badly all these years?
It is when we meet animals like Pari, that we see just how forgiving and trusting they are!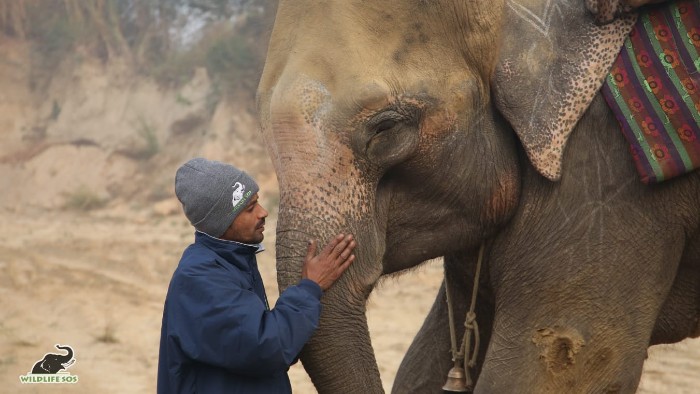 Our elephant caregiver, Surender is a part of Pari's rescue team. His first interaction with Pari could not have been more heart touching. She was completely calm as Surendra gently reached out to touch her trunk as a way of reassuring her that life was only going to get better from here on.
November 30, 2021 – 11:45 pm (IST)
UPDATE!
Early this morning we shared the first video of Pari as she was being freed from her chains. Shortly afterward, Wildlife SOS veterinarian Dr. Tenzing performed his initial health examination of Pari. In the following video he discusses a catalog of injuries and health concerns for Pari that resulted from many, many years of abuse and neglect. Pari will need round-the-clock care when she arrives to the Elephant Hospital Campus.
December 1, 2021 – 02:15 am (IST)
SEVERE CHRONIC INJURIES – We hate to share graphic images, but sometimes words can't capture what we see. Pari's feet are some of the worst we've ever seen, and here's what we found during her initial roadside assessment before her rescue.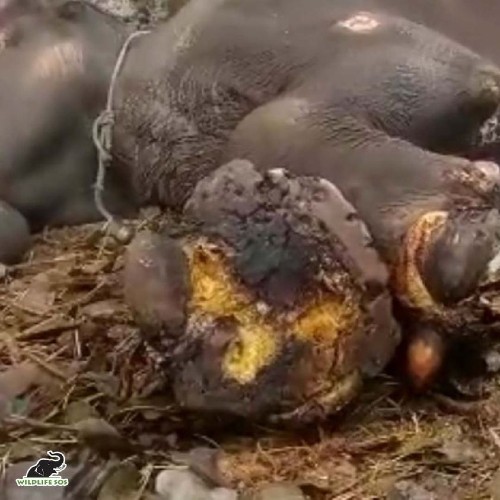 We can't imagine the pain she's had to endure, and she will require years of intensive care for her chronic injuries. We've also discovered that this little, timid elephant is only about 20 years old. With her extensive injuries, we initially thought she was 30 or 40 years old.
A MOMENT OF KINDNESS – During Pari's long journey to freedom, our team is ensuring she's kept as comfortable as possible. This includes food, support, and warm blankets.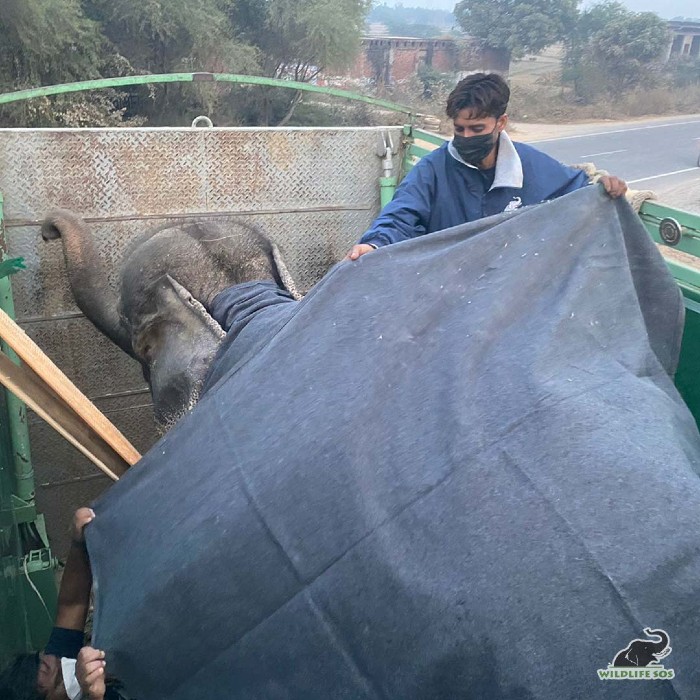 The custom elephant ambulance has observation cameras and access for checking on Pari constantly. The team drives very cautiously to minimize Pari's stress, and stops frequently to let her rest. Patient Pari can't imagine how her life will soon change for the better. This is a moment of compassion as our team covers Pari with warm blankets.
We know we can improve her quality of life and show her kindness, but we can't do it without you. Will you consider becoming a monthly supporter of Wildlife SOS? As a member of our Elephant Freedom Team, you will help fund the ongoing care of the many elephants at our facilities. The Freedom Team gives us the confidence to mount future rescues that save more elephants like Pari.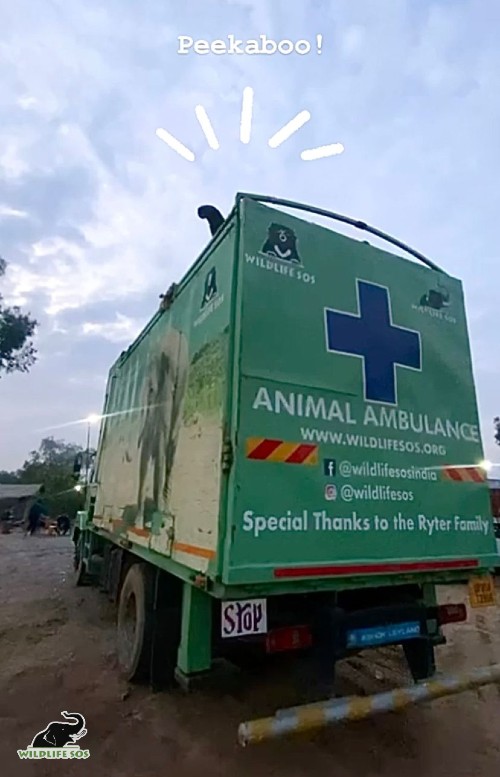 A MOMENT OF CURIOSITY – Pari's battered body masks her youthful spirit. This small, young elephant is curious about what lies ahead. She's experienced kindness from our rescue team, and had treats like bananas and cucumbers to help calm her obsessive behaviours. Pari is taking in all the smells around her as she continues her journey to the Wildlife SOS Elephant Hospital. It won't be long now, Pari.
December 1, 2021 – 11:30 am (IST)
ALMOST THERE!
Driving into the foggy morning, we have entered the last leg of our journey to the Elephant Hospital Campus with Pari who has been extremely calm and patient.
Kudos to her resilience! We are eager to arrive at the EHC and shower Pari with all the love she deserves.
December 1, 2021 – 12:35 pm (IST)
BREAKING NEWS- Pari has Arrived at the Elephant Hospital
What is the feeling of freedom? After years of torture and abuse as a begging Elephant, Pari relishes freedom as she comes home after an arduous journey – a moment we all were eagerly waiting for!
As she curiously walks towards the Wildlife SOS Elephant Hospital we ask again, "What does freedom feel like?" We hope Pari knows.
Pari has longed for this safety and comfort all her life, and we hope she is as inspirited as we are. Wonderful new things and friends wait for her. All we can anticipate now, is that she likes this new 'ghar' (Hindi for 'home') of hers. She will now be resting before we begin performing an extensive medical examination.
Team Wildlife SOS dearly thanks all those who supported Pari throughout her journey. We thank you for your generous donations in making this mission possible.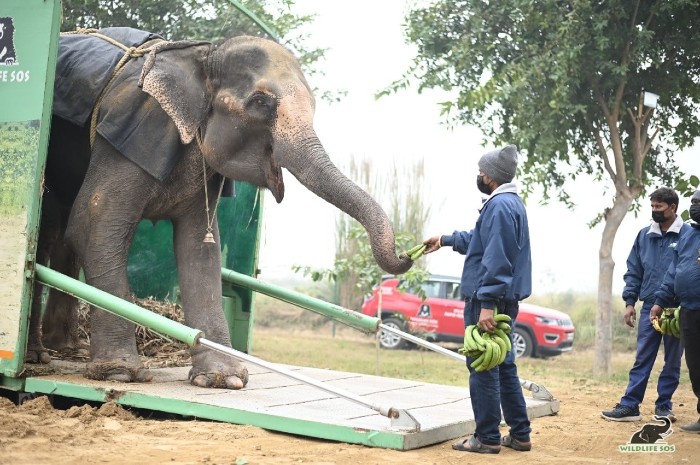 The Wildlife SOS team made one final and crucial pit stop before reaching the Elephant Hospital. Pari was weighed at a "Dharam Kanta" which is a large weighing scale. Here we have Dr. Tenzing explaining the process and why it is so important. He says that by knowing Pari's body weight we can better understand whether she is underweight or overweight and if she is malnourished. As it had already been observed, she was underweight, so moving forward, a special, nutritious and balanced diet will be formulated that will be specific to her condition. This in turn facilitates optimum recovery and healing for Pari. We are happy that Pari has such a caring and dedicated team who are leaving no stone unturned in ensuring that she gets nothing but the best of treatment, food and care.
Here's Pari, elated and waving her trunk in absolute joy. It's probably her way to thank us and all of you who supported us throughout our journey with your contributions and prayers of support. Also, we cannot get over how sweet Pari is!
IT'S TIME TO CELEBRATE!
After extensive planning and a tremendous effort by our rescue team, Pari has safely arrived at the Wildlife SOS Elephant Hospital. These first steps of freedom are powerfully symbolic, giving hope to all captive elephants in India. Let's cheer Pari on and look forward to seeing her personality shine as her health improves and she no longer lives in fear.
Suffering from years of abuse, her many injuries mask her young age of just 20. In the coming weeks Pari will undergo extensive medical evaluations and initial treatment. She will receive nutritious food to help her regain strength, and of course many bananas and other treats to further win her trust. In time she will meet other resident elephant friends.
Please share and tell your friends and family how much Pari's rescue means to you!
SOUND ON – After an exhausting and anxious few days for Pari, she took advantage of the plush rubber flooring in the Wildlife SOS Elephant Hospital for a little nap. This might be the first peaceful rest she's had after two decades of abuse. In her past, any dramatic changes in Pari's life were likely met with new beatings, so the calmness and trust she is exhibiting are heroic.
In the coming days our care teams will begin intensive medical assessment and treatments. But for now, Pari can rest, eat, and listen to the welcoming sounds of her new elephant friends. After showing you what's involved in a delicate elephant rescue like Pari's, we hope we've won your trust, too. Every day we take great pride in demonstrating to our army of supporters that we're wise and frugal stewards of their generous donations. Our small, dedicated staff appreciate each and every donation and kind comment. Your gifts give us the resources we need to help elephants, bears, leopards and India's other precious wildlife that means so much to us all. Please consider becoming a monthly supporter of Wildlife SOS. With you by our side, there's nothing we can't accomplish. Thank you!
ELEPHANT FEAST – Pari must think she's in elephant heaven! Our caregivers welcomed Pari to the Elephant Hospital with a feast fit for an angel. Bananas, watermelon, cucumbers, squash and lots of succulent leafy green fodder awaited our newest resident.
The arrival banquet is a longstanding tradition at Wildlife SOS, and a welcome bit of fun for weary staff. The food is a symbolic bounty of the loving care and kindness Pari will receive from now on. When we first saw photos of Pari before her rescue, her emaciated body was striking. She was surrounded by very little nutritious food, eating mostly branches, old grass and other discarded vegetation. Now Pari will get a balanced, vitamin-infused diet to help build her strength, and of course lots of healthy treats to win her heart!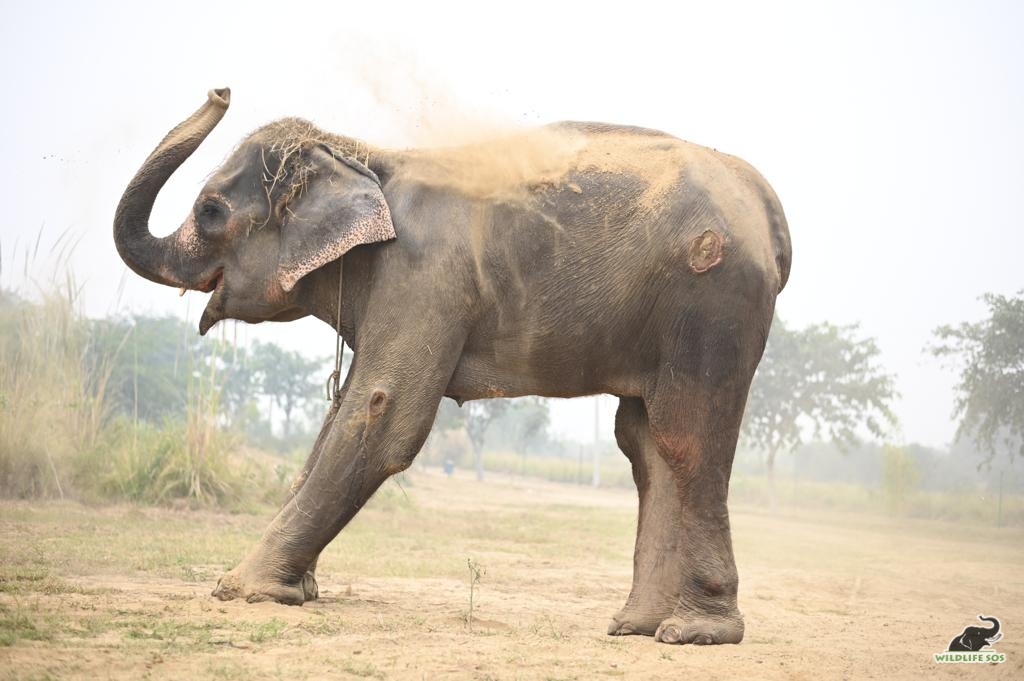 Will you consider becoming a monthly supporter of Wildlife SOS? As a member of our Elephant Freedom Team, you will help us with the ongoing care of the many elephants at our facilities. The Freedom Team gives us the confidence to mount future rescues that save more elephants like Pari.
You can donate or sponsor here .