Back in 2006, the Wildlife SOS team visited an acreage near Ramdurga Village in Gangavati Taluk of Koppal, Karnataka. With barren land on either side, the landscape seemed less than ordinary. But not for the Wildlife SOS team: It had observed scats of bears and leopards along with rocky caves. This land was once home to a thriving population of sloth bears and other endangered species such as tortoises, leopards, wolves, Yellow-Throated Bulbul, and even the rare and elusive Indian Pangolin. Despite being categorized as revenue land (agricultural land that cannot be used for industrial or residential purposes), Illegal mining, hunting, encroachment, and rapid deforestation were rampant. Abundant and thriving with various species, this area was now barren.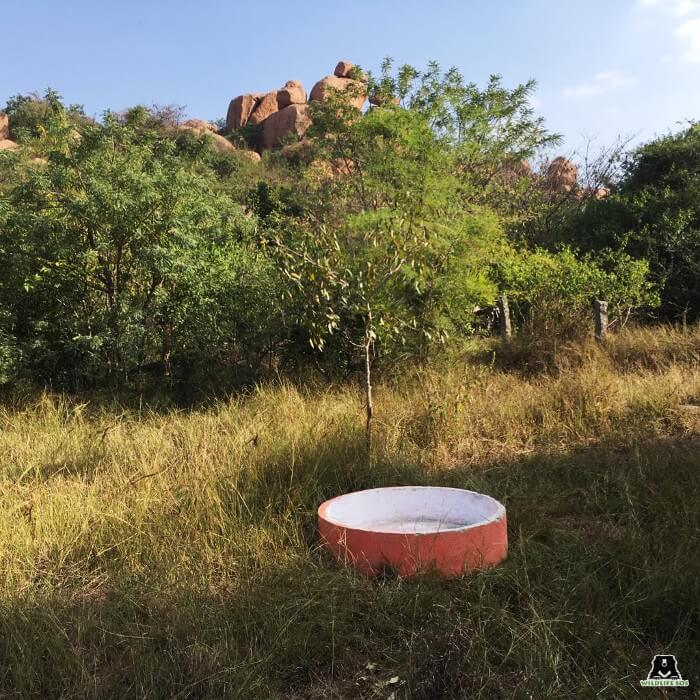 Determined to restore this land to become a home for the indigenous Sloth Bears and other species, Wildlife SOS embarked on a unique initiative – the Ramdurga Habitat Restoration Project. Habitat restoration refers to restoring ecosystems with the specific purpose of providing habitat to an individual or an entire suite of species that are likely to be found in that area. To this effect, Wildlife SOS took over 40 acres of land near Ram Durga Village to create a wildlife corridor that links the land with its surrounding forests. Habitat fragmentation has a direct impact on the species depending on it. Its restoration thus becomes an integral aspect of wildlife conservation in order to ensure that wildlife survives. In April 2012, another 10 acres were added to the restorable land with the help of BHEL and PSSR Chennai. With an all-told 50 acres of land, the project gathered steam to restore ecological balance.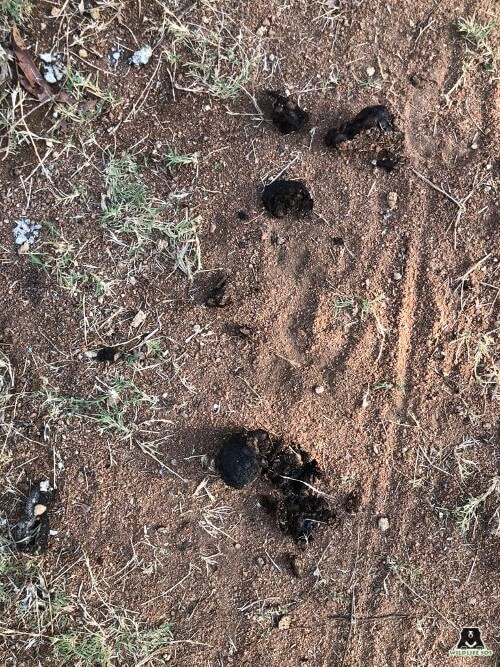 With the help of an expert, a selection of 10,000 tree and shrub saplings native to the area were planted. With each sow, rewarding results were seen! Neem, amla, bamboo, custard apples, and banyan trees, among many others prospered in abundance. Within almost 3 years, the survival rate of these plant species reached 90 percent. Native wetlands too were restored by integrating irrigation systems. A bore well, drip irrigation system and solar-powered electrical fencing were built to provide greater access to water while also sustaining the land.
Today, the land bears no resemblance to how arid it had become; bald hills have transformed into lush green forests. This summer, stone apple plantations are creating green covers for various species to thrive in. Leopards have been spotted using the land as a safe corridor to move between forests, and pangolins have been seen taking shelter under trees!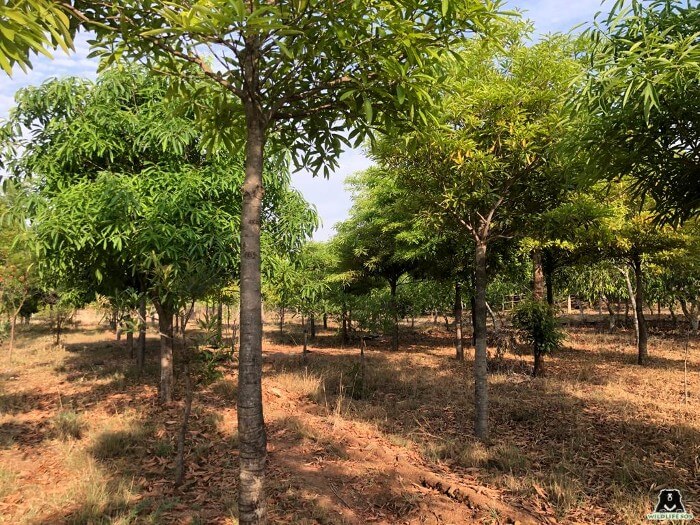 Sloth bears, too, have made a comeback. Having rescued several sloth bears from the grip of the Dancing Bear practice, Wildlife SOS considers this as another significant milestone in their journey. These bears are classified as 'Vulnerable' on the IUCN Red List. As forests dwindle, these bears move closer to human settlements in search of food and shelter, leading to conflict. The return of Sloth Bears to the restored habitat is indeed a welcome redressal.
Various individuals have generously helped along the way in achieving such success. Most recently, Water For Voiceless, an animal rights group, donated seven water troughs that were installed throughout the reserve forest. Anthropogenic pressures had destroyed most of the water sources in Ram Durga. These troughs came as saviors that provide animals with a freshwater source, specifically in the summer!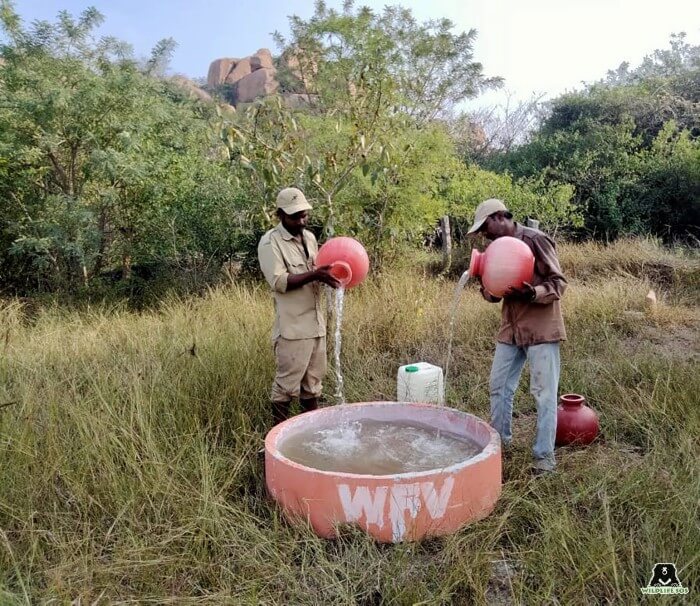 Ram Durga village is home to two predominant communities – the Valmikis and Banjaras. While interacting with them, the Wildlife SOS team learned that the locals were migrating during the summer months owing to the lack of underground water. Moreover, ritual hunting was practiced specifically during the summer months. Wildlife SOS thus implemented a community-based restoration model that involved its people and ensured their livelihood. An irrigation system was developed to protect native wetlands and local communities. As a result, lesser people migrated and instead indulged in agriculture all year round. Replete with knowledge and respect for their natural surroundings, local communities are indeed the leaders of wildlife conservation. Losing them to non-forestry occupations would mean losing invaluable wisdom to save the forest.
To counter issues such as illegal hunting and mining, Wildlife SOS has set up a 6-member patrolling squad, of which some have been local hunters. Now, our patrol guards are the true champions of the restoration project. With a newfound vision, these men now use their intimate knowledge to protect Ram Durga and its plantations.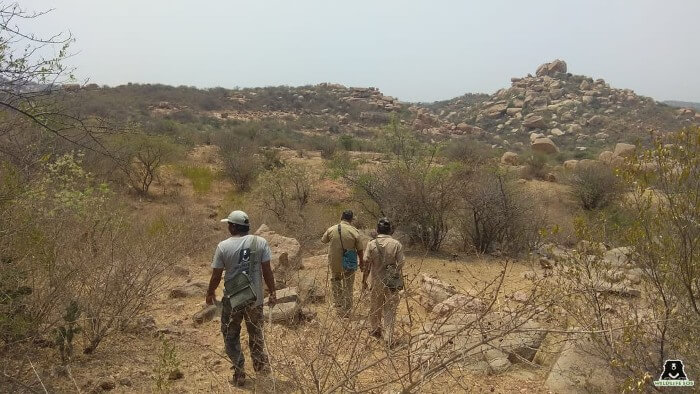 Wildlife SOS has also initiated awareness programs with villagers and in schools to start a dialogue about the importance of conserving wildlife and its habitat. Through such knowledge-sharing programs, a strong will to maintain Ram Durga has strengthened the bond between the staff and the local communities.
In the coming years, Wildlife SOS aims to amplify the fruit plantations in Ram Durga. These fruits will then be distributed to local farmers to encourage sustainable livelihoods. A healthy monsoon has been predicted, and so, plans to harvest the rainwater are underway as well.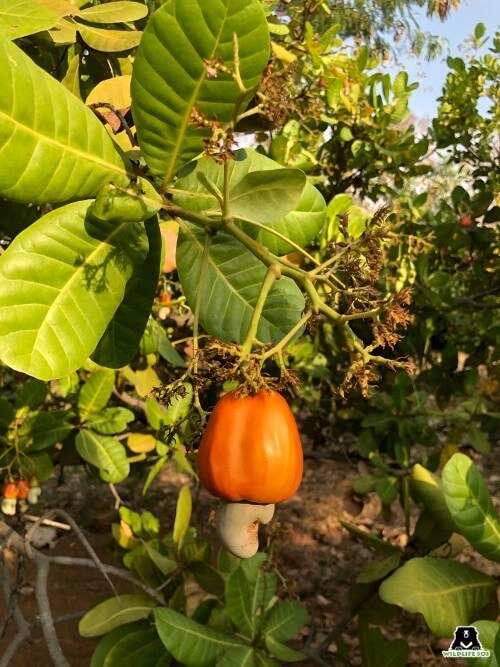 The Ram Durga project has blossomed as a testimony of the need to mend our relationship with mother nature.
You can contribute to support Wildlife SOS' work by clicking HERE!