62-year-old Erika's history is shrouded in pain, agony and utter neglect – however, that hasn't subdued her indomitable spirit in any way. If anything, this dauntless courage shines through every day that we've known her. From the exhausted, weak, and utterly malnourished elephant that roamed the dusty streets of Haryana to the tall, serene and graceful leader of her adopted family at Wildlife SOS' Ch. Surinder Singh Elephant Rehabilitation Centre (ERC), Erika has come a long way.
Erika's history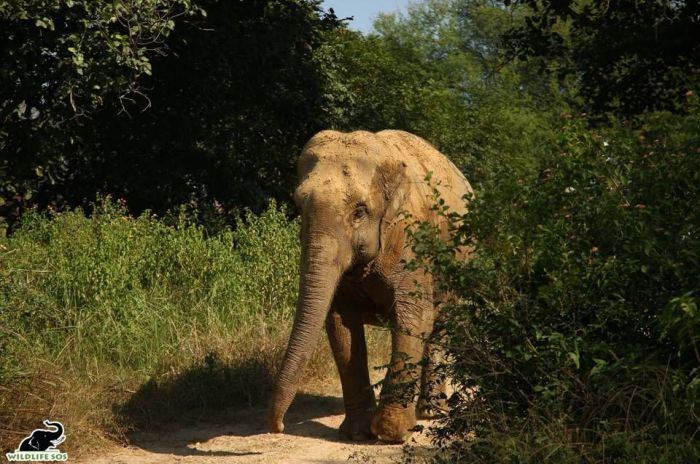 In 2013, a weak & battered elephant, covered in the heavy garb that is often spotted on captive elephants, was observed 'blessing' passers-by as she trudged along through a busy road. A tireless and thankless 'job', this required Erika to constantly live under the fear of merciless instruments like bull-hooks that inflict pain as a reminder that disobedience was not an option for Erika.
When not out on the streets, the gentle giant was tightly restricted in a concrete corner in an open field. Regardless of the weather – harsh winters, summers, or rain, Erika remained in the filthy puddle that had become her home. All this neglect led to the deterioration in the condition of her feet and joints – making her a very sick elephant. Suffering from both psychological distress and physical agony, freedom seemed like a distant dream for Erika.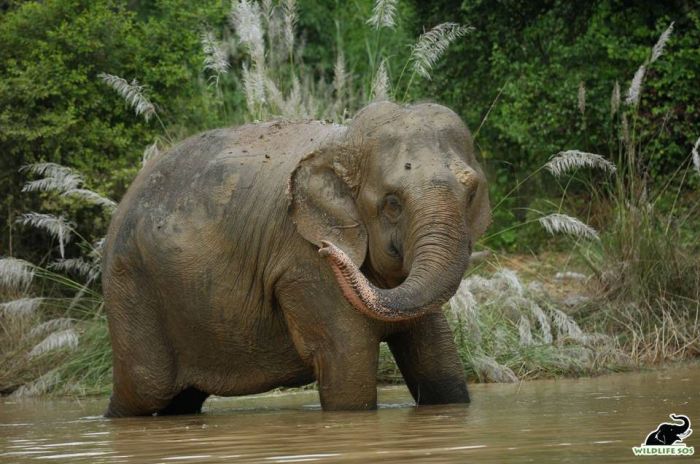 Fortunately, all it took was a whisper. The state Forest Department got wind of the fact that Erika was illegally owned and immediately moved to confiscate Erika and transport her to a new home. When all seemed bright on the horizon, however, Erika's owner disappeared, taking Erika with her. Our hearts heavy but determined, we worked closely with law enforcement authorities and Forest Department officials to track them down. They say perseverance always wins, and the rescue of our beloved Erika proves that. Soon, her owner was apprehended and she was ready to start a new life of freedom with Wildlife SOS!
A friend in need
Erika was rescued just a few hours after Ella – another begging elephant roaming the streets of Haryana, blessing people for alms. When Erika arrived at the centre, she was welcomed by Ella. They took an instant liking towards one another and have been inseparable since. As Ella and Erika were rescued from the same state on the same day, we think it's destiny that brought the two together.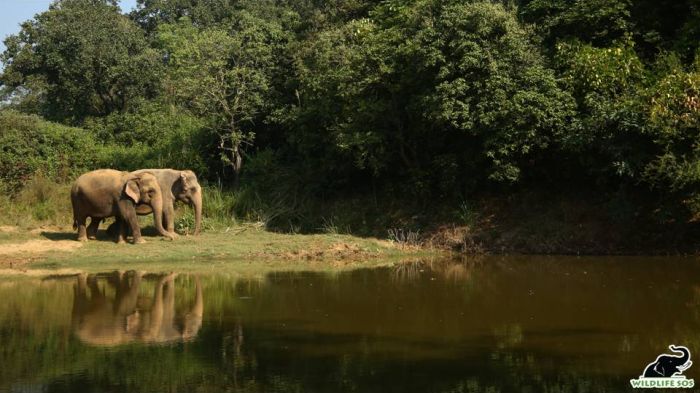 In the past seven years, the two have discovered a world of joy, new discoveries, and friends. As Ella is the oldest elephant under the care of Wildlife SOS (78 years of age), she undergoes specialised geriatric care to ensure that she can fight the debilitating effects of age. Apart from that, all Ella has ever required to be happy is her dearest friend Erika. The two are often spotted together, contentedly grazing in the lush forests of the Ban Santour centre. Erika is fiercely protective of her friend and is always by her side – ready to nudge her into the right direction during their walks or help her figure out a particularly juicy food enrichment.
Erika – the Matriarch
As Ella & Erika's group of two slowly expanded, today Erika slowly assumed the role of confident matriarch of her herd of five. She leads her extended family with grace and concern – always putting their needs first. In return, Erika is revered by the herd. Daisy, Ella, Jasmine & Lilly follow her on their daily walks and to the mud-bog that is their favourite 'hang-out' place.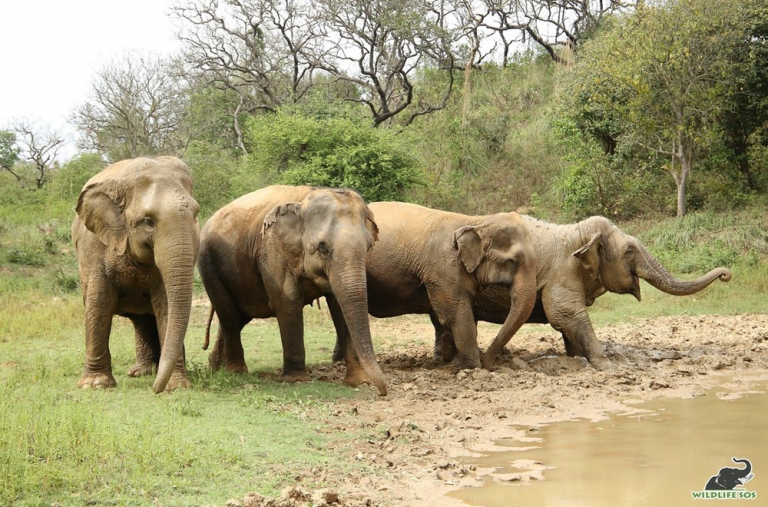 Elephants are incredibly emotional and social animals for whom their families mean everything. In the five decades that Erika spent as a begging elephant, she did not have any companions at all. Since her arrival at ERC, however, Erika's made four bosom friends and is much happier today. Her adopted family played a major role in aiding her with her psychological distress. Their companionship also meant a greater degree of recovery for Erika, but none more so than Ella's. When Erika is undergoing medicated foot baths and treatment for her toenail abscesses, Ella is always by her side, emitting concerned rumbles to check if everything is okay with Erika.
A health update on Erika
Today Erika is receiving the care she so desperately required and is much healthier for it. Though the abuse she was subjected to for five decades cannot be undone in a mere seven years, we're working diligently towards helping her heal. She receives medicated footbaths of Epsom salt and turmeric for her feet and also, treatment for the toenail abscesses near her cuticles.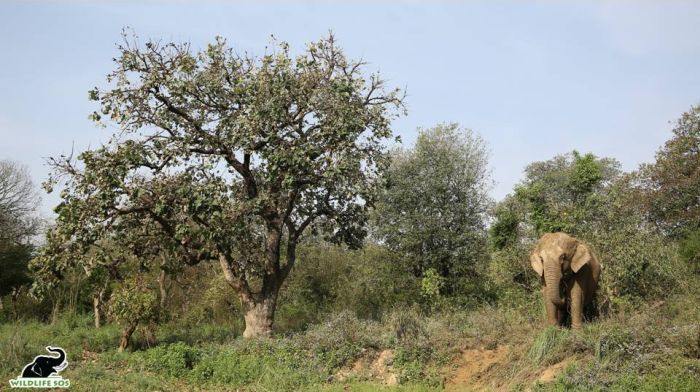 She is free to explore the open and heavily forested jungle that is a microscopic imitation of her home in the wild without restrictions. The soft mud of the forest is a relief for her after the harsh concrete surfaces of the urban landscape. She is a voracious eater, consuming about 20 kilograms of fresh fruits and vegetables daily including apples, cauliflower, pumpkin and cucumber. Apart from this, the pachyderm also consumes about six kilograms of khichdi (porridge) prepared from a mixture of Bajra, soft-boiled rice, salt, sesame oil and half a kilogram of jaggery with every meal. The sesame oil and jaggery help her fight the winter along with a special, customized winter preparation called 'mashale' – consisting of Carom, Ginger & Garlic.
A happy ending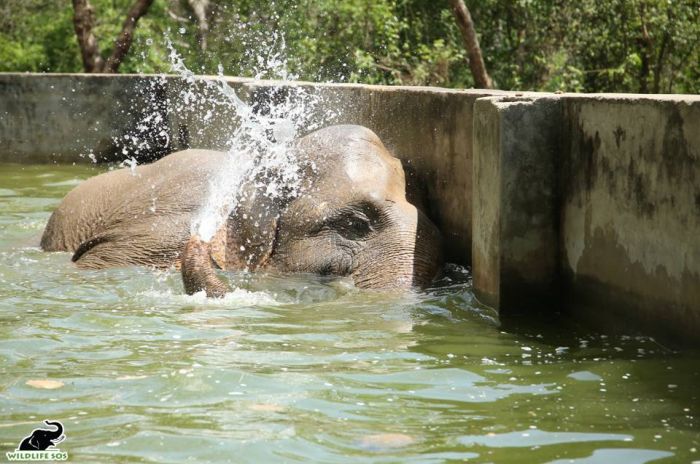 Erika's story helps us move forward with our cause every day. She is a shining beacon of the success of rehabilitation as the difference between her two lives is astounding. Today, as she sits soaking in the relief of her mud bath, we are extremely grateful for the opportunity of knowing her.
You can catch a glimpse of Ella & Erika on our YouTube channel here!