As the bright sunshine pierces through the dense fog and mist of the morning, our elephants can be seen pausing amidst their walks to bask under the sun at the Wildlife SOS Elephant Conservation and Care Centre. The month of December, with its unpredictable and delightful rainfall, prepared us all for a chilly winter that was lurking around the corner.
For their morning and evening walks, the weather remains pleasant but geriatric elephants like Suzy, Phoolkali, Asha, have their jumbo jackets on to keep them warm.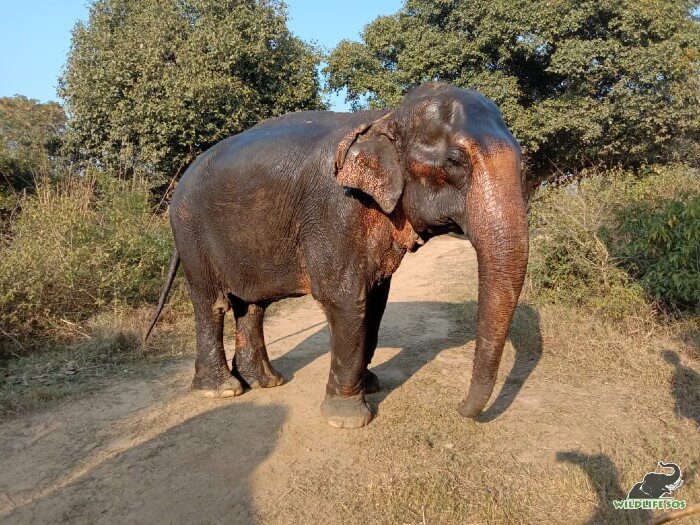 Additionally, older elephants are given warm sesame oil massages after their bath. These warm oil massages play an instrumental role in preventing the skin from cracking up due to the cold weather. Our dear Bhola loves these relaxing oil massages as they spell relief for his ailing joints, and he is quick to proceed for a quick nap on his mud bed, right after.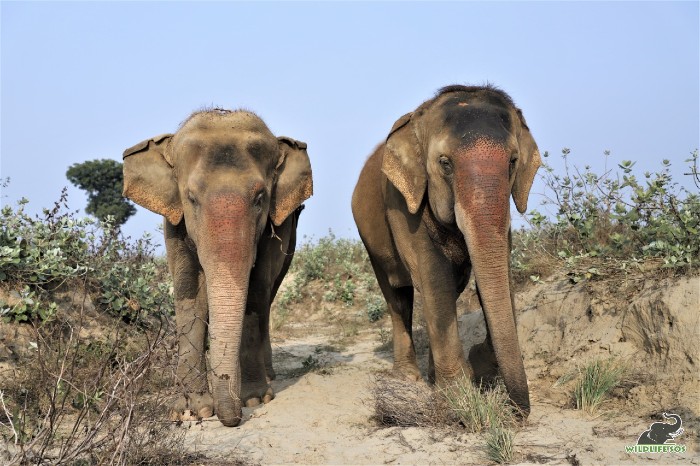 Over at the Wildlife SOS Field of Dreams, additional measures have to be taken owing to the proximity to the Yamuna river. It gets very cold during early mornings and late evenings, and slightly difficult for the elephants under intensive treatment, which is why all the enclosures are covered with huge tarpaulin curtains.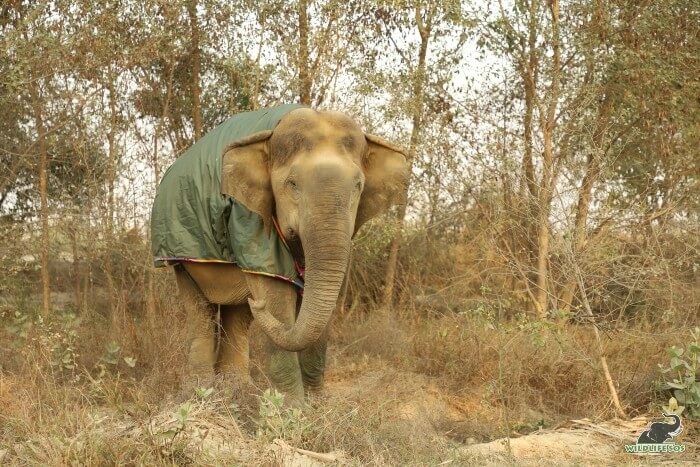 These heavy curtains help block the biting cold winds that emerge from the riverside and the elephants can be spotted comfortably standing in a corner of the enclosure. These tarpaulin curtains are also used at the Wildlife SOS Elephant Conservation and Care Centre for older, ailing elephants, keeping their comfort in mind.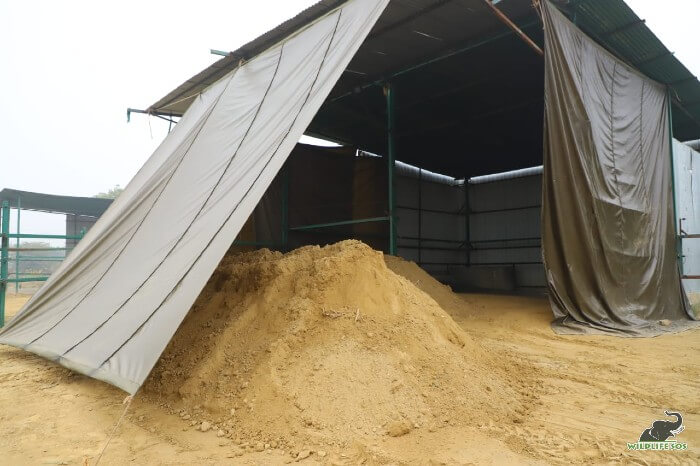 We have also installed halogen lamps and sodium lamps in the enclosures to keep the elephants warm and shielded from dipping temperatures at night. More often than not, the elephant care staff makes a small fire at a safe distance from the elephants for additional heat and warmth – this is done under their supervision or the supervision of a guard at night, to avoid any untoward incident.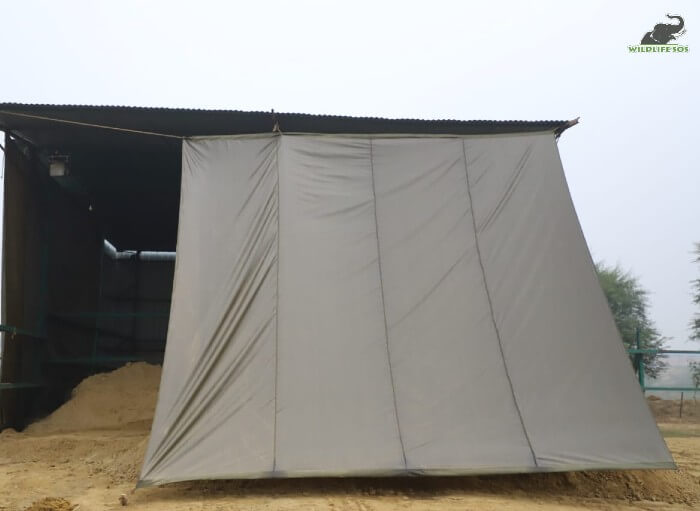 Arya, who welcomes her first winters in comfort at the Wildlife SOS Field of Dreams, has also been covered with an elephant jacket. Her enclosure is properly covered with curtains and her caregiver ensures that she is comfortable at all times. While during the day, this pachyderm can be spotted indulging in dust baths under the winter sun, she is fast asleep during the night, resting against her mud bed under the warmth of the halogen lamp. She is also being rendered warm oil massages, made possible with patient munching on dates and peanuts!
Season change also glaringly implies diet change – and for the better – as our elephants witness the return of their favourite sugarcanes! Karma can be spotted meticulously wrapping her trunk around her cage-feeder enrichment and pulling stalks of sugarcane to munch on. Their diet includes cooked concentrate with a mix of special condiments like garlic, ginger, black pepper and turmeric, that helps boost immunity and maintain core strength.
Over at the Wildlife SOS Elephant Rehabilitation Centre, run in collaboration with the Haryana Forest Department, the protocol for winter management remains largely the same, with the elephants covered with warm blankets as temperatures drop steadily.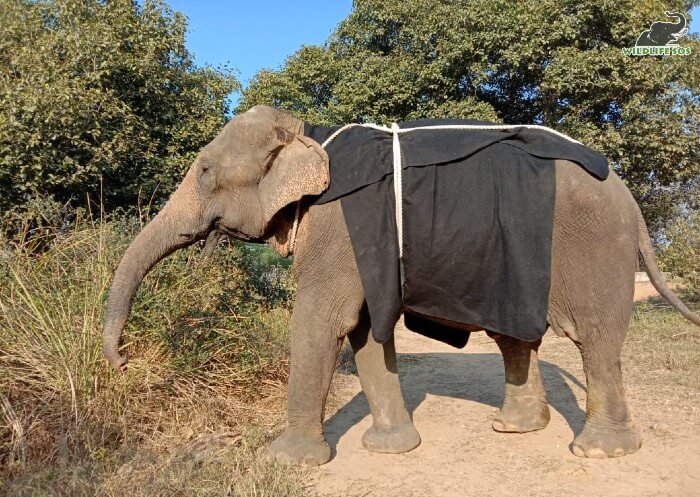 The ERC Herd is also given warm sesame oil massages that prevents their skin from cracking up in the cold weather and the harsh, biting winds. Their diet now includes more vegetables such as gourds and pumpkins, that replaces bananas and watermelons, along with cooked concentrate that has a special concoction included. This concoction contains turmeric, black pepper, ginger, garlic and salt, that builds core strength and immunity, especially for our oldest elephant Ella, who is 78 years!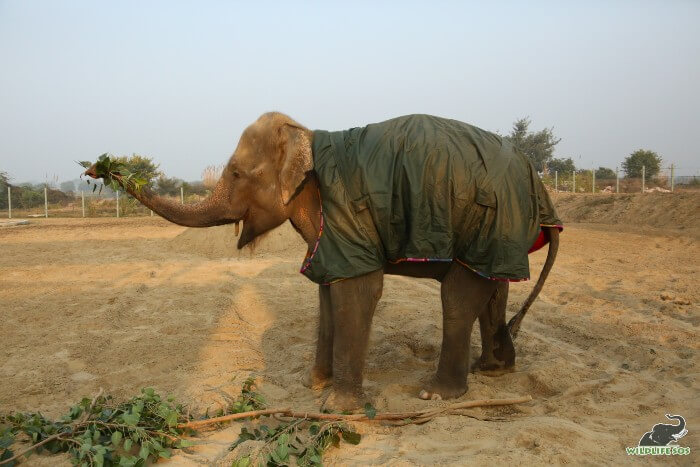 We take this moment to applaud our dedicated field staff, elephant care staff and veterinary team that have worked through the pandemic to ensure that the elephants remain comfortable. As we continue to dedicatedly work towards saving India's elephants, your continued support remains intrinsic to our cause as we tread forward.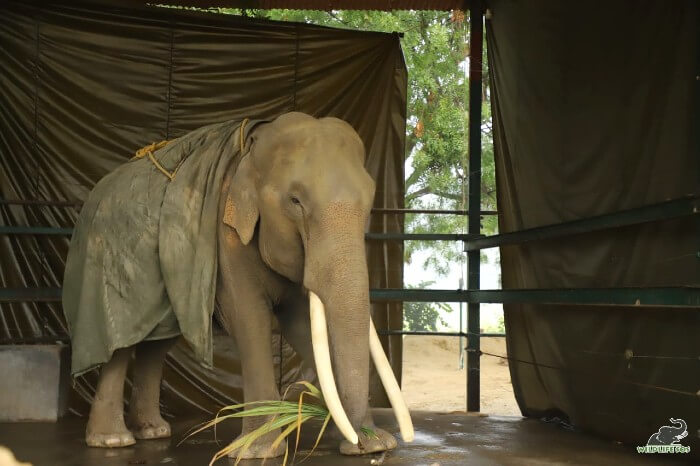 Thus, from our herd to yours, we thank you for your unwavering support and kind contribution! To continue supporting Wildlife SOS Conservation efforts, please consider donating on www.wildlifesos.org/donate.