"Heartbreaking Footage of Baby Monkeys Beaten and Tortured to Death", read one news headline. The internet is populated with similar instances of animal abuse involving monkeys. Popular video streaming platforms such as YouTube and TikTok are rife with such kinds of horrific videos, and shockingly, these acts are committed on camera for the sake of 'views' and popularity. TikTok, especially, has 1.4 billion monthly users, 20% of which use it to keep up with news/cultural trends.
Reports state that these inhuman animal abuse trends seem to emerge from south Asian countries, and are more popular in places like Cambodia and Thailand. What is worse, is that these videos are made by some solely for the sake of profit. By showing torture and abuse of baby monkeys, people are able to monetize these videos under the garb of entertainment. Many of these videos seem "cute" to fool unsuspecting viewers and get clicks, but they're based on severe abuse. This also needs calling the regulators into question for not being able to take strict actions against such individuals/channels exploiting a sentient being.
Problem of exploited monkeys
The contents of these videos include physical violence perpetrated on infant monkeys, such as hitting with a stick or forcing them to perform tricks for amusement. Some videos even show the monkeys wearing 'cute', colorful clothes as pets, dancing, spinning in circles and performing similar unnatural stunts. But behind these cute videos lie a dark reality because when they are not performing, these primates are kept in cramped cages. The infants are usually separated from their mothers and then forced to lead a life in illegal captivity.
Some of these conditions are extremely poor to even describe, when multiple monkeys are cramped into a small cage where they are unable to engage in natural behaviors. Most of the time, their dietary needs are also not met. But the loss of a mother can be as traumatising an experience as it is for their human counterparts. We have abundant scientific research revealing that Rhesus macaques have a variety of complex cognitive abilities which make them similar to humans.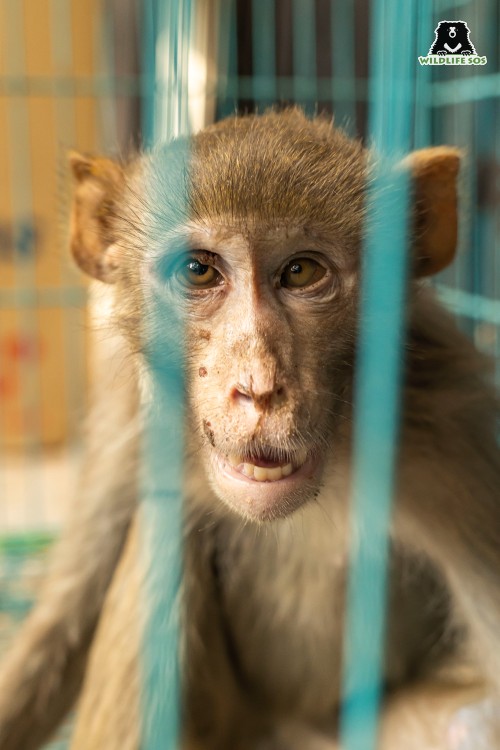 They feel the loss of a mother's love and care just like a human. They experience grief, often retreating themselves from the company of others. A baby monkey's relationship with its mother during infancy is crucial for its emotional development. Such loss and isolation can be detrimental to the primates, leading to abnormal behavior and even increased aggression.
Wildlife SOS monkey rescues
With 24×7 helplines currently running in four regions, Wildlife SOS actively rescues wild animals in distress. Every month, the NGO is flooded with calls regarding birds, reptiles and mammals, with the maximum calls for monkeys coming from the Agra and Delhi-NCR helplines. From January, to March 2022, Wildlife SOS rescued 111 monkeys from the two regions combined. In Delhi we rescued 18 mammals in January 2022, 12 out of which were monkeys. For February, this number was 13 monkeys out of the 18 mammals rescued, and for March it was 17 monkeys out of the 31 rescued mammals.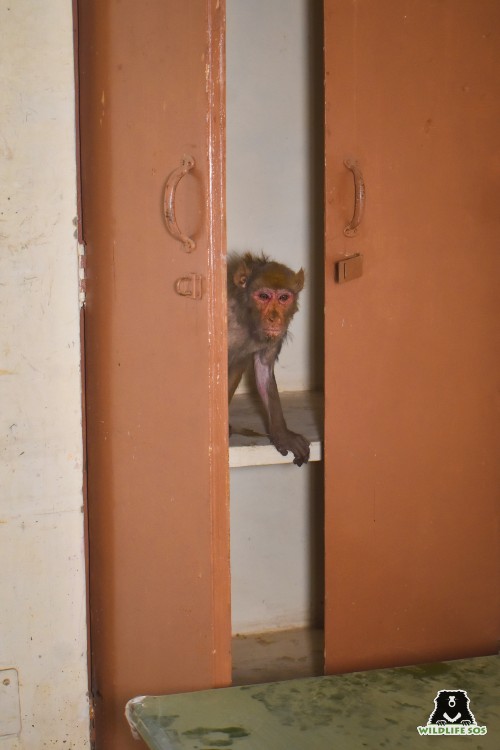 In Agra too, monkeys have a lion's share in the total monthly mammal rescues. For instance in January 2022, Wildlife SOS conducted a total of 26 mammal rescues, out which 25 were of monkeys. These figures give us a peek into the high primate population in urban areas like Agra and Delhi. But monkeys often face numerous threats such as electrocution by high tension wires, attacks from feral dogs and even vehicular accidents. Wildlife SOS rescues these distressed monkeys and even provides intensive medical care to the animals who suffer severe injuries.
Our approach to rehabilitation
In addition to rescues, Wildlife SOS also rehabilitates orphaned monkeys. Last year, we rescued two baby Rhesus macaques in the month of June, one of whom was a 2-month old male who had lost his mother to electrocution. While the other one was a 3-month old female, who was found clutching onto her mother who died in a car accident. Both the infants were brought to Wildlife SOS's Animal Care Unit which provides specialized care to baby animals.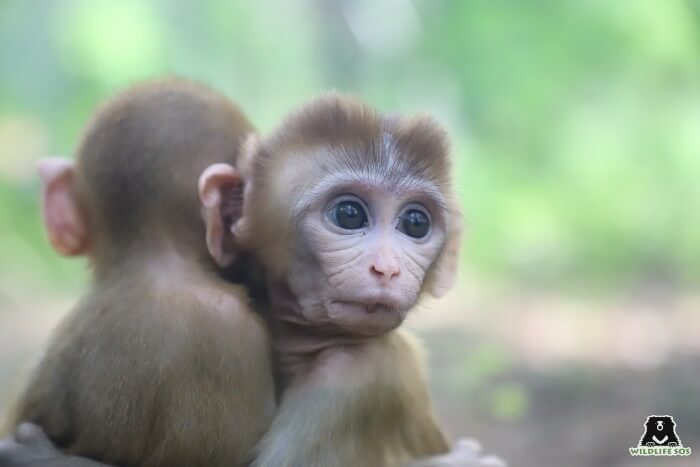 At Wildlife SOS, the treatment of rescued animals, specifically a baby, puts a lot of emphasis on physical and psychological recovery. For the baby monkeys, we socialize them with each other and provide them enrichment like toys to keep them engaged or as emotional support to hug and sleep at night. We encourage them to develop friendships which help in healing naturally. Wildlife SOS thus sees these bonds as critical for the survival of the baby monkeys. Moreover, they receive continuous veterinary care and support to help expedite their recovery. When they grow more confident, they interact with wild monkeys at our centres. In another instance, our team rescued two orphaned baby monkeys in 2019 after both their mothers were killed due to electrocution. Eventually, the two became best friends, finding love, comfort and compassion in each other.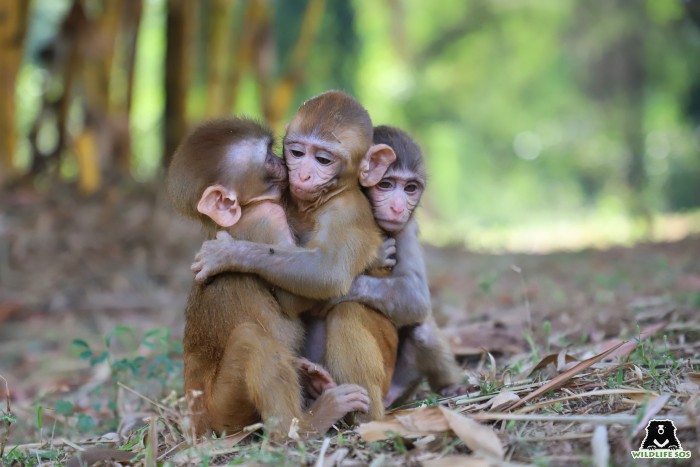 The toys which are given to the monkeys are purely for enrichment purposes or as emotional support, and are never used to exploit them for entertainment. We never dress them up in colorful outfits to make them perform. The photos and videos that we post on social media are always focused on capturing their natural behaviors and interactions with each other, rather than a gross misuse of the animals. This is where you can clearly distinguish between a rescue and rehabilitation centre like Wildlife SOS and other dubious accounts or individuals who blatantly torture and abuse baby monkeys on camera.
So we urge you to report these offending and exploitative videos which showcase meaningless abuse of infant monkeys. Not engaging or participating in these videos such as sharing or commenting will have a direct impact on the viewership of the videos. If you face any difficulty while flagging, check out this guide from Google which can help you report inappropriate videos on YouTube.