For a newly rescued elephant, the initial months of adapting to a new environment are a difficult transition period. At Wildlife SOS, we prioritise the comfort and care of these elephants by allowing them the time they need to grow accustomed to this new life.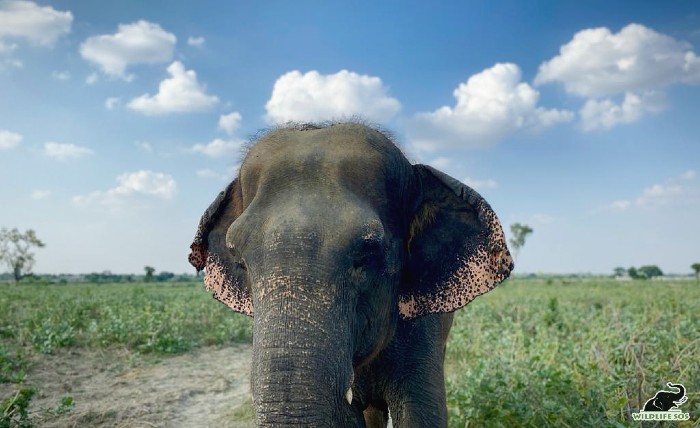 It has been 6 months since Emma finally started receiving the care and treatment that she urgently needed for her chronic ailments. As a begging elephant, Emma knew no respite or rest from an exhausting routine of walking on blazing tarmac, littered roads, with sharp pebbles piercing through her sensitive foot pads. The aftermath was catastrophic and by the time our team reached Emma's location, her arthritic limbs could not bear the weight of her weak, emaciated body.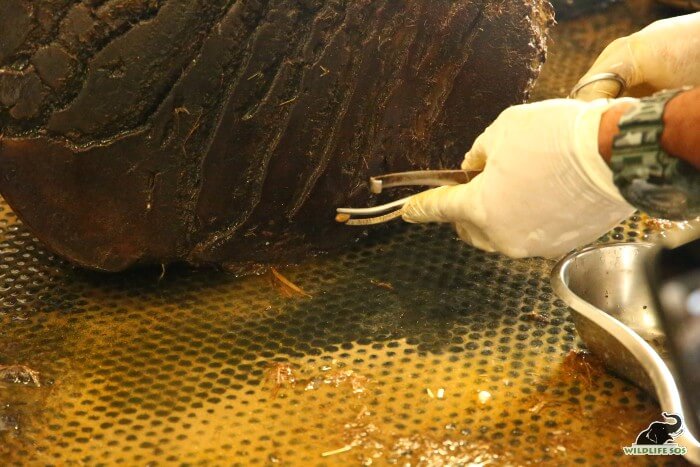 Emma's safe rehabilitation paved the way for her steady progress under the care of Wildlife SOS. Our veterinary team and elephant care staff left no stone unturned in ensuring that she is comfortable and relieved from pain. Presently, Emma continues to be under highly intensive medical care, focusing on the condition of her feet, in particular. The embedded debris from her foot pad led to her developing seriously infected abscesses, which left sizeable holes in her foot pad.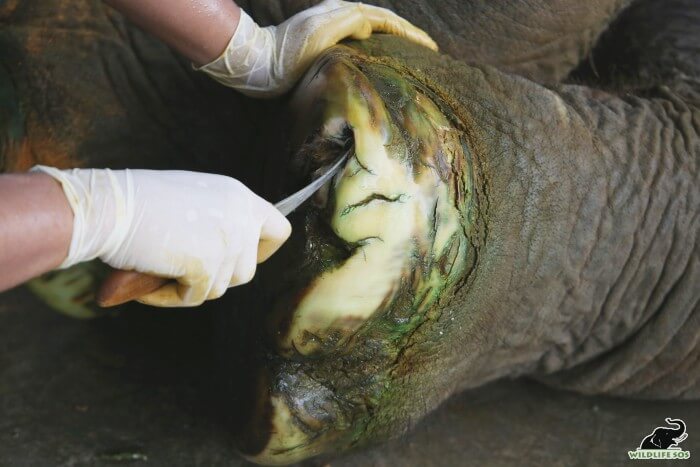 Emma's feet are regularly cleaned with saline solution and medicated foot baths of Epsom salt and turmeric. Our dear Emma ranks marginally low on patience and does not particularly enjoy standing still with her foot dipped in the rubber tubs, but her caregiver knows exactly what to do. He pulls out a handful of peanuts and dates from his bag for Emma and gently comforts her during the treatment sessions.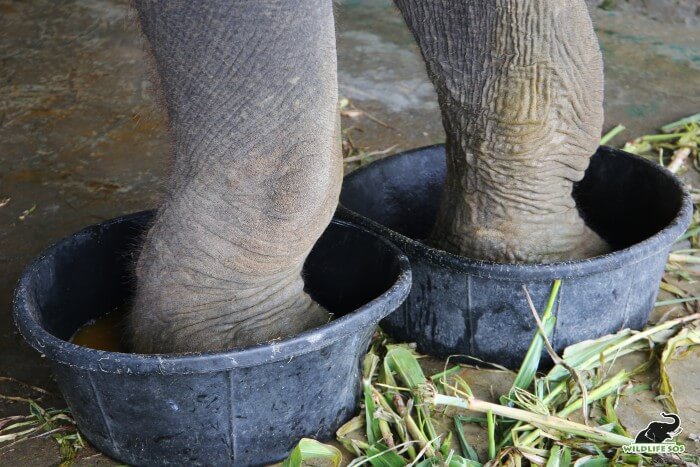 She undergoes toenail trimming once in 10 days and as she lies down in the treatment area, her trunk lazily outstretched as her caregiver gives her melons or papayas to munch on. In only 6 months, Emma has gained 600 kgs, making our veterinary team content with her progress. An emaciated Emma's spine distinctly protruded as she suffered neglect as a begging elephant, but her healthy diet has managed to restore her strength.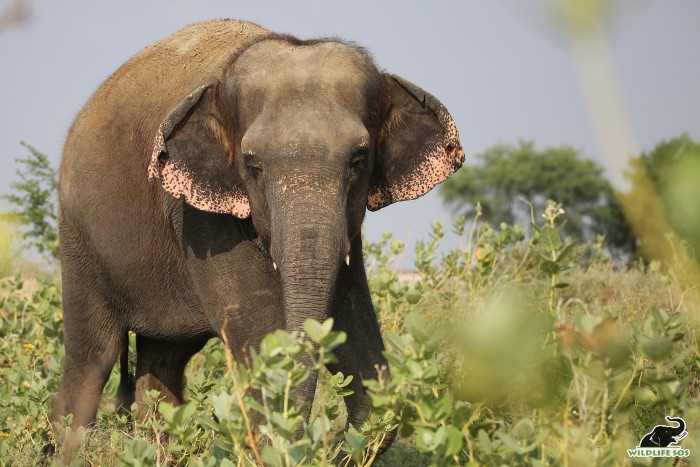 While Emma continues to shift the weight between her forelimbs, our team observed that it may be out of the anticipation of pain. Earlier, she had been shifting her weight in the forelimbs due to the pain and strain on her tired limbs.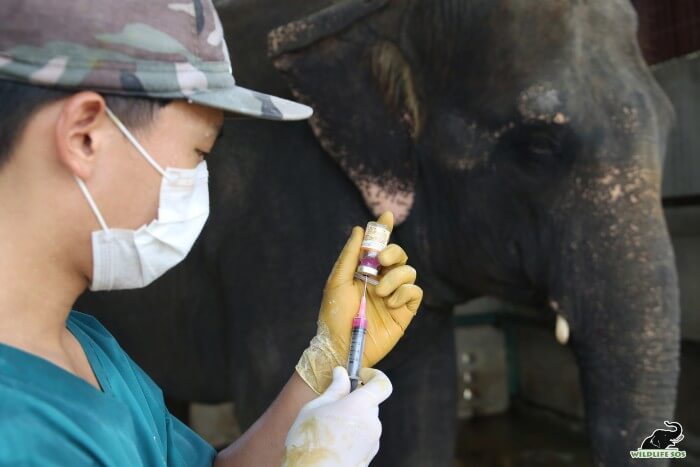 Our team manages Emma's pain by administering joint strengthening supplements and pain management medication which helps her immensely.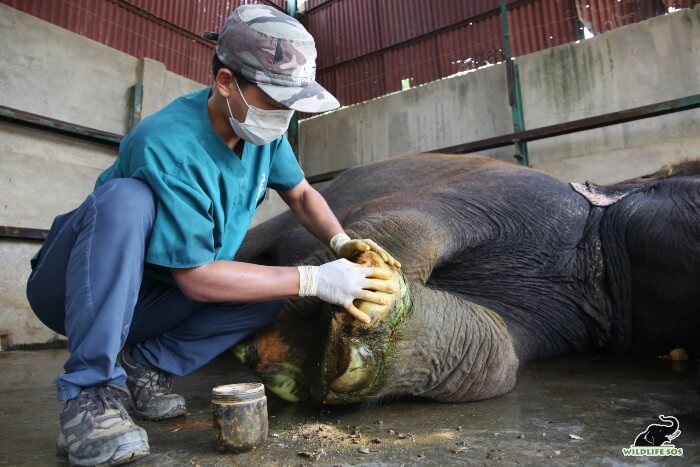 Emma will need continued care and treatment as she gradually recovers under the care of Wildlife SOS veterinarians. You can play an important role by considering becoming a monthly donor or a sponsor for Emma.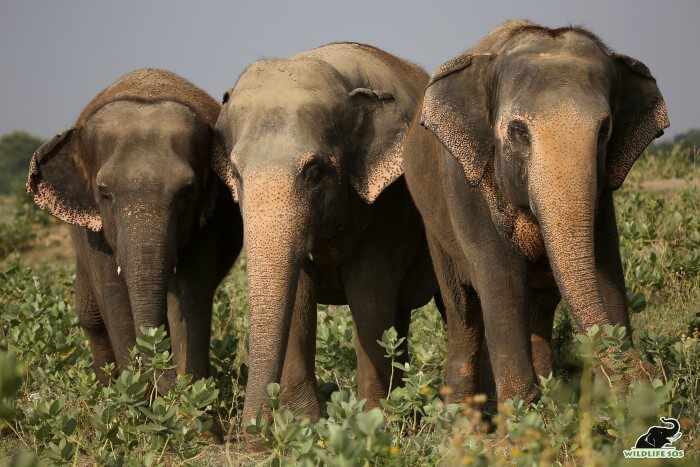 Watch Emma's steps of recovery under our care in this exclusive video!