The end of October brings chills down our spines and we have more than the sudden dip in the temperatures to blame! The spooky season and the Halloween celebrations have become an annual fall tradition, not only for our rescued elephants, sloth bears and leopards but even our animal care staff. They got into the Halloween spirit by carving out some pumpkinlicious jack-o-lanterns!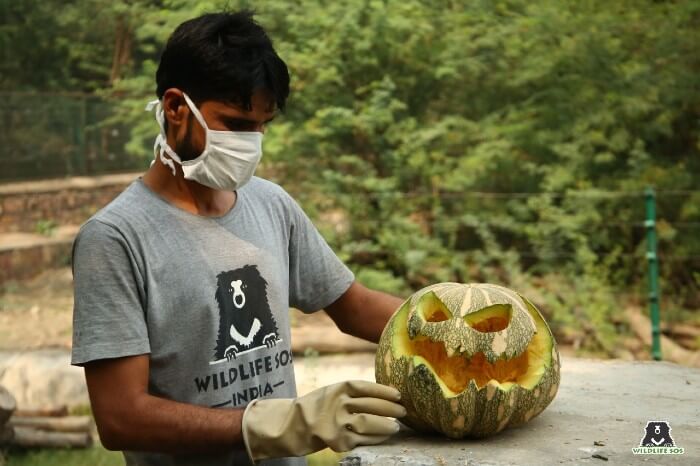 It was the perfect time for celebrations for our rescued elephants at the Wildlife SOS Field of Dreams, who absolutely love pumpkins. On their evening walk to the Yamuna riverside, Holly, Karma, Kalpana and Zara, guided by their caregivers were led to their scrumptious Halloween surprise. The four of them slowly walked to the lavish spread which had carved pumpkins, watermelons and green sorghum fodder which they quickly munched down within a matter of minutes!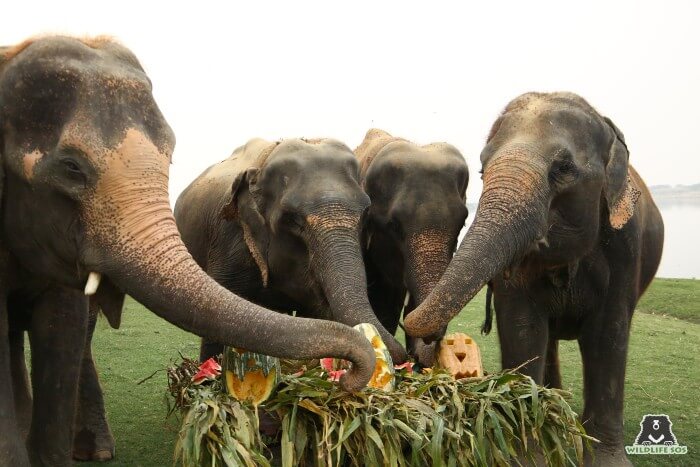 Karma, who is not very fond of pumpkins, carefully finished the watermelons before gobbling up one whole pumpkin. The newest addition to the herd, Zara pulled at the stalks of green fodder and then proceeded to delightfully gorge on the delicious treat.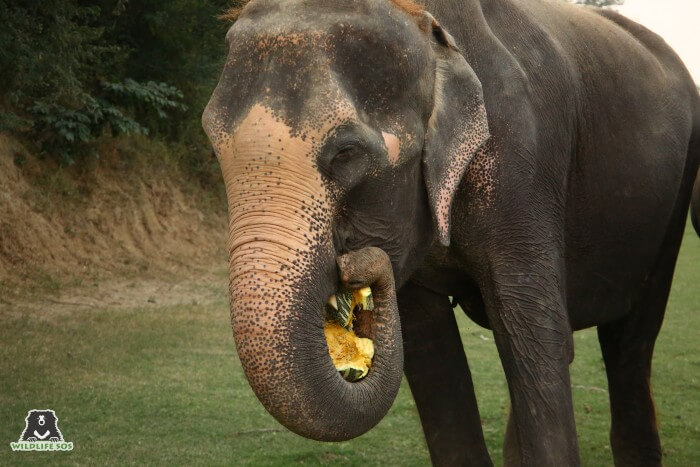 Having completed one month at the Wildlife SOS Field of Dreams, Arya has been adjusting fairly well to her surroundings and getting accustomed to the fresh, familiar smells. She enjoys her walks by the riverside and found the perfect opportunity to love them even more, with the delicious surprise that awaited her. Her trunk carefully examined the carved pumpkins before gulping them down in big bites!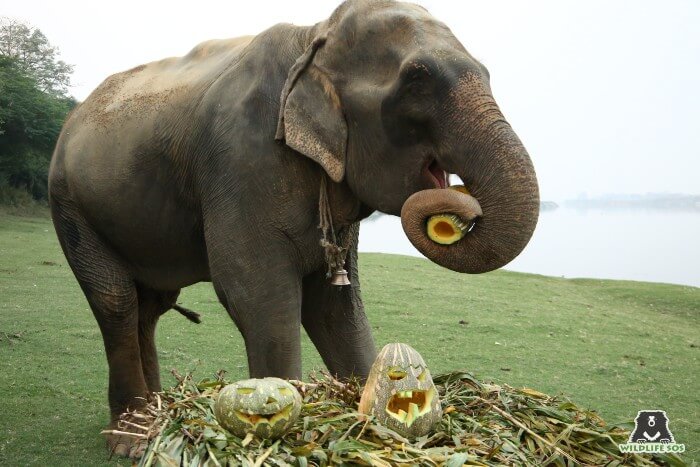 Watch the exclusive celebrations by the riverside, here!
However, nobody celebrates the spooky season better than our sloth bears at the Agra Bear Rescue Facility and the Bannerghatta Bear Rescue Centre. The Weasleys celebrated their first Halloween under our care, and showed unmatched excitement when they found the carved pumpkins placed on their platform enrichment.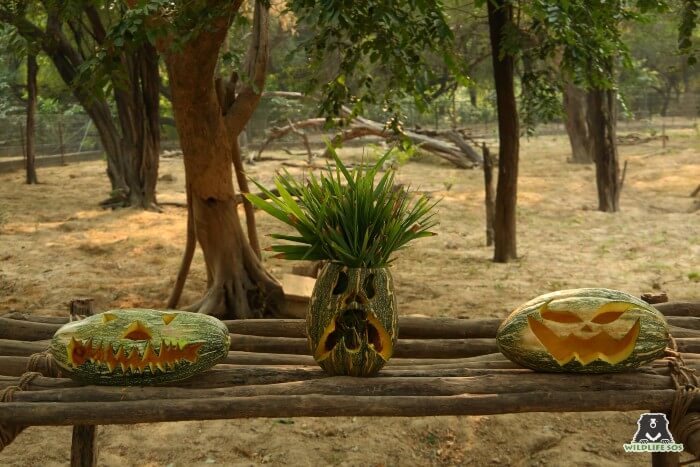 Ron and Charlie raced each other to the enrichment and carefully threw the jack-o-lanterns, playing around with them, as Ginny reached late to the party to find her siblings already having the best of it.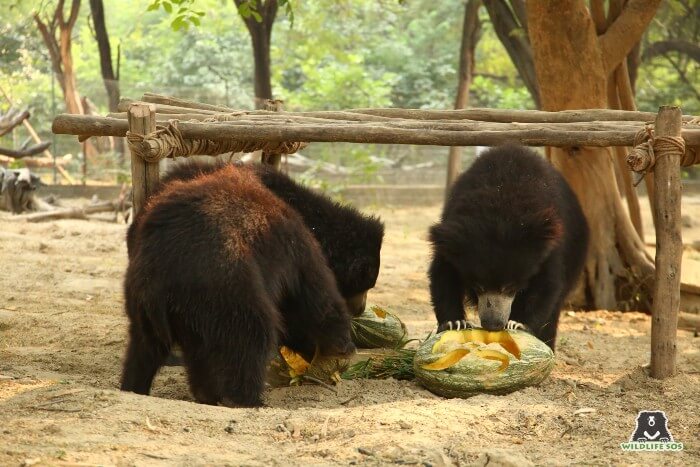 Mowgli and Manali's caregiver improvised and filled the pumpkins with watermelon pulp for both of them to devour. Mowgli and Manali raced to the jack-o-lanterns and carefully licked them before breaking them right open!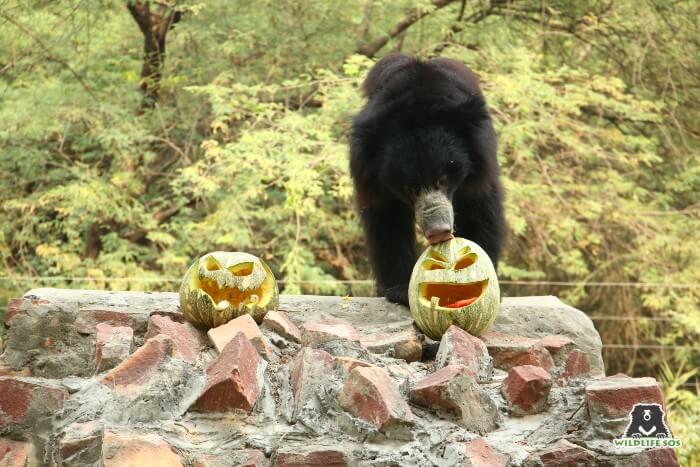 Followed by the delicious surprise, Mowgli enjoyed a relaxing nap in his tunnel enrichment as Manali occupied herself with digging mud pits in the corner of her free-ranging field.
Over at the Bannerghatta Bear Rescue Centre, Suvarna, Shari, Cupid and Gayathri, were delighted to find some spooky-looking pumpkins just waiting to be devoured.
They wasted no further time as Suvarna led the way in toppling the pumpkins over as Shari and Cupid carefully examined the adorable structures. Gayathri had a swift tussle with the jack-o-lantern that she caught hold of before using her long powerful claws to break it apart!
It turned out to be leopards vs pumpkins match at the Leopard Rescue Centre in Maharashtra, where our resident big cats enjoyed playing with some Halloween-themed enrichments! It was George's first Halloween and he was quite curious to play with the big pumpkin in his enclosure. Shankar approached his pumpkin very carefully, leaping at it in an elegant strike and then, curiously examining it while Jiya enjoyed tackling down a suspended pumpkin like a pro!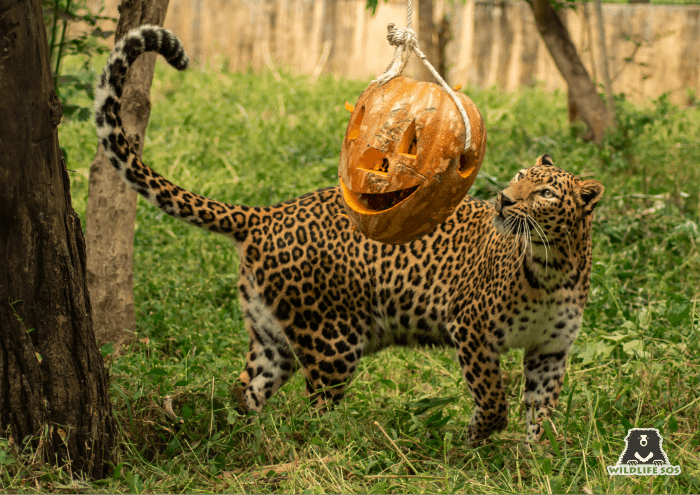 Here's an exclusive peak at how George and Shankar reacted to their carved pumpkins!
The spooktacular party at our rescue centres was an exciting one to witness and our animal care staff put in a lot of effort to make sure that our rescued animals enjoyed the annual celebrations!
Happy Halloween everyone and stay safe!