Nikki Sharp is the fearless leader and Executive Director of Wildlife SOS USA. She has spent nearly three decades fighting for animal causes, beginning with tackling the dog and cat overpopulation problem with national puppy mill initiatives and large-scale adoption events for homeless pets before settling in to her role with Wildlife SOS. She brings creativity and unwavering determination to her role at Wildlife SOS along with her infectious laughter. Raising awareness in the USA for our projects happening half-way across the globe can be challenging but Nikki keeps a light-hearted mood around the office when it's needed most. We're grateful for her expertise and problem-solving nature, making her a formidable force for saving wildlife. In the photo above, Nikki chats with Wildlife SOS supporter Nolan Gould of the series Modern Family at a Tusk After Dusk event in Los Angeles in 2018.
Tell us about the first time you met the Wildlife SOS founders, Kartick Satyanarayan and Geeta Seshamani.
I met them at a dinner in Salt Lake City. At that time, they had launched their campaign to end the 'dancing bear' problem in India. They both spoke about the horrors that these bears endured, but more importantly, they talked about their plan to bring this practice to an end by 2010. I believed in their mission and was impressed with the speed at which they wanted to achieve it. So, by the end of dinner, I found myself asking the question, "what can I do to help?" and I've been committed to the organization ever since.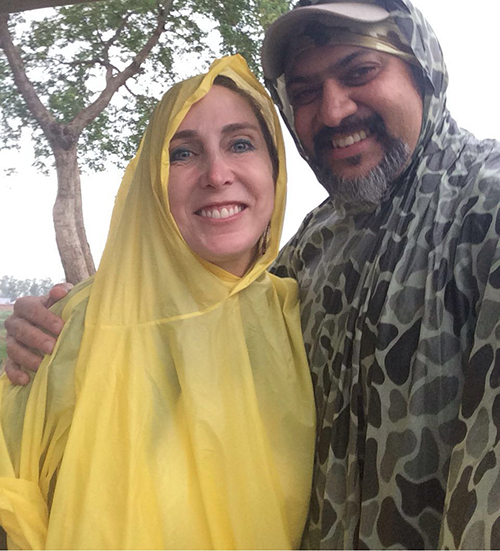 That first meeting inspired you to get more involved as a volunteer. How long before you officially opened the USA office and what were the initial challenges?
I met Kartick and Geeta in the summer of 2004 and we applied for our USA non-profit status one year later. Our biggest challenge at the time was being able to communicate. I live in Salt Lake City which is on the opposite side of the globe from India and there is about a 12-hour time difference between the 2 regions. There wasn't Zoom back then and usually one of us had bad internet, so staying informed was a bit of a challenge. Now, with texting, phone, Whatsapp, Facebook , email, and the fact that Kartick is always awake :)…the distance is rarely a problem.
What has been your favorite rescue?
I love them all for different reasons, each one has inspired me. However, the one that I reflect on the most is Suraj's. I remember seeing videos of him prior to his rescue. The images and sounds were awful. He was draped in heavy chains that were wound many times around each leg. The only part of his body that could move was his head and he bobbed it incessantly. To see such a giant animal so helpless and vulnerable was painful to witness. I was worried that he was so broken that he would take years to overcome the difficult life he had endured. Yet, when I visited him 6 months later I couldn't believe my eyes. He had transformed to a joyful and confident elephant. He really helped me to see the incredible power that these elephants have to forgive and rebound if we give them a chance.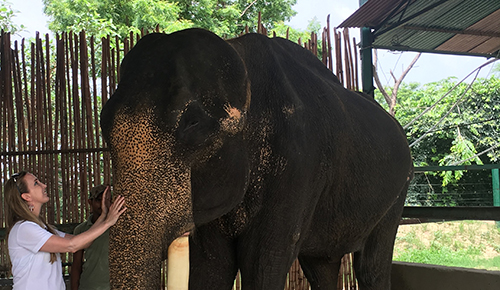 Most difficult rescue?
Bella was the most difficult rescue. Many times a rescue is dangerous and they can be difficult to pull off because our team's safety is in jeopardy. With Bella, that wasn't the problem. She was very weak and sick. For several days our vets tried to get her stronger so she could load onto the ambulance. But she kept collapsing and needed a crane to lift her up. We knew that her survival depended on us getting her back to the hospital, but she had to be able to get loaded onto the ambulance and stand for the duration of the trip. Finally, she got the strength and courage to walk onto the ambulance. From that point on we were just worried she would collapse on the ambulance. But she stood for a solid day until she arrived at the hospital. We all felt a tremendous amount of anxiety during Bella's rescue, but she made it. For 2 solid weeks she was pampered and she enjoyed every minute of it. She passed way too soon. But she died with no chains on and surrounded by those who loved and cared for her. So, she had a dignified passing. She has to be the most difficult rescue because of the emotional turmoil, but I truly value what we were able to provide her in her final days.
What's the most rewarding part of your job?
My schooling as a physical therapist trained me to think in terms of wanting to see measurable progress. However, now instead of seeing it with patients I want to see that my contribution is making a lasting difference wildlife conservation. With Wildlife SOS, I can see the measurable progress the organization is making in the lives of animals. First, it was ending the 300-year practice of 'dancing bears' and now it is saving India's elephants. I feel genuinely proud to play a small role in these accomplishments.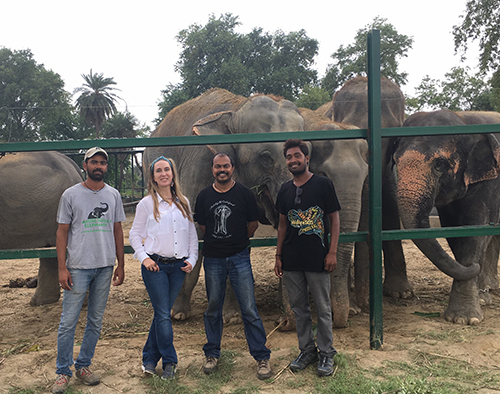 What do you see Wildlife SOS accomplishing in 5 years? 10 years?
The last 'dancing bear' in India was rescued in 2009, in another 5 years we would have accomplished the goal of having a full generation go by without any sloth bears being used in India for dancing. This will be a significant achievement. It will have meant that the campaign not only succeeded in ending the practice, but also sustaining the accomplishment as well. In 10 years I would like to see riding Asian elephants for entertainment and pleasure be a thing of the past. This will significantly reduce the numbers of elephants held in captivity and dramatically improve the welfare for many of those that remain.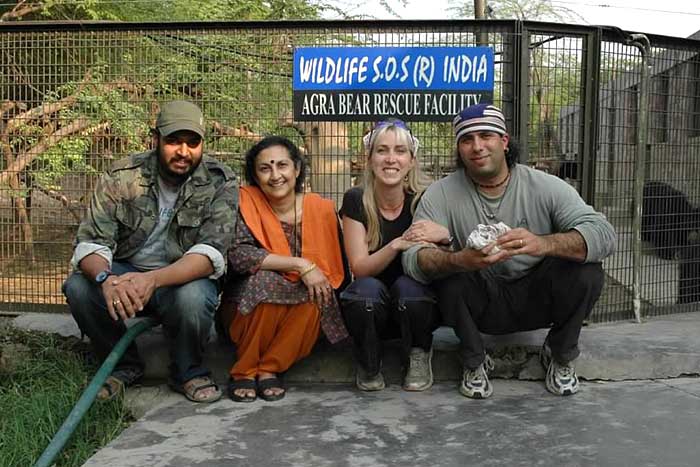 It's inspiring to hear what changes you made in your life in order to bring awareness to the plight of elephants. What do you tell people who ask how they can get involved? What's the best way for someone to have a positive impact on the lives of elephants?
There are two important ways people can help. First, is to take a pledge to Refuse to Ride elephants. If everybody who said they loved elephants would understand that riding them is harming them, then we could put an immediate end to this practice. Second, right now there are countless elephants who are looking to experience freedom. We can only rescue what we can afford to care for. Please make a monthly pledge that will go towards caring for our rescued elephants. I can't emphasize enough how critical our monthly support base is to providing for the animals.