Like all the other caregivers at the Van Vihar Bear Rescue Facility (VVBRF), Mohammed Ubed Khan arrives at the centre early in the morning. His day usually starts as soon as he arrives at 7:30 am. His job? To look after the Sloth bears residing at the facility. Ubed Khan has been with us for over 13 years, and a fact that not many people know about him is that he's dubbed as the 'superstar' of the centre.
It's not an empty claim because Ubed has the highest number of bears under his care, and all of them are geriatric. In fact, Gulabo, the oldest bear at Wildlife SOS who passed away earlier this year, was also under his care. All this and much more has made Ubed Khan our Staff of the Month, and in this candid chat we try to get to know him better.
How did your journey with Wildlife SOS start?
I joined Wildlife SOS in 2008 and I had limited knowledge of wildlife during that time. Hailing from the Kalandar community, however, I did have experience with Sloth bears. At that time I was in need of work and Wildlife SOS stood by me. They offered me the opportunity to work with the bears, and in the process, I gained a wealth of knowledge. I learnt that it was after removing the ropes from the bears, that they became truly free. I started spending more time with the bears and they too enjoyed their freedom.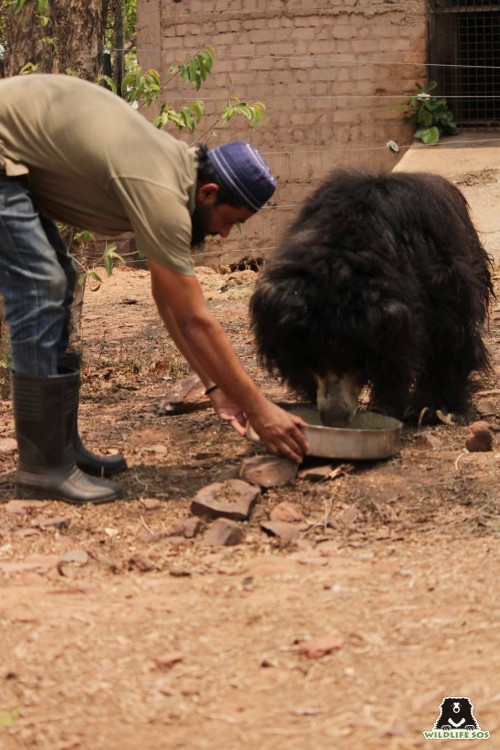 Take us through your day at VVBRF. What does your work entail?
The first thing I do after arriving in the morning is to check up on all the bears in their enclosures, since we have to leave the centre every evening after our shift ends. This is followed by preparing food (porridge) for the bears in the kitchen, which is then distributed to the bears enclosure-wise. I make sure that all the necessary supplements are added in the porridge. Once they are out of their dens, we proceed to clean the dens thoroughly. Another major thing that needs regular monitoring is cleaning the ponds inside their fields; it is essential to clean at least one pond everyday.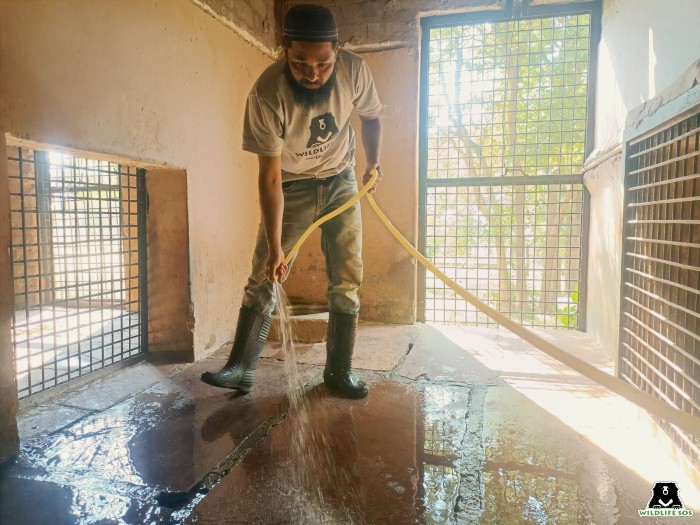 Sometimes we also repair the enrichments that the bears have used to their hearts' content. The bears are stationed inside their dens while we are cleaning the pool and the fields. I have four fields to take care of so that takes a portion of the day's work. Usually, afternoon is the time for the bears to eat fruits, for which we need to start cleaning and cutting them beforehand. I also have to think of the geriatric bears and accordingly mash the fruits. Just like humans, individual bears have different preferences, and some even like to consume it in the form of fresh juice.
How many bears do you look after at the facility?
I take care of seven animals, all of whom were former 'dancing' bears. The bears that I look after are all old and under geriatric care. I have been with them since the beginning so they are comfortable in my presence and I am equally accustomed to their behaviours. It often happens that if another caregiver is not present, I have to take care of the bears who are under him as well, such as young ones like Bholu, Pluto and Rex.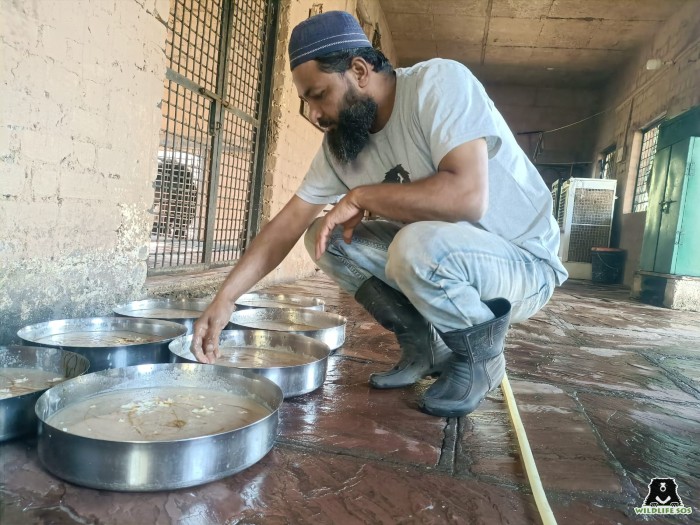 Do you have a favourite bear?
Yes, I do. He is an amazing bear and he is called Baiju, named after our director (Conservation Projects) Mr. Baiju Raj. Despite being over 20 years old, he is an active bear. He is one of the most intelligent ones and is very quick to understand my communication. He responds immediately if his name is called out loud. Baiju stays with a female bear named Rhea. The other ones under my care are Prerna, Rahul, Ruby, Ritu and Rani.
You have been working for a long time at VVBRF. Tell us about the lessons you have learnt while working for the bears.
After joining Wildlife SOS, I have gained a lot more experience and learned new information about animals, of which I had no knowledge previously. I also want to thank Baiju sir because he has always been like a teacher to me. Besides, the doctors and veterinarians have taught me the most and their advice over the years has been invaluable. They have told me about the nitty-gritties of bear behaviour, starting with what causes them discomfort to the basics of treating an injured bear, the importance of enrichments and even the names of medicines. These are some of the most significant learnings I have acquired during my time here, which have helped me greatly in my work.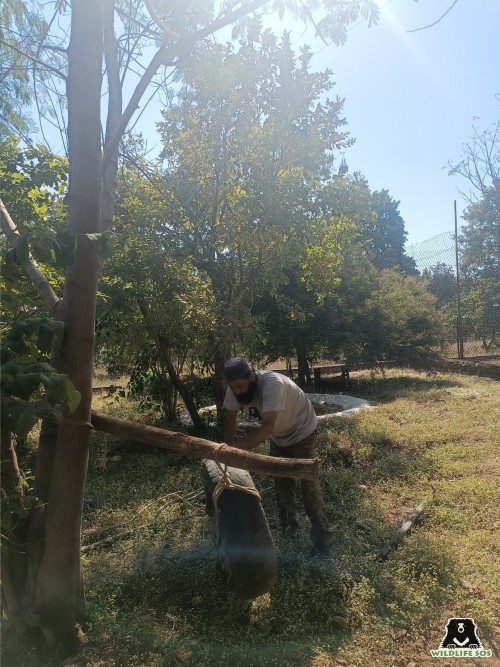 What do you have to say about your work? Do you like it?
I love it wholeheartedly and I want to dedicate my whole life toward working for the bears here. The attachment I have to the animals is something indescribable. When I reach home from work, my kids are waiting for me. Similarly, when I arrive at the centre in the morning, the animals there are waiting for me and the two situations are almost akin to each other. The bears are dependent on me so if for any reason I'm not able to go, I keep thinking about them having their meals properly, just like how I would be worried about my own family. Having spent so much time here, it feels as if the bears and I are incomplete without each other.
Do you have any message for the readers?
Human beings are capable of speaking and communicating their troubles to each other, but when it comes to the bears, we need to understand them because we don't speak their language. It is important to realise when and what problems they might be going through since they can't speak to us. It is significant for us humans to understand other animals and accordingly carry out our actions.