At every sunrise and every sunset, our resident elephants of ECCC embark on their daily walk towards an ethereal patch of land adjacent to our center. The chirps of various birds fill the air as our elephants step on the soft grass, walking amidst mesmerizing green trees, a variety of plants, and shrubs. This luscious land that our elephants stomp across was once a barren patch devoid of life. Yet, as the Elephant Conservation and Care Centre flourished so did the land adjacent to it; The barren land transformed, shining with nature's bountiful gifts.
Being the wise mammals they are, elephants judiciously differentiate between poisonous and non-poisonous plants and interact with the flora using their natural instincts. They munch on the green grass that lays beneath their feet and scratch themselves with the support of tall trees! Today we take you on a walk with our majestic resident pachyderms, showing you the various trees, plants, and insects they encounter.
Milkweed (Calotropis)
One of the most ubiquitous plants in India, milkweed is an exquisite plant with greyish/ green leaves and purple waxy flowers. Famously known as Madar in India, the plant is considered auspicious due to its association with Lord Shiva. While milkweed can grow in poor soil conditions and spreads through rhizomes, its flowers are a sight to behold. These plants have perennial flowers that attract numerous butterflies, specifically the monarch butterflies that can be seen fluttering alongside our majestic elephants.
Despite all of its beauty, the milkweed is a poisonous plant and is avoided by animals, including our elephants. The only time you will see our resident elephants go close to this plant is when they gently pluck it to scratch their back! However, you can use the leaves, fruits, flowers, and milk of this plant to overcome several health problems including hepatitis, asthma, inflammation, and others!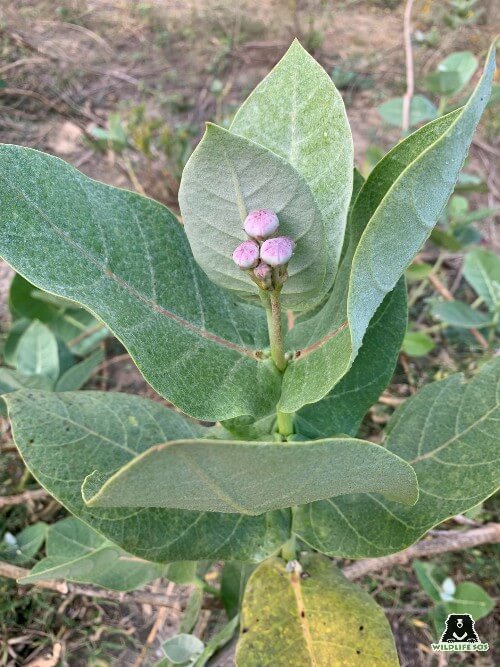 '
2. Neem Tree (Azadirachta indica)
Native to the Indian subcontinent, these magnificent trees are highly revered throughout the nation. Part of the mahogany family, these trees have wide branches and a rounded crown that can go up to 80 feet in diameter! On sunny days, you can spot our elephants standing below these encompassing neem trees to protect themselves from the harsh sun.
Neem trees remain evergreen and only in severe drought conditions do these trees shed all of their leaves. This tree even bears a sweet/bitter fruit and can live up to 200 years. Every part of the neem tree is known to possess some sort of benefit. In recent years the tree has come under the spotlight for controlling locust swarms and even potentially helping cure AIDS!
The twigs (datun) of this tree are known to kill the infection in the mouth and act as nature's toothbrush. While our elephants might not make much use of the tree you can find our staff often taking a twig of the tree and using it as a toothbrush!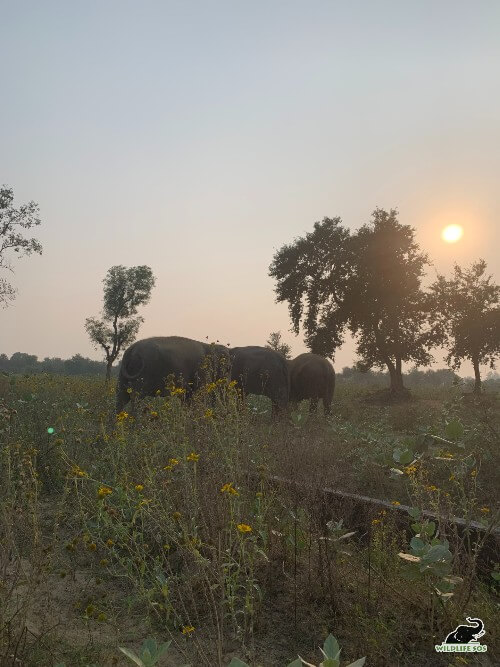 3. Cutch Tree ( Acacia Catechu)
An elephant favorite, the cutch tree is a deciduous and thorny tree that can grow up to 50 feet in height! Commonly called Khair in Hindi this tree is a sight to behold specifically when it blooms pale yellow flowers in the months of June to August. An extract of the tree obtained from the inner part of the trunk is an integral ingredient to make 'paan' a famous Indian chewing mixture containing betel leaf! The bark and roots of khair can be used to treat various ailments such as body pain, asthma, and indigestion. Its seed is also considered a major source of protein.
Our resident elephants, much like their counterparts in the wild, enjoy browsing on the Khair tree and consume its thorn-bearing shoots without any discomfort! While on their walk, elephants will fill their stomachs by munching on the Khair and on the lush green grass.
Wildlife SOS Wild Elephant Project found that Khair was also a preferred browsing species for the wild elephants in Chhattisgarh specifically in the Mahasumand range where 74 plant species exist.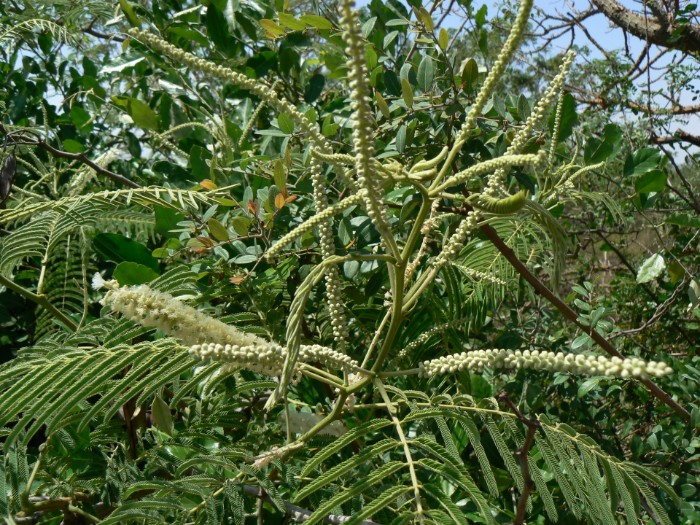 4. Sheesham Tree (Dalbergia sissoo, Indian Rosewood)
Native to the Indian subcontinent, the Sheesham tree is a deciduous tree of medium to large size. It is often grown as a shade tree in agroforestry systems in India and Pakistan and grown to aid the reforestation of eroded soils. Leaves of Sheesham are said to be extremely useful in increasing nitrogen content in the soil. The utility of this tree is endless – Its branches and foliage are an excellent source of fodder. This fast-growing species is also suitable for firewood, heartwood, and sapwood. The pulp of the wood is even used to produce writing and printing paper while its timber is famous for making elegant and rich furniture.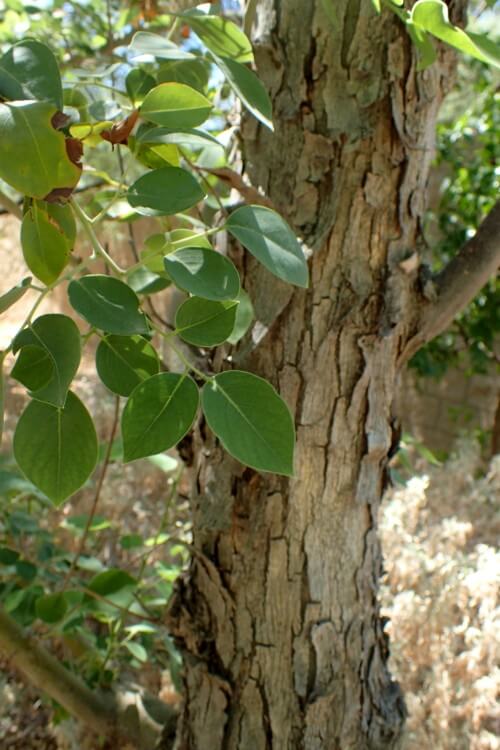 You can find our elephants often using the trunk of the Sheesham tree to scratch themselves silly during their walks!
5. Dung Beetles
Where there are elephants there is elephant dung and where there is dung there are dung beetles! These tiny insects feed on dung of warm blood herbivores for food, breeding, and numerous other activities. India is known to have 420 species of dung beetles and more are being discovered every day.
At the land adjacent to our center you can find elephant dung beetles rolling balls of dung to consume later. These beetles are in fact integral to our ecosystem as they help cycle nutrients in the soil and even prevent populations of parasitic flies from breeding in the fresh feces of mammals.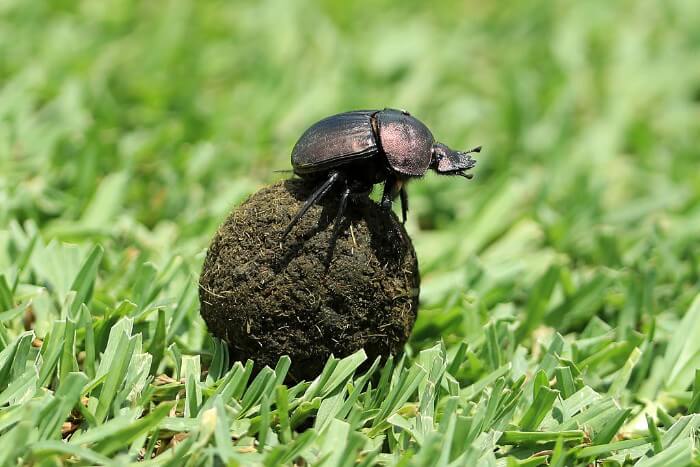 6. Migratory Birds
The expansive shade of the trees that have emerged in and around ECCC welcomes numerous migratory birds who stop by ECCC on their long journeys. These birds included the white eye, brown-headed bard, Jacobin cuckoo, and many others! Thus as our elephants go for their daily walk they are often greeted with a cacophony of bird calls that they sometimes respond to through loud trumpets.
You can read about the various bird species at ECCC here!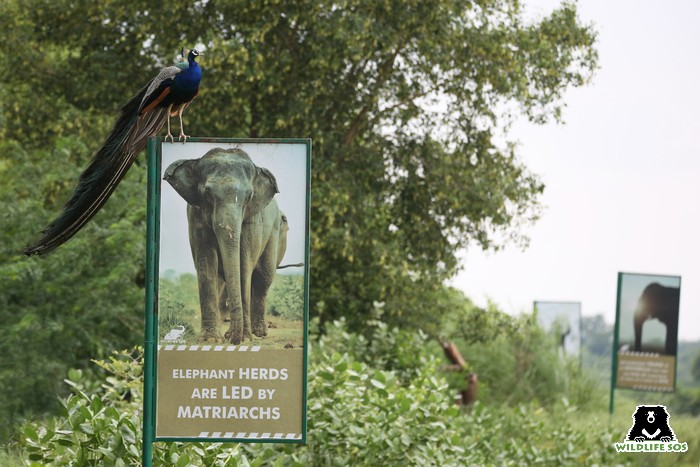 To see the area around our Elephant Conservation and Care center bustling with all forms of life fills our hearts with joy. This transformation is a testimonial to the interwoven nature of the universe – a nature whose interconnectedness even we can not escape.