Birds stuck in precarious or stressful situations are sights which can be commonly seen across the Delhi-NCR region. To us it may seem like a problem not worth noticing, but for the birds they can be a matter of life and death. One such factor which has become a mammoth health issue for these birds are kite Manja (glass-coated strings).
In a recent incident, a black kite was found caught in a deadly manja, hanging from a tree inside a residential complex in Sheikh Sarai Phase-I of south Delhi. The bird was rescued through a collaborative effort of the Wildlife SOS Rapid Response Unit and the Delhi Fire Service. Taking prompt action, one of the residents immediately contacted the Wildlife SOS 24-hour rescue helpline (+91 9871963535).
Time was of the essence since there was no way of knowing what kind of injuries the bird might have suffered. Without any delay, the Wildlife SOS Rapid Response Unit reached the location and along with the Fire Service, carefully rescued the kite in a 30-minute long operation. A ladder had to be used in order to reach the bird as it was stranded at a height of nearly 40 feet, at the top of a tall tree. Upon reaching the top, rescuers used a pole to gently move the kite without causing it any undue stress.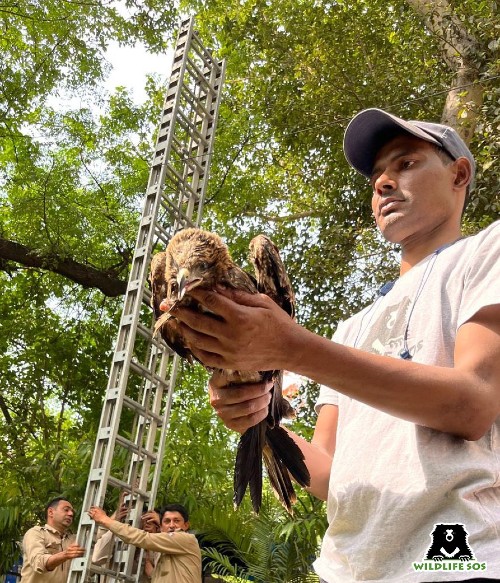 It was suspected that the animal may have been stuck there for two days, and hence was dehydrated. Wildlife SOS receives a lot of calls for kite rescues but this was a particularly complicated situation since the kite was stuck at a height which required the assistance of the Fire Service. Generally, when a bird is stuck for a prolonged period, it has no access to water. Hence, the first thing our team ensured was to provide drinking water and hydrate the bird. Once that was done, the bird was carefully transferred to our transit facility. The kite is currently under medical observation and will be released once declared fit by the Wildlife SOS veterinarians.
The Manja is coated in either powdered glass or metal, which can be lethal for birds as they can get entangled in them and suffer dire injuries. The most common and affordable variety of string is the Chinese manja which is non-biodegradable in nature. These strings are so sharp they can cut through the flesh and bone of a bird. The Wildlife SOS team has rescued numerous birds caught in the manja. Even though this is a phenomena which is widespread throughout the year, the concentration of these incidents is higher during Makar Sankranti and Independence Day.
In fact Gujarat, during Makar Sankranti, becomes a dangerous environment for birds due to the festival of Uttarayan. Even though it celebrates the season of harvest and is an occasion of jubilation, it is a ghastly experience for birds when multiple cities across the state engage in the tradition of kite-flying. The Wildlife SOS team functioning out of Vadodara, in alliance with the Gujarat Society for Prevention of Cruelty to Animals (GSPCA) organises awareness and rescue programs to tackle this mammoth issue. Our Rapid Response Unit and our veterinary doctors are thoroughly trained to ensure that such cases are handled with the utmost caution.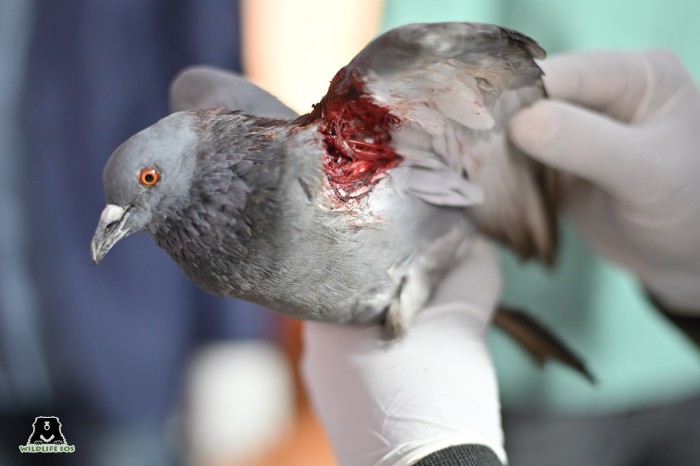 According to one estimate by the Animal Welfare Board of India, at least 2,000 birds get injured due to annual kite-flying events in one city of Gujarat, out of which 500 are said to meet their eventual demise. The Animal Welfare Board of India rescued a total of 726 birds this year during kite-flying events in Mumbai. Some of the birds include crows, pigeons, gulls, black kites and even owls among others. Whereas in Bengaluru, 177 birds were injured during last year's Sankranti celebrations.
Last year alone, our team rescued numerous birds including pigeons, owls, black kites, ibises and eagles. Wildlife SOS, in partnership with Eco-Rescuers Foundation, also organised a three-day bird treatment camp in Jaipur in January 2022 where it received multiple calls regarding birds injured by the Manja. The veterinary team attended to a total of 55 distressed birds, and in some cases the situations were so dire that emergency procedures had to be performed on sight.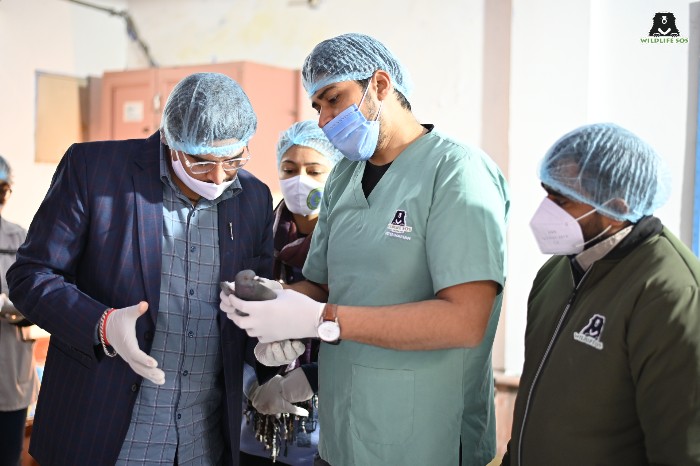 Even though treating or providing first aid is of utmost priority, the birds can take a long time to recover depending upon the graveness of the injury. Hence, the problem has to be nipped in the bud. Rejecting the glass-coated Chinese Manja and opting for natural, cotton threads is definitely the first option. But there is nothing better than saying no to kite-flying since the cotton strings also have the potential to damage or hurt the birds.
You can also support the life-saving work of Wildlife SOS by deciding to become a monthly donor or sponsor.