For Ginger, life has been anything but kind. For most of her life, the frail pachyderm was adorned with colorful chalk paint and made to walk on hot tarmac roads as a begging elephant. Geriatric and blind, Ginger was subjected to regular beatings, starvation, and a cruel apathy at the hands of her captor. Nothing was certain in Ginger's life except the constant jingling of the bell hung around her neck by her captor that reminded her that much like the bell, she too was an object rather than a free being.
These bells are often hung around the necks of elephants who are being forced to live in unnatural environments like busy cities and towns. The bells help alert people of the presence of an elephant amidst them. Other captive elephants are also made to wear the bell as mere "decoration." Today, as Ginger steadily acclimates to her new life of dignity at Wildlife SOS, we remove her bell, in hopes to usher in a new chapter in her life – one of joy, freedom, and dignity!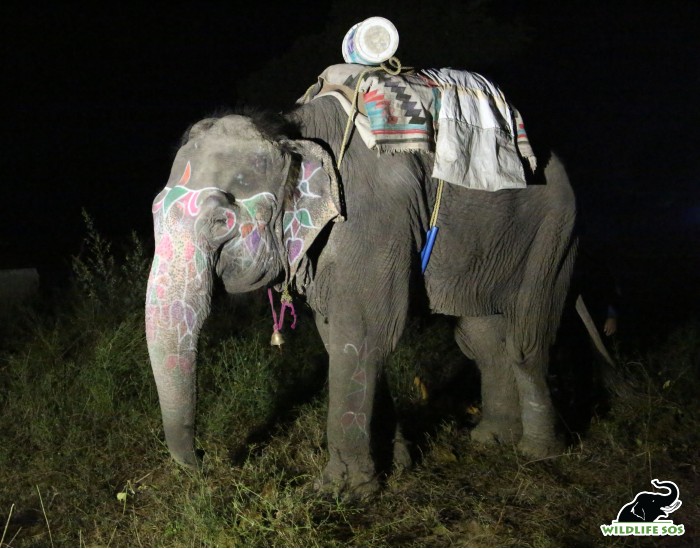 Before removing Ginger's bell we had to ensure that she was not only healing physically but also mentally. Elephants like Ginger who suffer from blindness rely on smells and sounds to navigate their environment. Thus, the sudden disappearance of the jingling sound they are so accustomed to can be anxiety-inducing.
Over the past month that she has spent under the care of Wildlife SOS, Ginger has received treatment for her multiple septic abscesses, her footpads, hygroma (a fluid-filled swelling) on her right elbow and degenerative joint disease on both her hind legs. As Ginger heals physically due to the intensive medical care she is receiving, her mental scars too are slowly fading away. The gentle giant is no longer anxious and fearful at all times, and can even be found drifting into a relaxing nap throughout the day!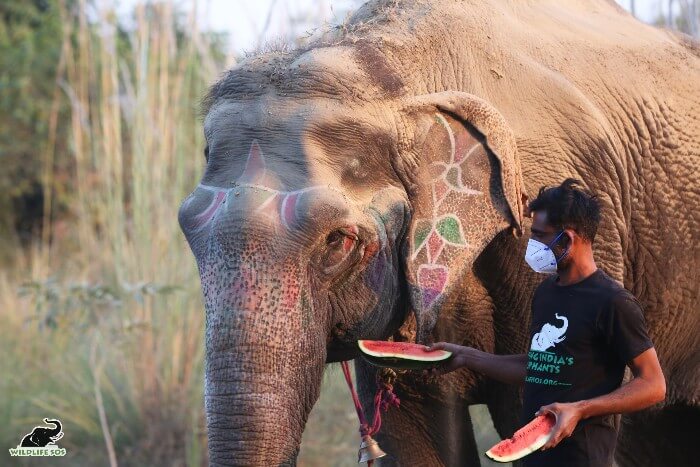 You can read about Ginger's one-month journey HERE!
As we watched Ginger spend her days in leisure, feeling safe and loved, we knew that it was time to remove her bell. This simple act of bell removal is our official adieu to Ginger's life of servitude that we know she will never have to return to. Ginger's bell removal ceremony was conducted by Baiju Raj M.V, Director – Conservation Projects at Wildlife SOS. Having been right by Ginger's side since her rescue, Mr. Baiju was giddy with happiness to be able to finally remove the last mark of Ginger's captivity. With his gentle pats, Ginger too knew that she was in the right hands.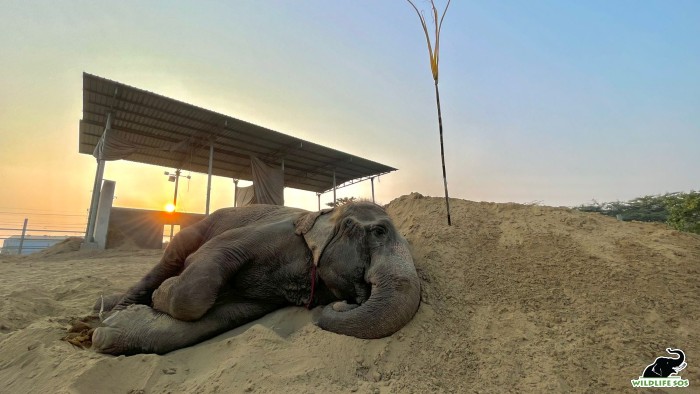 The entire Wildlife SOS team watched as Ginger's bell came off. Having seen Ginger since the day she entered Wildlife SOS to the present moment, we were all overcome with emotion. We realized that Ginger's appearance is improving day by day. The unnatural paint etched onto her body has begun to fade and the bell no longer dangles around her neck.
We thank you for your unwavering support that has given Ginger a chance to live a kinder and safer life with us.