In 2021, a story of resilience began taking shape from the heart of India, Madhya Pradesh. An elephant called Lakshmi was designated with a worrisome title of being "India's skinniest elephant", after a video of this emaciated pachyderm was circulated widely on the internet. This approximately 30-year-old elephant had a peculiarly altered gait, and was battling a life of despair under severe starvation and abuse. Today, almost two years after her rescue and the consistent medical care she has been receiving, Lakshmi has come to be known as an elephant that embodies the strength of spirit. Her tale showcases how the remarkable power of compassion can transform a life, even if it was marred by abuse and neglect.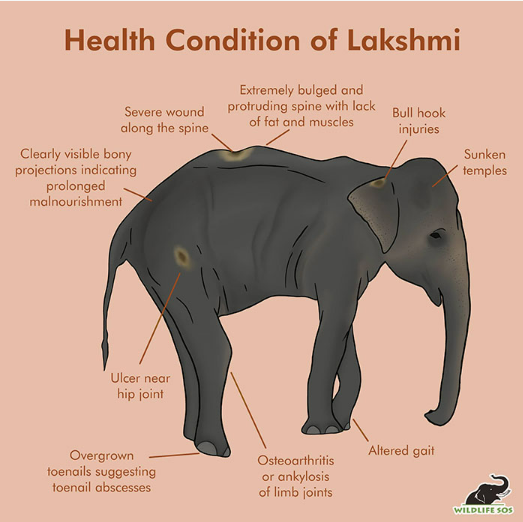 Unveiling Lakshmi's Past: From Suffering to Salvation
Lakshmi was found in the most tragic of circumstances. All skin and bones due to extreme malnourishment, she was being cruelly exploited as a begging elephant. Howdah (a seat with a railing and canopy, erected on the back of an elephant) was put on her back everyday by her owner, causing her spine to become crooked.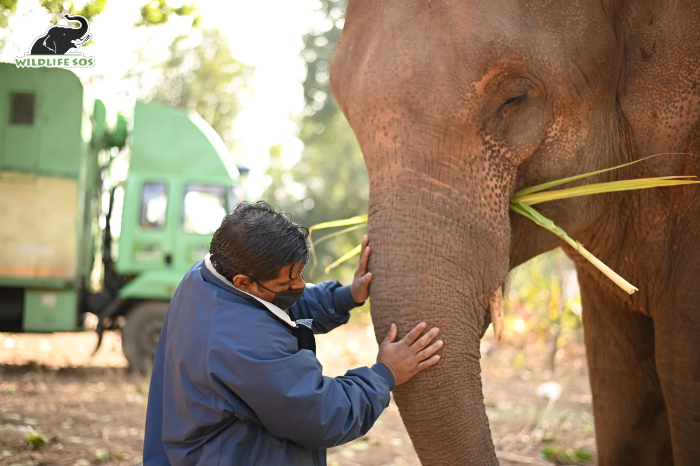 Along with bearing the scars of her ordeal, Lakshmi's bony projections and abnormally deviated limbs were all poignant reflections of the torment she had endured. Her spine protruded grotesquely due to the lack of fat and muscle. Medical examinations revealed a litany of ailments: severe lameness, chronic arthritis, joint deformities, and painful abscesses on her hips. To add to her misery, ankush (bullhook) wounds were present on her ears and her entire body, serving as painful reminders of the brutality she had suffered.
The Road to Recovery: A Glimpse into Lakshmi's Rescue
Efforts driven by concern and cooperation enabled Lakshmi's life to take a fortunate turn. Wildlife SOS, in partnership with the Madhya Pradesh Forest Department, launched a daring rescue operation to extricate her from a lifetime of suffering. After years of distress, Lakshmi finally found her saviours who defied the odds to bring her to safety. Having observed her debilitated condition, a veterinarian from Wildlife SOS ensured that her medical examination and treatment began on the site of the rescue itself. A mindful plan was simultaneously being prepared to transfer Lakshmi to the Wildlife SOS Elephant Hospital Campus (EHC) in Mathura, Uttar Pradesh, for long-term care under the medical attention of our veterinarians.
Lakshmi was to embark the Elephant Ambulance to undertake the long journey, and our committed team had left no stone unturned to overcome every anticipated challenge that could possibly occur en route. The team's preparation kept Lakshmi's comfort as priority. The ambulance was therefore meticulously equipped with cushions, rubber mats, and a sling support for the pachyderm. Given that it was winter season at the time, these provisions were accompanied by jumbo jackets for Lakshmi and tarpaulin sheets that covered the vehicle to shield her from cold winds. Hay was meticulously placed atop the mats to provide extra cushioning for her frail limbs. The ambulance's arrangements also included necessary fodder and drinking water to convenience Lakshmi throughout the journey.
A Tale of Healing: Lakshmi's Current State of Being
Fast-forward to the present, and Lakshmi's transformation is nothing short of a phenomenal feat. Her once-emaciated body has gained strength and sustenance. The untreated wounds that spanned her back and hips have healed, a testament to the expert care and medical attention she continues to receive.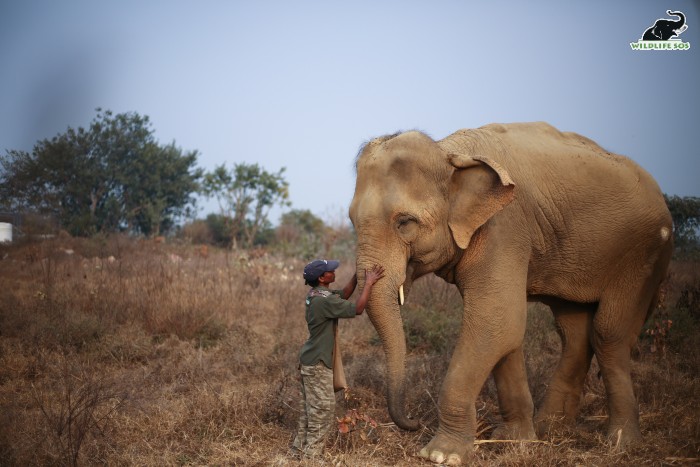 Foot pad treatment, an ongoing process, points to the severity of her injuries during her days of neglect. In order to protect Lakshmi's foot from moisture, excessive friction and possible infections, her thin and damaged foot pad is being covered with a sole guard by the veterinarians at EHC. Years of neglect led to deep abscesses on the left forelimb around Lakshmi's toenails, which are undergoing treatment. The caregivers and vets at Wildlife SOS make sure that Lakshmi remains at ease while going through these medical treatments. To alleviate joint pain, the pachyderm is given regular health supplements along with photo-biomodulation therapy at the hospital campus.
Although her physical limitations prevent her from strolling effortlessly, Lakshmi is now free from a life that forced her to walk on harsh surfaces, with enormous weight on her back. She now experiences soft mud under her feet in her expansive field that spans 1.2-acres, which is routinely ploughed to prevent it from getting hardened. Her footsteps might be cautious, but they echo her newfound sense of liberation.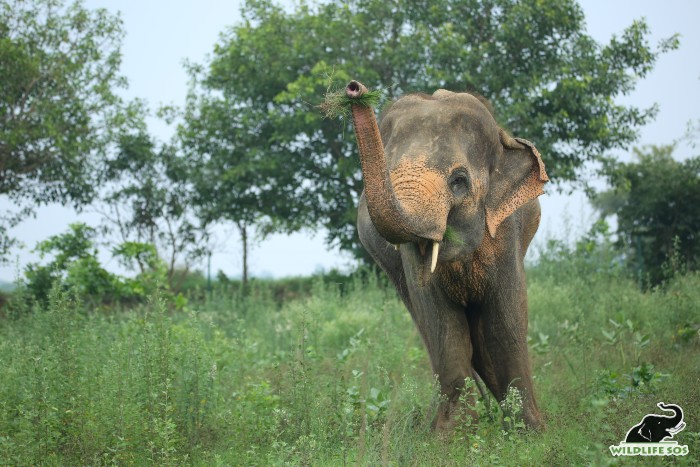 Lakshmi roams, explores, and enjoys her meals at her own pace. When rescued, Lakshmi was so malnourished that her head seemed much larger than her body and overall stature. With utmost care, the veterinarians at Wildlife SOS drafted a diet plan for Lakshmi to combat dietary deficiencies. Since then, the gentle elephant has shown great progress. With her health stabilising, she now weighs approximately 4,035 kgs!
Flourishing in Freedom: Lakshmi's Journey of Empowerment
Lakshmi's journey toward empowerment transcends physical healing. Once sceptical of engaging with enrichments, she now embraces them with enthusiasm. Fodder enrichments like hay nets and suspended feeders allow her to stretch her trunks while eating her daily treats. Tyre supplement is provided in her pool as Lakshmi loves to create a big splash! These activities are thoughtfully designed by Wildlife SOS, igniting her curiosity and stimulating her intellect. In a world that had oppressed her through commands, she has now found an environment to hone her inherent skills.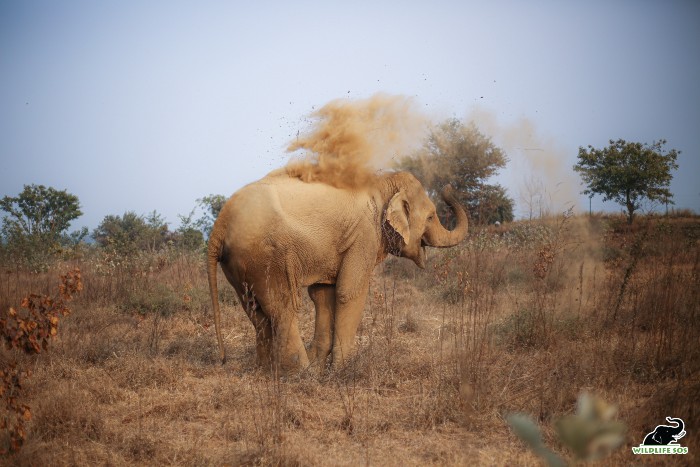 Lakshmi has responded with excellence to target training by displaying her intelligence and determination. Target training includes positive reinforcements that motivate Lakshmi to cooperate during medical treatments. Each achievement of Lakshmi, no matter how small, is a progress that resonates through the centre. Her unique physical condition demands tailored care, and her caregivers prioritise her comfort above all.
Lakshmi's Timeless Tale
Lakshmi's tale is not one of closure, but of continuity. Each day brings new strides, new triumphs, and new chapters to her story. She stands as a symbol of transformation, from a state of suffering to a realm of healing. Her very presence, her vitality, radiate an aura of hope and resilience.
As we celebrate Lakshmi as the Elephant of the Month at Wildlife SOS, let us remember that her journey is not just hers — it reflects the collective effort of caring hearts, motivated minds, and unwavering compassion. Her story invites us to recognise the capacity for change within ourselves and the world around us.
If you want to be a part of Lakshmi's journey and support her healing, you can sponsor her daily care and upkeep by clicking here.