One community which NGOs have relied upon almost always, are the ones who participate without expecting anything in return. It is an act of pure selflessness. We are referring to volunteers, and it seems Volunteer Recognition Day, which falls on April 20, is the perfect occasion to celebrate their willingness and dedication.
People, no matter which field of work they belong to, can always extend a hand of cooperation to NGOs, community-driven collectives, social enterprises and interest groups. Sometimes, urban or rural communities take it upon themselves to volunteer for a social or environmental cause. If these groups take the onus of protecting natural habitats or wildlife, then it gives rise to something called community-based conservation.
But NGOs also take the help of volunteers in a more structured and organised way, which helps them to tackle the issue of human resources. For a wildlife conservation NGO such as Wildlife SOS, we have always welcomed as well as invited assistance from people who wanted to participate in voluntary activities. We think all kinds of people can contribute to the cause of wildlife conservation in their own unique way. One such community whom we have leaned upon time and again are children. Imparting knowledge to children about the need for conservation is as significant as educating the adults, afterall they are the future! Generating awareness from a young age can create a mindset that can later be materialised for the benefit of our environment.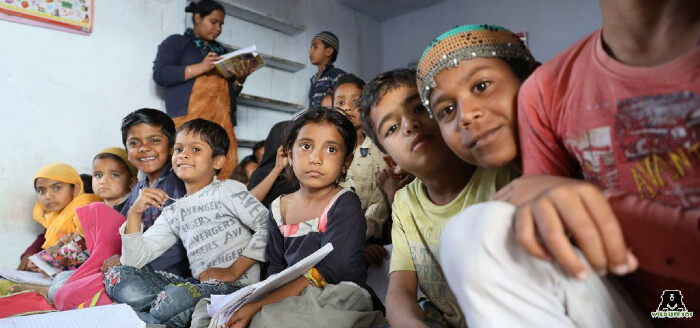 One such example is 9-year-old Xavi Barugh, a British Student from Sussex, UK, who is a recipient of the Wildlife SOS Rising Star Award. Moved by the plight of our rescued elephant Raju, he has organised a series of online fundraisers in support of our elephants. Xavi has also been an inspiration for many children to take on the role of junior virtual volunteers or young wildlife warriors for this very cause. Moreover, Wildlife SOS frequently conducts art contests based on themes related to nature and wildlife for children who belong to smaller age groups. This not only allows them to get involved with us and stay updated with our work, but also gives them an opportunity to gain knowledge about current conservation issues.
Just like children, students also play a critical role and they are the wheels which help the vehicle move forward. Oftentimes we have relied on the student community in the past and they have extended their arms of co-operation with a genuine sense of care and compassion. For instance, Aaliya Mir, Wildlife SOS Education Officer and Programme Head in Jammu and Kashmir has conducted several wildlife surveys, in which she has received assistance from students. The Hangul (also known as the Kashmir stag) census in Dachigam National Park is the most popular one, since the Hangul is a Critically Endangered ungulate species which now has a population of 200 individuals in the wild.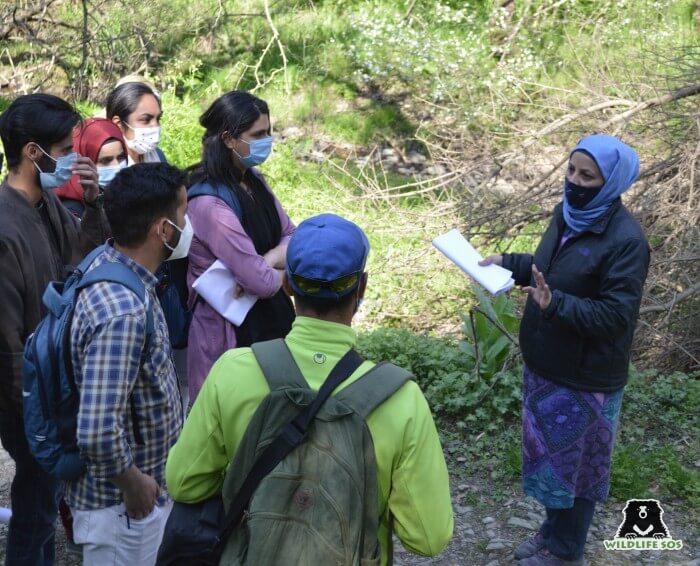 Wildlife SOS, along with the J&K Wildlife Protection Department, carry out this census to ascertain their population. But this mammoth task also needs the help of volunteers, which recently happened to be students from Kashmir University. Similar to the situation in Kashmir, the Wildlife SOS-GSPCA (Gujarat Society for Prevention of Cruelty to Animals) team functioning out of Vadodara also receives a helping hand from a pool of volunteers, who assist in rescue operations. Very recently, volunteers helped the GSPCA team rescue a 12-foot-long Indian Rock Python in Por village near Vadodara.
Wildlife SOS has also welcomed volunteers in the past, both from India as well as abroad at the Agra Bear Rescue Facility, the Elephant Conservation and Care Centre and the Bannerghatta Bear Rescue Centre. Some of the duties in which they have been directly involved include food preparation for the rescued bears and elephants such as cutting fruits and vegetables, making enrichment treats, assisting the caregivers, etc. Besides, the volunteers also help in cleaning the enclosures and facilities, making enrichments such as hammocks, honey logs and tyre enrichments, gardening, nursery maintenance and development, and other organisational work related to facility resources.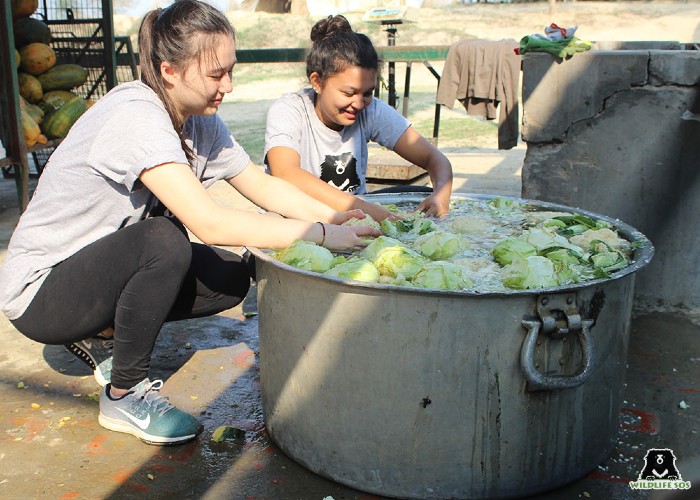 Lastly, Wildlife SOS also organises the Champa Volunteer Award every year. Started in 2017, Wildlife SOS selects one volunteer each year to receive the Champa Award for their relentless efforts and indefatigable determination to help us protect India's wildlife. This award is also emotionally very significant to us since it is named after the first elephant rescued by Wildlife SOS in 2009. Hence, this Volunteer Recognition Day Wildlife SOS wants to recognise the efforts of all the volunteers who have helped us in the past, as well as others across the globe who dedicated their time to important causes selflessly.
Wildlife SOS looks forward to enthusiastic individuals who can commit a few days or at least few hours of a week to be a part of the good cause. If you are interested in volunteering with us, please drop us an email here: volunteer@wildlifesos.org