Wildlife SOS Elephant Conservation & Care Centre (ECCC) Mathura & Agra Bear Rescue Facility (ABRF)

A
Application process
Continue to complete the online process within our Volunteer page on the WSOS website. once you have confirmed your preferred dates and completed the required information fields a member of our team will get back to you to confirm your application and to discuss any additional questions you may have regarding your visit. Please ensure that, when asked, you complete fully and accurately the questions regarding health issues, dietary requirements etc fully to ensure your comfort and well-being during your stay with us.
You will need to make your own arrangements for travel to the volunteer house. The facilities are around half an hour from Agra town, three-four hour drive from Delhi and four-five hour drive from Jaipur. See 'Getting to the WSOS facilities'. When you have booked your flight, or train/bus/taxi if coming from another part of India, do let us know so we can prepare for your arrival.
Once you have paid your deposit, you will receive a personalised Volunteer Service Certificate which you can utilise to help you fund-raise on behalf of Wildlife SOS prior to your visit if you wish to..
Accommodation
The volunteer accommodation comprises three large two-storey houses in a gated community in Mathura, Uttar Pradesh, which is around half an hour's drive from central Agra. We advise that you do not go out and about in the local area alone, or attempt to walk to a shop, as we cannot guarantee your safety.
Volunteer House Facilities
Bedrooms **due to Covid19 only groups of people travelling together may share a room. Please fully and accurately the information fields in our online application process. The rooms are either 3 single beds or 2 sets of bunk beds, lockable, en suite shower room with hot running water. *Our Application Form requests details of whom you wish to share with – social distancing rules to be followed.

Air-con available in some bedrooms, otherwise ceiling fans in bedrooms & public areas

Living/hangout area with sofas

Towels & bedding provided

Additional Activities program including yoga classes, Ayurvedic Therapy (may not available in line with social distancing requirements), cookery lesson. *Please note some activities are chargeable or a donation is requested.
Addresses
Volunteer House WILDLIFE SOS, House no. B-22, Aastha City, Runkata, Agra, PIN-282007
Elephant facility Near Sachdeva Institute of Technology Thurmura Ghari, NH2, Mathura, Uttar Pradesh 281122
Bear facility Agra Bear Rescue Facility, Soor sarovar Bird Sanctuary, Keetham, Runkata, Agra, PIN-282007
Age
We have no definitive age restrictions however we ask you to note that the work at the centres is physically demanding at times and can be very hard work in the heat and dust. Please do take this into account when considering bringing children or the elderly to our centres.
For children under the age of 14, a family or group day orientation visit to our centres may be the most suitable. Please note that a guardian must be present. For groups of young teenagers wishing to volunteer ie school/ college/ clubs etc we are very happy to receive you so long as there are the appropriate number of adults supervising and working with the group. If you have any questions regarding the above please email us at volunteer@wildlifesos.org
Alcohol
Alcohol is not readily available in the area surrounding the facilities, and not encouraged at the volunteer house. If you do wish to have alcohol it is advisable to bring it with you as there are no shops that sell it locally. Our staff may be able to source for you but please be aware that availability is not guaranteed. It is not safe to go to find alcohol locally so please adhere to our polite request as above. Alcohol is not allowed at our rescue centres at any time.
Arrival
There are staff on-site at the volunteer accommodation 24/7 to welcome you, this will be arranged as part of your reservation process.
ATMs
There are ATMs at the airports and one a short drive from the volunteer accommodation which one of the staff members can drive you to on request. Please do not attempt to go to the ATM on your own.
B
Bears
There are around 118 sloth bears at the bear rescue facility. All are previous dancing bears. They live in individual or group enclosures depending on their needs. They enjoy a balanced vegetarian diet and enjoy eating treats, climbing on enrichment structures and sleeping in the sun. Although you can get close to the bears from behind the enclosure gates, direct physical contact is not possible. The bear facility is around 7km from the volunteer house and the WSOS staff transport you there and back every day.
Breeding
Wildlife SOS does not have a breeding program.

C
Coronavirus
Throughout our Volunteering Program the health and well-being of you and our staff is paramount. Please be assured that we will follow current government recommended guidelines at all times, we ask that you also do the same. Anyone not adhering to covid regulations may be asked to leave the program.
Proof of covid vaccinations will be required in line with WHO and local government guidelines.
Cancellation (inc Covid)
Please see our 'Refund Policy'
Clothes
Bring clothes suitable for working outdoors, and suitable for the weather Please note that it is hot, dusty and at times dirty work so don't bring your best clothes! Please also be aware of cultural differences in respect of clothing, especially women. We kindly ask that you refrain from wearing 'skimpy' tops/ shorts out of respect for our staff.
Sturdy/waterproof outdoor working shoes/boots/trainers
T-shirts
Knee length shorts
Long trousers/jeans
Long-sleeved tops (helps keep arms from getting scratched during certain work)
Cap/sunhat
Waterproof jacket (depending upon time of year you visit)
We also ask that you avoid bright clothes as they can upset the animals
We also request you to bring:
Gardening gloves
Covers for your arms (for preparing elephant fodder!) Top Tip – tubular bandages work well!
Clothes for painting
Re-usable water bottle
Mask (for painting or to keep dust out)
Insect repellent
Sun-tan lotion
Personal First Aid kit
Cost of Volunteering – see 'Payment' for further details
Costs are approximate and may be subject to change. Prices below are for guidance and are quoted for a stay of 5 days/ 6 nights inclusive of all meals. Once you have indicated your preferred dates, room requirements etc our Education Officers will confirm the exact price to you. This differs according to time of year, skills etc.
$600 USA dollars: for other currencies, price will be calculated at time of application
£490 based on current exchange rate exact price will be calculated at time of application 
25,000 INR for Indian nationals
What does our Volunteer Program include?
Accommodation at our modern Volunteer House, with en-suite & ceiling fans
3 vegetarian meals a day
Tour of, and volunteering at Agra Bear Rescue Centre & our Elephant Conservation and Care Centre.
Transportation to and from the centres and volunteer house
Volunteering days start at 0930 and generally finish around 1800
Presentations by our Education Officers about
Our Centres are approximately 4 hours drive from the Delhi airport. If you wish us to arrange this for you that is no problem, please ask. This service is offered by a reliable, safe taxi company at a discounted rate.
Cultural Differences
Every country in the world has its' own unique culture, we advise that you read up on the general differences between your country and India in order that you can communicate and act in accordance with Indian culture which will enhance your visit to us/ India. A good source of information are The Rough Guide and Lonely Planet.
Cigarettes
Cigarettes are not readily available in the area surrounding the facilities, and not allowed in the volunteer house or our centres. If you do wish to smoke please always smoke outside, being considerate to our staff and other volunteers. Our staff may be able to source for you but please be aware that this is not preferred and availability not guaranteed. It is not safe to go to try to purchase locally so please adhere to our polite request as above
D
Donations
We are very happy to accept and re-use unwanted mobiles (in good condition), clothes, shoes, towels, bags, toiletries, gloves, pens etc
Dress code
In the volunteer house and at the elephant and bear facilities, shorts, t-shirts, vest tops etc are fine for men and women. Outside the volunteer house and facilities' it's advisable that you cover up a bit more. Refer to the Lonely Planet, Rough Guide or online articles on women travellers in India for advice.
Duration
5 working days Monday to Friday, and 6 nights (Sunday night to Friday night). We recommend volunteers to reach the volunteer accommodation on Sunday evening as Monday will be the orientation day and a relatively early start.
It is possible to stay longer, please complete your dates on our online form. Also, a shorter stay of 2/ 3 nights is also possible however please be aware that you may not get to enjoy the full scope of our centres in this time.
E
Elephants
There are 29 elephants at ECCC: Elephant Conservation and Care Center, Mathura (at time of print). The males have their own enclosures and are kept separate from the females at all times. Volunteers will work with the females but may get to observe the males on their walks. Learn more about our elephants and our work with them.
Kindly note that, Wildlife SOS are strongly committed to the ethical treatment of animals, therefore direct contact with the elephants is not a part of your volunteering, only trained keepers are allowed to interact with the elephants. On behalf of our elephants, we thank you for your understanding.
The elephant facility is around 17km from the volunteer house, the WSOS staff will transport you there and back every day.

F
Food
The cost of the volunteer program includes three home-cooked Indian vegetarian meals a day, Monday to Friday and breakfast on Saturday if you stay overnight Friday. If you decide to book to stay on a Sunday, the cost for an extra night will include three cooked meals.
The food is prepared on-site by Wildlife SOS housekeeping staff, is plentiful, organic, fresh and delicious. Every day is different and includes a mixture of vegetables, herbs, spices, rices, breads, pastas and pulses.
Please complete fully the required fields in our online application process. Please also remind our staff on arrival of your requirements or changes to them.
G
Getting to the WSOS facilities
From Delhi
Taxi – you can pick up a taxi at Delhi airport or elsewhere in Delhi. The journey to the volunteer house should take between 3.5 – 4.5 hours though this can vary depending on traffic. The cost can vary between around 4,500 rupees and 7,000 rupees so it's a good idea to ask a few drivers or barter.
Train – trains don't go from Delhi airport so you'll need to get a taxi to the Delhi train station.
How to make a train reservation.This information was taken from www.tripsavvy.com and was correct as of 2020.
Another really helpful site is The Man in Seat 61.
From Jaipur
Taxi – you can pick up a taxi at Jaipur airport or elsewhere in Jaipur. The journey to the volunteer
house should take around 4 – 5 hours though this can vary depending on traffic.
Train – there are numerous trains which run daily, the journey takes between 3.5 – 6hrs depending on which train you take. Note that on Sundays there are less trains operating so it is advisable to pre-book if you want to ensure a seat in first class aircon.https://www.makemytrip.com/railways/jaipur-agra-train-tickets.html shows you train/ time options
**Once you arrive in Agra, we suggest that you get a taxi to the Volunteer House (see 'Addresses'). this should take between 30 minutes – one hour depending on traffic and should cost no more than a thousand rupees. Whilst a tuk-tuk looks like fun (and it is!) taxis are the most reliable, convenient, time effective and easily available at a reasonable price.
H
Hospitals
There is a hospital close to the volunteer house. Healthcare is not free to everyone in India so it's advisable to get health insurance before you travel ** please follow government guidelines regarding having sufficient cover for respiratory related illness. Please let WSOS know at time of application of any on-going health issues, you will need to be fit and healthy as the work can be very physical and it will be hot.
If you want to visit a doctor, don't hesitate to ask your volunteer coordinator so that he/she can arrange this for you. Please note that the fee for the doctor/ hospital appointment will need to be paid by you at the time of the visit and is in no way the responsibility of Wildlife SOS or their staff.
I
India
Before coming to India for the first time you might want to get a travel guide so you're aware of the cultures / traditions, and what to expect. Good sources are The Rough Guide and Lonely Planet.
Insurance
We strongly advise that you take out good health and/or travel insurance when travelling to India, being sure to include Covid cover.
L
Location
The Wildlife SOS rescue facilities are located around a half-hour drive from the town of Agra, in the state of Uttar Pradesh. See 'Address'. The volunteer houses are in a gated community, we ask/ advise that you do not wander around the local area on your own as we cannot guarantee your safety.
Language
The language spoken in Agra is Hindi. The Wildlife SOS volunteer staff speak fluent English.
Local Area: See 'safety'
Luggage
Worth noting if you are using internal flights that the luggage allowance is typically only 15kg which is significantly lower than you will have on your international flight to India.
M
Meals: See 'Food'
Money
At the time of print, non-residents are not allowed to bring a large amount of Rupees into India. Please check with your country's government guidelines on bringing money into the country.
Carry credit cards, travelers cheques and a small amount of Rupees as well as your country's currency.
There are ATMs at the airports and one close to the volunteer accommodation which issues Rupees.
Mosquitos
Utter Pradesh, at the time of writing, is not a mosquito danger zone. However, if you're prone to being bitten by mosquitos, it's advisable to bring enough mosquito spray to last your trip as it's not easy to buy in the area. There are mosquito plugs in the volunteer house bedrooms so you won't need a mosquito net at night as long as you spray yourself!
P
Payment
A minimum deposit of 25% is due at the time of booking your trip with us. Within two months of arrival, full payment is due. If you decide to cancel your trip, your deposit is non-refundable. See 'Refund Policy' for full details.
Payment options
By bank transfer into the appropriate account – see below for details.
Foreign Account Holders (ie not Indian nationals)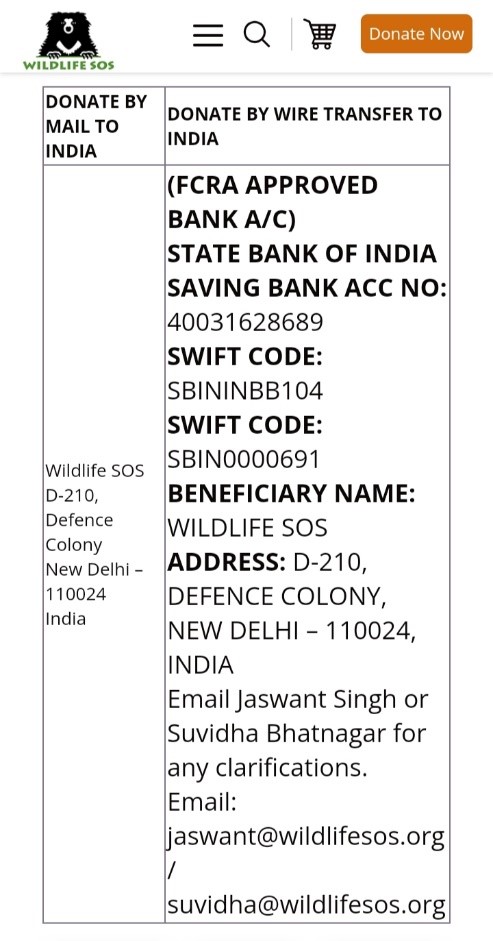 Indian Nationals
INDIAN OVERSEAS BANK
SAVING BANK ACC NO: 011501000021415
IFSC CODE: IOBA0000115
BENEFICIARY NAME: WILDLIFE SOS
ADDRESS: D-210, DEFENCE COLONY, NEW DELHI – 110024
See 'Cost' for the price of our volunteering
R
Refund Policy
If you decide to cancel your trip, your deposit is non-refundable. More than two months out, a full refund minus your deposit is available to you.
If cancellation is requested by you following full payment, because your plans have changed or you're no longer comfortable travelling, we will accept it up to one month prior to arrival. You will not be eligible for a refund but we are happy to give you the opportunity to rebook with us within 12 months of your original placement date.
If, however, you are forced not to travel due to travel restrictions imposed (on either your home country or on India, ie in the case of COVID19) then you will have 18 months to reschedule your placement with us.
Religion
There are many religions/ religious beliefs in the world, India is no different. If religion is important to you, we advise that you read up on the varying religions and beliefs common to India.
A good source of information are The Rough Guide and Lonely Planet.
Rupees: See 'Money'
Rooms: see 'Accommodation'
S
Safety
Although you never need to go anywhere other than the volunteer house or animal centres, you might want to explore the greater local area. The local area is traditional and, like much of India, poor in relation to many Western regions. It's advisable for women to wear long-sleeved tops and long trousers or skirts when not at the volunteer house or rescue centers (here, shorts/t-shirts/vests are fine, see Clothes). It is not advisable to go out and about locally on your own, please speak to our staff regarding organised Additional Activities or booking a reliable taxi/ guide.

Refer to a reputable guide (e.g. Rough Guide or Lonely Planet) for up-to-date safety recommendations. This is also a great guide for women.
Shopping
For any basics/essentials you might need, there is a Walmart a short drive from the volunteer house. You will need to go with a member of the Wildlife SOS team as you need a Walmart card to shop there). There is a very small shop two-minutes from the house which sells soft drinks, sweets, crisps etc. but again we ask/ advise that you do not attempt to walk there.
Street dogs
There are many street dogs in India. The ones around the volunteer house (at time of print) are generally approachable, friendly and seemingly healthy. The staff at the volunteer house provide large bags of kibbles that you can hand out to the dogs. The local people tolerate and even occasionally feed them.
T
Things To Do
A list of Additional Activities will be sent to you as part of your Volunteer Welcome Pack on booking, this includes Yoga, Ayurvedic Treatments, cookery, Q&A evening sessions. Some activities are chargeable either at a set cost or some by donation. Please see our volunteer staff for information and to book. Payment will be required when booking. There are places of interest locally to visit eg Taj Mahal and Agra Fort – we will happily organise this for you, providing a reputable driver.
Taj Mahal – Taj Mahal is around a 30-minute drive from the volunteer house, in Agra.
Sheroes – in Agra.
Birthplace of Krishna – halfway between Agra and Delhi.
Soor Sarorar Bird Sanctuary – next to the bear facility, the bird sanctuary is home to more than 165 species of migratory and resident birds.
Taxis
You can book taxis, Ola/ Uber, to pick you up from the volunteer house and take you anywhere you like. Ask a member of staff who will have a list of reputable local taxis.
Timetable
See 'Volunteering activities'
Travel to WSOS
See 'Getting to the Wildlife Facilities'
Temperatures
Weather and temperatures can really vary in Agra and they have definite seasons. Check out this Agra weather and temperature guide to help you decide when to come. Please note: WSOS needs volunteers all year round and the work still needs doing whatever the weather!
V
Volunteering Duties
On Monday you will enjoy an orientation day, visiting both facilities, learning about the animals and the work that is done at each and throughout Wildlife SOS.

The kind of work you will be doing varies depending upon the needs at the time, generally you can expect to be doing the following. ** If you have any specialist skills that you think may be useful to us please do detail them on your Application Form.
Gardening: digging, weeding, planting, tending to our vegetable garden/ crops*
Preparing food: weighing and chopping fruit, weighing and distributing elephant fodder, mixing porridge for bears
Distributing elephant food by bucket
Cleaning bowls and buckets after feeding
Painting enclosures*
Cleaning enclosures: sweeping, mopping, picking up poop
Cleaning pools: sweeping, mopping, bleaching*
Building enrichment structures: digging, tying ropes, carrying logs
A visit to our Elephant Hospital is included on Day 5, along with an elephant observation walk, from a distance, at ECCC (Elephant Conservation & Care Centre)
** A limited supply of gloves and masks may be provided by WSOS, however it's strongly advised that you bring your own gardening gloves and long-sleeved top or covers for your arms (for elephant fodder which can scratch and irritate skin, also painting). Also bring a top and trousers/pants for painting. Please also ensure you have a supply of covid face masks.
Important Information
Kindly note that, Wildlife SOS are strongly committed to the ethical treatment of animals, therefore direct contact with the elephants is not a part of your volunteering, only trained keepers are allowed to interact with the elephants. On behalf of our elephants, we thank you for your understanding
Vaccinations
Check with your country's government travel health website and a reputable source, e.g. Lonely Planet or Rough Guide, for guidelines on which vaccinations to get.
Vaccinations – refer to C Coronavirus
Visa
You will need a visa to enter India and participate in volunteering at WSOS. You can apply here. Please opt for the tourist e-visa and if asked at the airport, say you are visiting WSOS. You can use WSOS as the reference which is asked for within the e-visa application.
Veterinary care
Wildlife SOS employs their own vets who work at both bear and elephant facilities.
W
Women
See 'Safety'
Water
Fresh, filtered water is available (literally on tap!) at all our centres and the volunteer accommodation. Please do bring a re-useable water bottle as this is the environmentally friendly option!
We do hope that you feel inspired to volunteer with us, if you have any questions prior to making your booking please contact us – details below. would love to hear back from you to take this forward.
Disclaimer: Kindly note that this document is correct at time of being published and we endeavour to update as and when necessary, however information is subject to change and can at times be out of our control.
February 2023