Toiling in the sweltering sun for hours to sow the seeds for a crop that will one day flourish and yield a means of survival — such is the life of India's farmers. With their entire livelihood depending on a successful harvest season, their land is their mainstay. In Chhattisgarh, a state in central India, 80% of the population engages in agriculture, and for a majority of them, this is their primary source of income. The produce from farmland provides a farmer's family with sustenance, education, and security. Thus, when wild elephants recolonised Chhattisgarh and began raiding crop fields, the loss to farmers was crippling. The latter was suddenly at war with the largest land mammal, a battle that could only lead to a pyrrhic victory.
This project is supported by The Elephant Sanctuary in Tennessee.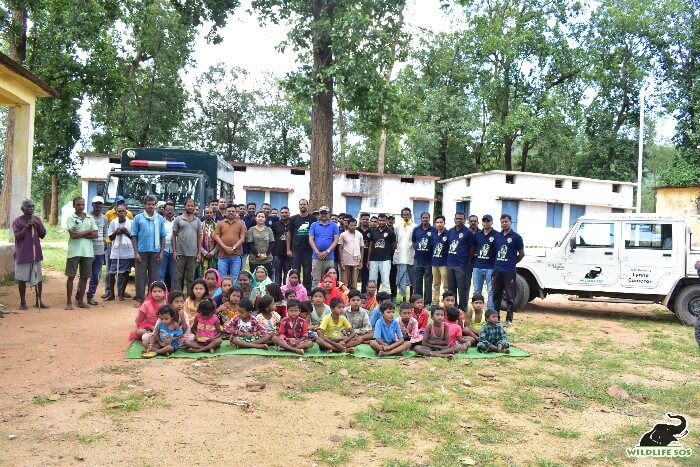 Since 2017, Wildlife SOS has been working in Chhattisgarh to mitigate human-elephant conflict. Focusing on the study areas of Mahasamund and Balodabazar, we have been working towards transforming the conflict between humans and elephants into a truce. As a part of the project, the Wildlife SOS team in Chhattisgarh regularly conducts workshops with locals to train them in mitigation strategies. Disseminating information to locals is an essential step to allow them to protect themselves, their crops and their livelihoods. Recently, our team ventured into the district of Ghariyaband, where locals plagued with a surge in elephant movement were taught tactics to reduce conflict through a holistic workshop.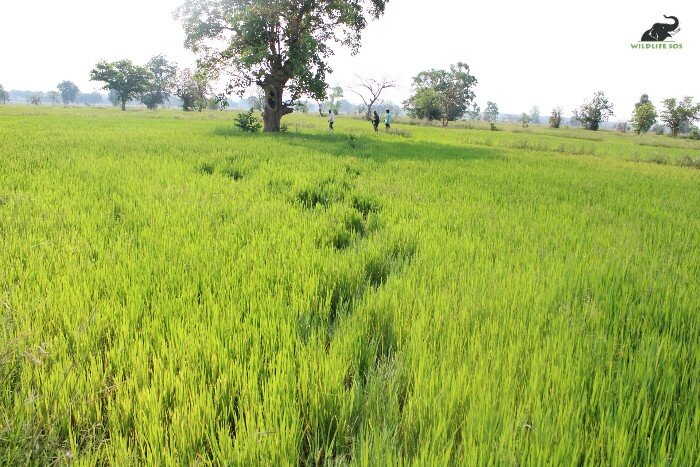 The Wildlife SOS human-elephant conflict mitigation workshops were conducted in the Manipur and Udanti sanctuary region, including Salhebhat and Badehobra areas that were most vulnerable to conflict. Four villages were covered within a span of three days. The workshop was conducted by Wildlife Biologists at Wildlife SOS Ms Richa, Mr Yogaraj, and Mr Balasubramaniam, with the guidance of Sub-Divisional Officer, Devbhog Rajendra Sori, Manipur Range Forest Officer Sanjit Markam,  and members of Hathi Mitra Dal (Friends of Elephants).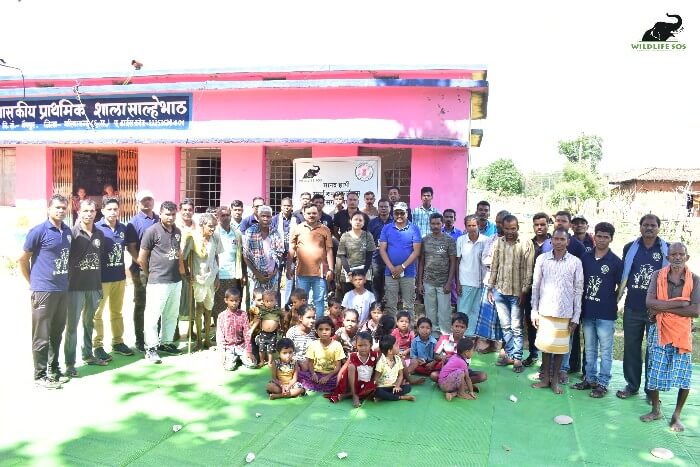 Frequent encounters with wild elephants caused panic among villagers. This increase in the human-elephant interface was most likely due to the arrival of the rice harvesting season. According to a study conducted by Wildlife SOS, elephants were not merely indulging in opportunistic raiding but, being the intelligent mammals that they are, they were raiding with an intention. Every harvesting season, elephants would move closer to villages. Paddy is the most common crop raided by elephants because it is preferred by these wild pachyderms. And in Chhattisgarh, paddy is the main crop grown! With the livelihood of farmers depending on paddy, the frequency of conflicts created turmoil in the Chhattisgarh community.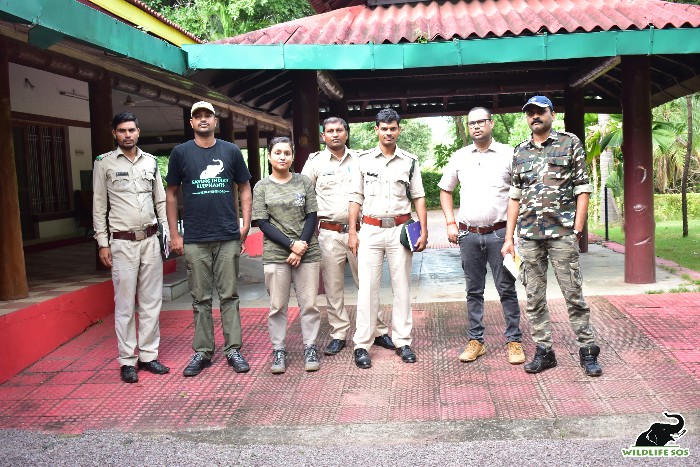 The human-elephant conflict mitigation workshops thus focused on ensuring that every farmer and villager was armed with knowledgeable ways to protect themselves and their fields. The workshop began with a brief talk about the Asian elephant, its characteristics and its behaviour. Villagers were informed that Asian elephants are usually actively feeding during the morning and evening hours. For the remaining 16-18 hours of the day, elephants are usually just grazing. Pivotal information was provided, such as how the likelihood of an attack is more when one encounters a lone tusker. Female elephants, on the other hand, are less likely to part with their herds in order to attack, but will only do so if they feel there is a threat to their young ones. Such awareness allowed the locals to become familiar with their new neighbours.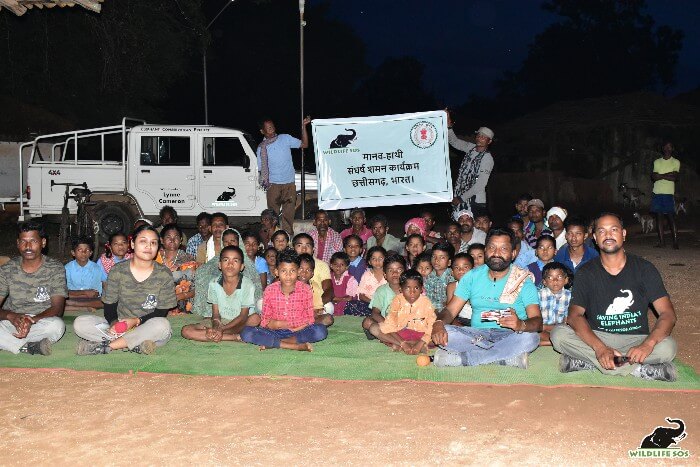 In the second part of the workshop, villagers were informed about steps to take if elephants entered their village. Apart from notifying the forest department immediately, the people of the village were advised to light small fires around their houses that could act as deterrents for wild elephants. Farmers were prompted to follow similar steps if elephants were seen around their grain storage area, and were also asked not to visit their grain storage when they knew an elephant was in transit.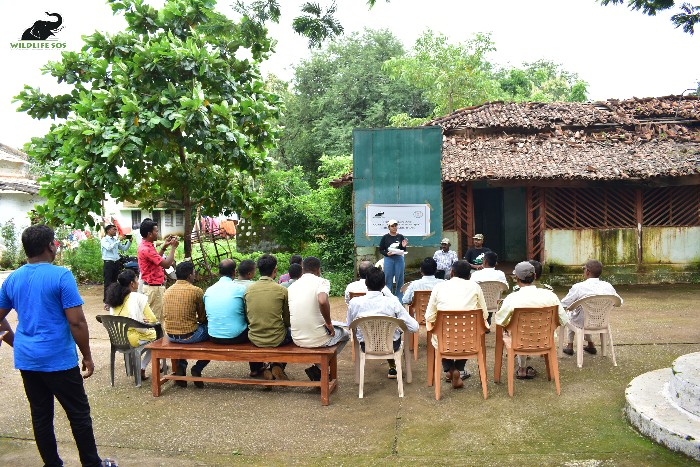 The workshop covered every possible scenario that one could encounter when confronted with wild elephants. An interesting instruction shared was that in case one was in close proximity to an elephant exhibiting aggressive behaviour, it is important to check the direction of the wind. One is always advised to stand in a position where the direction of the wind is towards the elephant. In case the wind is blowing towards you, it is essential to take cover behind a tree. Elephants can easily sniff out a strange presence and might feel threatened.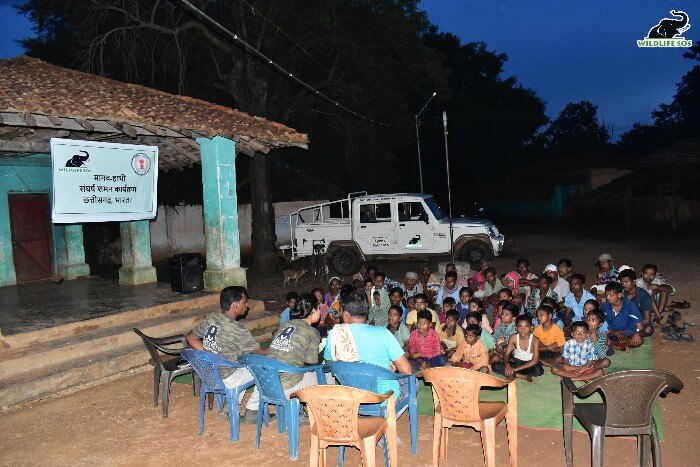 If not dependent on rice, villagers relied on various Non-Timber Forest Products (NTFPs) such as tendu patta (Asian ebony leaves) in May and mahua leaves (Butter tree leaves) in March. In the workshop, villagers were advised not to store alcohol made out of mahua in their houses. The smell of mahua could attract wild elephants and thus villagers must keep the leaves in an open field.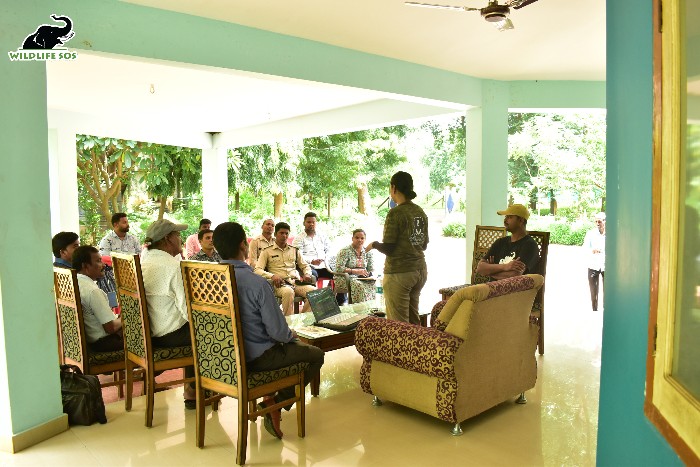 The workshop also gave villagers information about how to detect elephant presence by keeping an eye out for elephant footprints, fresh dung and so on.
By the end of the workshop, the well-informed villagers were more confident about their ability to coexist with elephants.
To know more about the Chhattisgarh wild elephant project, click here!