It was the month of October 2022 when an injured bird was rushed to the Wildlife SOS Manikdoh Leopard Rescue Centre (MLRC) in Junnar. The bird, identified as a Shikra, was rescued by the Maharashtra Forest Department and in need of immediate medical intervention. After it was treated by our veterinarians at MLRC, the Shikra recovered and was successfully released back into the wild.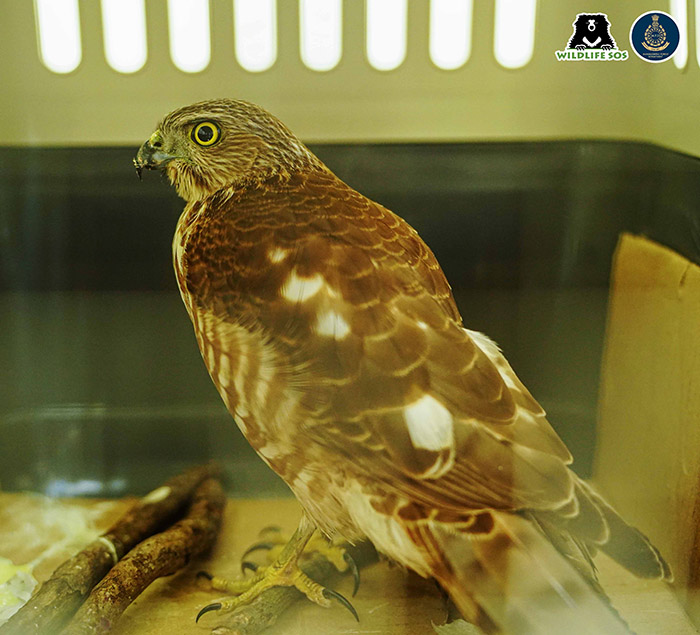 Here's how the bird's story transpired: the male Shikra was found inside the storage room of a residence in Junnar town of Maharashtra. After some concerned residents realised that the bird was unable to fly, they informed the forest department and it was rescued by the village rescue team, which has been trained to respond to such situations by Wildlife SOS and the forest department.
As a first step, our veterinarians examined the bird to diagnose the injury. After conducting an X-ray, it was found that the radius and ulna bones in his right wing were fractured. A quick anatomy lesson: the radius and ulna are two bones that make up the forearm in humans, and assist in the movement of our wrists and arms. In birds, these bones lie in their wings and help them to fly easily.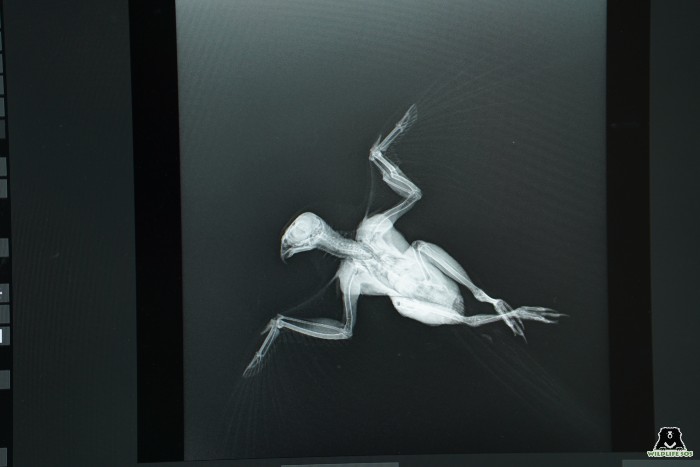 The veterinary team did not waste a single moment as they were determined to treat the bird and help him to recover. The vets first stabilised the fracture using bandages and sticks. They also administered pain medication, vitamin and mineral supplements to aid the healing process. The bird was kept under medical observation, and he spent his initial months in a small enclosure for recuperation.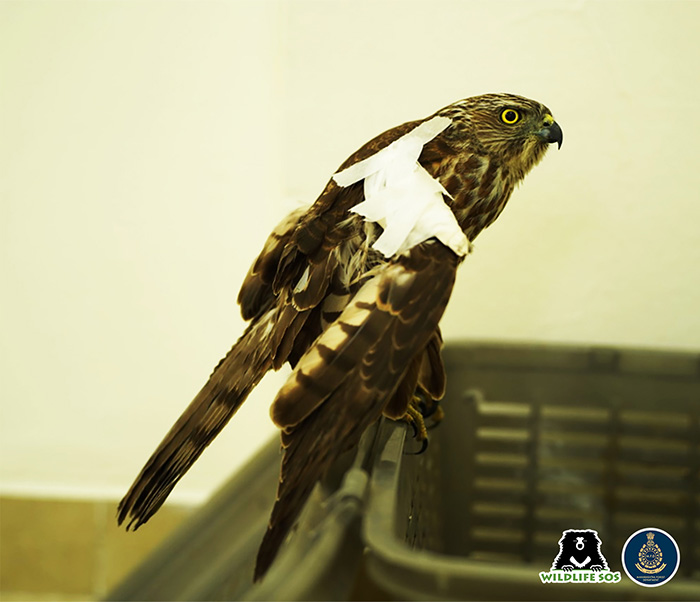 As the bird's health progressed, he was transferred to an aviary so that he could practise taking flight. His hunting skills were also getting sharper in the meantime. Being a bird of prey, it was equally crucial to monitor his predatory acumen, which would eventually enable his survival in the wild. Once all the boxes to determine his full recovery were ticked, the bird was released after assessing the ideal habitat. This was done so that he does not face potential danger from other animals or raptors. Soon after, the healthy bird spread its wings and took flight into the wild.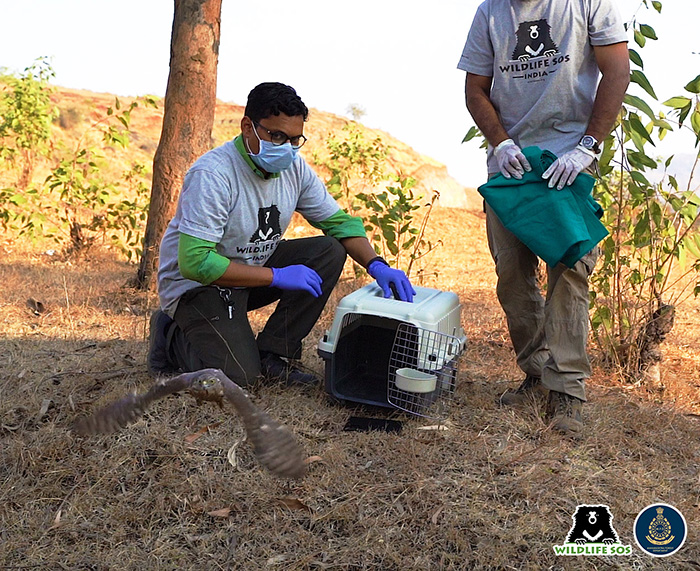 The Shikra (Accipiter badius) is a raptor that belongs to a family known as Accipitridae. A Shikra is relatively smaller than most goshawks, measuring between 25 and 45 cm in length, and the males weigh 100-200 gm. The females are heavier, with their weight ranging from 130 to 260 gm. The bird has numerous subspecies, of which the A.b. dussumieri and A.b. cenchroides subspecies are found throughout India.
The Shikra plays a pivotal role in the ecosystems they inhabit, as they feed on lizards, small mammals, frogs, small birds and insects. It is quite an adaptive bird that can be found in deciduous forests, grasslands, farmlands and even urban areas.
This is not the first time Wildlife SOS has rescued, treated and released a wild animal back into the natural environment. Our primary objective after each rescue is to always release the individual safely back into the wild. It directly contributes to thwarting biodiversity loss. Every individual of every species saved means that the animal gets to complete its role in nature, and keep the complex web of life intact.
This also decreases the number of wildlife mortalities caused by man-made factors such as habitat degradation or construction of infrastructure by replacing those natural habitats. That is why rescuing a Sambar from a road accident, a Striped hyena or a Golden jackal from a life-threatening fall in an open well or a leopard cub from a sugarcane field is of utmost significance. What is most important is to treat them back to good health, so that they can live their lives in the forest.
In the case of this Shikra's rescue, we supplied the best medical care to nurse the injured bird back to health. It is an immense satisfaction to see that the bird got a second chance to live out his life in the wild, just as it was meant to be. However, carrying out treatments and upkeep of the animals are resource-intensive tasks. We need your full support to provide the best possible care to injured animals and ensure their full recovery. Assist us and contribute to our efforts by becoming a monthly donor to Wildlife SOS.