Insects are one of the most pivotal components of terrestrial food webs as consumers, decomposers and even scavengers. They form a large population of nature's recyclers as detritivores. By feeding on dead organic matter, especially plants, they directly impact nutrient cycling and improve soil fertility. Another essential ecological role of insects is that they are the food source for insectivorous animals.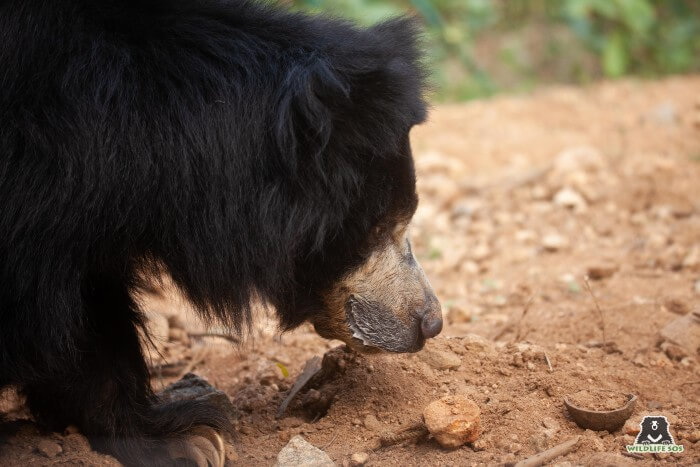 Wildlife SOS has a certain animal species under its care that love to feed on insects. Sloth Bears are known to be myrmecophagous (meaning ant-eating animals) in nature, who also resort to termitophagy (eating termites). It is also a part of their natural behaviour to dig for termite and ant mounds. They are known to be voracious eaters, with a strong olfactory sense.
Value of Mealworms
The rehabilitated sloth bears at the Wildlife SOS Bannerghatta Bear Rescue Centre (BBRC) love to dig and find termite and ant mounds in their enclosures. Keeping this factor in mind, the Mealworm breeding project was initially started 10 years ago at BBRC, albeit on a small-scale. In the past one year, however, the project has seen a revival with renewed vigour.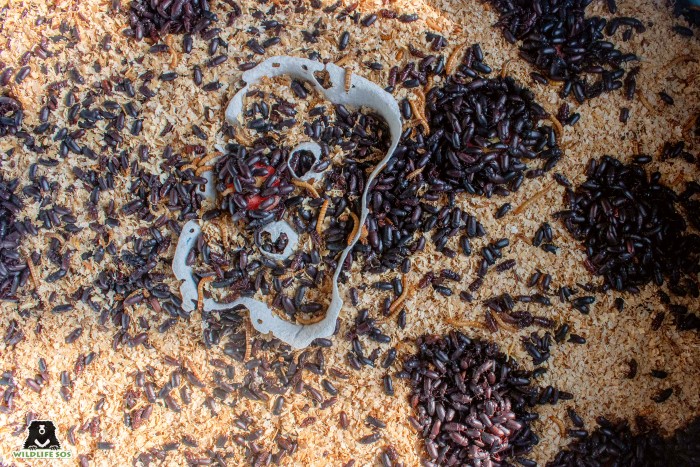 Insect farming is a new and revolutionary method to provide food to a lot of animals, especially the ones who are captive. The reason why mealworms are chosen is due to their high nutritional value. Apart from mealworms, crickets, roaches, Black Soldier Flies and beetles are used for this purpose.
Mealworms are primarily used as enrichments for the resident bears, wherein these insects are mixed in their regular meals such as porridge, once or twice a week. The dedicated staff at the rescue centre prepares 7 trays of mealworms, each containing approximately 500 individuals. These mealworms are added in a mixture of wheat bran and oats to make sure that they grow into healthy adults, thus converting organic food to valuable food for our sloth bears.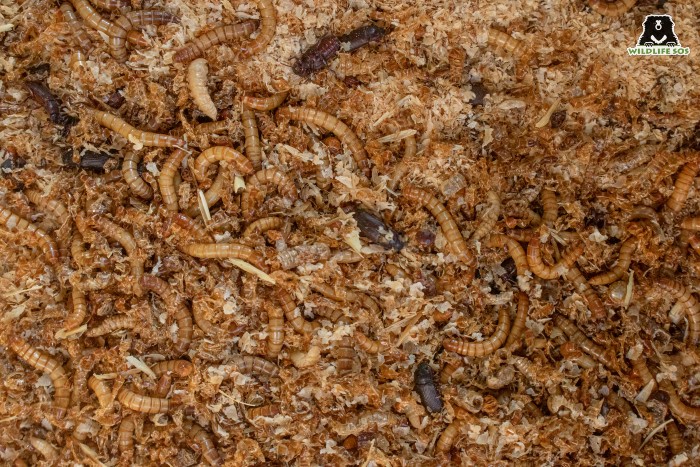 A lot of factors have to be taken care of during the lifecycle of the mealworm, and measures are taken to maintain the correct temperature, provide ample food for the worms, and keep them away from the reach of rodents, who also favour these insects. The man-made environment at the rescue centres cannot always provide the rich source of nutrients easily available in forests. The addition of mealworms provides the nutritional value required for large insectivorous mammals like sloth bears.
An Army of Soldiers
Besides mealworms, the veterinary team at BBRC are trying to incorporate the Black Soldier Flies (BSF) in the bear diet. The most beneficial part about using BSF larvae is that the flies can reproduce in 15-20 days and the larvae are used to feed the bears. Mealworms on the other hand, might take up to 4 months to reproduce. The fast rate of reproduction of BSFs is what makes them a hot property, and so, they are used in poultry farms too, as food source of livestock.
Once the larva of the flies is 7-8 days old, it qualifies as fit for consumption. The larvae can be supplied by removing the fat in its dry form, or when it is still alive. But the trials with BSF larvae are still at a nascent stage and vets are trying to gauge what kind of impact they will have on the bears' digestive system. Acting as a food source for sloth bears is not the only purpose these larvae serve; they can be used as fertilisers too.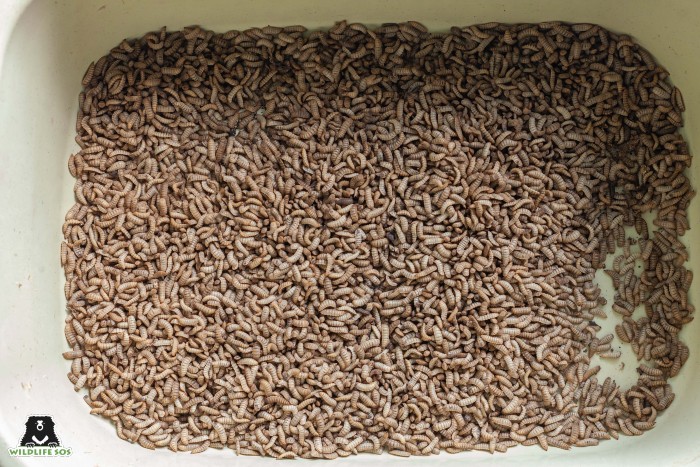 For the initial stages, our vets have started trials for BSF larvae with a number of young and geriatric bears. The bears were given the larvae in a mashed form first, and it yielded good results since they did not face any difficulties with digestion. Now, they are planning to try the defatted version and the younger larvae as feed. Larvae which are only 5 days old tend to have a softer outer shell compared to the older ones. Once these trials are over, a decision can be made as to which version of the BSF will be the most suitable for the bears.
For older bears, extra caution has to be exercised since the larvae have high protein and fat value which might impact their health. Whenever a new enrichment is introduced to bears in captive care, our vets always ensure that they gradually attune the bears to familiarise them with the taste. So far, the tests have yielded positive results and blood reports will further provide them with more insights for the future course of action.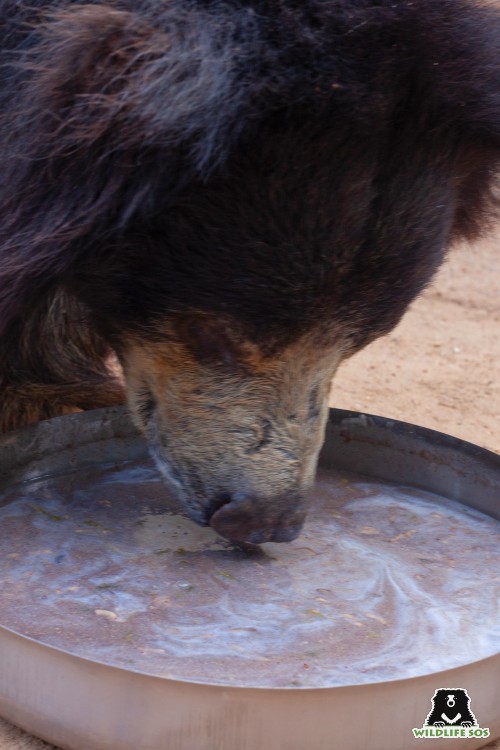 BBRC is home to nearly 70 sloth bears who have been rescued and rehabilitated from various situations of abuse, and you can play a role in supporting their upkeep. To find out how to contribute to our life-saving work, you can click here!