An important aspect that Wildlife SOS consistently promotes is the involvement of young citizens of India in activities concerning wildlife conservation. This is carried out by conducting online workshops or webinars, connecting with schools or colleges, and by holding interactive activities like art contests on occasions of environmental significance. Children are also encouraged to raise awareness for funds towards a cause!
In Jammu and Kashmir, the Wildlife SOS team collaborated with Solace International School for an experiential nature camp with youngsters. Aaliya Mir, Manager and Education Officer – Wildlife SOS, J&K, interacted with over 200 students over three days. She spoke to them about the precious biodiversity that surrounds them and the urgent need to conserve wildlife.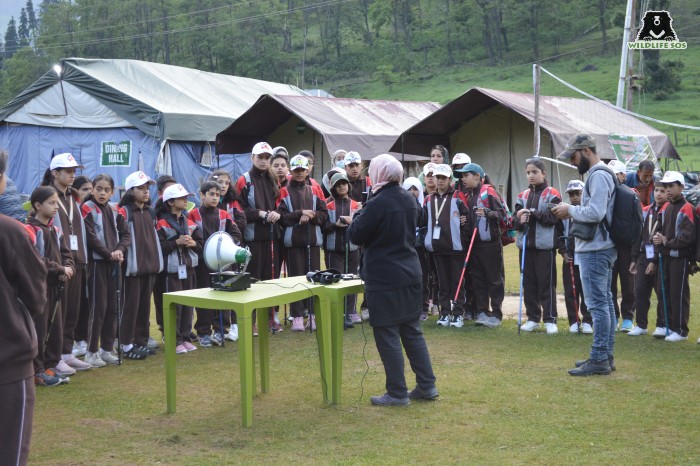 As a part of this nature camp, students got the opportunity to attend indoor and outdoor sessions that covered the themes of conservation. As part of the indoor session, Aaliya presented the topic of natural biodiversity of Jammu and Kashmir, accompanied by some films on poaching and animal trafficking.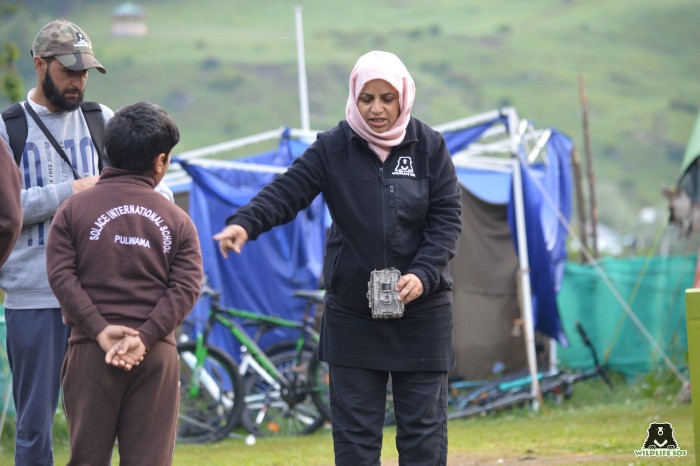 For the outdoor session, the youngsters undertook a nature walk where they learned about various interesting flora and fauna that they came across along their route. Aaliya was quick to identify each and every species that caught their attention and relay anecdotes to the students, who are bound to remember the stories for a long time. She also taught them the essentials of birding and how to be an ethical bird-watcher.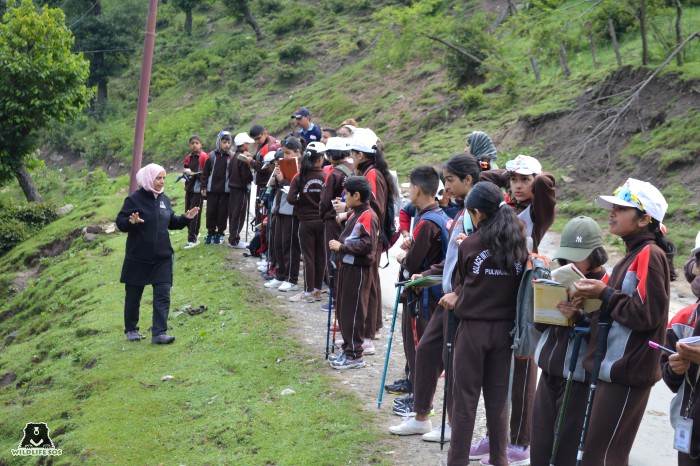 The students were then informed about the various equipment used by Wildlife SOS to track and research animals, such as camera traps and GPS. The team sets up camera traps at specific locations to learn about the behaviour and pattern of various animals, like the Himalayan Brown bear— a species thoroughly studied by the Jammu and Kashmir team. Interesting facts about technology used for wildlife conservation and personal accounts of fascinating instances by the field team helped the students connect with the topic. The students at the session listened with rapt interest and asked questions, keeping the team on their toes at all times. We are hopeful that the camp inspired young minds to align with wildlife conservation, and enter this field in their future.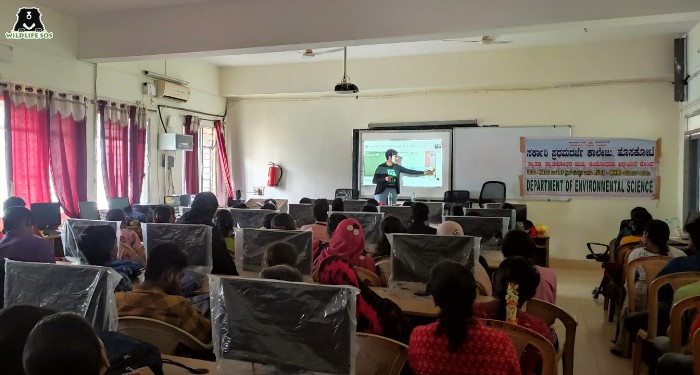 Far south, in the Bannerghatta Bear Rescue Centre, Karnataka, the team was all set to conduct a workshop with college students. Anisha Iyer, Conservation and Education Officer – Wildlife SOS Bengaluru, held an offline session on conservation awareness at the Government First Grade College in Hoskote. About 65 students were present at the education session which was conducted in both English and Kannada. As part of our efforts to connect with more schools of India, Wildlife SOS also invited professors from People's Education Society (PES) University, Bengaluru, to visit BBRC for an educational tour.
We hope to reach out to many more young and passionate wildlife warriors interested in learning about conservation.
If you too wish to delve deeper into wildlife conservation, you can watch this space for all our latest updates!