Kerala – Gods own country has been in the news for the wrong reasons – elephant brutality! The state has the largest number of captive elephants in India and these majestic animals are used in temple processions and other functions regularly.
The elephants are managed using the traditional form of management that involves pain, fear and intimidation that forces the elephant to cooperate with the owners or the elephant handlers. This constant negative reinforcement also results in the elephants holding resentment and lashing out at their keepers, mahouts and even the public when they are in musth or pushed to their limits, often resulting in human mortality. Kerala also has the highest number of human deaths caused by captive elephants each year, as a consequence of retaliation by brutalised elephants.
Wildlife SOS's Elephant Conservation and Care Centre is the first of its kind in India and currently houses 19 elephants that were rescued from illegal captivity and circuses. Here we have adopted a humane management methodology for the management of all elephants in our care. Mixing free and protected contact management techniques, this involves the use of positive reinforcement combined with trust building with the elephants as well as positive conditioning and target training.
Earlier this month, Senior Kerala Head of Forest Force – Dr. Branson. S. Corrie visited ECCC in Mathura along with PCCF Social Forestry – Mr Yalakki, IFS who is in charge of elephant matters in Kerala. They had detailed discussions with the founders of Wildlife SOS – Geeta Seshamani and Kartick Satyanarayan as well as with the Elephant Management team at the centre about the possibility of introducing humane and cruelty-free elephant management techniques in Kerala with the help of Wildlife SOS.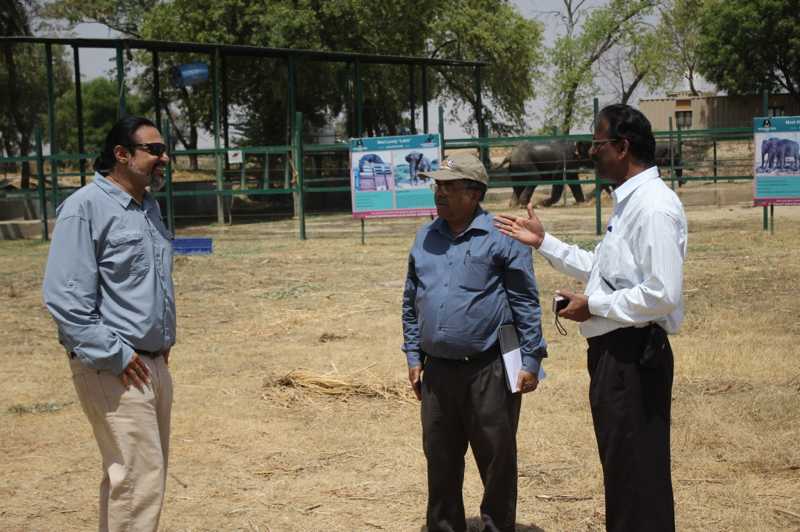 Dr. Branson. S. Corrie, Senior Kerala Head of Forest Force said,"We were amazed at the manner of control you have over the elephants without the use of any force or fear. In Kerala we have a different system of managing elephants using brute force and fear and I see the need to move towards the humane methods that Wildlife SOS is using."
"The leadership and vision shown by them and what they have achieved with humane management of elephants in such a short period of time needs to be appreciated and the model to be adopted to keep both man and animal happy. We would like to adopt these methods in the elephant centers in Kerala and look forward to working together with Wildlife SOS. I was apprehensive about how elephants can be managed or controlled without force and what I have seen and witnessed today has shown me that it is certainly possible", he further stated.
Wildlife SOS encourages the use of an ethical and humane approach towards managing rescued elephants through positive reinforcement which involves a response from the animal through novel stimuli. The elephants are positively conditioned to present its feet, ears, trunk etc. for medical examination, inspection and treatment, thereby reducing stress for both the elephants and risk to the keepers.