In the early hours of October 20, 2019, more than 40,000 enthusiastic runners took to the streets of Delhi to participate in the 15th Edition of the Airtel Delhi Half Marathon (ADHM) held at the Jawaharlal Nehru Stadium in the National Capital. What began as an event in 2005 has now turned into a movement. It heralds a fitness revolution in the country and spawned a culture of active road races in India. Many notable personalities have visited as international ambassadors like Daly Thompson, Steve Cram and Sanya Richards-Ross. This year Carmelita Jeter, the fastest woman alive was invited to India to be a part of the joyous occasion. Even Indian icons such as Kapil Dev, Bipasha Basu and Vijay Amritraj have attended the race over the years.
Determined to spread the word about the cause , members of the NGO's Delhi and Agra teams along with a few supporters ran in the Open 10K run and the Great Delhi Run categories to raise awareness about the plummeting population of wild species in the country. Wildlife is a precious gift to all in this planet and the Indian subcontinent supports a rich wildlife heritage across its lush forests and picturesque mountains, scenic valleys and extensive deserts. The term 'wildlife' not only caters to wild animals but also takes into account all undomesticated life forms including birds, insects and plants. For maintaining a healthy ecological balance on earth, animals, plants and marine species are as important as humans. Each organism has a unique place in the food chain that helps contribute to the ecosystem in its own special way. But, sadly today, many of the animals and birds falls in the endangered category.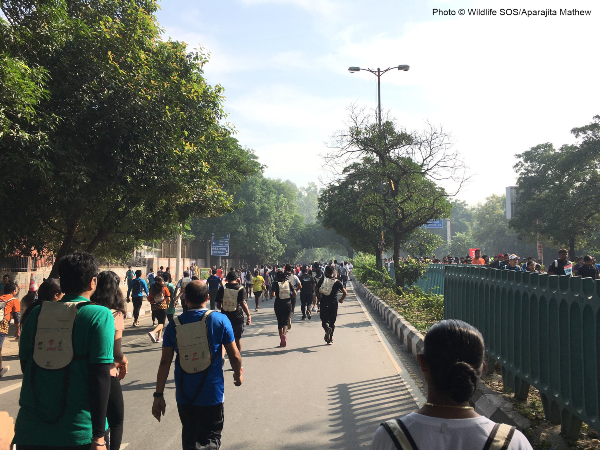 Since the 1970's the global wildlife populations have fallen by 60% due to the overuse of natural resources, loss of habitats, poaching, pollution of land and seas along with rising global temperatures, the Living Planet report 2018 warns. The current action to protect nature is failing across the globe because it is not enough to match the scale of the threat facing the planet. If we do not take any stringent steps to save wildlife, it would not be long before they find a place only on the list of extinct species. And that would not be all! The extinction of wildlife species will certainly have a fatal impact on the human race as well.
The Airtel Delhi Half Marathon has provided a platform for Wildlife SOS to raise awareness about our diminishing natural heritage and also raise funds for the rescue and rehabilitation of animals from conflicting situations. Our organisation also works on projects including tribal rehabilitation programs, man-animal conflict mitigation, habitat conservation, anti-poaching and conservation awareness in both urban and rural areas across the country.
We are grateful to India Cares Foundation and Procam International for supporting us through the race and for providing us with such a wonderful opportunity to reach out to more people who want to learn about our work. We had a great time and experience being a part of this fun-filled event. We are also delighted to have many new faces supporting our cause.
Do you love animals and enjoy running? Be a part of the TCS W10K run in Bangalore and the Airtel Delhi Half Marathon in New Delhi in 2020 and run for wildlife.