A flurry of activities and the laughter of delighted children filled the air, in the otherwise peaceful premises of the Bannerghatta Bear Rescue Centre in Bangalore. With over 80 students from four neighbouring schools visiting the centre, a highly anticipated day of fun and enjoyment was bound to be expected.
The students and their teachers were greeted by the Wildlife SOS team at the gates and ushered into the bear sanctuary for an interactive session with the vets and staff. On the way, they were handed out stickers and pamphlets, which gave an overview of Wildlife SOS' journey in rescuing sloth bears from the cruel dancing bear trade.
The awe-struck youngsters listened intently to BBRC senior veterinarian Dr. Arun, who spoke to them about the work done by our organization to protect and conserve Indian wildlife as well as a brief history of abuse and rescue of our sloth bears. He then went on to talk about the occasional man-animal conflicts that take place in the surrounding areas and ways of avoiding and tackling such situations. Dr. Arun also gave his captivated audience a demonstration on how tranquilizer guns worked.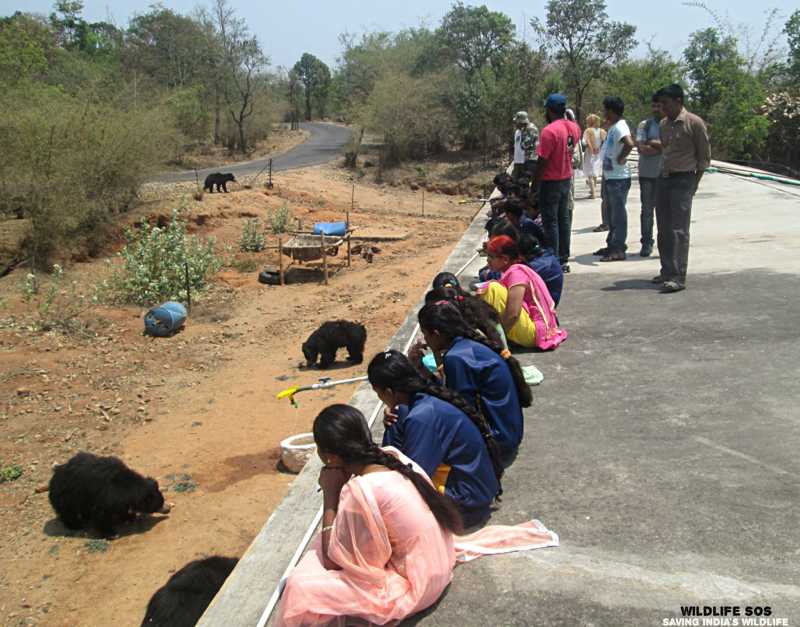 Following the demonstration, they were split into groups and taken on a tour of the facility, where they had the opportunity to visit the bear enclosures, the bear kitchen, the hospital, and the equipment room. Thrilled by the prospect of coming face to face with the much talked about sloth bears, the children could hardly contain their excitement when our team guided them towards the large free range spaces that have been specifically designed to accommodate the bears. Some of the friendlier bears walk towards the edge their enclosures to take a closer look at the eager new faces at the centre, making the trip an even more memorable experience for everyone.
The students as well as their teachers were eager to interact with the bear keepers and members of the rescue team, and were enthusiastically throwing questions at every chance. Towards the end of the tour, they were split into smaller groups of fours and given a fun quiz based on general information as well as questions and answer cues that were written on cardboard cutouts and placed around BBRC.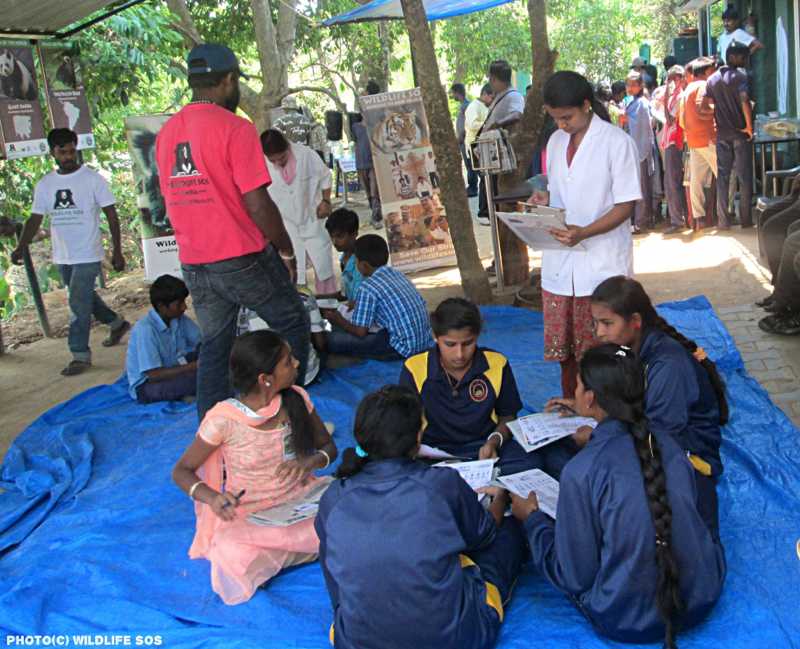 This visit was a part of a larger awareness event held by the teachers of Ramakrishna mission and by Deputy Conservator of Forest, Dr. Sunil Panwa. The students had a brilliant time meeting the bears, participating in the quiz, interacting with the staff and also learning a few valuable lessons along the way.