Earlier this week, the Wildlife SOS team in Agra joined hands with Wildlife Institute of India (WII) to host a veterinary training and health management workshop for government veterinarians from the northern state of Uttarakhand. The workshop aimed at improving technical field expertise and understanding of various wildlife health issues and sensitize them on recent advancement in the area of animal capture and wildlife forensics. Accompanied by the senior veterinary scientist and course coordinator at WII, Dr. Parag Nigam, the group of veterinary trainees were taken around our sloth bear and elephant rescue centres by senior staff and vets from Wildlife SOS.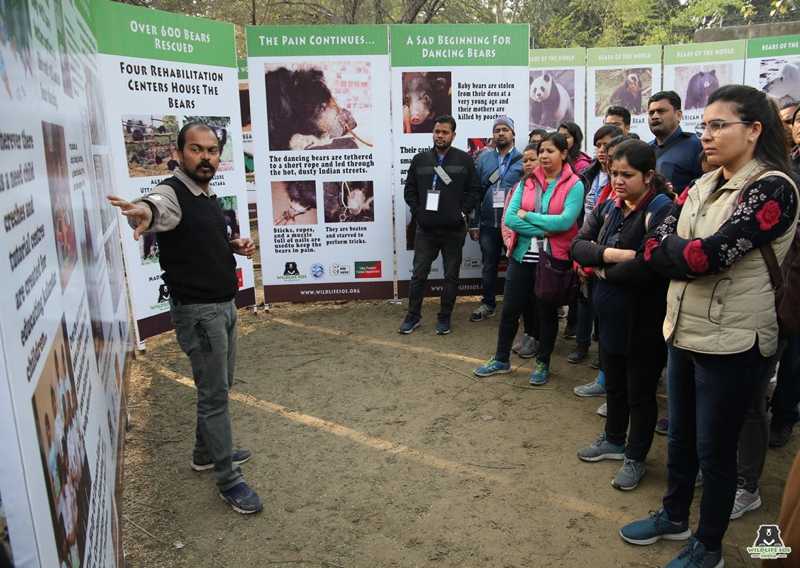 At the Agra Bear Rescue Facility, the group was firstly given a tour of the center and was familiarized with the work of the organization in rescuing over 600 sloth bears by bringing an end to the barbaric practice of dancing bears. Following the orientation programme, the team made their way to the treatment unit which is equipped with state of the art medical equipment, an operation theatre and a laboratory for disease diagnosis. They also had the opportunity to witness our senior veterinarian Dr. Ilayaraja demonstrate the methods of tranquilisation and use of medical equipment on one of our rescued sloth bears who was due for a checkup. This helped in delivering to the veterinary officers a substantial insight on the kind of care provided to the sloth bears at ABRF.
After lunch, the group headed over to the Elephant Conservation & Care Centre which is currently home to over 20 Asian elephants that have been rescued from heart-breaking conditions like circuses and temples, from street begging and highway accidents. The workshop commenced with a tour of the Wildlife SOS Treatment Unit, the first of its kind in India. It has been specifically designed to treat injured, sick or geriatric elephants and is equipped with medical facilities and critical equipment such as portable X-rays, foot-care tools, and so on. The use of scientific and humane elephant management techniques such as positive conditioning, target training, foot care etc. was another key aspect of this workshop. The visiting group was given the unique opportunity to engage with the vets about their work while watching a demonstration of a routine foot treatment of our 70 year old bull elephant Gajraj.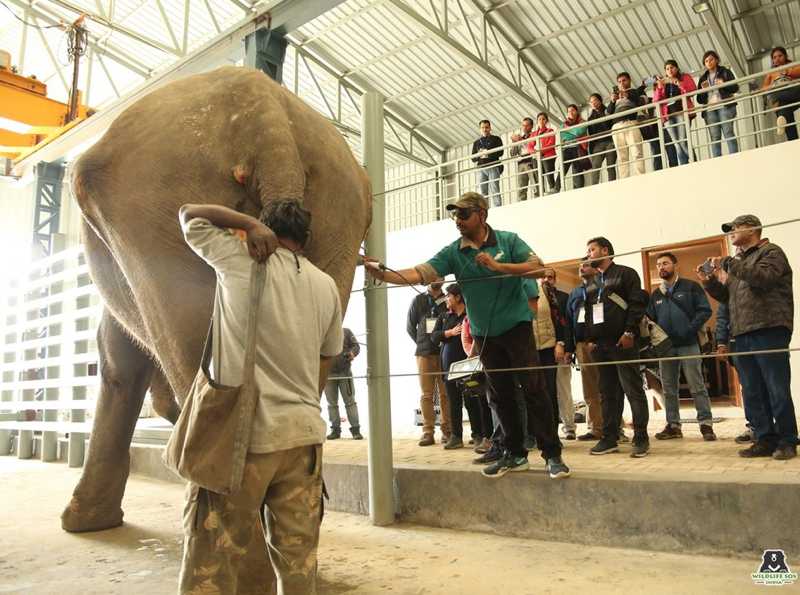 In all, the visit proved quite fruitful and everyone seemed quite fulfilled with everything they had witnessed and learned, as the group departed from the centre. We are extremely happy to extend our support to the Wildlife Institute of India and the Uttarakhand Forest Department in organizing such training workshop for their veterinary officers. It helps in collectively building capacity on the ground and inspires future educators, biologists and veterinarians to bring about a positive change in the field of conservation in India.