Whether on TV news channels, newspapers or casual discussions, COVID-19 has managed to become a commonly-used term ever since the pandemic gained ground in India and strengthened its deadly grip in other countries of the world. As information disseminates from different platforms, there is always a higher chance of misinformation and rumours coming into play, thus leading to increased panic and fear amongst people. India is presently under lockdown with states gradually relaxing restrictions and emphasising on the importance of social distancing, sanitisation and protective gears to be worn by people whether or not they venture out. During these harrowing times, our Wildlife SOS team operating out of Jaipur decided to take this opportunity to conduct an awareness workshop on the outbreak of the pandemic in Chaksu village, which is 40km. from the city limits, for our Kalandar community.
The main purpose of this workshop was to talk about the pandemic that has surrounded us and put us all in a situation like never before. Presently, the Kalandar community is unable to venture out for work due to the lockdown but local authorities are very helpful in providing them with food and other essential commodities for survival. The Wildlife SOS team is constantly and regularly in touch with them to have an update on their well-being, as well.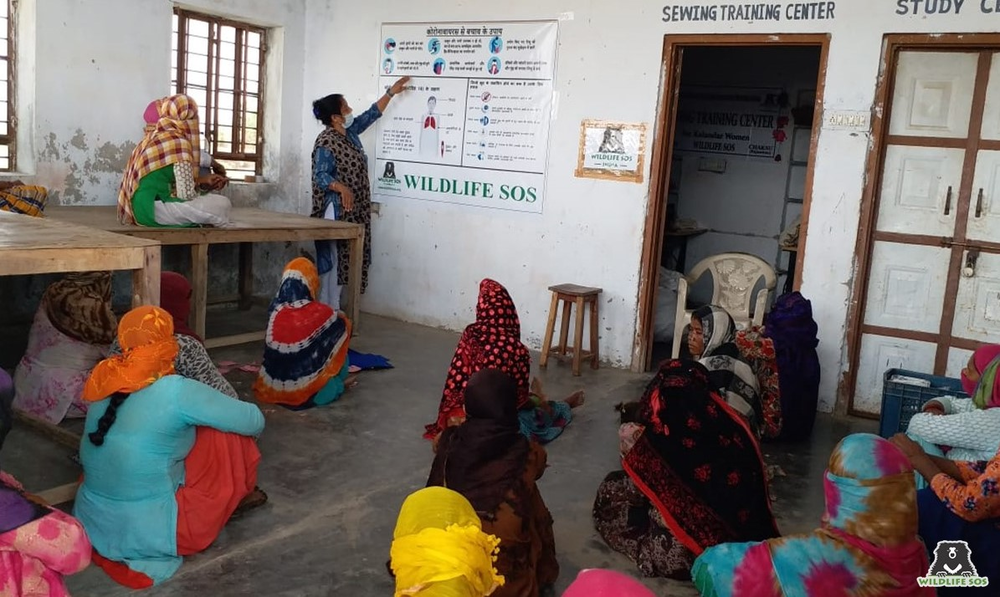 Around 50 women were a part of the awareness workshop which was held at the Wildlife SOS Training Centre, in Chaksu, Rajasthan. Our team, headed by Ms. Rakhee Sharma, organised posters that explained everything about the COVID-19 pandemic, starting from the symptoms to the diagnosis and the treatment. Special emphasis was laid on maintaining social distancing, proper hygiene and sanitisation measures so as to curb the spread of infection.
Even during the workshop, the entire area was properly sanitised, and women maintained social distance. They covered their faces with scarves and stoles, and keenly listened to the entire workshop. Once the floor was open to questions, they had a few questions up their sleeves as well – asking about the origin of the coronavirus, how the coronavirus cough is different from a common cold and cough, how they are supposed to keep their children safe and how will it be cured!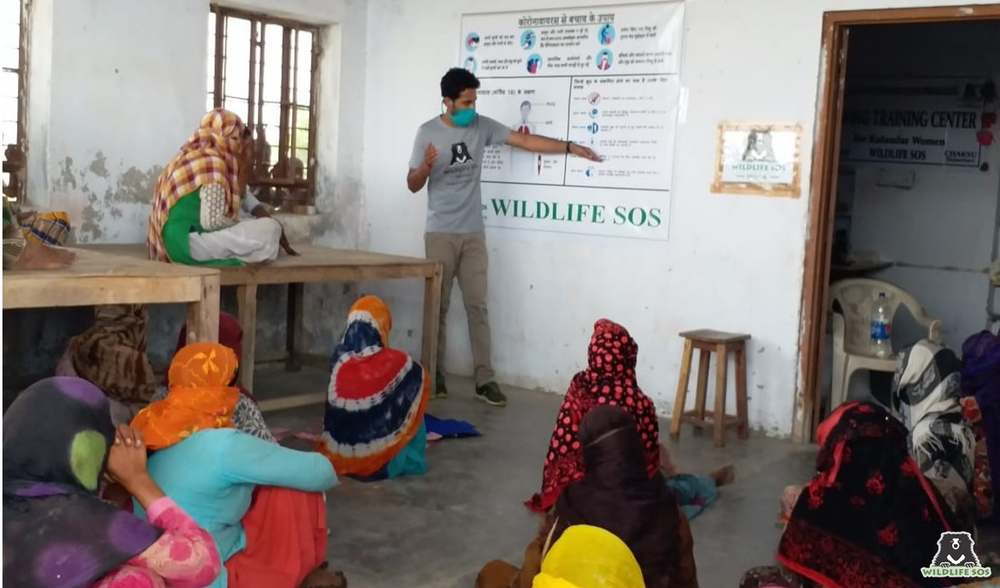 Once the workshop was over, our team distributed food packets, which were donated to us by one of our kind supporters residing in Jaipur who got in touch with our team and expressed the desire to help us out in their way. Having understood the important impact that these workshops have in relaying information and filling the gaps of misinformation and lack of proper knowledge, the Wildlife SOS team will be conducting more such workshops for our Kalandar community during the COVID-19 times in different centres of Rajasthan.