Delhi seems to be bursting at the seams with an estimated population of nearly 20 million people. Every nook and corner of the city seems to be occupied with people, who flock from all over the country in search of better and more opportunities. It goes without saying that Delhi is crunched for space and certainly the city does not have enough space for a species such  AS elephants! Yet Delhi has had a special love affair with elephants for many years.
Larger-than-life Delhites have never shied away from renting out privately-owned elephants that resided in the city. These captive elephants, whose numbers were pegged at 22 in 2003, were used for every commercial activity imaginable. It was a common sight to see elephants roaming around on the jam-packed roads of Delhi, as devotees of Lord Ganesha would stop their cars to quickly grab a blessing. Weddings, too, would be graced by elephants, who would be decorated heavily to add to the pomp. In fact, to add a royal touch to big parties, promotions, and ceremonies, captive elephants of Delhi were an important check-list "item." The elephants of Delhi were reduced to just commercial entities, whose owners thrived as people paid big bucks to rent them out.
With apathy from the public and their owners, captive elephants of Delhi suffered endlessly. A report in 2016, 'Welfare Assessment and Legal Compliance of Captive Asian Elephants' highlighted the plight of the Delhi elephants, whose numbers had reduced to just 7 by then. It was noted that the elephants were suffering from malnutrition, they were over-worked, their delicate footpads cracked, and their ears were torn from the use of sharp bull-hooks. Adding to the woes of the elephants was their horrific living conditions on the banks of the polluted river Yamuna where they were, like all citizens of Delhi, breathing hazardous air. A legal fight to rehabilitate Delhi's last remaining elephants lasted nearly 4 years, as the owners fought tooth and nail to keep the elephants under their reign. Amongst this tug-of-war with the Forest Department and the greedy owners, the elephants awaited a new peaceful home.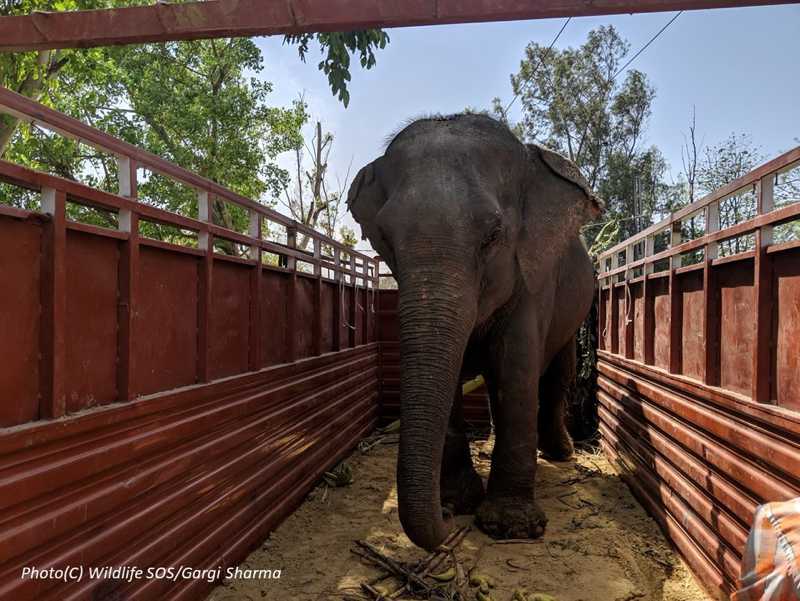 Perhaps the Lady of Fortune spun her wheel generously on 15th of April, 2019 as life for Daisy, a 50-year old elephant, changed overnight! In a rescue operation that was led by the Haryana Forest Department and the Delhi Forest Department, Daisy was translocated to Wildlife SOS' Ch. Surinder Singh Elephant Rehabilitation Centre in Yamunanagar, Haryana for lifetime care and retirement.
Before setting out on the 200km-long journey, Daisy was given a fresh shower with cold water as the temperature in Delhi is soaring. She was also fed bananas and sugarcane, and we soon found that this special girl has a soft spot for ripe bananas! Daisy was extremely calm and cooperative throughout the journey, as if she knew that a kinder future was waiting for her. She arrived at the Ch. Surinder Singh Elephant Rehabilitation Centre at the dead of night to start a new chapter in her life. She immediately took to her surroundings and started plucking leaves from the bamboo trees nearby, filling our hearts with warm happiness.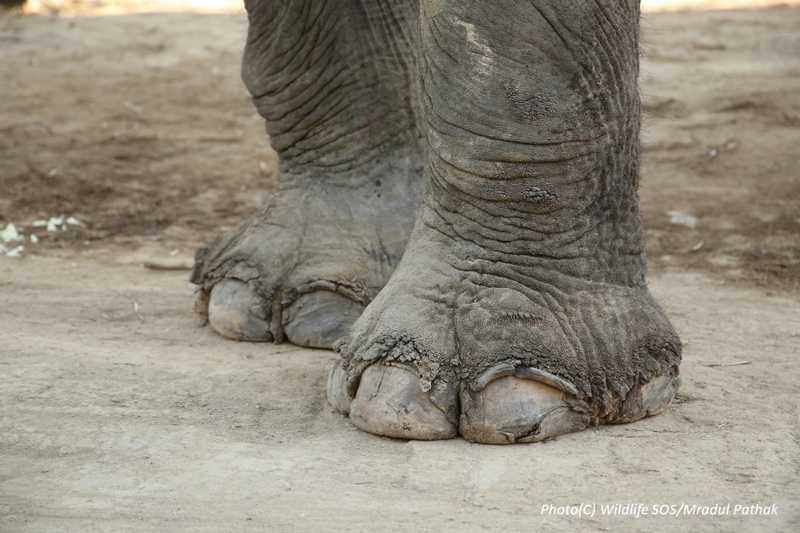 Daisy's body is riddled with wounds from her past. She is chronically blind in her right eye and has partial blindness in the other. Her feet are in a terrible state- the cuticles of her feet are overgrowing and her toenails are cracked. The footpads of her hind legs are thinning due to years of walking on concrete. Daisy also has several scars on her body that are indicative of the cruel beatings that she received from her owner.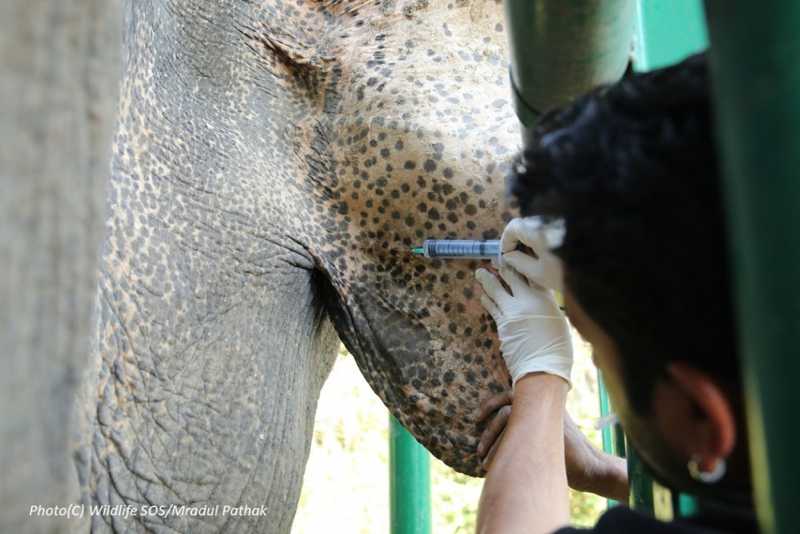 We hope that in the lush, green forests of Ban Santour and with the dedicated care from our team, Daisy will recover from her traumatic past gradually, and learn to be an elephant again.
Wildlife SOS is extremely grateful to the Delhi Forest Department and Haryana Forest Department for rescuing this distressed pachyderm and giving her a new chance at life.