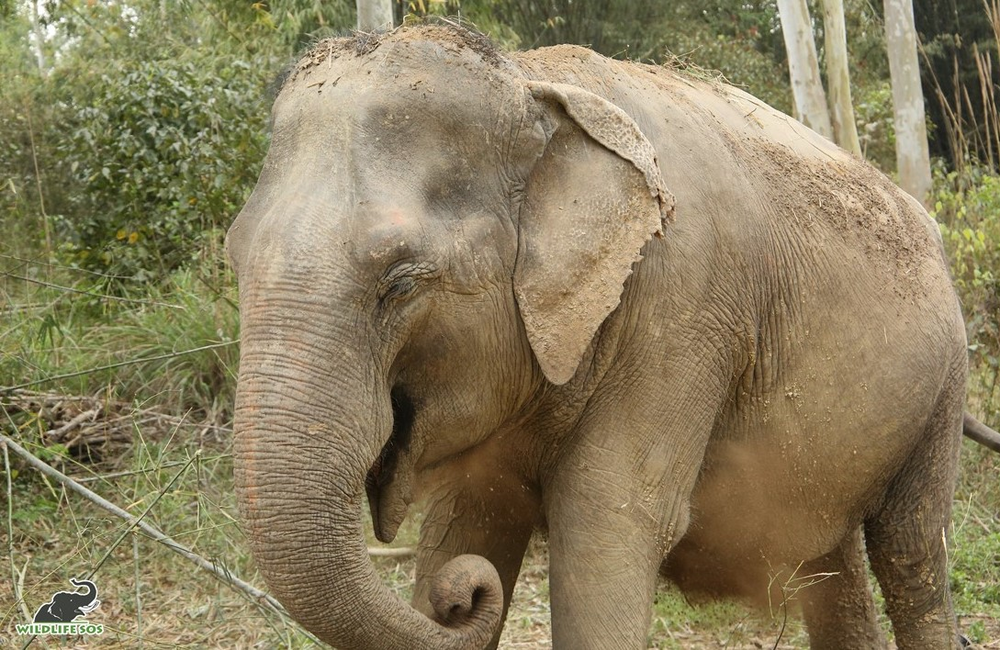 Even if we are surrounded by darkness for a few minutes, we feel panic and paralysing fear of the unknown, treading our steps carefully, even if it is the secure walls of our home. Imagine being the largest living mammal on planet Earth and yet being brutalised, horrified and tortured into submission by the dangerous species known as humans? Such is the life of many captive elephants in the country, and of one such story is that of Daisy who is completely blind in one eye and losing vision in the other. Having spent most part of her life in hustle-bustle of the national capital ,Delhi, Daisy did not have her sight to guide her, and would bump and bruise her way through the constant buzz of horns!
One year back, Wildlife SOS, with the help of Haryana Forest Department and Delhi Forest Department, rescued Daisy and she was welcomed to her home at Wildlife SOS' Elephant Rehabilitation Centre, Ban Santour, Yamunanagar, in Haryana. Being a begging elephant, Daisy's life was commanded by a bull-hook, poking her ears and tearing through her skin. She was made to walk on the congested roads of Delhi, and at the end of the day, tied to the concrete floor under a flyover, with a few stacks of dry grass for her to feed on. Improper nutrition and the exhaustive, mundane routine that she was subjected to is what can be considered a contributory cause to her losing her eyesight.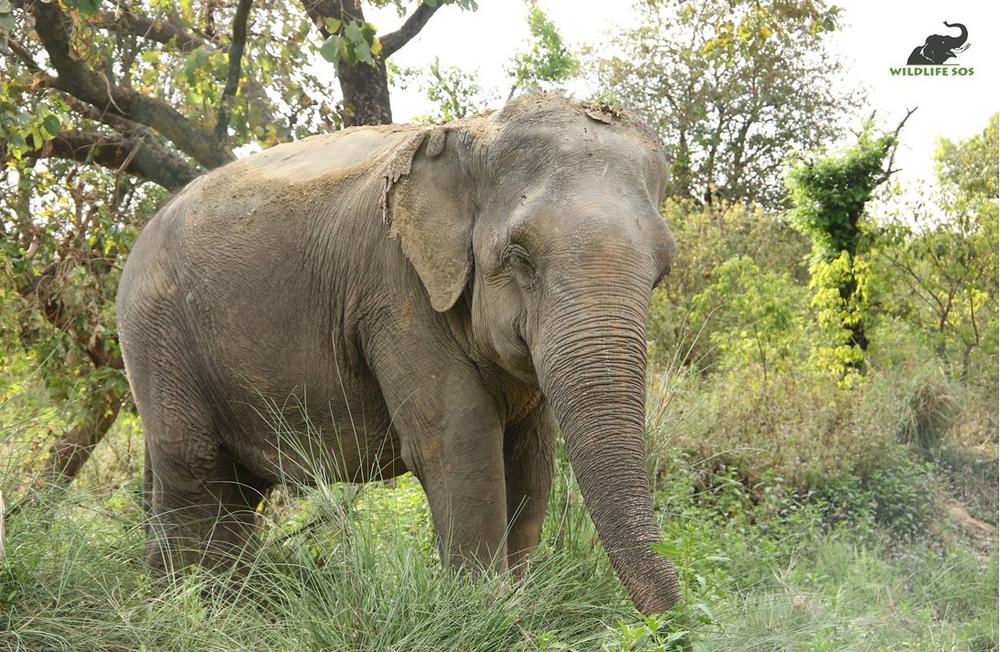 Daisy's progress in one year has been no less than inspirational and that of, exceptional bravery. Initially careful and shy to her new surroundings, Daisy would not venture out of her enclosure, despite her keeper coaxing her and encouraging her. Under her torn footpads and exhausted limbs, the natural soft mud ground felt strange, but oddly comfortable. Daisy would be spotted lifting her trunk time and again, taking a strong whiff of her surroundings and trumpeting to respond to the natural calls of the wild that were around her. When our veterinarians examined her, she was malnourished and had severe footrot and overgrown cuticles as well as toenails due to improper care.
However, the most beautiful part of Daisy's journey came when Jasmine, who was Delhi's last captive elephant, was rescued and brought to the Wildlife SOS' Elephant Rehabilitation Centre in September, 2019. When Jasmine was introduced to the existing herd at the Centre, there were excited trumpets and rumbles, but the most excited of them all was Daisy! As though their unfortunate paths had crossed sometime in the past on the streets of Delhi, both these elephants took an instant liking to each other and are the best of friends. Jasmine and Daisy are inseparable, and Jasmine is the guiding light to Daisy, always leading her on walks and staying close to her blind friend to not let her wander far away. Both the friends love their feed time, and enjoy eating ripe bananas out of the bucket often toppling each other's buckets in sheer excitement!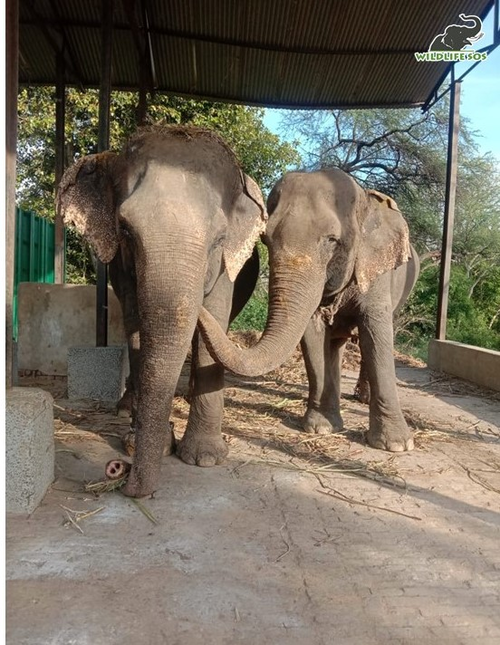 Daisy's keeper, Asgar, is very careful when it comes to her, understanding that the loss of sight may make Daisy feel panicked or worried, he never leaves her side. Such was Asgar's excitement for Daisy's rescue-versary that he laid a lavish spread of banana leaves, watermelons, papayas and sugarcanes out for her and clapped to celebrate one year of his companionship with Daisy as well! Daisy gladly munched on the spread and trumpeted to give her approval of the celebrations, only to run back to the rest of the herd who engulfed her in a series of trunk hugs, which was a delightful sight for us all to witness.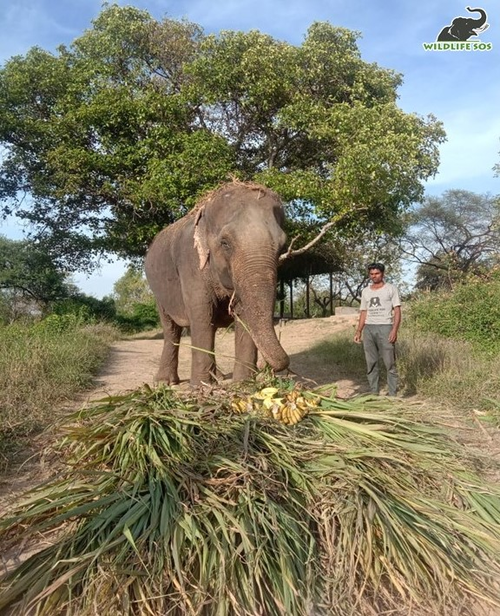 Presently, Daisy is undergoing treatment for abscesses on her toenails for both her front legs which are cleaned regularly and dressed with antiseptic ointment and turmeric, for faster recovery. There is an abscess on her left ear, caused by an earlier bull-hook blow, which has improved remarkably with regular application of iodine and dressing with antiseptic ointment. Daisy is also given regular footbaths of Epsom salt and turmeric that help in healing of her delicate footpads and speed up the recovery of her toenail abscess.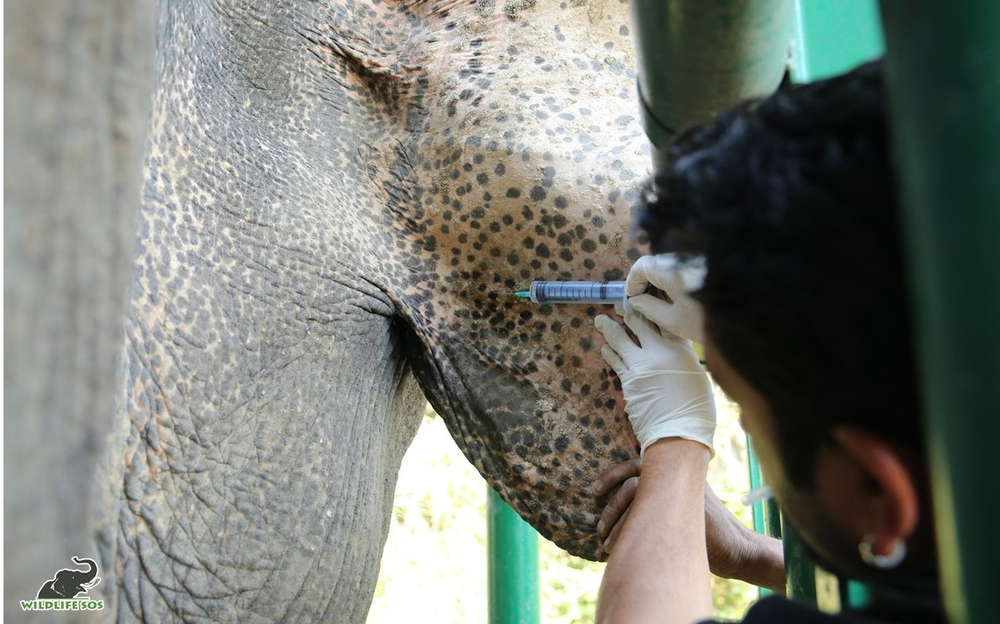 The thickets of the forested area of ERC and the fresh air that surrounds Daisy with the natural calls of the wild give her the psychological relief that she has yearned for her entire life, away from the city life, with a new family. To her one year of recovery, one year of being the beautiful elephant that she is – here's celebrating Daisy's first rescue anniversary!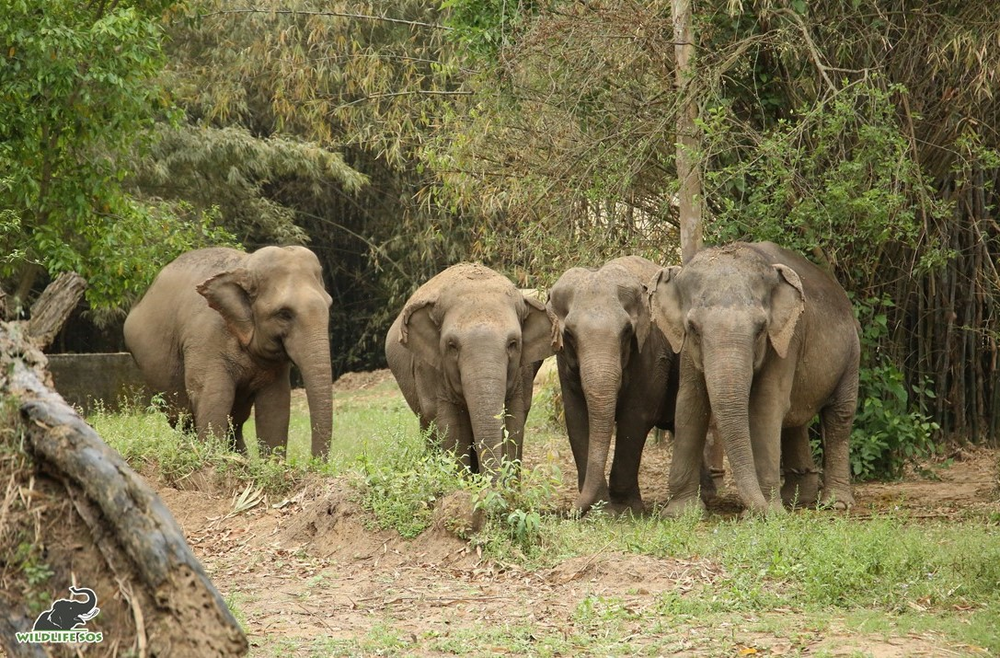 Watch Daisy's heroic tale of healing as being one of the last captive elephants of Delhi to finding her herd who has nothing but trunk hugs in store for her!