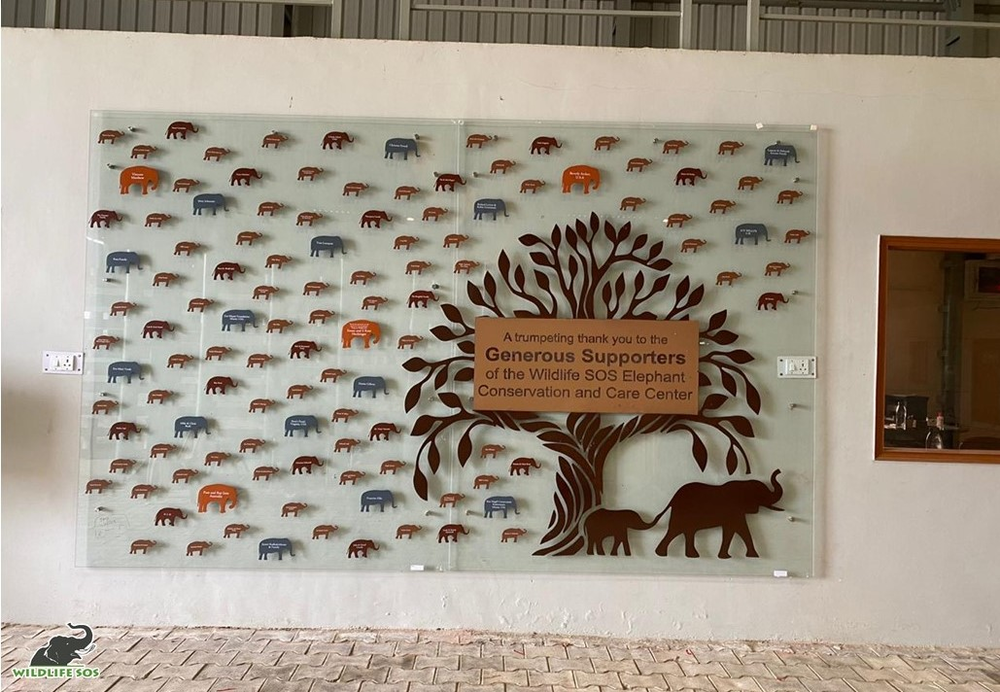 Leaving behind a lifetime of abuse and neglect, our elephants do not just come to the Wildlife SOS Elephant Conservation and Care Centre for care and comfort, they come home, the home that they never had. With abundance of space, a carefully curated nutritious diet and surrounded by the keepers who care for them, our elephants heal physically as well as emotionally. None of the hard work that our veterinarians, field team and elephant keepers put would have been possible without the support of those who contributed into ensuring that the elephants under our care receive the treatment that they urgently required.
To extend our heartfelt gratitude to our constant supporters, who have been the backbone of everything that we do, we established the Wall of Dreams at the Wildlife SOS Elephant Hospital. With 118 names that have contributed from $150 to $5000 to our invaluable cause for caring for the gentle giants under our care, our heart goes out to each and every one of these people, and everyone else who continue to contribute!
We call it the Wall of Dreams because so many of our dreams would not have been a reality if it weren't for the infallible support and love that compassionate people like yourselves provide us with. From medical equipment, materials for enrichments to new and spacious enclosures, every little drop has added to the vast ocean of possibilities and made it possible for us to provide the best comfort for the pachyderms under our care.
From Raju's favourite tyre enrichment to Laxmi's carefully curated, full-of-greens diet; from Mia's medicated footbaths to Sanjay's medications – not one thing would be done had it not been for the kind Samaritans that believe in us and drive our cause to newer heights, each day.
With outstretched trunks, we thank you!