Holly was the first elephant to receive treatment at our Elephant Hospital, for her grave injuries. The 61-year-old blind elephant was diagnosed with a serious condition of osteoarthritis that she continues to suffer from, owing to her painful past as a begging elephant.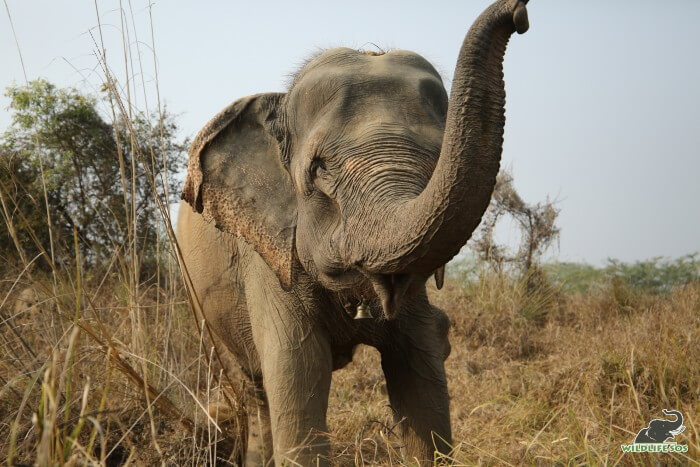 In the last two years that Holly has been with us, she has assumed the duties of the leader of the herd and ensured that she does everything to comfort the newer members as they grow accustomed to their new surroundings. When Karma was introduced to Holly and Kalpana, Holly welcomed her with affectionate trunk hugs and led her to the pool, as well!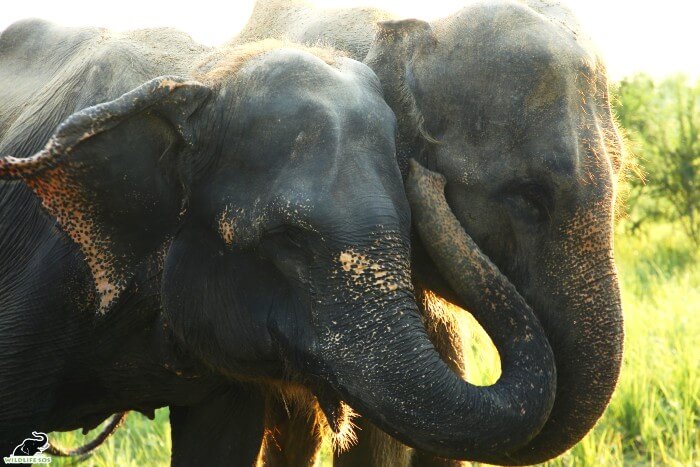 Holly enjoys taking long, relaxing dust baths under the sun – to protect herself from the harsh sun in summers or to cover herself in winters for additional warmth! The soft mud under her ailing feet and the fresh smells that surround her also play an important role in her psychological recovery as this is the closest that she will ever get to her natural habitat.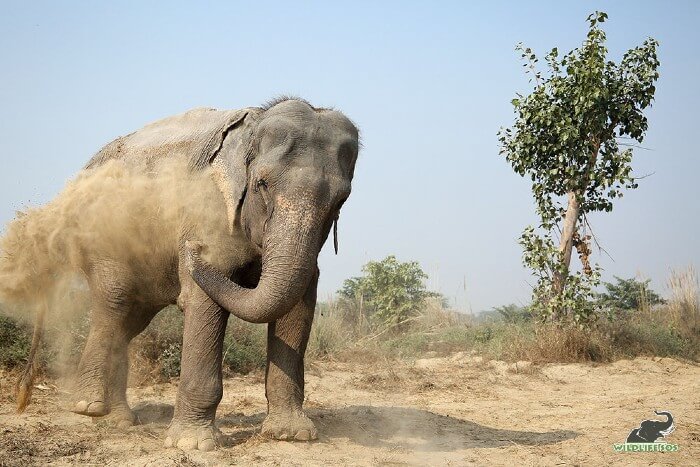 For six decades, Holly lived an exhausting, burdened life. The mundane routine forced her to walk on blazing and unnatural tarmac roads, littered with sharp pebbles and metal scraps. Adding to her misery was the overbearing weight of the carrier that would stay on her back all through the day, walking from one end of the city to another.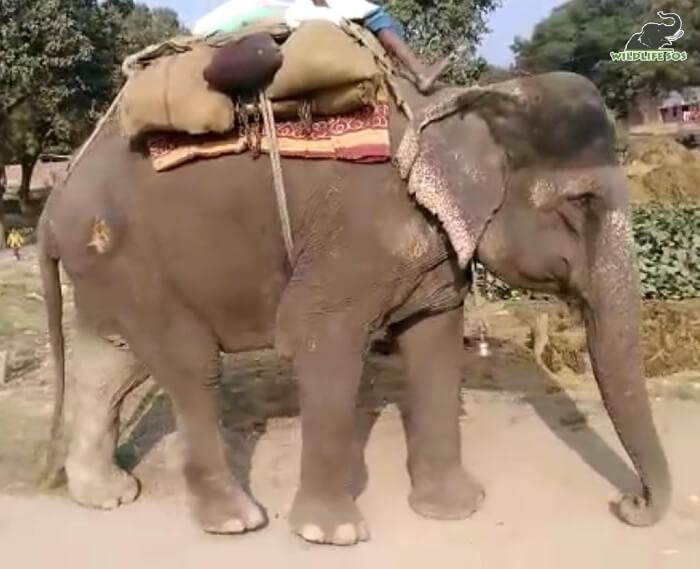 Holly would be painted with bright colours, hiding her chronic abscesses and wounds, and further infecting them. Holly suffers from a condition of osteoarthritis that affects her hindlimbs, in addition to which a degenerative joint condition that largely compromises her gait.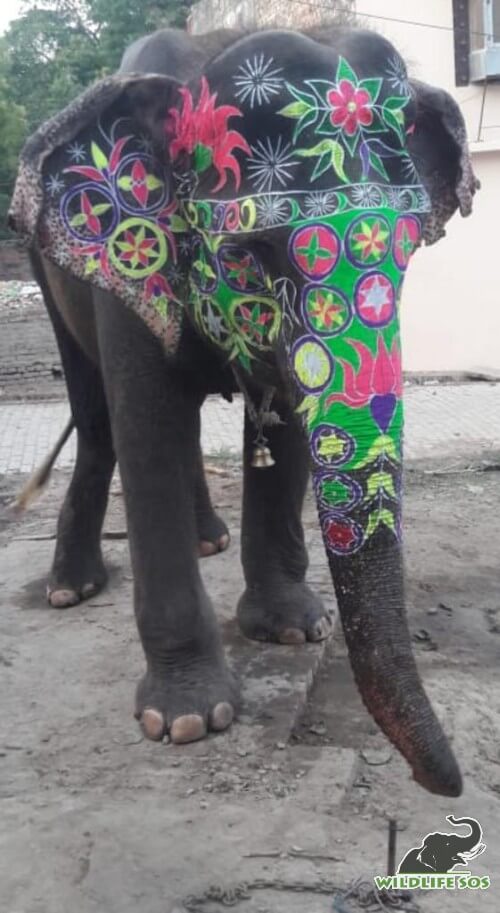 When Holly was brought to the Wildlife SOS Elephant Hospital, she took over an hour to alight from the Elephant Ambulance, shocking us with the severity of her condition. Her preliminary medical examination revealed that she had thin and infected foot pad abscesses, cracked and overgrown toenails and arthritic injuries in her hind limbs. While this was what could meet the eye, our elephant care staff and veterinary team were aware of the burdened mental health she had, clouded with abusive and painful memories.
The vast expanse of the Wildlife SOS Field of Dreams is witness to the remarkable journey of healing and courage that our dear Holly has undertaken in the past two years – transforming from a timid, battered and weak elephant to one who loves long naps in the pool and spending time with her beloved companions. Holly uses her trunk to carefully navigates through her surroundings, while her caregiver ensures that he is a step ahead of her clearing the way of any sharp stones that may hurt her. The enrichment team is careful in designing the enrichments for Holly ensuring that no sharp edges or metal enrichments are used. This is why pipe feeders and hanging hay-net enrichments serve the best purpose allowing the exercise of the trunk, neck and back muscles for our dear Holly, eliminating the risk of hurting herself.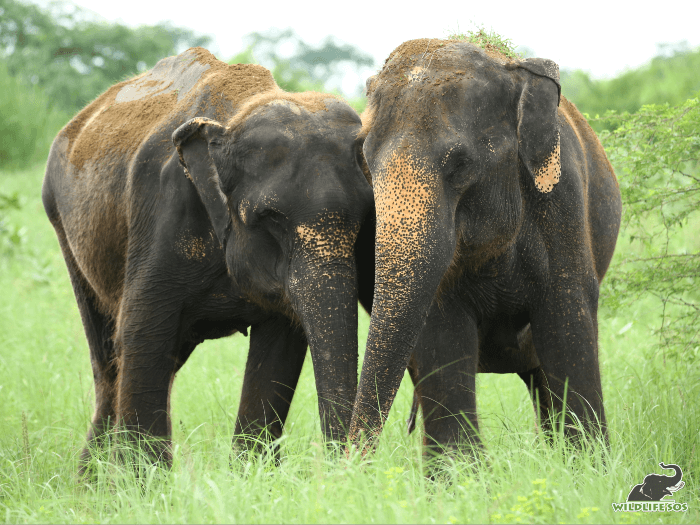 Each morning, Holly walks slowly to the edge of her pool and rumbles out to her caregiver as she prepares herself for an hour-long nap! As water aids in taking the weight off Holly's legs, it spells relief for her and makes it very easy for her to rest.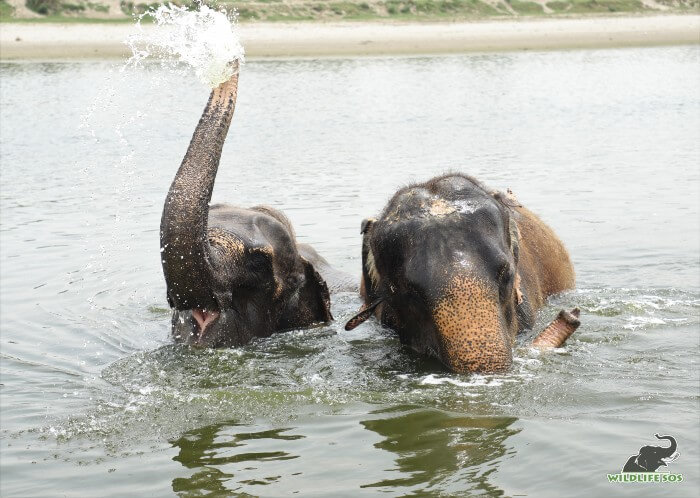 Holly is under intensive treatment for her hind limbs for which she receives regular sessions of laser therapy that provide relief at a cellular level and aid in the healing of tissues. For her chronic toenail abscesses and wounded footpads, she is rendered medicated foot baths of Epsom salt and turmeric, after which she is given ice fermentation until the ice dissolves, which alleviates her pain and expedites healing. Holly's display of unfettered strength during these treatment sessions make us appreciate this brave pachyderm all the more, as she calmly stands while her keeper comforts her with raw bananas and watermelons.
Six decades is, indeed, an exceptionally long time with aching memories of abuse, exhaustion and neglect along with no vision – this is the story of most elephants that suffer in abusive captivity to be used as money-minting machines by their owners. This is the story of our dear Holly, who is one of the most serene elephants under our care and exudes unmatched grit in the healing journey that she has undertaken. We are blessed to care for a special elephant like Holly, you too can contribute to her ongoing care by considering to become her sponsor. To know more about Holly's story, don't forget to tune into India's Jungle Heroes, now airing on Disney+ Hotstar.