Priyanka is our Elephant of the Month for November so, here's looking back at her five-year journey at Wildlife SOS! Having spent decades as a begging elephant, Priyanka lived in fear of a bullhook every single day, not knowing when the weapon of torture would strike her, and unaware of where her next meal would come from. With dry hay and water being the only food that reached her belly, it seemed a miracle that it kept Priyanka going.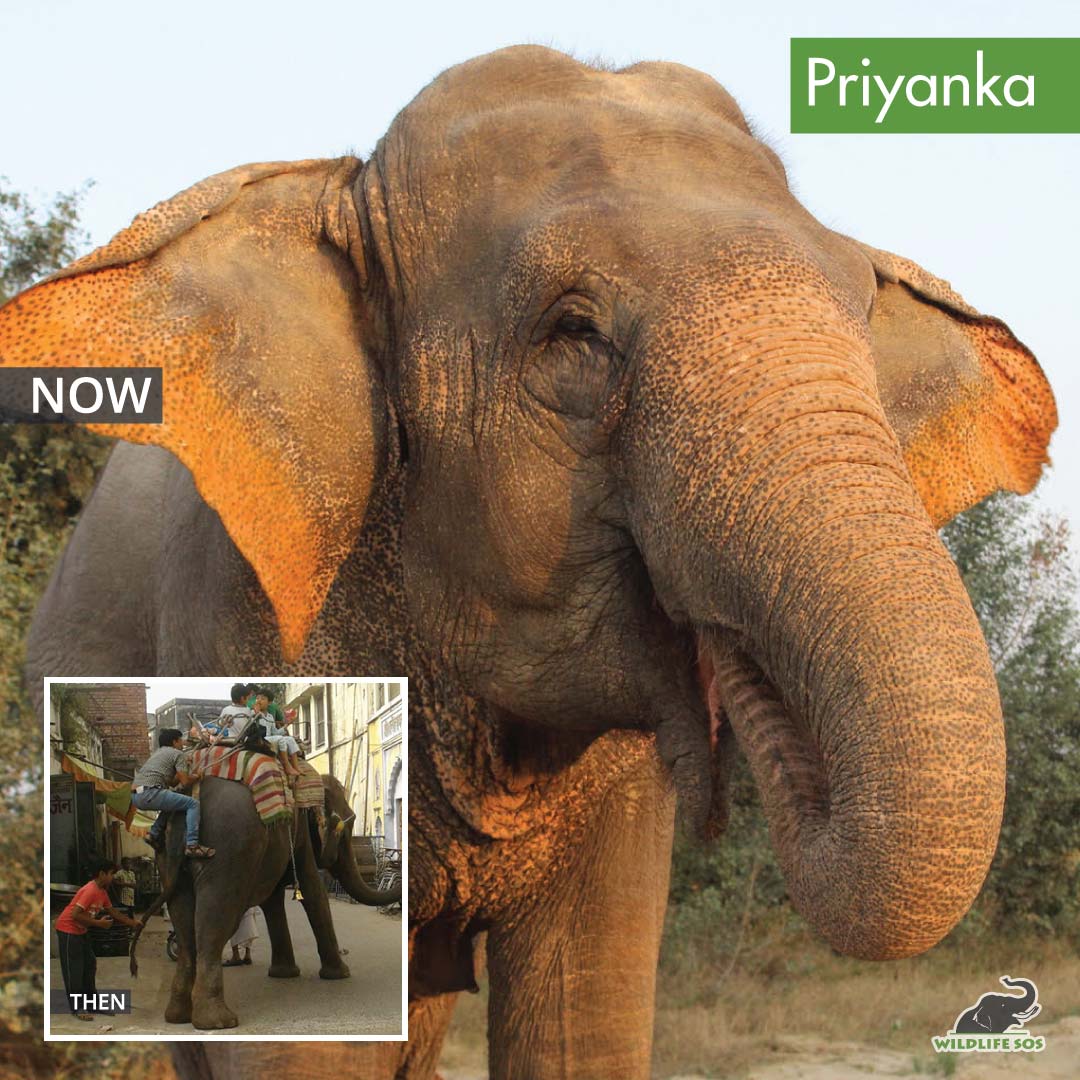 For those familiar with elephants, you may know that a wild elephant is not an animal that you can approach safely. Elephants do not take kindly to people encroaching on their space and their herds, especially if they have their calves with them, and human-elephant conflict situations often lead to loss of life and property. However, when elephants are "tamed", their spirits are broken to fear humans, and they are often kept underfed and malnourished so that they comply with commands easily. Priyanka's fate was similar, to the point where young children would approach her on the streets and tug at her tail and ears, yet it wouldn't elicit any response from an animal of her size and strength. 
Night-time also provided no respite for this jumbo, as she would be the centrepiece in wedding ceremonies and processions. Though the ringing of bells, the beating of drums and the chitter chatter of people at a wedding ceremony create an energetic and fun environment for the humans involved, it can be highly distressing and disorienting for an animal with sensitive hearing. For Priyanka, these chaotic processions soon became an everyday occurrence, and she lived in fear and confusion for over four decades. In 2017, life changed course from pandemonium to clarity, as she was safely rehabilitated at the Wildlife SOS Elephant Conservation and Care Centre (ECCC) in Mathura.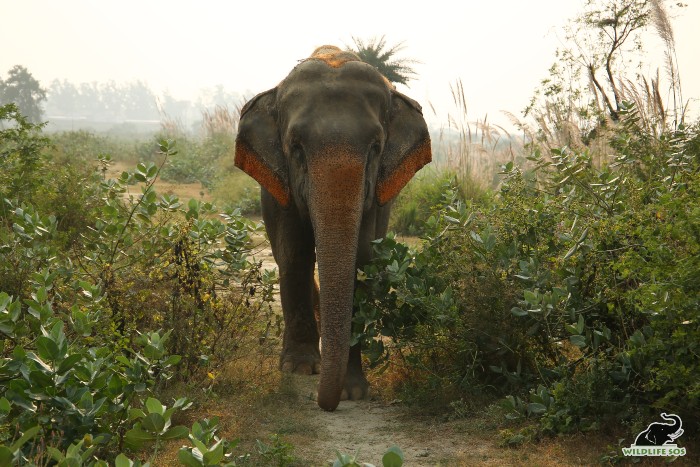 Priyanka is known for being one of the few solitary female elephants residing at ECCC, preferring to keep to herself rather than integrate into one of the groups. In the first few months following their arrival, most rehabilitated elephants are shy and scared to meet the other resident jumbos as opportunities to socialise with their peers in the wild were replaced with a life governed by fear of humans and loneliness. However, once they do get accustomed to their surroundings and slowly start coming out of their shell, they begin to bond with one or more elephants in our care, thus forming a social group. Priyanka's case was a little different, as what was initially seen as an anxiousness to meet others life herself was revealed to simply be a wish to remain solitary. 
During her first couple of years, the veterinary team spent their time ensuring that Priyanka gained an acceptable amount of weight, as she was highly emaciated and weak. After years of surviving on scraps and dry hay, her diet shifted to a nutritious and delicious one! No longer would she have to suffer a bland palate; she could now have the opportunity to taste a rich blend of flavours ranging from the fruits like the ambrosial watermelon (a crowd-favourite at ECCC!) to the sugary taste of jaggery and herb concentrate. Priyanka also started receiving regular medicated foot baths of Epsom salt and turmeric which aided her healing and provided immense relief to her abused footpads.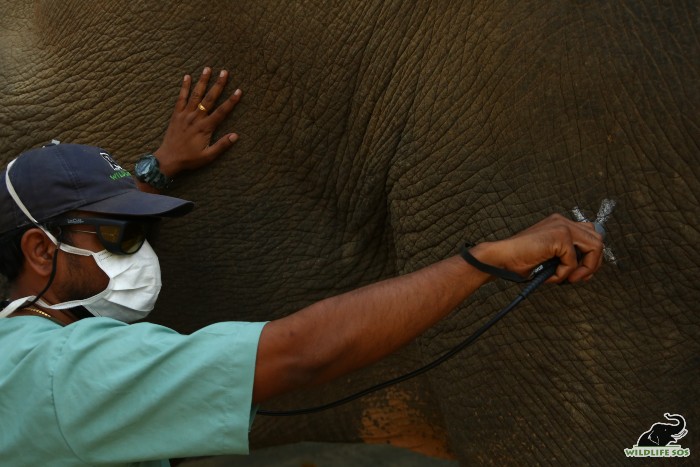 Though Priyanka preferred her own company, there were other aspects of her behaviour that underwent a steady change from the time of her arrival to the present day. For one, we began noticing that Priyanka was highly dexterous with her trunk, using it to snag treats from her cage feeder, or even dig little holes into the ground to scoop up some mud. She began taking dust baths a lot more often when she became comfortable, realising that covering herself with mud would not garner her any punishment as it did earlier when she had to look presentable for processions. Healthy elephants in the wild take dust baths frequently to keep themselves cool and protected from the sun, but elephants used for begging and joy rides are forced to suppress their natural behaviours.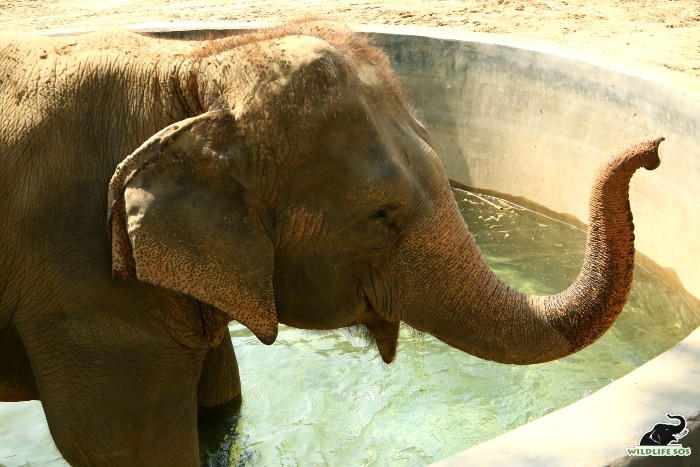 One of Priyanka's favourite activities was discovered to be pool time and come summer, she can be seen spraying water everywhere and enjoying a long soak in the pool. To ensure that the pool water remained clean and hygienic, it is regularly replaced by her caregiver.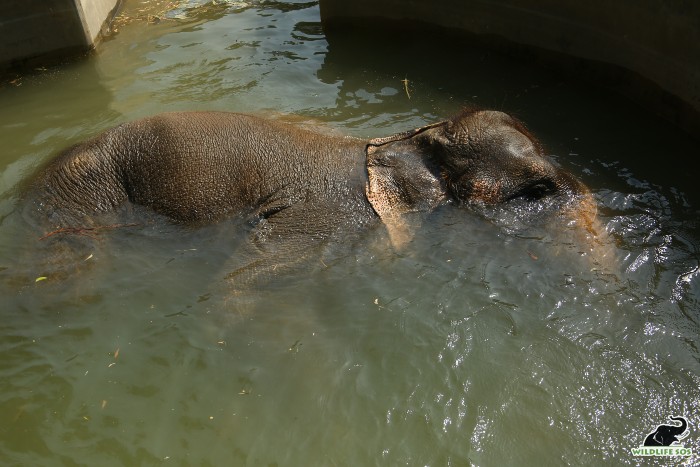 Priyanka values her privacy to the utmost, and does not appreciate any staff members or volunteers near her enclosure for too long. She flares her ears in warning if someone lingers on to observe her. However, the team has to ensure that Priyanka remained cooperative during medical examinations, so her caregiver practised target training with her. Though Priyanka responds to target training, she can be a little temperamental, and may not cooperate if she is not in the mood for treatments. Hence, the veterinary team has to rely primarily on her caregiver to assess her behavioural changes and conduct treatments on days when she is more agreeable.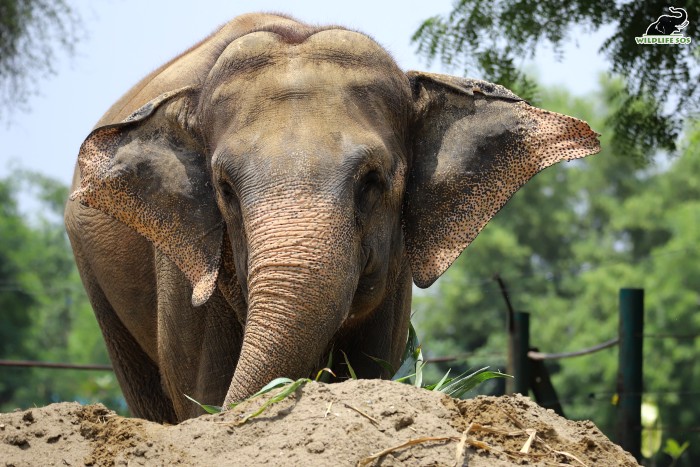 A few years ago, Priyanka had a bout of colic which was quite serious, and she allowed the veterinary team to care for her throughout, because the treatments were providing her relief. Once she recovered, she went back to her usual self, raising a trumpet alarm when she did not want to be disturbed by the staff. Now the staff knows the ins and outs of her behaviour well enough to gauge how Priyanka will react to different situations. Due to changing weather conditions and advancing age, Priyanka suffered from some digestive issues last month. She was unable to defecate, and the veterinarians conducted a rectal examination to remove any obstructing dung bolus. With medical aid like laxatives, prokinetic drugs, and vitamin supplements, she was able to recover from this condition after a few days.

The veterinarians are paying special heed to Priyanka's care, and monitoring her regularly as she grows older. The last five years at Wildlife SOS have given Priyanka an unconfined and safe life that she truly deserves. If you would like to support our efforts, you can do so by sharing this story and by sponsoring Priyanka's care!