The entire country may consider the months of May, June and July as "summer months" but for our grand, old tusker, Gajraj, this is the time for his favourite "mango months" as there is nothing that Gajraj enjoys more than devouring juicy mangoes! For Gajraj, the change of the season also made him enter the period of musth, which recently ended for him.
Musth is the sign of a healthy adult bull elephant wherein they experience heightened levels of testosterone which is characterised by the secretion of a hormone-rich substance called temporin from the temporal glands. This is the first time that Gajraj had come into musth in his 3-year journey with us, and needless to say is experiencing bouts of unpredictability and moodiness. For his convenience, he had access to fresh drinking water in his enclosure which is very important during this time. It is normal for elephants to experience reduced appetite during musth period and Gajraj is presently on a diet cooked concentrate which is essential in building internal strength and immunity. His diet also included sorghum fodder, green fodder, watermelons, jackfruits and sun melons, which he enjoys completely!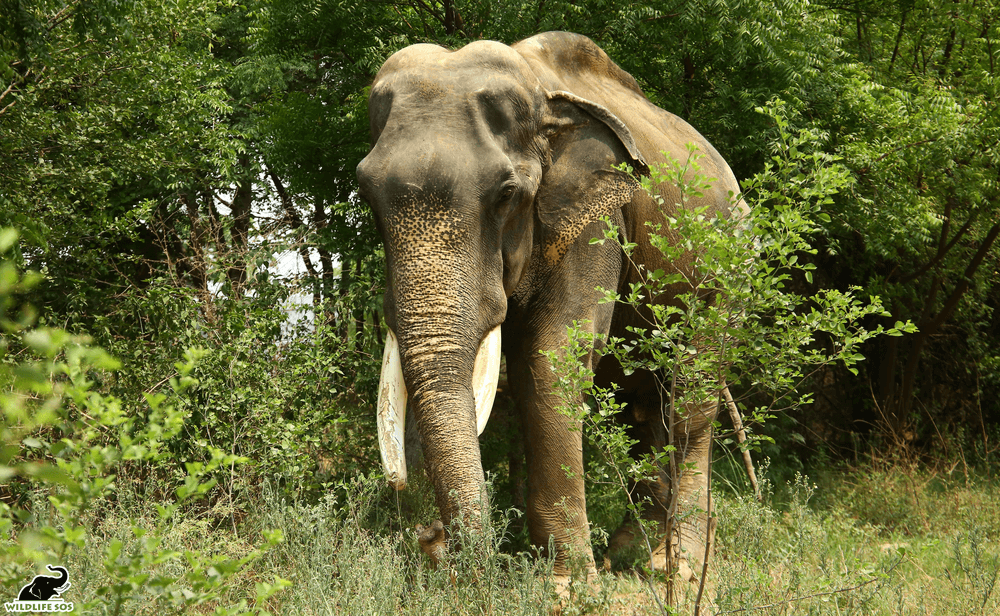 Gajraj is undergoing treatment for his toenail abscess on his forelimbs with regular cleaning and dressing with an antiseptic ointment. His chronic hip abscess has shown remarkable improvement in the time that he has been with us as it is regularly cleaned and dressed with antiseptic powder.
Of course, for Gajraj, the painful condition of his delicate and torn footpads makes treatment a very tough time for him to patiently wait through till the end, but his keeper keeps a steady supply of peanuts ready for him.
These 3 years that Gajraj has been with us, we have seen a battered, weak elephant regain physical and psychological strength to gradually get in touch with his earlier side as he indulges in dust baths and takes a walk around his spacious enclosure, taking slow, measured steps! His keeper always keeps an eye out for him – whether assisting during his treatments or being absolutely on-time for his meals. He always ensures that Gajraj is comfortable at all times, especially during COVID-19 times, he makes sure that Gajraj is not exhibiting any unusual behaviour or showing a change in his appetite.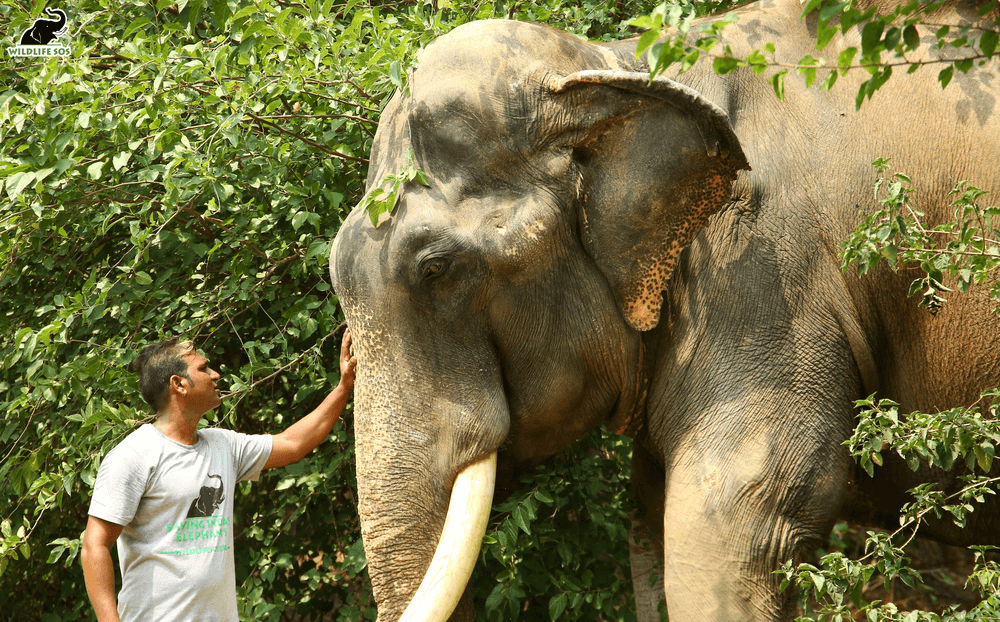 Gajraj is the oldest bull elephant under our care, hence a specialised geriatric care routine is curated for him that allows the veterinarians to keep a proper check on his health to understand his ageing needs as well. Gajraj suffered gravely as a temple elephant, for over 70 years, and his memory will mostly be overpowered with his traumatic experience but all of us at Wildlife SOS are glad that we could care for him in this important phase of his life, to help him heal.
Gajraj's story has taught us strength and perseverance in the true sense of the word and for that, we are grateful to him. Here's wishing our dearest Gajraj a happy three-year rescueversary!