In a city that is always flooded with people, it is hard to imagine that there would be enough space for a large mammal such as an Asian elephant. Yet Delhi has had a special history with captive elephants that were used for myriad cultural activities within the city. Today, with the rescue of the last captive elephant of Delhi Jasmine (formerly Lakshmi) on the 18th of September, 2019, Delhi finally moved past its elephant exploitative history and has emerged as an example for other cities and states to follow.
In a city which is not a suitable habitat for elephants, Jasmine suffered silently every day. Navigating through the jam-packed roads of Delhi, even as the noise from the traffic caused her mental stress, was a part of this helpless pachyderm's daily routine for she had to earn big bucks for her owners. Gracing events and ceremonies, giving joyrides to people and begging on the streets was her designated 'occupation.' Rather than being seen as the sentient being that she is, Jasmine's owner hardly thought of her more than as a way of earning money. This was evident from the despicable conditions that she was forced to live in: the banks of the infamously polluted river Yamuna were her home, where she would eat and bathe every day. Relief from her stressful life seemed afar, until orders from the Delhi High Court to rehabilitate the remaining seven elephants of Delhi came in this year.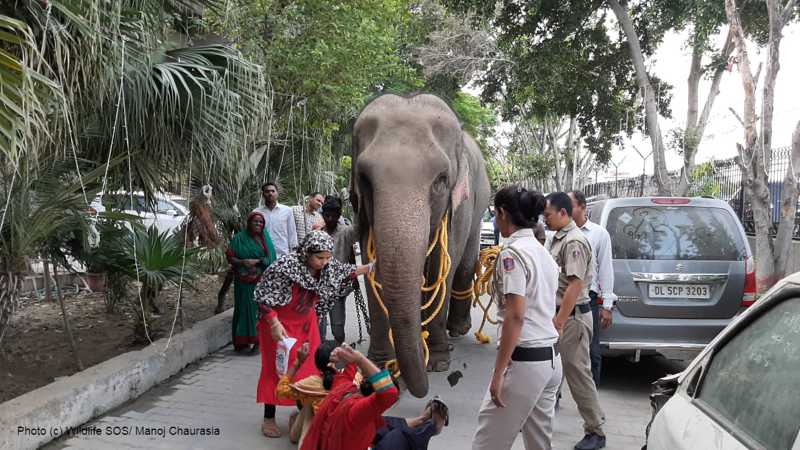 It was ordered that Jasmine would be rehabilitated at Ch. Surinder Singh Elephant Rehabilitation Centre (ERC) in Ban Santour, Yamunanagar run by the Haryana Forest Department in collaboration with Wildlife SOS. Permissions to move Jasmine to ERC were set in place during the first week of July, when the Delhi Forest Department moved quickly to seize her from her captors. However, the attempt to bring her the much-needed relief took a different turn when a scuffle broke out between the forest officials and her owners, who resisted the seizure and stooped to attack the officials. Post the incident, the owners ran away with Jasmine and took her into hiding to evade the seizure. She was declared a missing elephant. It seemed as if fate was playing a cruel joke on Jasmine: the promise of a new life was so close and yet still so far.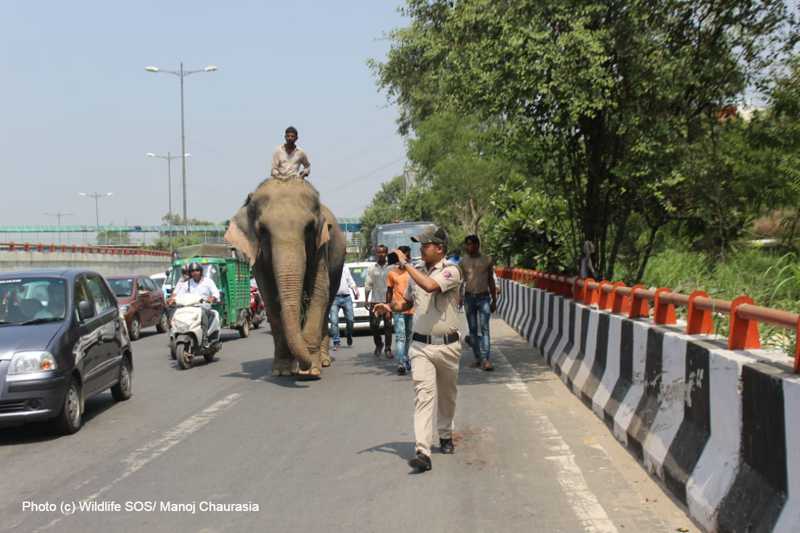 An alert was issued to all forest departments to report the missing elephant. The search went on for nearly two months until a suspicious sighting of Jasmine with her keeper was reported by the Delhi Police to the Chief Wildlife Warden (CWLW) of Delhi-NCT, Mr Prabhat Tyagi. The Delhi Police immediately detained the absconding keeper and the seized the elephant at Shakarpur Police Station in East Delhi. Upon request by the Forest Department, Wildlife SOS quickly despatched a team of four trained elephant handlers and an elephant veterinarian from the Elephant Conservation and Care Centre, Mathura to come to the aid Forest Department to help move Jasmine to ERC, as had been planned for months.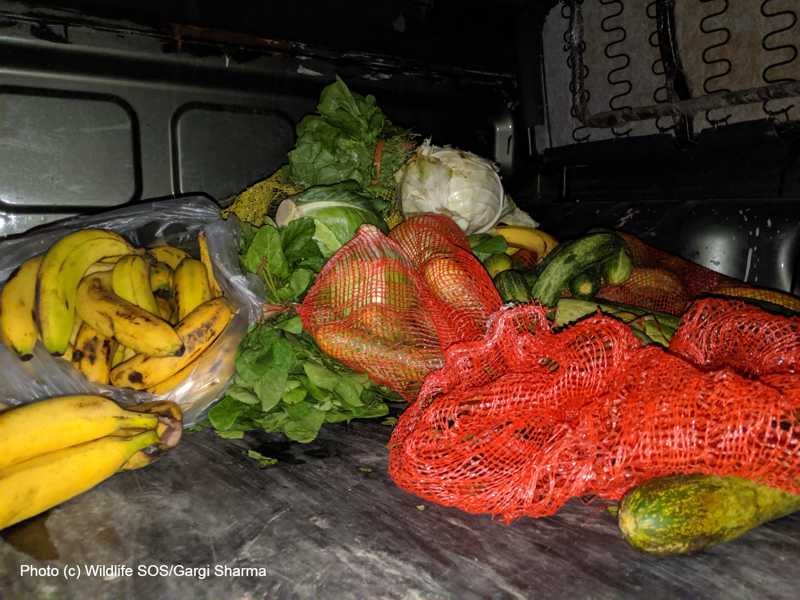 However, one obstacle after another kept cropping as Jasmine awaited a kinder future. After feeding her some sugarcane and fruits, the team began to move her to safety. Much to everyone's shock the offender's family had different plans. They gathered a hostile mob and created a mass hysteria to prevent the team from loading the elephant onto the truck. Ultimately additional police reinforcements were sent by DCP (Est) Jasmeet Singh and SHO Shakarpur Sanjeev Kumar to handle the delicate situation and provide safety to the rescuers. Jasmine was then moved to Delhi Forest Department's office at ITO, Delhi, where she was given ample time to settle down, water to drink and sugarcane to eat. Once the team was sure that Jasmine was at ease, she was loaded onto the ten-wheeler truck to take her to her new home at the lush forests of Ban Santour. The truck was packed with bananas, cabbage, sugarcane and spinach for the nine-hour journey that was ahead of her.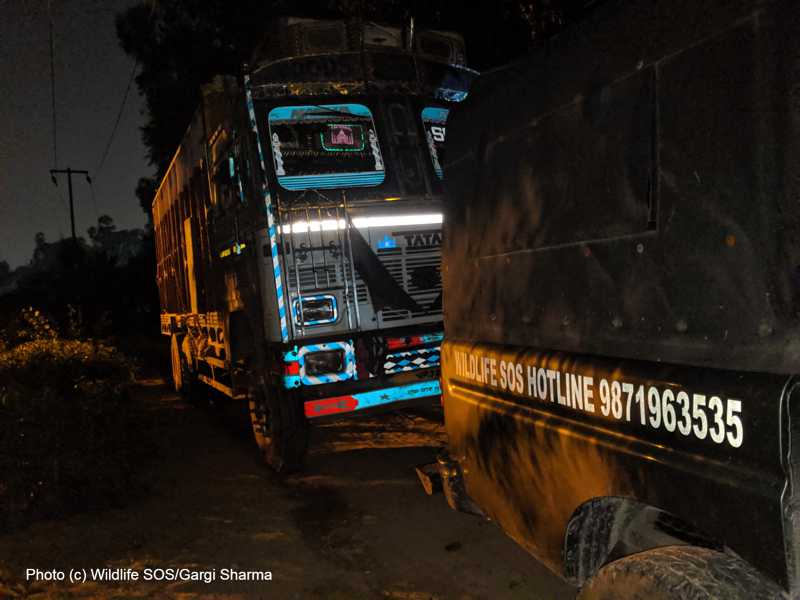 With every kilometre covered under the blanket of night, Jasmine was a step closer towards a kinder future. Throughout the 200km journey, she remained extremely calm and cooperative. Jasmine arrived at ERC at the wee hours of morning and a new chapter started in her life. She received the best surprise of her life and immediately took to the surrounding green forests. In fact, before even eating the snacks awaiting her, Jasmine began plucking leaves from the bamboo shoots near her shed, indicating that she had already taken to her new surroundings.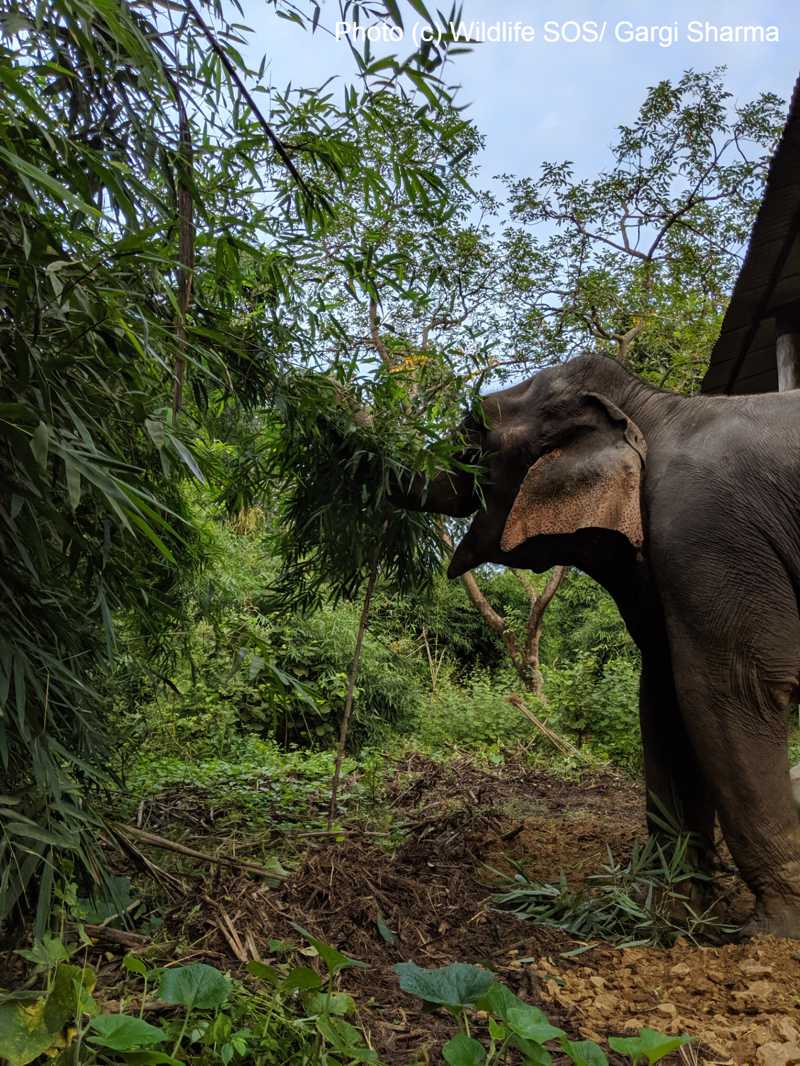 After giving her a thorough shower, our senior veterinarian Dr.Yaduraj conducted a preliminary medical assessment. It was found that she has overgrowing toenails and footpads, a condition common with captive elephants. Some of her toenails in the hind limbs were also cracked which require long-term medical care to prevent infection. Blood samples were also collected to get a diagnosis of her vitals. Our veterinary team will design a special treatment for Jasmine once the diagnosis is final. She will also be introduced to the existing herd at ERC comprising of Lilly, Daisy, Ella and Erika once she is out of quarantine.
Lady Fortune finally showered Jasmine with a comfortable life after her struggle of nearly four decades. We are honoured to be a part of her new journey and to give her the love and care that she deserves.
Jasmine's rescue that lasted nearly fourteen-hours was a joint effort by the Delhi Forest Department, Haryana Forest Department, Delhi Police and Wildlife SOS. We would like to thank Chief Wildlife Warden (Delhi NCT) Mr Prabhat Tyagi, Wildlife Officer Dr K.S.Jayachandran, Wildlife Officer Dr K.S.Jayachandran, DCP (East) Jasmeet Singh, SHO Shakarpur Shri Sanjiv Kumar, Sr. Wildlife Inspector Mr R. R. Meena and Sr. Wildlife Inspector Mr V. B. Dasan, who made this rescue possible.