Rs. 7500 – the cost of a life, the cost of ruining one.
Bella was purchased illegally by collective ownership in Sonepur mela, in Bihar. Thereon, started a life of torture and neglect for her in the small district of Sitapur, Uttar Pradesh near Lucknow. Presumably born into captivity and raised in one, Bella knew of nothing but to walk on hot tar roads tirelessly for hours to go to wedding ceremonies and processions around villages. At the brutal command of an ankush, her entire life was decided – entertainment for villagers and a ride for grooms to their venue.
Imagine never having the opportunity for an animal as beautiful as herself to be walking as and how she wants, her curious trunk picking up all the scents that make her feel home, imagine never having to be an elephant.
Bella's rescue was swiftly planned after the Divisional Forest Officer, Sitapur, observed the deplorable condition of Bella as she stood in a corner, breathing heavy and covered with wounds that needed urgent medical attention, and informed us of her condition. Once the formal permits were handled by the Forest Department, our rescue team was deployed in two phases to look into Bella's condition wherein one team reached Bella three days earlier than the second team. The first team's only priority was to stabilize Bella's condition as she was covered in grave bedsores, septic wounds and worn-out, potentially gangrenous foot pads.
At the grand old age of 65 years, Bella shows patience unmatched, especially when our veterinarians reached her and started her medical examination. It was then that we realized the critical need to move Bella to the Wildlife SOS Elephant Hospital, in Mathura. The other team was dispatched at the early hours of 4th November, in the Elephant Ambulance to ensure that Bella begins her journey to a better, healing life. However, the first attempt at rescue took a much longer time than we expected or what Bella expected, owing to her severe osteoarthritis that had managed to completely rid Bella's legs of her strength.
Timidly limping onto the mud-ramp, so created in continuation of our Ambulance's ramp so that the elevation is leveled to a point that her legs do not have to bear anymore stress, a crane was used to help Bella balance herself. Her small, unsure steps and the crane's elevation did not work in Bella's favor as she fumbled a little, before losing balance in her hindlegs and collapsing on the mud-ramp. With our breath stuck in our throats, we knew Bella was exhausted – exhausted of being brave, exhausted of being tortured, and that is why the first attempt had to be abandoned.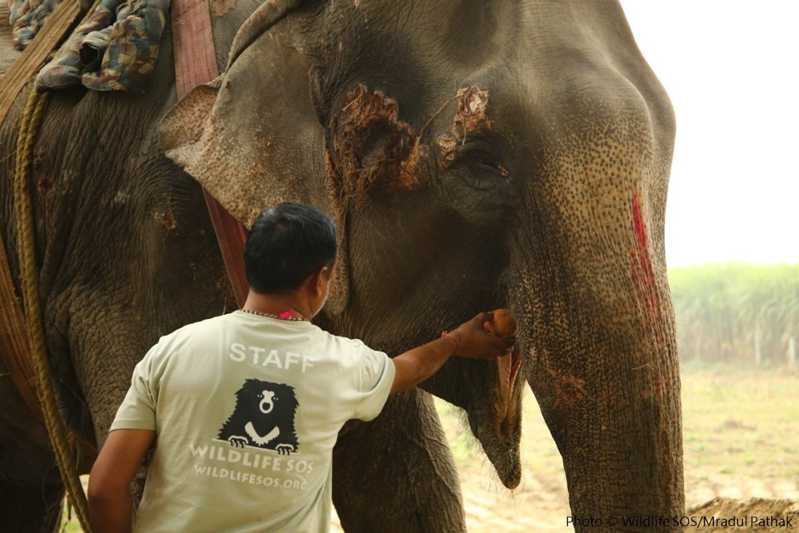 After regular drips of IV fluids, pain management and antibiotics, along with laser treatment as well as a night's rest, Bella's second attempt to rescue was resumed early morning on 5th November. Eager to get up but defeated by her stiff limbs, Bella was refreshed as she chomped on sugarcanes and rice balls to give her the strength that she needed, when finally, with the help of a crane, she was lifted to stand on her four feet again. A mud-ramp was created again, this time the ambulance was lowered so that the platform created can be absolutely leveled and Bella can climb with ease. As all of us crossed our fingers and loaded the Ambulance with loads of sugarcane and green fodder, Bella gradually walked on the slope taking sure steps this time, and carefully assessing each step as she climbed onto the mud-ramp and into the ambulance.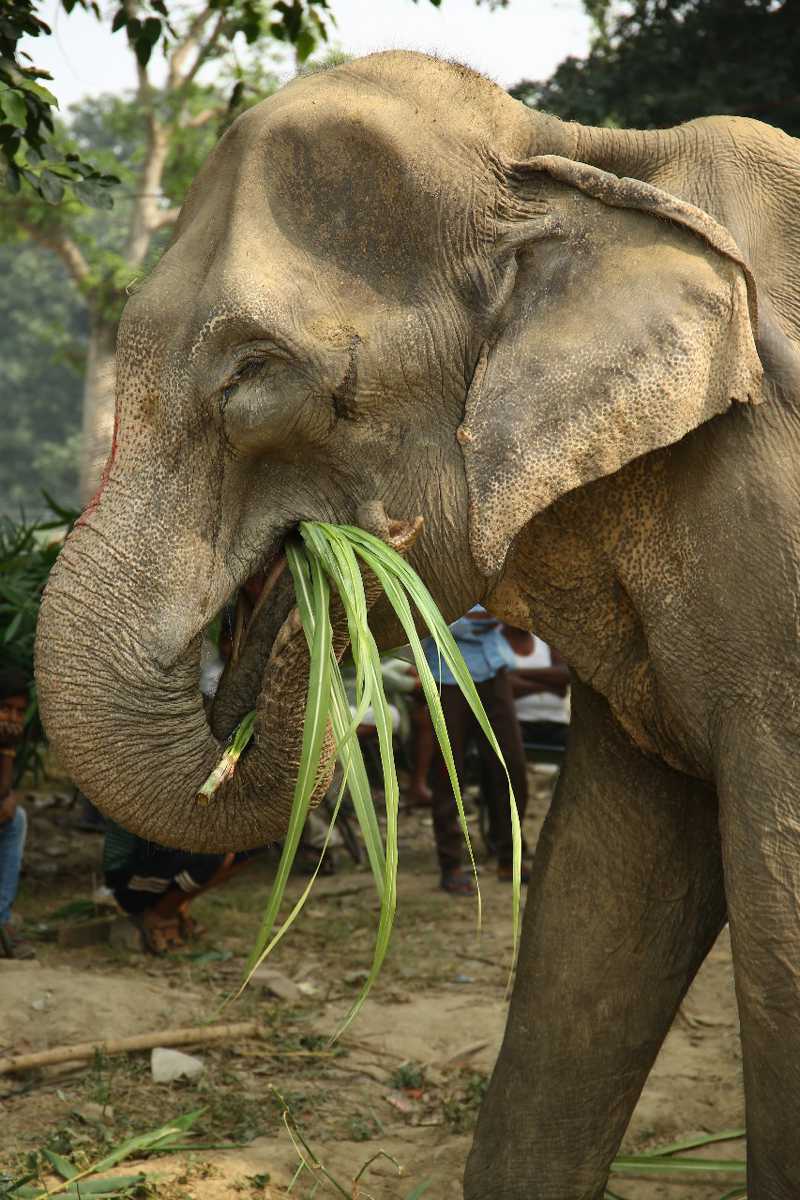 Without wasting anymore time, the Ambulance was locked and loaded and a belt was attached under Bella's chest and tied on either side to make sure she does not lose balance inside the Ambulance. Bella's convoy started at noon led by the animal ambulance then the Elephant Ambulance, to ensure her journey from Sitapur to the Elephant Hospital is easy and comfortable. At a steady speed and constantly checking on Bella as well as administering regular medicines to her by our veterinarians, she reached the Elephant Hospital at the late hours of the evening where a crane was on standby to assist her.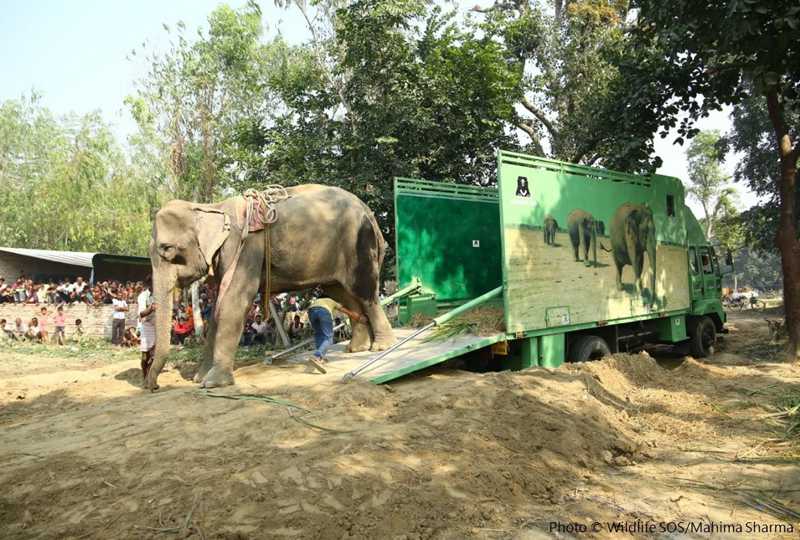 As though sensing the feeling called home, Bella was initially hesitant to come out of the Ambulance as she swayed her trunk and picked up smells that felt familiar to her. She stepped out of the ambulance, slowly and easily as a similar mud-ramp was created for the ease of her limbs, looking around her surroundings. Her enclosure was readied with two large mud-beds for support. Her first steps to freedom were also her first-ever steps to be her true self, to feel the soft mud and the nutritious diet especially designed for her so that she builds strength.
Presently, Bella is critical as limbs do not allow her any rest and she is paranoid to lie down as she fears it will take a lot of pain for her to get up again. Lying on one side as caused serious bedsores that have turned septic because of delayed medical attention, the one wound near her eye is extremely serious, and proper antibiotic and ointment courses are being administered. Another hip abscess also needs regular in-depth cleaning and dressing in order to heal the septic wound to avoid further spreading of infections. Her footpads need utmost care so that the suspected gangrene can be treated immediately. Her arthritis is being given laser therapy to provide relief to her exhausted and painful limbs at a cellular level.
With our team dedicatedly working to ensure Bella finds some love and compassion, her story has established her as no less than a war-horse returning home after a long battle – bruised but brave.