Big cats instill awe in us. One such awe-inspiring big cat at our Manikdoh Leopard Rescue Centre (MLRC) is Ganesh, who celebrates his 10th rescue anniversary with Wildlife SOS.
When we look back to our first encounter with Ganesh in 2011, we remember finding a grievously injured young leopard, battling for his life. He had strayed into a village in Maharashtra and was brutally attacked by a hostile mob, who out of fear took matters into their own hands. The Forest Department arrived at the earliest and did their best to get the situation under control, but by then Ganesh's condition had grown critical and he was rushed to MLRC for intensive care.
After two weeks, the bad news dawned upon us that Ganesh would never be able to see again. Ganesh's left eye was severely infected so the veterinary team had to surgically remove the eye to stop the infection from spreading and causing other health issues. Additionally, he developed cataract in his right eye causing his vision to be severely compromised. Left with a permanent disability massively reduced his chances of survival in the wild. Hence, we placed him under lifelong care at MLRC so that he could continue getting the specialized treatment he needed.
In the weeks that ensued following his arrival at the Centre, it took some time but Ganesh adapted to life here. MLRC has been his safe abode for a decade now and it is like taking a dip in the metaphorical pool of satisfaction to see this 13-year old male leopard jump around the logs and platforms in his forested enclosure. Playing with pumpkin enrichments and climbing trees are his favorite activities. Ganesh has a calm demeanor and is often seen dawdling around the second level platforms, basking in the sun.
As Ganesh is blind, he relies heavily on his senses of sound and smell, a fact that his caregiver keeps in mind while designing his enrichment. Hence, we use olfactory sensory enrichments to guide him around his enclosure and hone his hunting skills. When you hear about Ganesh's attitude toward life notwithstanding his disability and the way in which he continues to march on, you see the very personification of perseverance in him.
During his initial days, Ganesh got along really well with another male leopard named Vitthal, who was also rescued from a terrifying situation of animal-human conflict. So after careful planning, the MLRC team decided to introduce the two to see how they would interact. To their astonishment, they bonded instantly and after all these years, both of them are inseparable. This is rare because it's very unlikely in the wild that two male leopards will bond with each other due to the natural tendency of being territorial. Very recently, Ganesh and Vitthal were treated to some special treats for Halloween. Ganesh was seen playing with the pumpkin enrichments gleefully. Know more about how the leopards celebrated Halloween at MLRC here.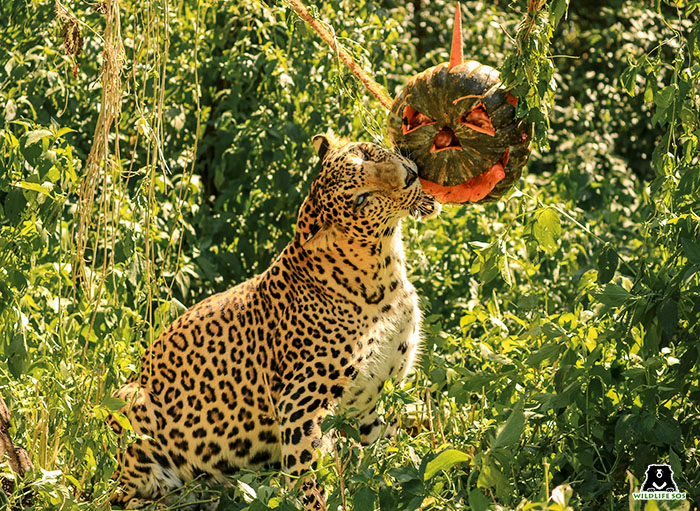 These are just wonderful signs that Ganesh is now a healthy and thriving leopard who has developed bonds of trust with the staff, especially with his caregiver Shivaji. He now lives a happy and safe life.
You too can be a part of Ganesh's life by making a monthly donation or sponsoring his long-term intensive care and treatment.
---