As the country observed National Safe Motherhood Day this week, a small village in Otur district of Maharashtra saw a rather unusual event unfurl. An elusive wild cat inhabiting the forests of India also celebrated this day in the most heartwarming manner. Two leopard cubs were reunited with their mother by a collaborative effort between Wildlife SOS and the Forest Department.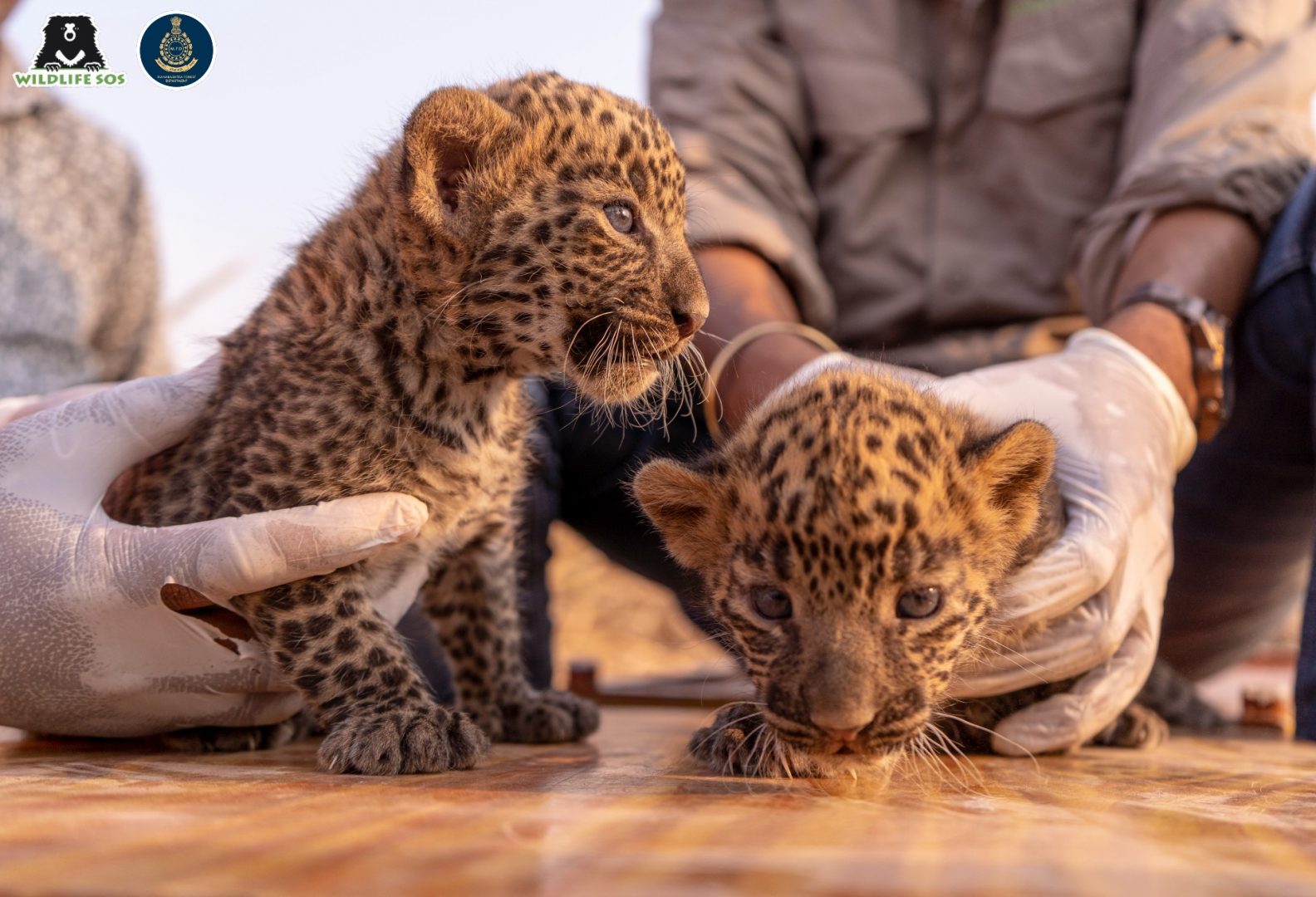 The Indian Leopard (Panthera pardus), a majestic feline, harbors the majority of the forests found in India and has even been spotted at the heights of about 5,200 meters above sea level! Being dynamic and quite adaptable when it comes to habitat and food preferences, it frequents intensively cultivated areas as well as urban developments. Leopards find a safe abode amongst the tall sugarcane crops and mothers prefer giving birth in the thriving vegetation where they can easily camouflage. This has led to recurring encounters with leopard cubs in the sugarcane fields of Maharashtra. As the sugarcane harvest season arrives, the cases increase by multiple folds.
Wildlife SOS is actively involved in carrying out such rescue and reunion operations successfully in the state. Just four months into the year, the tally of leopard cubs reunited has reached eight in total. But what makes these events a success? What and to whom do we owe this triumph?
Locals, The First-hand Informants
Picture this: an instance involving leopard cubs being spotted in the sugarcane fields has recently occurred. The word is sure to spread like wildfire amongst locals all around, thus creating a long-knit chain of worried yet alert farmers. Prompt responses to vulnerable situations like these ensure a speedy rescue and reunion operation. Undoubtedly, aware citizens play a fundamental role when it comes to any wildlife conservation scenario. Understanding this, Wildlife SOS trains villagers in fields pertaining to conflict mitigation, which helps raise awareness.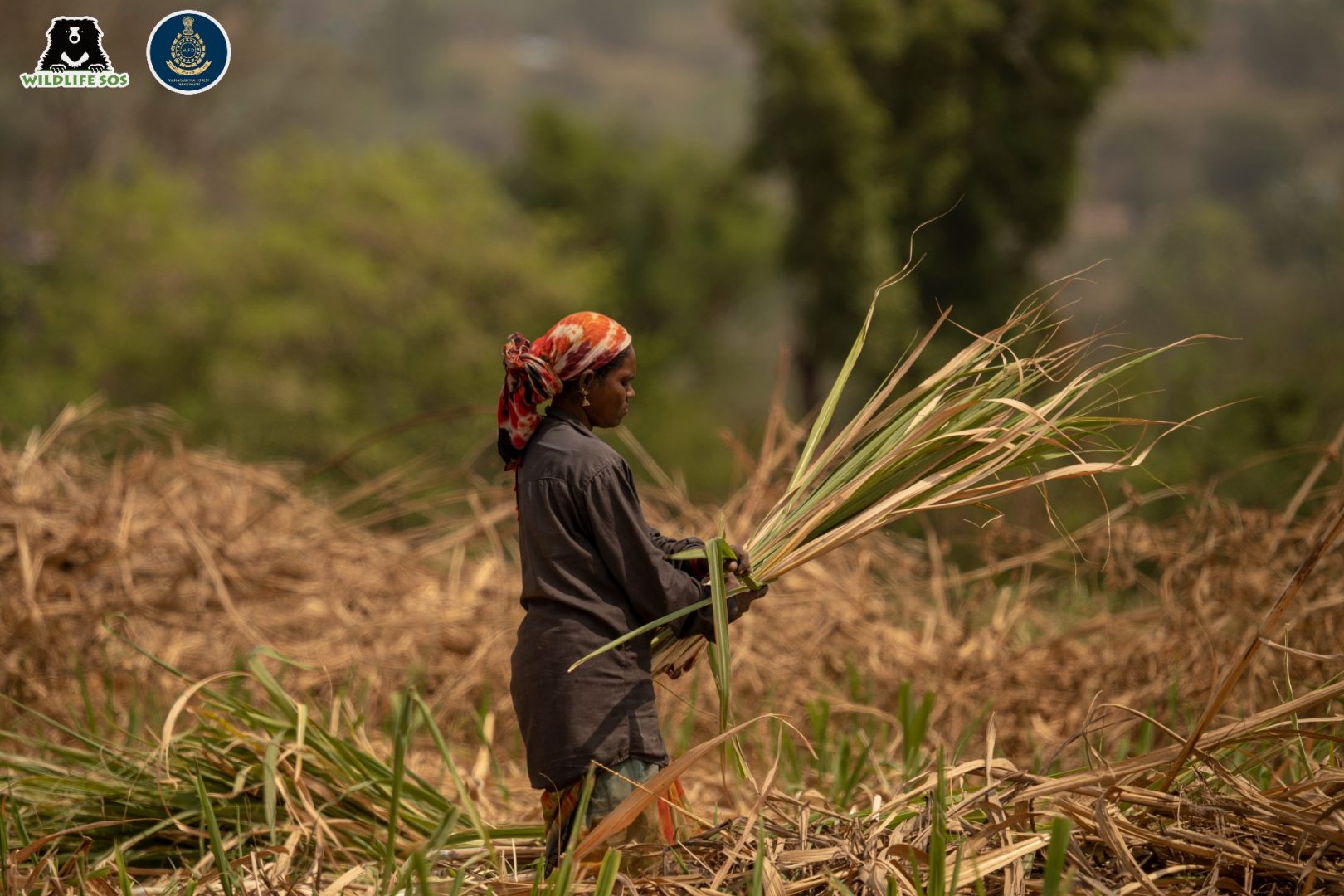 Locals are as important stakeholders in this entire process as are the other units. With their unwavering support and cooperation, such incidents not only succeed but strengthen our vision for a peaceful living. Vigilant and responsible communities ensure co-existence between the wild and humans, which is the need of the hour. Being of sound knowledge with respect to leopard cubs, locals have, time and again, immediately informed the concerned authorities. After all, everything begins with a phone call from a concerned citizen at the right time and the right place.
Awareness Campaigns
Over the years, besides rescuing wildlife, Wildlife SOS has conducted numerous awareness campaigns across the country. The state of Maharashtra is no stranger to the interactions of locals pertaining to leopards. Keeping this in mind, our outreach programs generally revolve around conflict management between the two. Through these awareness sessions, the organisation intends to keep the communities well informed, especially those living in close proximity to leopard habitats.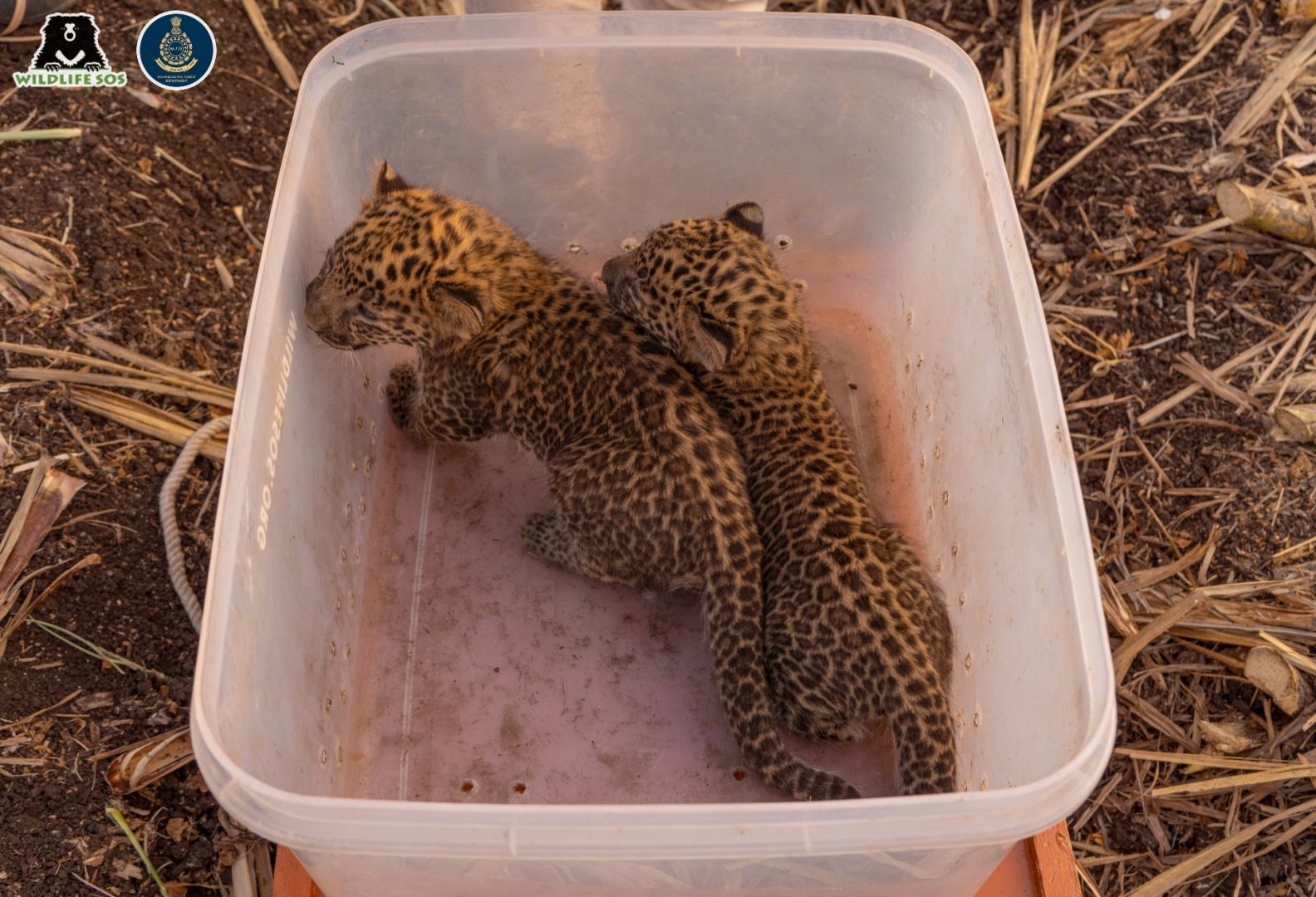 Be it in education institutes or villages, our team discusses important aspects such as leopard biology, behaviour, habitat, and conflict. Further, team members even enlist ways to prevent and mitigate conflict including avoidance techniques. We also aim to increase tolerance amongst locals and diminish fears that have been infested over time.
Well-Equipped Response Teams
Being up-to-date with the latest research on wildlife is a must for the kind of work our teams engage in. Having the knowledge ranging from ethology, natural habitat, and biology, in general, is crucial when handling situations that can easily get out of hand. With continued training programs and capacity building, our teams come with years of experience mitigating conflicts pertaining to humans and wildlife.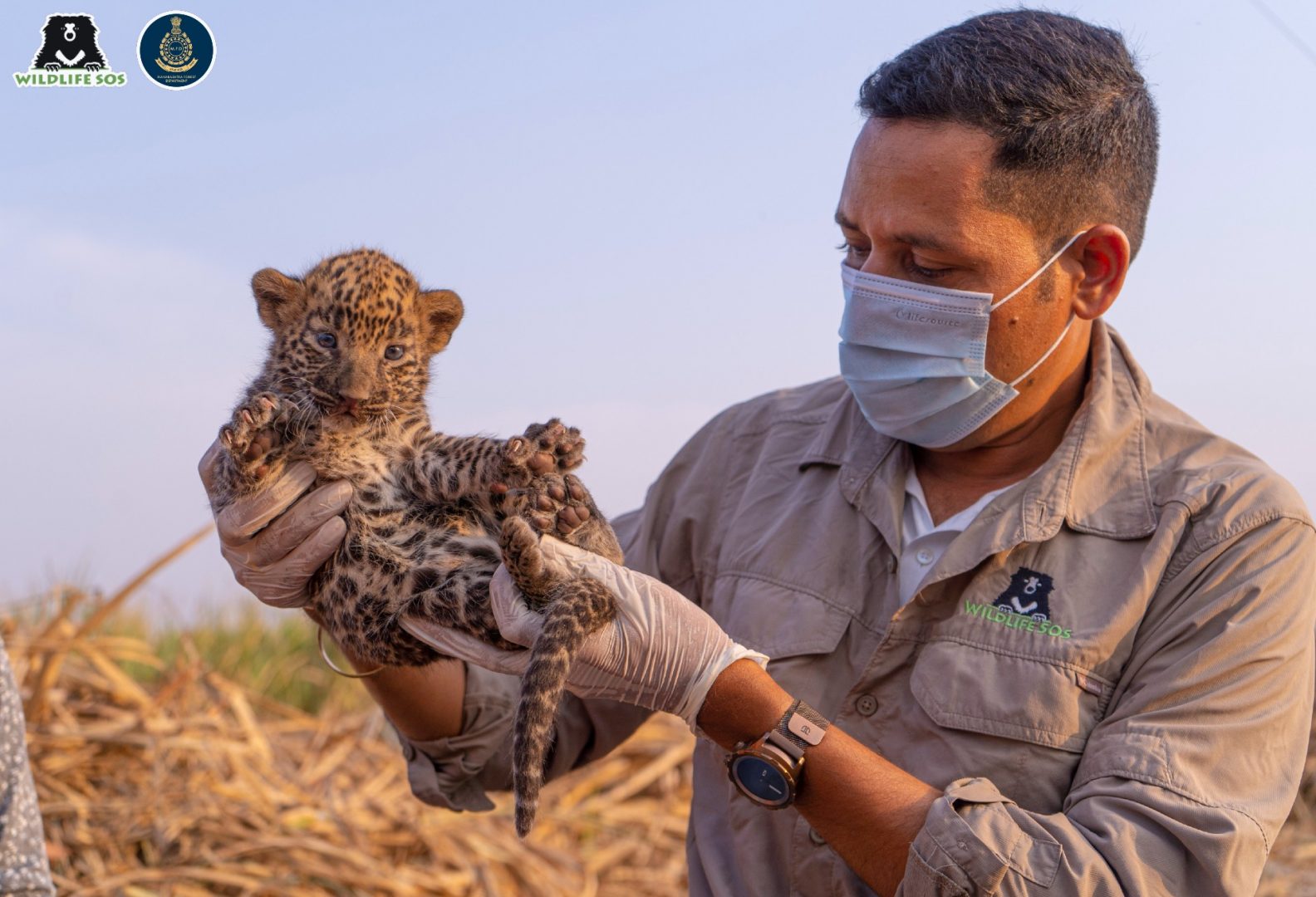 During rescue emergencies, a team composed of rescue personnel and veterinary officers promptly reaches the location. As the team safely extricates the leopard cubs from the sugarcane field, it is followed by a thorough medical examination. Either conducted on-site or at the Manikdoh Leopard Rescue Centre, this assessment confirms the fitness of the young ones. They are checked for injuries, ailments, dehydration, or any other physical sign of distress. Our veterinary officers also examine their respective ages and sex before formulating the reunion. Having years of experience on our side, we have learnt minute yet crucial details about reunion processes. For instance, due to less human interference and the fact that leopards are highly active during the late evening, successful operations must be conducted during the night hours.
The reunion between cubs and the leopard mother is executed with utmost safety – ensuring no distress is caused to either. Cubs are placed in a safe box with perforations to allow easy airflow, which is arranged atop a wooden platform. To guarantee effortless discovery by the mother, our team lines the box with urine drops of the cubs. Scent marking plays a crucial role as it allows the mother to locate her cubs and immediately take them back to the wild.
State-of-the-art Gizmos
In the 21st century, the use of technology has completely changed the way we live, work, and communicate. When the latest variety of gadgets has taken over every other field, why would the world of wildlife conservation hold back? In order to amplify the impact of our work and ensure a successful reunion, the teams use hi-tech products. To name a few – camera traps, microchips, and IP cameras are some devices that we generally utilise. From ensuring the safety of the cubs to keeping track of them, they serve a variety of purposes.
Camera traps are modern technology digital cameras connected to infrared sensors. Using the science of radiation sensitivity, it captures moving animals – for instance, a leopard mother approaching the box containing cubs. Being non-invasive in nature, they cause no disturbance to the mother or the cubs whatsoever. Following protocol, our team members also carefully implant the rescued leopard cubs with a microchip before the release. This micro-device is an excellent measure of identifying leopards in the wild. With a unique ID, it helps us keep a track of all cubs that are reunited with their mothers. Moreover, the chip also allows us to study the range and territory of the majestic big cats.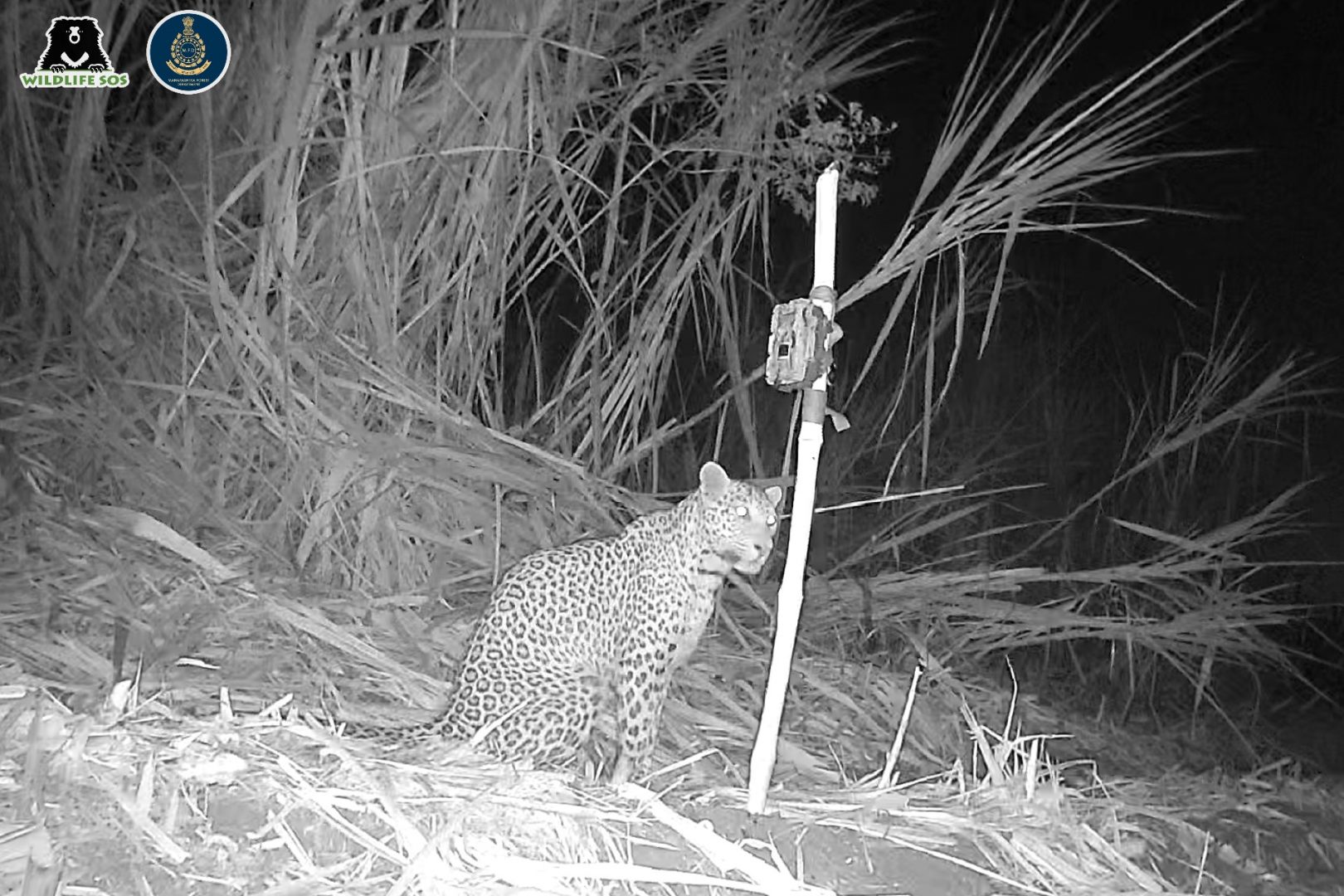 Next on the list are IP cameras – which are used for surveillance of the entire reunion process. This camera not only records the live event but with voice control, helps in avoiding intrusion by any other species, thus ensuring the safety of the leopard cubs.
An Affectionate Mother
It is in the blood of numerous animal mothers to fiercely tend to their young ones till they reach an age of independence. Leopard mothers are no different! They are known to wean their cubs till about four months of their initial life, after which, they teach them numerous survival skills for about 2 years.
While venturing out in search of prey, mother leopards leave their cubs in the safety of the tall, dense sugarcane fields. Sometimes, these unguarded cubs are spotted by farmers, especially during harvest season who immediately report the rescue teams. As Wildlife SOS and the Forest Department strategise and execute safe extrication, the reunion majorly relies upon the mother's return. More often than not, we find mothers returning to the same spot in search of their young ones.
The reunion of leopard cubs with their mothers offers them a second chance to thrive in the wild habitats. With this, we hope these young felines play an instrumental role in supporting a healthy population in the forests. You can become a part of our conservation and rescue efforts for this big cat, by supporting us.