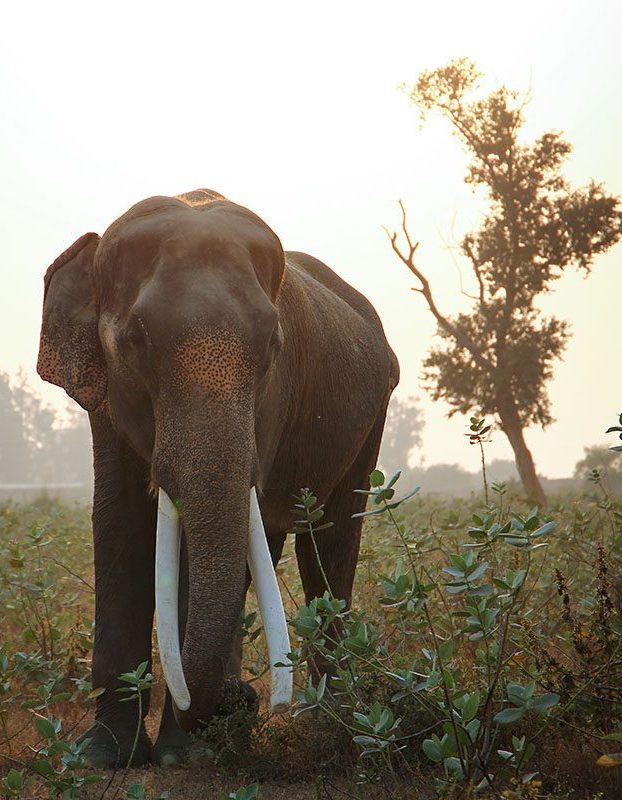 Age: 50 years old
Sex: Male
Age at the time of rescue: 45 years old
Personality traits: Very calm .
Recognisable features: One-eared elephant; lost presumably when poached from his herd in the wild.
Present health condition: Healthy; not undergoing any treatment except regular footbaths.
Facility: Elephant Conservation and Care Centre.
Favourite food: Sweet potatoes and pumpkins.
Closest to: Solitary by nature.
Favourite activities: Enrichment log, long walks with keeper.
Mahout name: Monu.

Background history: Suraj was living a life of abuse and neglect in a temple in Maharashtra when Wildlife SOS rescued him in December 2015. Ironically, Suraj, whose name means 'sun' in Hindi, spent nearly all his time restrained by spiked chains in a dark, dank room with little food and water. Years of neglect led to severely deteriorated health including multiple bull-hook wounds, foot rot and a terribly malnourished frame. This magnificent tusker had even lost his entire left ear (believed to have been torn off when he was poached from the wild as a calf).
Safely residing at the Elephant Conservation and Care Centre, Suraj is getting all the pampering he so deserves today!