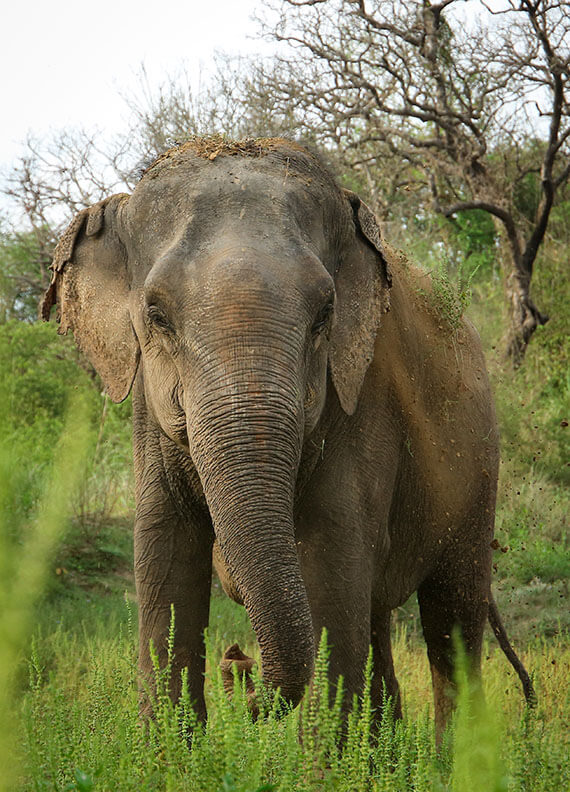 Year of arrival: 2019
Age at the time of arrival: 50 years-old
Sex: Female
Personality traits: Reserved
Facility: Elephant Rehabilitation Centre
Recognisable traits: Significantly torn right ear and pronounced depigmentation on her trunk; complete opacity in her right eye and partial opacity in her left eye.
Present health condition: Receiving medicated footbaths for her worn-out footpads and wounded cuticles; receiving treatment for the toenail abscesses in her forelimbs; undergoing treatment for an abscess behind her left ear.
Favourite food: Ripe bananas
Closest to: Jasmine
Favourite activities: Enjoys her long walks in the thick, forested area of the Centre with her companion, Jasmine, who never leaves her side! 
Background story: Life has been unkind to Daisy, to say the least, as she has spent most of her life walking around the narrow and overcrowded streets of Delhi. In a city that barely has enough moving space for humans, the existence of an elephant would often confuse people, and yet nobody would step up to speak for her. When Wildlife SOS rescued Daisy in 2019, our elephant care team and veterinarians were shocked upon witnessing Daisy's condition. She was completely blind in one eye and losing vision in the other, and her body was a host to the wounds and scars of her brutalizing past.