Earlier this week, farmers discovered a tiny 14-day-old wild cat in a sugar cane farm in Walki village, located in Ahmednagar district of Maharashtra. A growing population, expanding farmland and depleting forests have pushed the margins of human habitations closer to the existing forest areas. This has led to a parallel existence of wild animals in close proximity to the villages and a manifold increase in man-animal conflicts in the area.
With wild cats living in close proximity to human inhabited regions, the reported numbers of such cases have been on a surge, in the state of Maharashtra. Offering easy access to water and shelter, the tall sugarcane stalks provide a safe cover for wild cats to breed in and nurture their young, until they are prepared to fend for themselves. This furthers the basis for a man-animal conflict situation, as the sugarcane farmers encounter these cubs at the time of harvest. The farmers alerted the Forest department without losing any time who in turn alerted the Wildlife SOS team based out of Manikdoh Leopard Rescue Centre, in Junnar.
Our rescue team comprising of four members, immediately dispatched for Walki from Manikdoh. On arrival, they carried out a thorough medical examination which revealed the – young feline to be a 14-day old male Rusty-spotted cat. These wild cats are one of the smallest members of the cat family and are found in India and Sri Lanka. It is also recorded to be Asia's smallest wild cat. Wildlife SOS Para-veterinary officer, Mahendra Dhore confirmed that the cub was completely healthy, and it was safe to reunite it with the mother.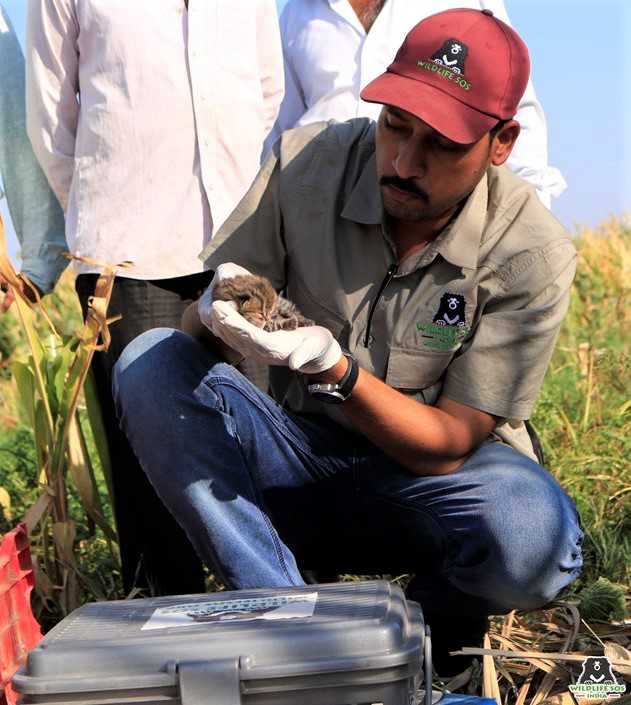 The team then placed a safe box at the same location the feline was found, while they monitored the situation from a safe distance. Eventually, the mother was finally spotted near the field. She was initially scared of approaching the safe box and retreated into the field much to our disappointment.  However, we weren't ready to give up just yet and attempted another shot at reuniting them the following day. With bated breath, we waited while the female cat returned for her missing kitten. After scrutinizing her baby, the content mother delicately grabbed him and disappeared into the dense forest. We could only imagine the relief that grasped her on finding her young one safe and sound!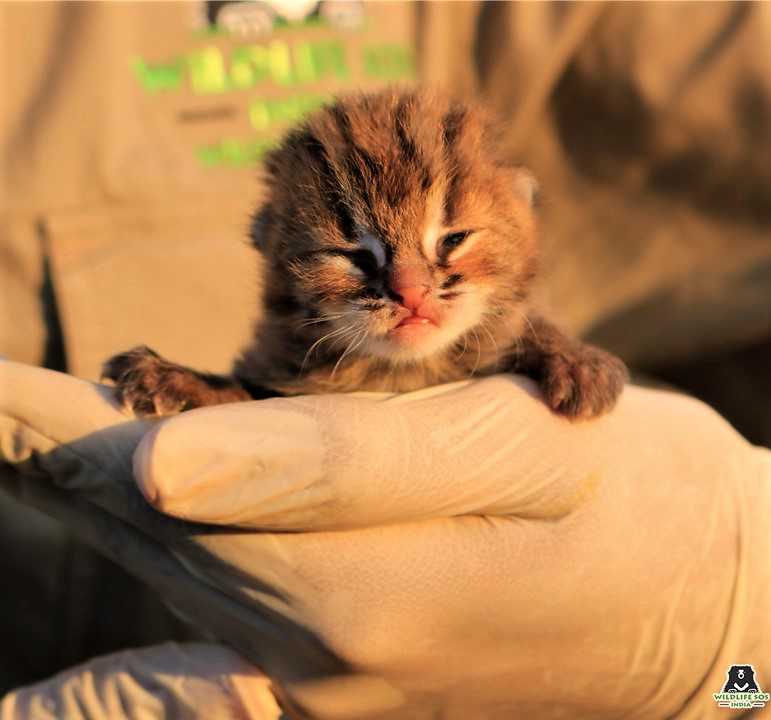 Owing to its 'Near-Threatened' status on the IUCN Red List, it was extremely important for us to safely reunite the kitten with the mother and ensure its safe return to its natural habitat. The Rusty-spotted cat is protected under Schedule I of the Wildlife Protection Act, 1972. Their distribution is limited to the dry deciduous forests, scrubs and grasslands of India and Sri Lanka. The rusty-spotted cat is nocturnal and feeds mainly on rodents, birds, lizards, frogs and insects. After a gestation of approximately 67 days, females produce a litter of 1-3 kittens. Common threats to this species include deforestation, habitat modification, poaching and hunting.
With the harvest season on, rescue calls are on a rise for us. Wildlife SOS takes painstaking efforts to try and ensure young wild cats are reunited with their mothers, so they can get a second change at growing up and surviving in their natural habitat.