Megacities are a treasure trove of opportunities, with people coming from far and wide in search of livelihood, shelter and food. The pull of urban life is strong, not just for humans but also for other creatures that tread this planet. Though the city may be full of opportunities, it also poses life-threatening challenges, and one can never know who the next victim may be. Be it a speeding vehicle on a dimly lit road, an electrical wire with worn insulation, or dehydrating winds on a hot summer day— the city is not without its fair share of dangers. For us human beings, there are resources we can access, such as paramedics and frontline workers, but animals on the other hand, are not resilient to withstand urban accidents, and therefore need our help. This is where the Wildlife SOS Rapid Response Unit comes in. Whether it be day or night, these guardians are always out there, watching over animals in the city. Cityfolk can rest assured that those from the rescue unit are ready to give their all to tend to any animal in distress.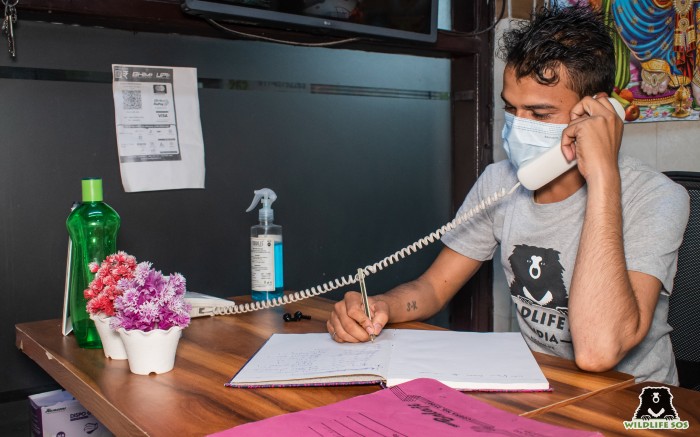 While there are various bodies working to assist injured animals in jungles and protected wildlife areas, there is also a need to watch over animals in distress in urban areas. Hence, the Wildlife SOS Rapid Response Unit works across Delhi, Agra, Vadodara and Jammu and Kashmir to safeguard animals who dwell in cities. The helpline numbers get over 100 rescue calls every single day regarding different scenarios such as animals that are sick and injured or caught in conflict situations.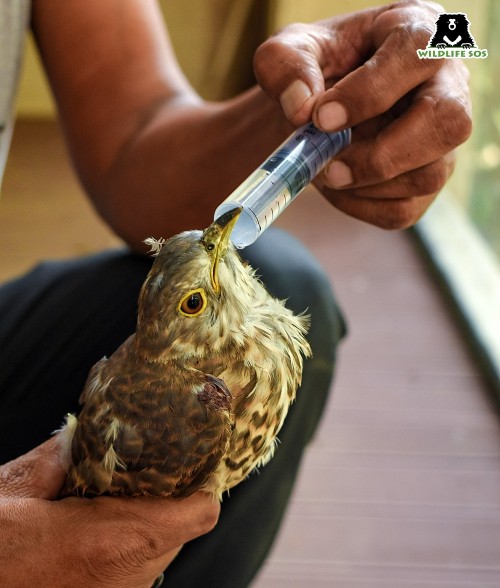 Rapid Response Units in these four regions often confront situations due to rapidly depleting green areas. In summers, trained rescuers from our team are called in to rescue dehydrated birds. With dry summer winds sweeping across North India, and a lack of natural water sources, birds often collapse on the streets from exhaustion. From dehydrated Egyptian vultures to Black kites suffering from heat stroke, birds of all kind are found lying immobile on the roads. Concerned citizens dial our wildlife rescue helplines, and the team members bring in the birds to rehydrate them until they are fit for release. In an act of kindness, some vigilant citizens also bring in animals like injured birds and squirrels to our headquarters themselves! Each animal that is brought into the facility is observed carefully until their release.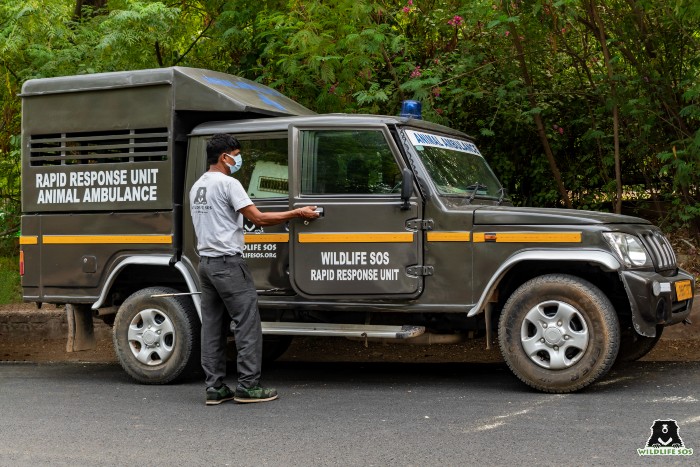 The Rapid Response Unit has with them dedicated ambulances that are equipped with transport cages and medical kits to provide immediate care to animals in need. Once the animals are brought back to the transit facility, they remain under medical observation for a few days before being released into the wilderness. A veterinary officer immediately tends to any animal suffering from injuries. Many animals lose their lives to electrocution from uninsulated wires and in roadside collisions by speeding vehicles. These are the most disheartening cases, where the Rapid Response Unit arrives at the location only to find that the animal has succumbed to its injuries. Though such cases are highly demotivating for a team of people that care deeply about animals, we are happy to note that more and more people have become conscious about the well-being of wildlife that they coexist with. This is more than evident in the calls of concern received on our helplines.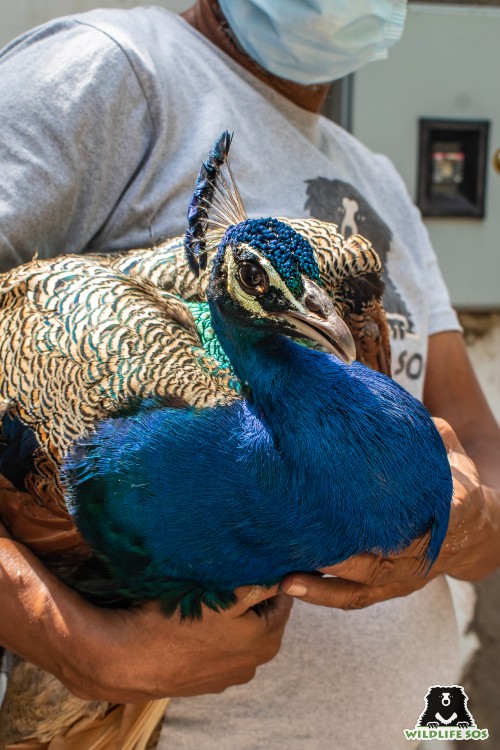 Each rescue situation, however, may be quite different from what one anticipates when a call comes through. For example, in a recent incident, the Delhi team was called in to treat a male peafowl with an injured wing. The matter seemed simple enough and the rescuers expected the injured peacock to be immobile due to pain. However, upon reaching the spot, the peacock had the team members run after for over thirty minutes! Once they finally managed to capture the elusive bird, the team brought it over to the transit facility for treatment. In another incident, the Delhi unit was called in to extricate a snake that had gotten stuck inside a water pumping motor. Since it seemed to be stuck in a tricky place, the team went in expecting to be there for a long duration, but to their surprise, they could extricate the Indian rat snake in a matter of minutes!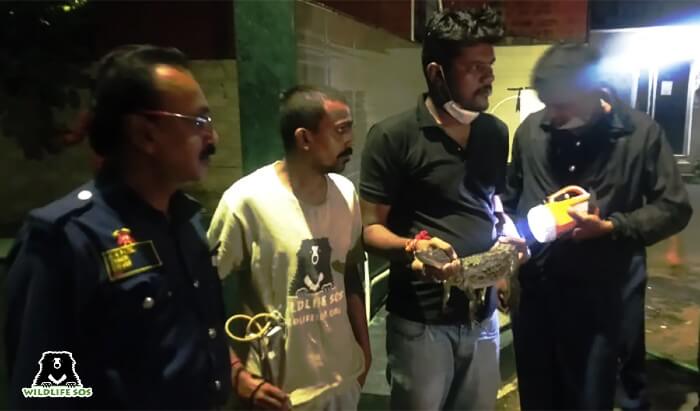 Sometimes, calls on the helpline seem too bizarre to be true, but the team has to be ready to tackle any given challenge every day. The Rapid Response Unit at Vadodara received a call of a Mugger crocodile being spotted in the most unusual location— within a cemetery! The team arrived immediately to extricate the 3-feet-long crocodile and later released it to safety. The Vadodara team often deals with various crocodile rescues as these animals are found abundantly in the nearby rivers. During storms or when rain water surges, these crocodiles find themselves transported to residential areas and markets through the sewage system, shocking the city-dwellers!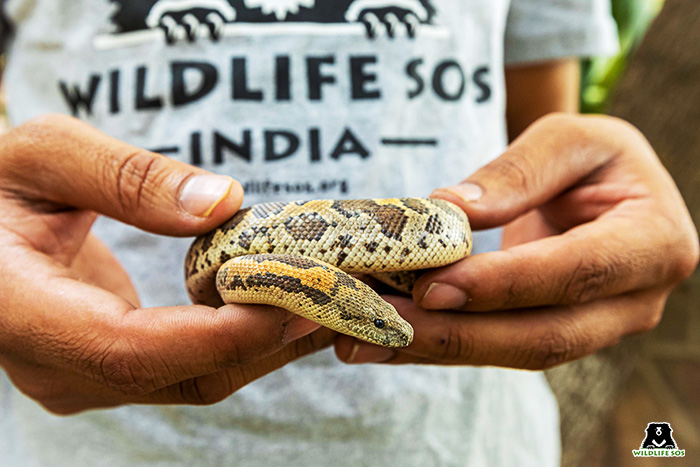 A most interesting case of rescue was one where a Common sand boa was found inside a car by the Jammu and Kashmir team. The Common sand boa had travelled all the way up to the northernmost state of India, where it is in fact quite uncommon! The reptile was safely extricated, thanks to the quick thinking of the driver who asked all the passengers to get off the vehicle as he called in the team.
The rescue unit at Agra has also faced similar situations where they extricated an Indian rat snake that had somehow found its way onto the passenger seat of a car.  In a separate incident, the team found an Indian Rock python trapped within a car's bonnet! This 6-foot-long python required a team of three; they had to multitask to rescue the snake by keeping the crowd at bay. Rescues from within the cars are extremely challenging as snakes tend to find their way into the engine among dangerous mechanical parts. 
Due to the declining forests, we also often get cases of animals wandering into urban areas like factories, hotels and even monuments! The Rapid Response Unit in Agra received a call from a shoe factory where a Civet cat was wreaking havoc by scaring all the staff members. Many haven't ever seen wild animals like Monitor lizards, pangolins and Civet cats in human-inhabited areas, and this leads to undesirable outcomes.
In some cases, when people are not able to correctly identify the animal, the Rapid Response Unit needs to be prepared to change their plan on the go. The Jammu and Kashmir helpline number received numerous calls about leopard cubs being spotted near a residential area. The team immediately took off, concerned for the safety of the residents and the cubs. Upon reaching the location, the cubs were found to be jungle kittens and not leopard cubs! Immediately, the team had to change their plan of action, and also inform all the area residents that the young ones were jungle kittens and not leopard cubs. The team used this as a learning opportunity to spread more information about the various wild cats found in India, and thereafter conducted a successful reunion of the kittens with their mother.
Usually, a lack of information about various animal species leads to such instances when callers misidentify the animals. After extricating the animal, the team makes sure to correct the concerned callers and apprise them of the right action to take in case a situation arises again. The case of mistaken identity reaches a new extreme when the team receives calls of spotting a "dinosaur", only to find a Monitor lizard at the location. Another surprising call about a "crocodile" was in fact the highly poached and trafficked Pangolin.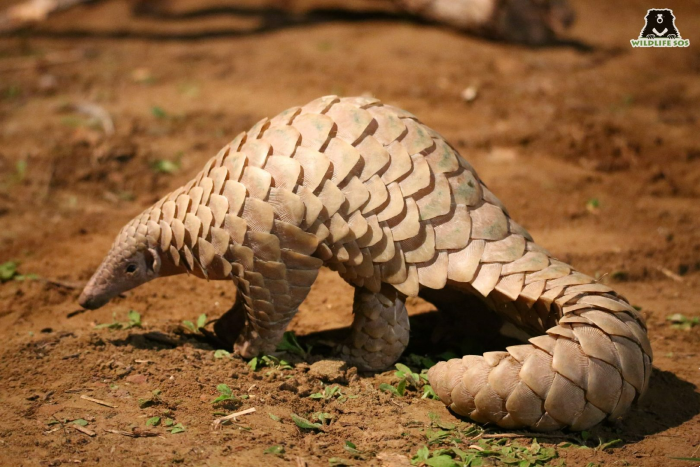 Ignorance may often lead to the death of various animals. When people come across snakes that have wandered into their houses or gardens, they end up killing it after coming to the conclusion that it must be venomous. However, not all snakes are venomous, and many like the Indian rat snake in fact act as pest control agents for residential areas as they feed on the rat population. And if the snakes in your area are venomous, or assumed to be so, you must inform a trained professional to tackle the issue without any injury or loss of life.
Crowd control in many cases becomes more demanding than the actual rescue. The team has to balance educating the crowd about the situation along with keeping them at a distance from the animal for their safety. Seeing too many people can cause more distress to an animal that may already be scared due to being injured or lost.
Though the Rapid Response Unit works tirelessly at night or day, their efforts could not be possible without the support of thousands of people from across the country who call the team to help animals. In Vadodara, a team of volunteers came to be formed in an organic way, with people joining hands to prevent any injuries from human-crocodile conflict. In other places, we have received cooperation from various organisations, such as the instance where the Delhi Metro momentarily stopped their trains to allow our team to rescue an injured Brown-headed gull that was lying immobile on the train tracks. These empathetic acts of people pausing their daily activities to assist animals in need is a testament to the success of conservation efforts.
Every month, Wildlife SOS carries out numerous rescues of wild animals. In case you come across any injured or distressed animals, you can reach out to the Wildlife SOS Rapid Response Unit in the following areas:
Delhi NCR – +91 9871963535
Agra – +91 9917109666
Vadodara – +91 9825011117
Jammu & Kashmir – +91 7006692300, +91 9419778280
If you come across an animal in distress in regions outside our operation zones, make sure to look up the contact of the nearest rehabilitation agency or the forest department to seek assistance.