With the smell of spring in the air, the resident Sloth bears at the Bannerghatta Bear Rescue Centre (BBRC) are slowly shedding their idleness from the winter season. This month, we shine the spotlight on Deva, a 'dancing' bear rescued in 2006.
Deva was an emaciated five-year-old bear when he was rescued from the Kalandar community. His muzzle had been pierced for a rope to pass through, the painful tug of which would make him perform. When found by Wildlife SOS, his muzzle piercing was oozing pus, he was extremely weak and weighed only 48 kg! The normal weight of a healthy male Sloth bear is around 90 to 140 kg. With utmost care and attention, our team at BBRC nursed Deva back to health.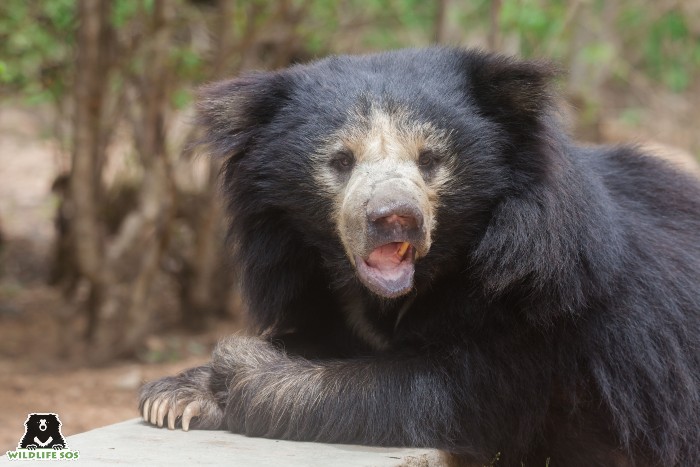 Currently, the 22-year-old is fit and is enjoying a laid-back life. He readily consumes a diet of fruits and porridge that include supplements he requires to remain healthy. Sloth bears that had been raised by their Kalandar owners were not fed the proper, nutritious food they required. Human foods like rotis and biscuits that contain zero nutritional value for bears would comprise their meal then. This is why when rescued bears arrived at our centres, they were found to be malnourished and had a whole slew of diseases related to nutrient deficiency. Our veterinarians and caregivers ensure that each bear at our centres receives their daily requirements. Given that Deva is now ageing, he will soon be under geriatric care that includes additional supplements for his bone and joint health.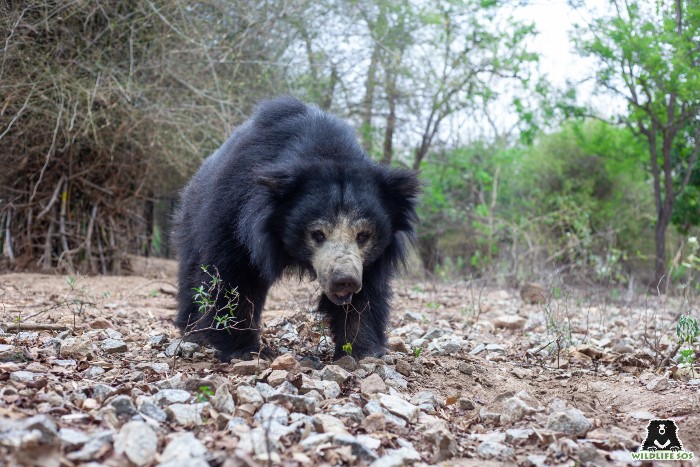 Nevertheless, Deva is an active bear and is currently not undergoing any medical treatments. His curiosity leads him to engage with each and every enrichment item he is provided with, be it puzzle feeder logs or balls. His favourite time of the day is when his caregiver provides him with coconuts. He lifts the coconut with his snout and throws it high up in the air so that it cracks open when it hits the ground! Deva then slurps the sweet and tasty goodness inside the fruit.
Deva is a friendly bear and playfully interacts with the other bears in his enclosure. But woe befalls those bears who get on his wrong side! He launches a sneak attack on them from behind, before running away!
While he is extremely smart, Deva is also deft with his hands. He has learned how to open his enclosure gate and let himself get inside the feeding area. He is mostly seen doing this when it is close to feeding time.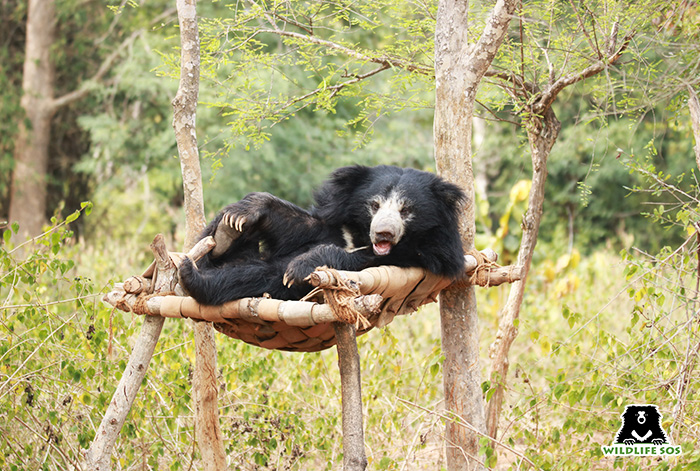 Given his age, Deva is becoming more solitary. He prefers to spend most of his time with himself, sleeping in the small caves or dens he has dug on the side of the moat. From having a childhood where he had to 'dance' for the entertainment of a crowd, to living a life free from distress and fear, Deva has displayed trust and courage to welcome change, along with a determination to overcome trauma. Watching him being at ease with his surroundings and with the staff at BBRC is heartwarming for each of us at Wildlife SOS.

If you would like to visit any of our centres, or volunteer at our facilities, get in touch with us at visit@wildlifesos.org.