Spread over 77 acres, the Bannerghatta Bear Rescue Centre (BBRC) is divided into five different regions namely, Jambhava, Kishkinda, Panchavati, Chitrakuta and Dr. GKV Block. Ashok resides in the Panchavati region, which has been home to this 17-year-old male Sloth bear for the past 13 years.
Ashok was rescued in 2009 at the young age of four from a human-wildlife conflict situation by the Karnataka Forest Department. Scarred by the experience, he was then handed over by the department to Wildlife SOS for his long-term care. When Ashok first stepped into BBRC, our team made every effort to gradually gain his trust and acceptance. Thirteen years have passed since Ashok walked into our lives, and today, he is almost unrecognisable from how we found him. Having spent such a long period at BBRC, porridge feeding time has been firmly registered in his biological clock. Ashok waits patiently for his caregiver to bring him a nutritious meal, not once but twice a day!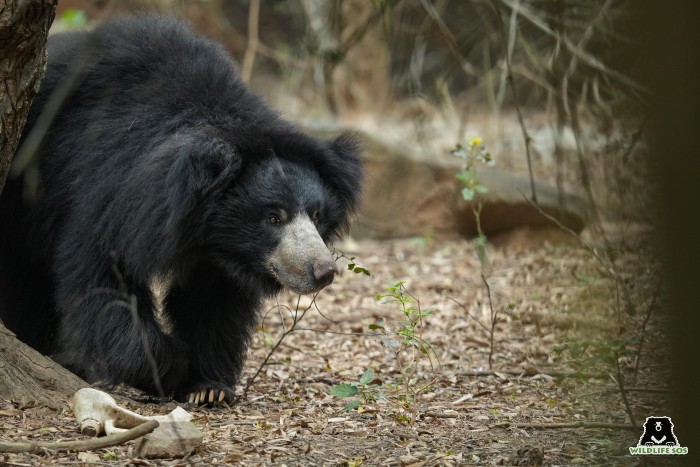 At 17 years of age, Ashok's health is stable since he is following his regular diet, and usually has his meals without any fuss. Even though he is not entirely under geriatric care, his caregivers are mindful of his moods or behavioural changes. When Ashok shows a lack of interest in eating, the quantity of porridge is reduced to half a bowl of serving, and a little amount of honey or milk is added to it – this is something that is usually done when bears are gradually shifted to geriatric care. Keeping the protein intake in mind, the porridge is also mixed with Black soldier fly larvae which is given to the bears once every week.
The veterinary team at BBRC has been trying to incorporate the Black soldier fly larvae (BSF) into the bears' diet for a while now. Usually, a paste is formed after grinding the larvae, and it is then mixed with their meals. The most beneficial part about using BSF larvae is that the flies can reproduce in 15-20 days and the larvae are then used to feed the bears.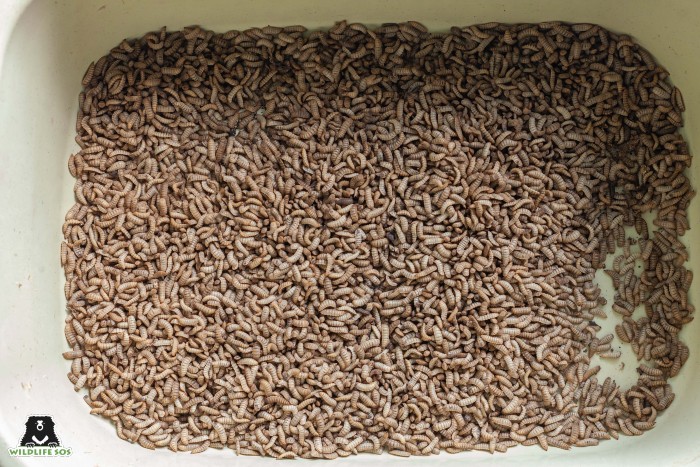 This works better than the previously used mealworms, which can take up to 4 months to reproduce. Even though other bears like to consume mealworms in the form of enrichments, Ashok is unique in this case and avoids them altogether. Sloth bears are known to be myrmecophagous (meaning ant-eating animals) in nature, and resort to termitophagy (eating termites) as well. It is also a part of Ashok's natural behaviour to dig for termite and ant mounds. Bears are known to be voracious eaters, with a strong olfactory sense.
Apart from foraging for insects, there are other things which fascinate Ashok. During his younger days, Ashok would almost be enchanted by the fruit barrel, wondering how the fruits got inside the barrel in the first place! As the caregivers used to fill them generously for everyone, drawing out fruits from it became one of Ashok's favourite enrichment activities. Additionally, finding hidden treats like dates, groundnut and maize also comprised his daily routine. Ashok is still fond of fruits and a platter of dates, watermelon, coconut, muskmelon and papayas is equivalent to a plate full of sunshine for him!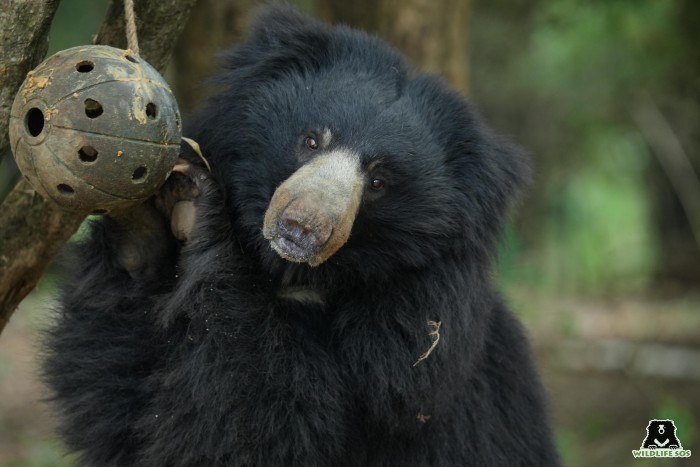 Nowadays, Ashok can mostly be seen digging mud pits with his closest pal at the centre – Hari. Even though he is amiable with other bears, it's his buddy Hari with whom he likes to dig the pits and lie in them for hours. Lying in the mud pits works well especially in the winter months, since it becomes the perfect spot to absorb the warmth of the afternoon sun. Climbing trees comes a close second in terms of Ashok's favourite activities.
Ashok faced a minor health issue four months ago, when he experienced mild pain during urination. The veterinarians immediately caught wind of the situation and provided him with painkillers. The oral medication worked well for Ashok and he has recovered from the pain. However, if the need ever arises to administer medication such as liver supplements to Ashok, that would be done by mixing it with the porridge.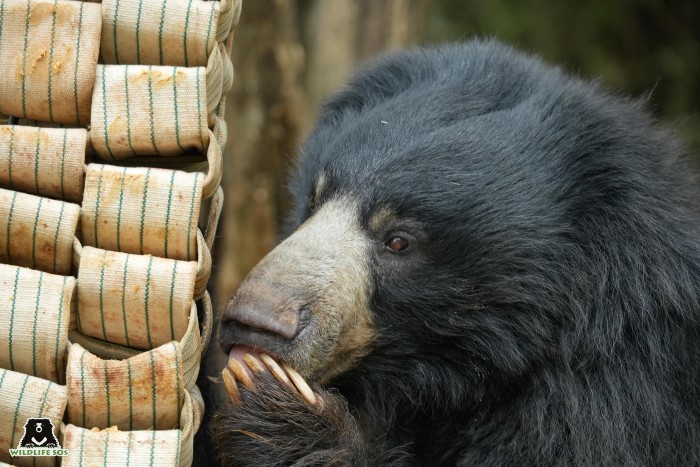 Ashok had faced unspeakable trauma when he was rescued from the conflict situation all those years ago. Over 13 years of care has shown what time can do to heal such experiences, and Ashok is a happy and healthy bear today. As Ashok gradually inches towards old age, he would need geriatric care for his health and upkeep. This is where you can play your role towards wildlife conservation. Support Ashok's care by becoming a monthly donor for Wildlife SOS, so that  Ashok continues to lead a wonderful life ahead.