It's been over 10 years since Veerpal joined Wildlife SOS and became a part of our family. Having worked at three of our rescue centers, Veerpal started at an early age and has ever since dedicated his life to taking care of the rescued sloth bears.
How did you start working with Wildlife SOS?
I heard about Wildlife SOS from my brother "Rakesh Singh", who had been working with Wildlife SOS for years at length. Starting in 2009, I formerly worked at Wildlife SOS' Purulia Bear Rescue Center in West Bengal. Following which in 2011, I transferred to the Bannerghatta Bear Rescue Center in Bangalore. Noticing my evident love for bears, the team assigned me as a bear keeper and deployed me to the Agra Bear Rescue Facility in Agra, where I currently reside.
 What is a typical workday for you?
My day starts with doing a headcount of the bears in enclosure -13. The morning hours are consumed with preparing and distributing porridge to the bears and cleaning out the enclosures with disinfectants. While the bears are enjoying their meals, I ensure the field and pond is clean as well as rid of any broken tree branches, which can cause obstructions. I also assist the veterinary team during the time of treatment.  It gives me immense pleasure to observe the bears and their behavior, while ensuring they are happy and healthy.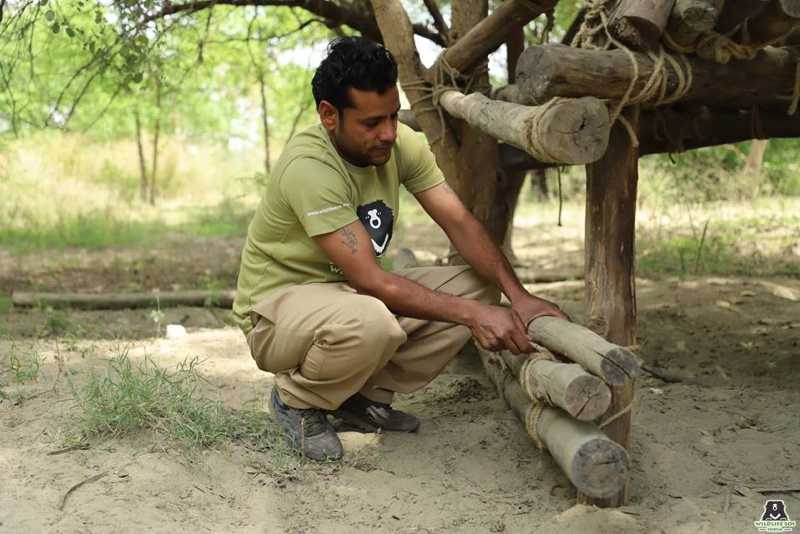 What is the best part about your job?
I find joy in looking after the sloth bears. As part of my daily chores, I physically examine the bears to ensure all are in fine condition. It fills my heart with content at the sight of them playing with enrichments and enjoying each other's company. This is my favorite hour of the day. The best part of my day is the feeding time, where I give the bears fruits or porridge and they so excitedly relish on it.
 What is the most difficult part of your job?
Handling bears with temperamental behaviors sometimes makes my job difficult.  I try to cause minimum stress to these bears and respect the space they need. This requires extra care and attention, but at the end of the day I love working with these remarkable animals and I wouldn't trade my job for anything else in the world.
Why do you enjoy working with sloth bears?
I am an animal lover. I am extremely friendly with the dogs in my neighborhood and also have a calf under my care at home. Since the day I got associated with Wildlife SOS, I have worked as a bear keeper and discovered that this was my calling. The bears are quite intriguing and observing their individual habits and behavior has helped me to understand them better.
Who is your favorite bear?
My favorite bear is Kush. I believe Kush and I share a close bond.  My presence is always welcomed by him and he is very cooperative. I look forward to seeing him every day and feel his positive reciprocation as acceptance.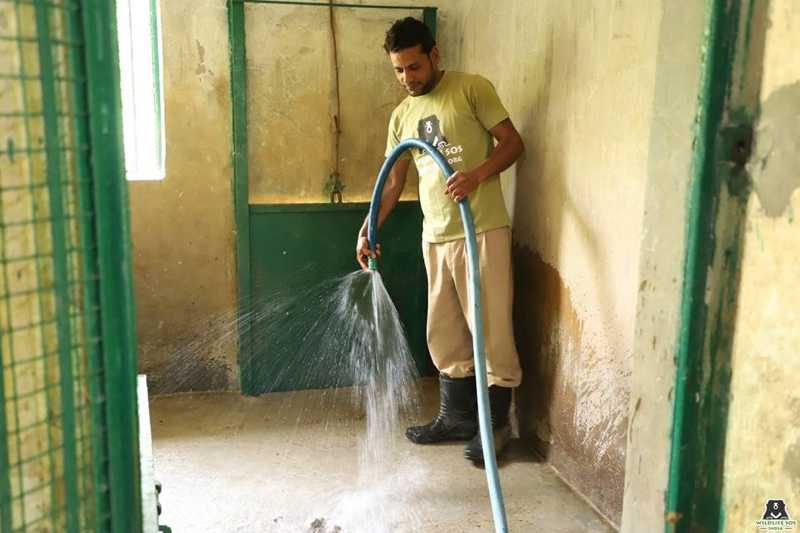 What do you do besides work?
I joined Wildlife SOS in the early years of my life and was a single man back then. In my free time, I liked playing cricket as means to stay entertained. I have a family now. My focus has shifted to my wife and kids. I like to spend time with them post work and be around my kids in my free time.
 What has been your fondest memory working with Wildlife SOS?
One of my most memorable days with Wildlife SOS was when I was working at the Bannerghatta Bear Rescue Center in Bangalore. Our co-founders Kartick sir and Geeta Ma'am accompanied the keepers for lunch at the center. We were honored with their presence and could evidently see the love that unites the Wildlife SOS family.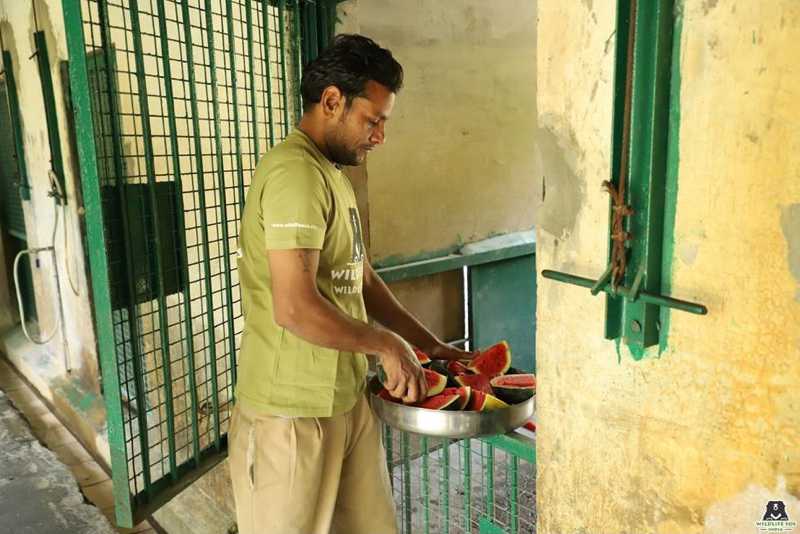 How many cubs have you hand reared?
I have hand reared 3 bear cubs so far. Kasturi and Anjali were rescued by Wildlife SOS as cubs and are now housed at the Bannerghatta Bear Rescue Center. At the Agra Bear Rescue Facility, I have had the chance to take care of Mowgli, who is currently the youngest bear at the center.
Apart from bears, have you taken care of any other animals?
While I was working at the Bannerghatta Bear Rescue Center, I was asked to help as a tiger keeper at the Bannerghatta National Park by the State Forest Department.