It was a festive occasion at Wildlife SOS since Bobby, a sloth bear residing at the Bannerghatta Bear Rescue Centre (BBRC), became the first ever bear in India to receive injectable medication through positive reward-based training.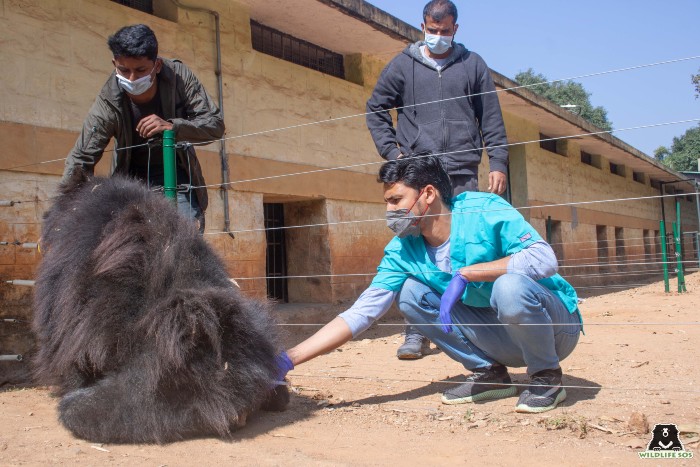 Bobby is a 29-year-old male who was rescued as a Dancing Bear from the Kalandar community from Kolar district in Karnataka, and arrived at BBRC in September 2008. The bear had recently been spotted limping around his field after suffering a minor sprain in his hindquarters. The Wildlife SOS veterinary team took this opportunity to administer an injectable painkiller with the help of positive or operant condition training. This involves rewarding the animal with treats every time they perform the desired action such as responding to basic commands, putting their paws out for blood draws, opening their mouths for dental examinations, etc.
With Bobby, the entire procedure was overseen and performed by Wildlife SOS veterinary officer Dr. Shubham Patil, who injected the painkiller while Karthikeyan. C, Animal Welfare Officer, conditioned the bear and kept him busy with a food-based treat like honey. For treating animals in captive care, methods such as a crush cage, squeeze cage or a blowpipe are used. Since Bobby is an old bear, these stressful methods were avoided while injecting the medicine and positive conditioning was the most suitable one for this purpose.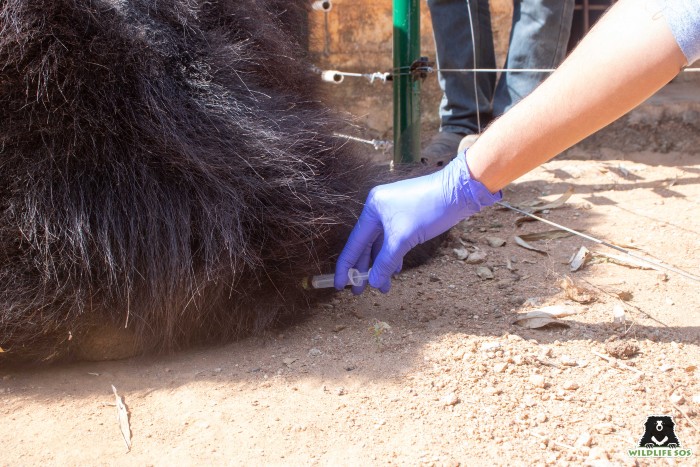 These methods of conditioning have been proven to reduce stress, provide mental stimulation and help maintain cooperative behaviours. The process of conditioning itself takes several weeks according to the willingness and cognitive ability of each animal under training. Consistency along with patience has led to achieving great results in training the sloth bears. Blood draws have been happening for several hundred bears over the years in our centres. Our vets examine their mouth, perform post-dental procedures, put eye drops and even provide oral medication through positive conditioning.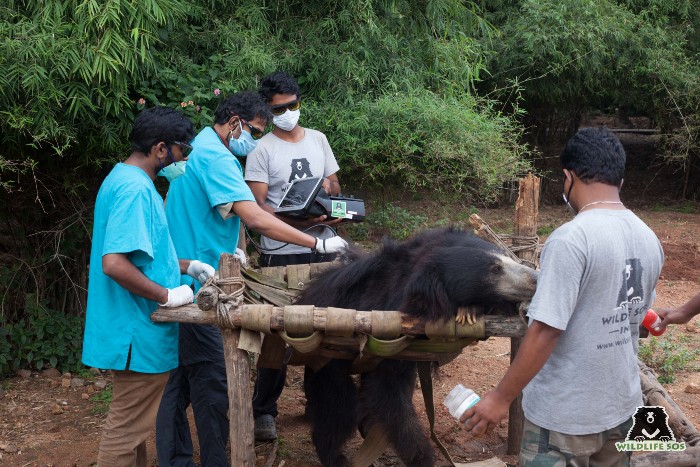 All the bears at BBRC go through operant conditioning for their treatment, which include Hamsi, Kuber, Dolly and Sundari, to name a few. One of our oldest members Kuber undergoes laser therapy sessions from the relaxed environment of his hammock while receiving a steady supply of dates from his caregiver. This is done because of a past illness of muscular in-coordination and cerebral haemorrhage for which he was kept under intensive care a few years ago. Even though he was diagnosed and released after treatment, his sensitive condition requires him to undergo these laser therapy sessions for which we resort to positive conditioning.
In Hamsi's case, since she was rescued as a wild sloth bear, she is comparatively weary of human presence. But because she had suffered a bullet wound to her shoulder region back then, despite it having healed greatly after a surgery, she still requires occasional treatments for which the keepers have to persuade her with positive conditioning through treats such as honey and peanuts.
Wildlife SOS has previously worked with several animal behaviour experts from around the world who have trained our staff in operant conditioning methods. Mary Elizabeth Hampton, the team lead of Northwest Passage and Teton Trek at Memphis Zoo, USA had visited Wildlife SOS in 2018 to help facilitate the introduction of positive reinforcement training for the rescued sloth bears in our care. She had delved into many topics related to operant conditioning for captive animals and explained how far a positive relationship can go in benefitting not the just the animals but also the caregivers.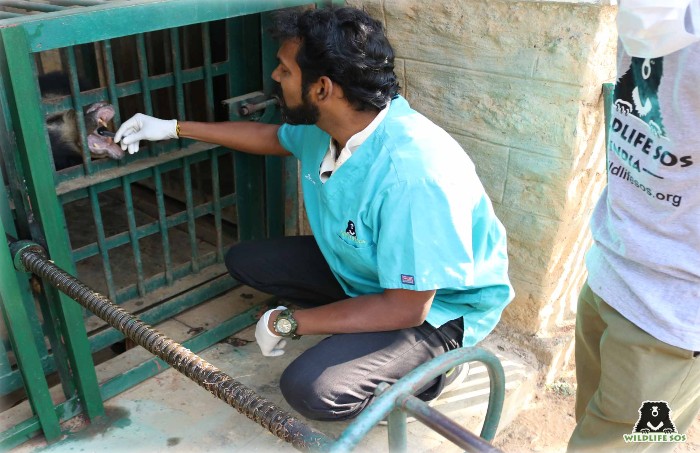 Dr. A Sha Arun, the Director of Research and Veterinary Operations at Wildlife SOS mentioned that developing a sense of trust is the first building block of the procedure. Despite being rescued bears residing in our centres, they still have a bit of wild instinct in them, and only trust between the bears and caregivers is not enough to get familiar and administer treatment. For positive conditioning to work seamlessly, the understanding with the bear has to be established through constant practice and contact, such as passing on cues and letting the bear know our expectations.
The bear was first made acquainted with a mock pricking trial, followed by the actual needle pricking procedure. This is done to familiarise and condition the animal under a specific circumstance, and sensitising it to human touch in a particular part of its body. Once they understand and gain the confidence, and as long as the bear is focusing on the treats, such treatments can be achieved seamlessly.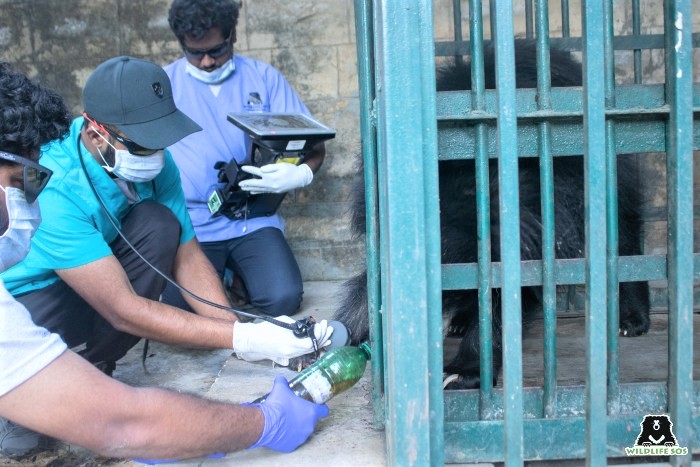 This successful attempt only opens up new possibilities and encourages us to approach other bears at our rescue centres for the same procedure. Apart from administering injectable medicines, positive conditioning can also be used to collect the body temperatures of bears. Because from a treatment point of view, it will be a commendable feat if a bear allows a foreign object near it without being too perturbed. And the secret is to constantly train the bears with the cues and draw a positive response so that they do not forget them. We think that using positive conditioning with other bears to administer injectable medication and collecting their body temperatures can go a long way in alleviating their stress by a lot and make way for more improved veterinary care.
---