Sloth bears that Wildlife SOS rescued from the 'dancing' bear tradition were victims of painful trauma. Many of them were found with broken teeth — they were smashed at a young age with a metal rod to prevent the bear from attacking its owner. Severe dental infections followed because exposed roots, rotting teeth and mouth ulcerations were left untreated, and also led to halitosis (foul breath). Bacterial infections also compromised the health and well-being of these bears.
This is why at Wildlife SOS, the veterinary team places special emphasis on oral hygiene. It largely influences a bear's behaviour, and can lead to difficult situations if there is a lack of constant observation. For instance, in case of a severe tooth infection, a bear would usually display aggressive behaviour, excessive salivation and loss of appetite, among other symptoms. The Wildlife SOS veterinary teams have conducted extractions, root canal treatments and various endodontic (study and treatment of tooth-related diseases) procedures to treat bears living with abscesses, infections and broken teeth successfully.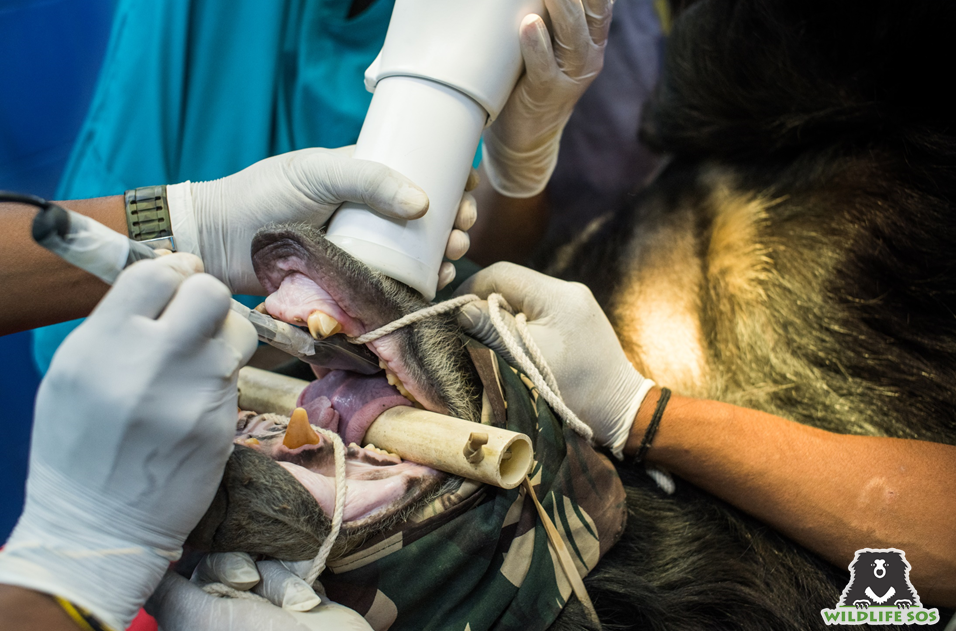 In a research paper titled 'Surveillance and examination of dental problems in captive Sloth bears' that has been co-authored by Wildlife SOS veterinarians, a retrospective study of dental problems over a 10-year period revealed the existence of multiple dental problems in bears that were rehabilitated at the Wildlife SOS Agra Bear Rescue Facility (ABRF). Out of 224 rescued Sloth bears, 11 of them were suffering from conditions that affect oral health during the study period (2006-2015).
Common issues documented in the research included broken canines and incisors, broken canines and incisors with periapical abscess, and overgrown gums and tissue lesions. During oral examinations, some of the bears were found to have infected root canals. In some cases, the premolar teeth also displayed the possibility of getting damaged owing to an injury sustained on the canine.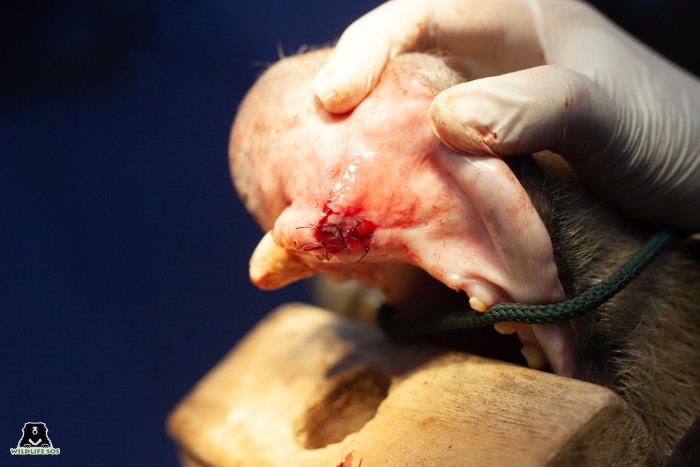 According to Wildlife SOS veterinarians, painful dental conditions can considerably influence the social behaviour of the bears. It is no surprise that dental problems can also lead to fluctuations in dietary habits. Hence, to assess the extent of the dental damage, dental radiographic examination is most essential to provide suitable treatments. Depending on the diagnosis, necessary procedures such as tooth extraction, root canal treatment (RCT) and excision of overgrown tissues are carried out.
Our rescued bears often develop an abscess at the base of an infected tooth. The primary clinical sign in case of any dental abscess is a swelling on the snout, which can appear anywhere, i.e on the side of the snout, between the jaws or on top of the nose. Interestingly, it bears resemblance to a wasp sting! The veterinarians can treat such an abscess with oral medications of antibiotics and painkillers.
When it comes to geriatric bears at the centres, most of them are devoid of canines. But that does not interfere with their regular feeding and other activities. Just a routine observation and looking out for any symptoms such as swelling on the snout, salivation and behavioural changes can lend the veterinarians an idea about whether the bears are facing any issue related to dental health. For some of the younger bears, the vets use positive reinforcement training which prompts the bears to open their mouths for oral examination.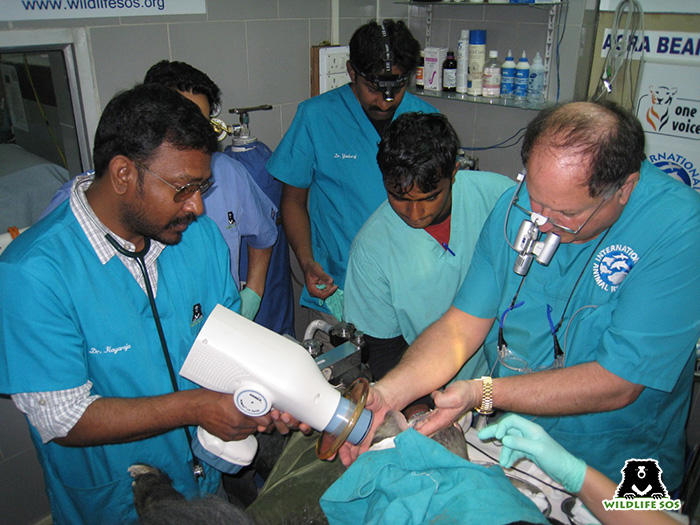 In 2016, veterinarians from Wildlife SOS and our partner organisation International Animal Rescue, UK performed 19 surgeries within a single week at ABRF. Several of them included root canal surgeries and tooth extractions. Complete dental checkups were conducted for about 30 bears in the facility. The various dental problems resulted not only from their former mistreatment but also by the wear and tear caused over the years.
At the Bannerghatta Bear Rescue Centre (BBRC) in 2020, a female Sloth bear named Durga had developed dental problems and an X-ray examination revealed that her upper right and lower left canines were dysfunctional. An RCT was performed on her successfully, following which she was back to relishing her favourite watermelons.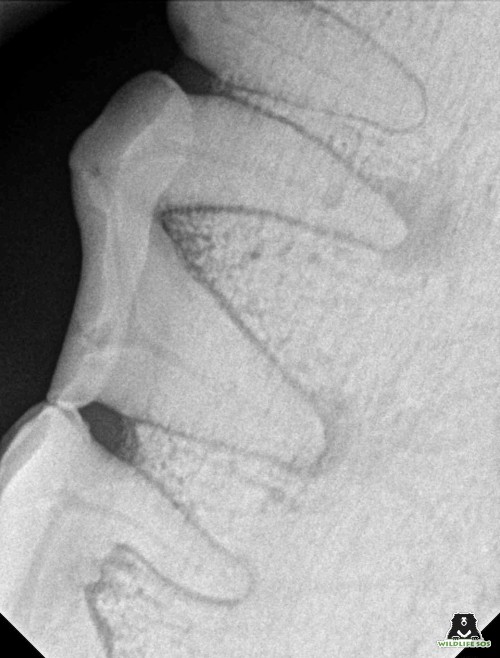 Recently Odum, a male bear also at BBRC, underwent a dental procedure for his lower incisor. An X-ray revealed that the tooth was broken, following which an extraction was performed. After the extraction, the bear was prescribed painkillers for a duration of 5 days as part of his postoperative care. Odum was also kept on a semi-liquid diet of porridge and after about 20 days, he was back to his normal diet of fruits and dates.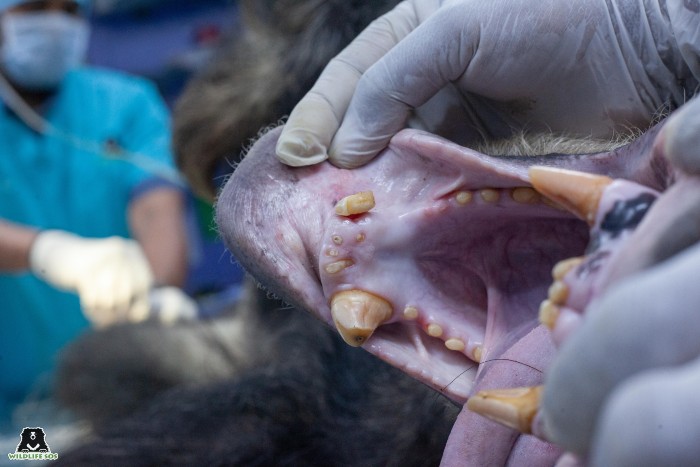 Bears under long-term care of Wildlife SOS are observed from all medical lenses, one of which intends to keep their oral hygiene and dental health spotless. But overall care of our bears is a resource-intensive task, and we want to keep them in the best possible health. You too can contribute to the bears' upkeep by becoming a monthly donor and support our work.