In 2002, Wildlife SOS started work on the rehabilitation of the Kalandar communities (who depend on dancing bears to earn a living) as an extension of our dancing bear rescue project.
The key objectives of this project were education of the children, an alternative livelihood program and women's empowerment initiative, while addressing the problem of child marriage through counselling and financial incentives.
Over the years, Wildlife SOS has designed and carried out several initiatives to empower women belonging to the Kalandar community in the states of Rajasthan, Madhya Pradesh, Haryana, Uttar Pradesh and Karnataka. These initiatives help provide additional financial security by making women secondary income earners for their families. Skill training courses like carpet weaving, tailoring, soap making, jewellery making, tie and dye and aratari work (gold and silver embroidery work)were conducted in several villages across these states.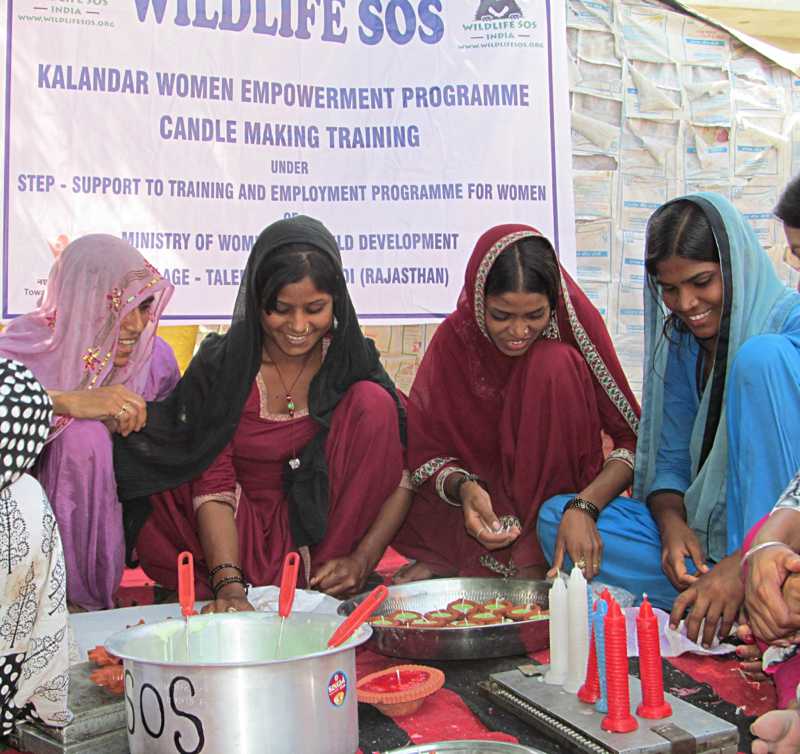 In 2015, Wildlife SOS introduced three new skill training programs in Chaksu town and Talera (Bundi district) in Rajasthan under the Support to Training and Employment Programme for Women (STEP). STEP is a government sanctioned scheme that aims to provide skills that give employability to women and to provide capabilities and skills that enable women to become self-employed entrepreneurs. The new courses comprise of candle-making, agarbatti (incense stick) making and block-printing and women between the ages of 18-55 years are eligible to enrol into these programs.
It is remarkable to see the women take such great interest in joining these skill training programs and we have had quite a positive response so far. In fact, many are opting to join the other courses as well.  Learning and developing these skills have given these women the confidence to believe in themselves and to realise their potential, which goes beyond their daily household responsibilities.Our primary goal is to encourage and build a platform for the women to support themselves once they have completed their training period in their respective fields. We have also made efforts to provide some of the women with sewing machines so they can work from home while taking care of their children.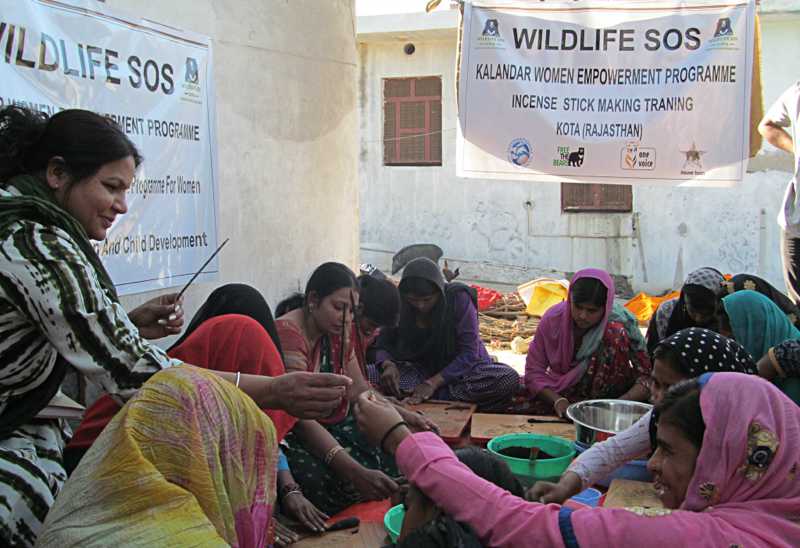 However, in our attempt at empowering the women of these communities, we keep in mind that we are working in a rural society, where the idea of a woman stepping out of the house to earn a living is still a rare concept. The families, especially the husbands are not very supportive of their wives gaining financial independence, as they still believe that their place belongs at home. Hence, we are also channelling our focus on encouraging the local communities to have a more progressive perspective by learning to accept and respect the individual choices made by the women in their families.