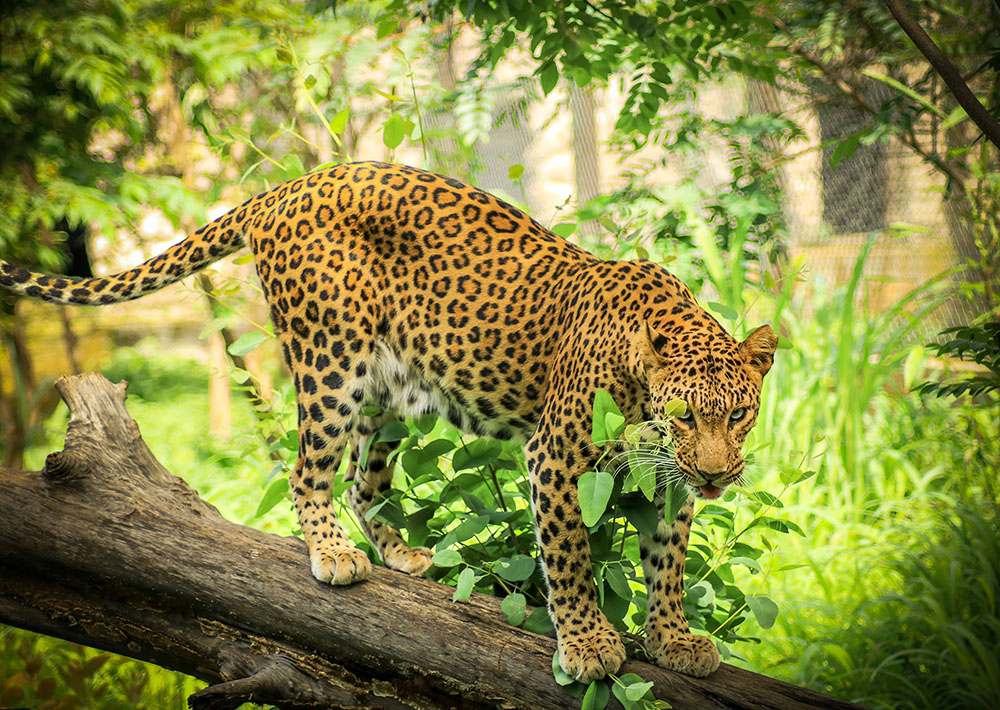 By Resham Beri
Jaya is a full grown adult female leopard. As a cub she was playful, imaginative and loving and these qualities have remained with her as an adult. Watching her grow up with her sister Jiya has shown us what acrobatic, marvelously dexterous and affectionate animals leopards can be.
Her fondness for Jiya endures and they are as strongly bonded as when they were cubs. Jaya was always the more dominant sister but in a kind motherly way. She was always licking her sisters face and grooming her frequently. Sometimes she even shares her food with Jiya and lets her enter the den at mealtimes first. She encourages her with soft sounds to facilitate her eating. Jiya reciprocates this by being her sister's shadow and always following her into every activity. Jaya and Jiya are most active in the early hours of the morning. If they had not been disturbed by the mans aggressive activities in their natural forest they would have spent a large part of the night hunting. However, at the rescue center they just wake up very early and before dawn proceed to have fun at their keepers expense.
One example of such a morning was when the keeper came in to find the entire bamboo that had been newly planted in their enclosure laid in a mass with its roots and stems scattered. Jaya and Jiya had had a fun time digging it all up! Another time their climbing platform had been "playfull attacked" and it had suffered a defeat and lay tilted to one side with the two 'camping' under it. It is our dream to give leopards like Jaya a safe home. It is just as important to us to provide them with the activity and enrichments their 'natural' home would have provided. Ultimately, the desire is to increase the space they have to play in.