With the grand opening of India's only dedicated elephant hospital in 2018, Wildlife SOS has become a beacon of hope for India's elephants. As our number of pachyderm patients continues to grow at the Elephant Hospital Campus, Wildlife SOS is planning for a future providing research and training for the benefit of India's 2,700 captive Asian elephants, as well as long term care for as many as we can. We've had great success, but we're running out of room.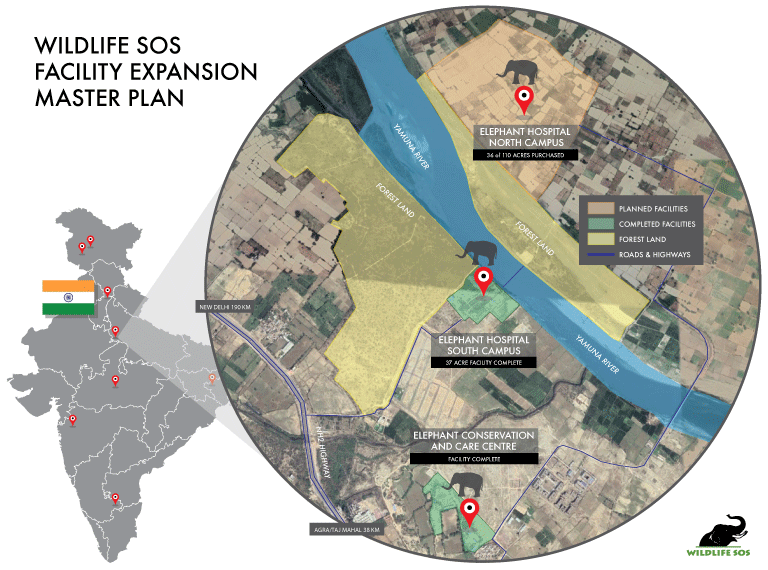 Why do we need to expand the Elephant Hospital Campus?
With 26 elephants at the Elephant Hospital Campus, we are rapidly outgrowing our current facilities. Space limitations will soon impact our ability to rescue new elephants who desperately need us, as more emergencies arise that require us to act quickly.
These captive elephants used for tourism and entertainment can never be released back into the wild, so Wildlife SOS plays a critical role in providing long term care and compassion to many sick, injured, debilitated and elderly elephants.
Why expand at this location? Why now?
A hub for education – The Elephant Hospital Campus and nearby Elephant Conservation and Care Centre are ideally situated to maximise education, public awareness, volunteerism, and veterinary training programs.
A foundation for success – Existing facilities, communications and fresh water infrastructure, and access to open forest lands and the Yamuna River, make the site ideal for elephant conservation. The center is accessible by a major highway, and employees can find housing closeby.
Natural – Environment and migratory bird habitat in the Central Asian-Indian Flyway corridor helps enrich the lives of elephants with a natural, wild environment.
Preservation – Adjacent forest land that will remain green and never be developed, fostering more natural surroundings.
Emergency center – The Elephant Hospital and ambulance are in a central location, within 1000 miles of the most critical areas for elephant rescue, care and conservation.
Train the next generations – The Elephant Hospital Campus is near the veterinary college in Mathura and universities in Agra and Delhi, allowing Wildlife SOS to grow as a center of elephant care research and training.
Sustainability – Grow our own fodder, organic crops and make us less dependent on market prices and scarcity.
Timely – The Agra District is rapidly growing to become home to 4.5 million people. As real estate becomes scarce and prices increase, Wildlife SOS must act now to ensure a future for elephants.
What do we want to build?
When all phases are complete, we plan to have new habitats and treatment areas for 60-70 elephants, with continuous access to the Elephant Hospital, the Yamuna River, forest land, and open space that allows our elephant residents to thrive.
An education and training center to increase public awareness and action to help the plight of endangered Asian elephants.
Veterinary training and research programs.
Sustainability to run on solar power, water and sewage recycling, organic food to sustain staff and elephants.
Dedicated super-strong areas for bull elephants in musth.
---
For more information, please contact:
---

How much of the expansion is complete?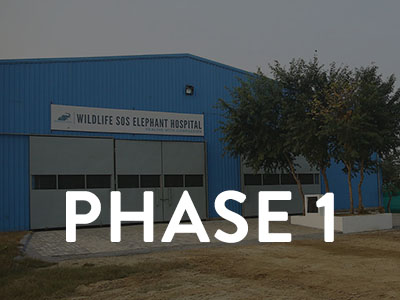 We've already completed Phase 1 of our long-term plan with the opening of the Elephant Hospital and South Campus along the Yamuna River.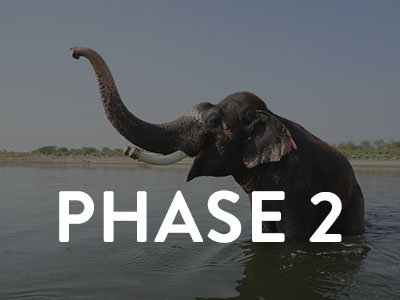 Phase 2 includes purchasing 37 acres of land on the north side of the river, adjacent to property we already own, allowing us to build additional habitats and treatment areas. This North Campus will give elephants continuous access to forest land and both banks of the Yamuna River.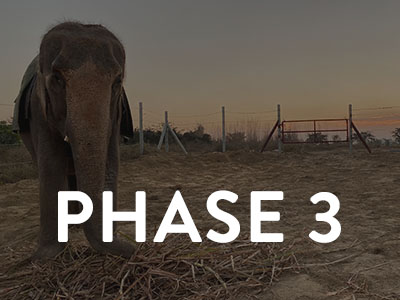 Phase 3 includes a 36 acre expansion of our North Campus.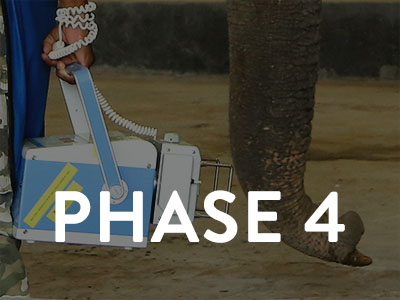 Phase 4 includes a 37 acre final expansion providing facilities and habitats for a total of 60-70 elephants.