For those well-versed in the world of wildlife conservation, poaching of tigers for their body parts is a prominent and prevailing issue. A covert operation to curb the poaching of tiger parts was carried out recently by the Tamil Nadu Wildlife Crime Control Bureau (WCCB) and Wildlife SOS, in which six members involved in a notorious trafficking racket were successfully intercepted.
The culprits had travelled from Delhi to Ooty to poach tigers in the verdant forests of the Nilgiri biosphere reserve. The six poachers were caught red-handed in Arasur village, situated in the Sathyamangalam forest range. A 10-foot-long tiger skin, one tiger skeleton, tiger bones and one leopard skeleton were seized in the raid. Based on strong intelligence inputs from 'Forest Watch', the Wildlife SOS anti-poaching unit, a team of investigators from the Wildlife SOS Delhi team travelled to Coimbatore to meet the Tamil Nadu Wildlife Crime Control Bureau (WCCB).
After they were arrested, a prolonged session of questioning the culprits revealed the locations of their hunting tools. This led to the discovery of the jaw traps concealed in the forest area that had been used to mercilessly kill and skin the tiger and the leopard. A team led by the Tamil Nadu WCCB, forest department, police and Wildlife SOS located and dismantled these active hunting devices. The accused – four men and two women – are currently under custody and will be booked under relevant sections of the Wildlife (Protection) Act, 1972.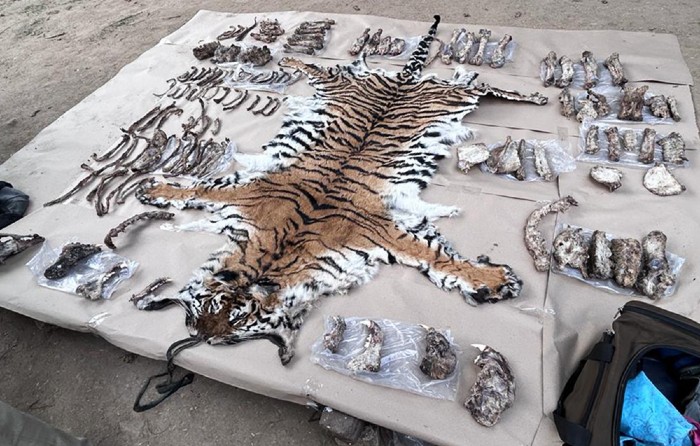 The Bengal Tiger is listed under Schedule I of the Wildlife (Protection) Act, 1972, which grants the highest degree of protection to the species. Amidst the risks involved, Wildlife SOS informants infiltrated the Bawaria communities in order to gather vital information. The information helped the team immensely to carry out the operation with the WCCB team. This operation will play a huge role in excavating a larger network of poachers and putting an end to the crimes committed against India's national animal.
According to Mr. Mahendran, Assistant Conservator of Forests (ACF), Wildlife Crime Control Bureau (WCCB), Tamil Nadu, their team met the Wildlife SOS team and received their inputs, following which a plan was developed for the operation to be executed successfully.
India is home to the highest number of tigers in the world, with nearly 3,000 of the global population of roughly 4,500 tigers residing here. While the number may sound encouraging, it is also a curse when seen in the context of tiger poaching and trafficking. A high population is nothing but a lucrative opportunity for poachers, as it is easier to find tigers here than anywhere else.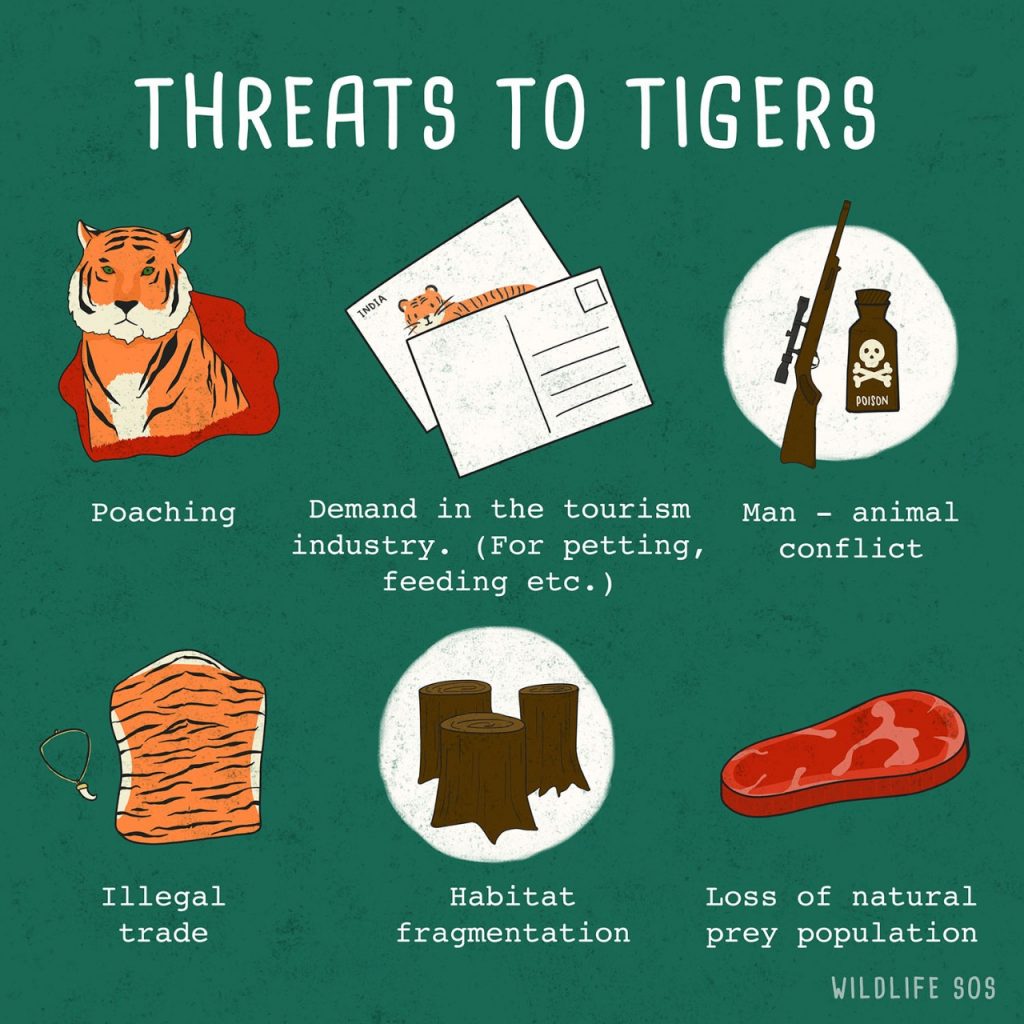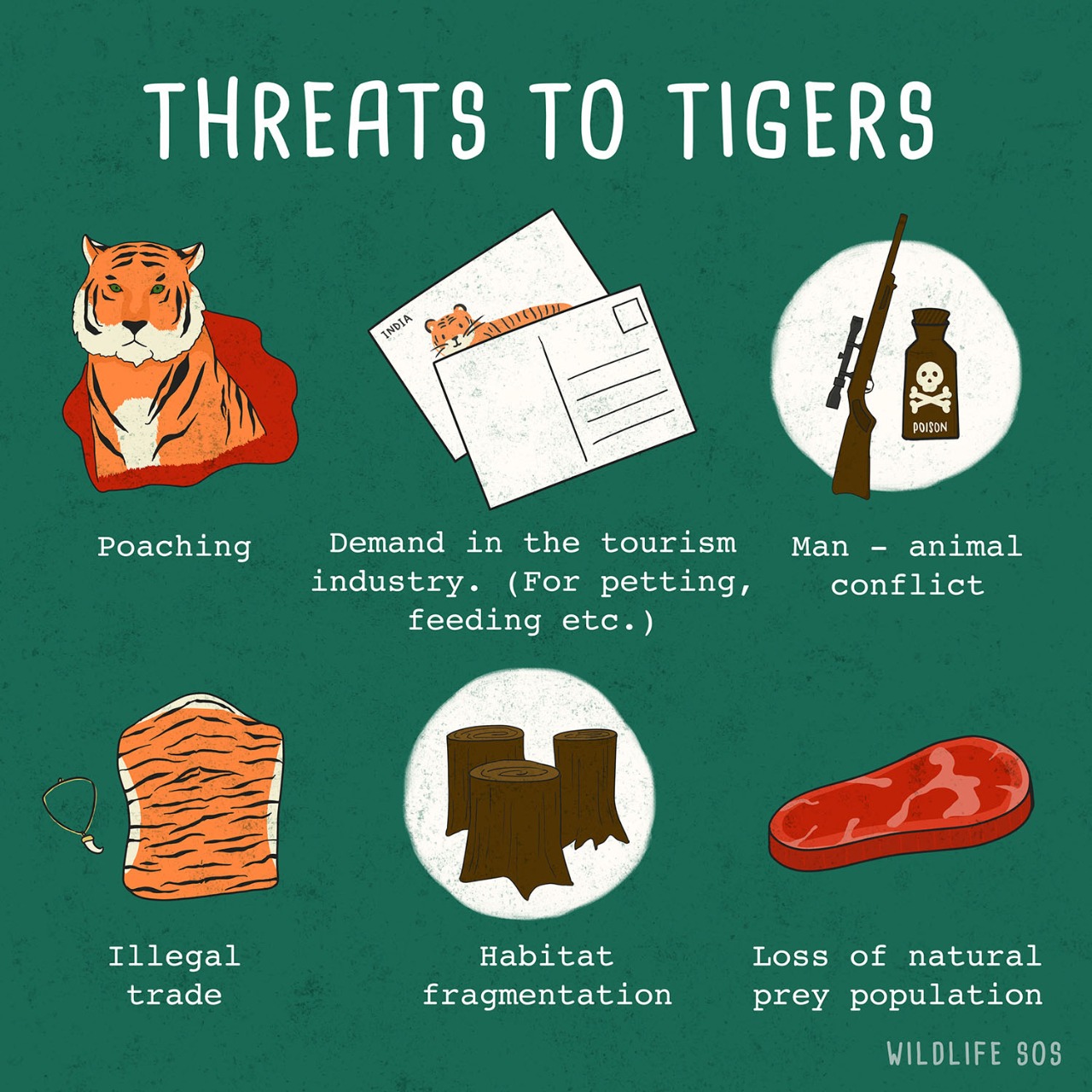 The big cats are poached primarily due to their skin, as it's the most sought after tiger body part. Otherwise, using their body parts like bones, claws, canines, and whiskers as ingredients in traditional Chinese medicine (TCM) is another factor that drives tiger poaching and trafficking. A global study by TRAFFIC (a wildlife trade monitoring organisation) titled 'Skin and Bones Unresolved' stands as a testament to this fact.
As per the study, the highest number of seizure incidents across 32 countries were reported from India between 2000 and 2018. A total of 463 seizures of tiger body parts took place in India, with the corresponding number of tigers estimated to be 625. According to the report, skins were the most seized tiger part globally, followed by bones. Nearly 38% of the skins, 42% of tiger claws and teeth, and 28% of bones seized were recorded from India during the 2000-2018 period.
According to India's National Tiger Conservation Authority (NTCA), a total of 547 tiger mortalities were registered between 2017-2021, of which 154 lost their lives due to poaching and illegal wildlife trade. Out of the 154 cases, poisoning (25) followed by electrocution (22) were the most common methods used to poach the tigers.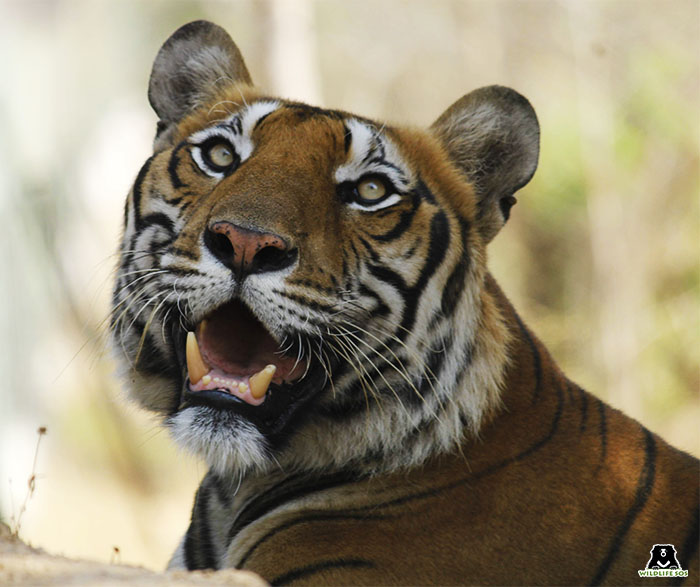 Apart from the misconstrued application of bones in medicines, the past few years have seen tiger bone wine being a much sought after commodity. In TCM, a tiger's penis is believed to be a potent aphrodisiac and a cure for erectile dysfunction. Demand for tiger skins, on the other hand, is a result of parochial worldviews related to wealth and class.
China is by far the biggest market for tiger body parts, and poachers in India cater to this colossal demand. However, there are reports of farms in China that breed tigers illegally in captivity. The country once boasted of having a high tiger population in the wild but now, only the South China tiger subspecies inhabits southern China in Guangdong, Hunan and Jiangxi provinces. A small population of the Siberian or Amur Tiger is found in the boreal (snow) forests of north-eastern China as well.
It is now a well-known fact that most of the demand for tiger body parts arise from south-east Asia, specifically China and Vietnam. Despite China's ban on the tiger parts trade, the market is still thriving as is clear from the continued poaching of these big cats in India. The luxurious price of tiger skins is what makes the trade all the more lucrative for poachers.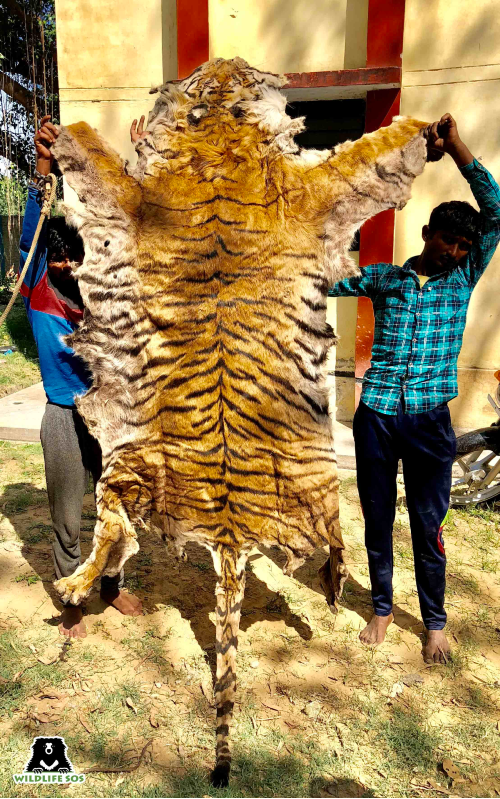 Though India's tiger population has risen, we can never afford to lower our guard given the recurring poaching that takes place. At present, almost 35% of tigers in India reportedly live outside protected areas, making the chances of a tiger being poached highly probable. That is why Wildlife SOS' anti-poaching unit 'Forest Watch' continues to work relentlessly and assists enforcement agencies in curbing crimes related to poaching and wildlife trafficking. You can strengthen our efforts by becoming a monthly donor for Wildlife SOS, and contribute towards tiger conservation.